Marmot Pounder

The Pounder has been discontinued. If you're looking for something new, check out the best warm weather synthetic sleeping bags for 2023.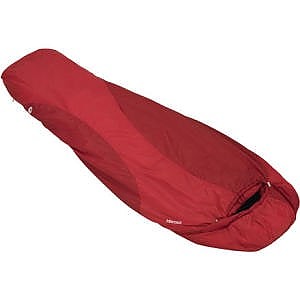 As an ultra-lightweight backpacking grandma who doesn't like getting hot at night, I bought the Marmot Pounder specifically because it is NOT a cold weather bag.
I use a 3 part sleep system in order to get the most of of an ultra-lightweight sleeping setup. I use a silk liner, the Marmot Pounder, and a cheap bivvy sack to mix and match as I need to for the temperature requirements.
Being only 5' 2" I trimmed everything down so that my total sleep system is only 18 oz total, along with my Hennessey Hammockk at 18 oz. That's a three pound shelter system. I also carry a 6 ounce foam pad for sitting or adding to the comfort in my hammock, if needed in windy conditions.
The Marmot Pounder is comfortable to me down to 50 degrees, and adding the silk liner gives me comfort to 40 degrees. If it is damp and colder than 40 degrees, the bivvy sack gives me another 30-40 degrees of additional warmth and moisture protection. I don't generally backpack in zero degree weather, but when caught in a crunch I've just worn all my clothes and a triple set of socks inside the 3 layer sleeping system.
This sleeping bag and the three layer sleep system is not for cold weather unless you've done the experimentation in your backyard to be sure you know what you are doing.
Yes, I measure my enjoyment of a backpacking trip in ounces. I also take the time to learn and practice basic survival skills. I'd hate to see a newby take this sleeping bag on an overnight backpacking trip in March or April without being similarly prepared for the reality of a long cold night.
Design: Mummy
Fill: Synthetic
Temperature Rating: 40 degrees Farenheight
Weight: 1 lb
Price Paid: $150

Great summer bag. Light, warm when wet, gets the job done. Warm naked to around 50.
Gotta set the record straight for all those who posted it isn't warm enough. All bag rating are listed at the bag's extreme end, not comfort. It will keep you alive down to 40 or so depending on how hot a sleeper you are. If you want comfort then get a bag that's listed for 20 if you want to be toasty at 30.
Try these tricks to get more out of a lighter bag. Wear DRY thick socks to bed with dry thermals and a belay jacket like a Patagonia Micro Puff. This is a trick us alpinist do to cut down on the weight of the bag you carry. If it's early spring or late fall you should have a poly insulated jacket anyway for around camp and cooking. Stay lighter with the bag by getting double duty out of the jacket. A Micro Puff only weighs about 20 oz.
I have been in this bag in the 20s and was warm with my thermals, soft shells (pants and jacket), thick sock inside my plastic boot liners (helps dry them out for the next day of climbing) and the micro puff. It is all about the layer system.
I also do this in winter except with a down belay and down -15 sleeping bag. Once again a -15 will keep you warm to around 0 to -5 but below that you will start to shiver but it will keep you alive.
Design: mummy
Fill: primaloft
Temperature Rating: 40
Weight: 1lb 6oz for the long
Price Paid: $109

I rated the Pounder with 0 stars as useless. Maybe that's a little harsh but I do want to bring attention to Marmot's rating of this a bag as a 40 degree bag...and it's an outright lie.
The Marmot Pounder synthetic is NOT a 40 degree bag and is at best a 50-55 degree bag as long as you have 2 pairs of socks, a base layer, a fleece layer and a toboggan on when you get in (and it's not windy). The cold air just seeps right through this bag.
I used this bag for the first time in temperatures below 50 this weekend. The temperature dipped to 41 where I was, and the night air was still. We were camping in an Adirondack shelter. I had three pairs of socks (1 thin/2 thick Smartwool), a base layer top and bottom, a winter vest, a balaclava, and a toboggan on inside the bag. At 41 degrees I woke up shivering.
Fortunately I had another pair of long pants in my pack and put them on, but even then, I could not say I was "toasty" or even "comfortable". I am warm natured, 6'2", 240 lbs and highly disappointed in this bag.
Stay away if the intent is to use it below 50-55 and at 50, it would be wise to have warm layers on when it's time for bed. This is a summer only bag, and for that, a smart hiker with the right clothing technology, doesn't need a full sleeping bag, so for me, it's useless (but it's pretty).

Temperature Rating: 40 Degree Farenheight

I'm still using this bag that I bought in 2008 or 2009. It has taken me from freezing temperatures to the 80's in a hammock (I just laid on it to keep the mosquitoes from biting!).
Cons
Not meant for freezing temps, but you can adapt.
It's not meant for extremely cold temperatures, but I use it as part of a sleep system that includes a silk liner and a crinkly emergency bivvy sack. On a freezing cold wet night, I'll use all three. The silk liner gives me another 10-15 degrees of warmth, and the emergency bivvy another 20 degrees of warmth.
I've used it in the winter in Missouri which got down to nearly zero—I just wore all my clothes and used the silk liner and bivvy sack. The key for me is the weight, period. I don't even use a backpack, preferring to wrap everything in a hammock and just tie it around my waist.
I consider the Marmot Pounder to be the foundation of my shelter system. If I ever manage to wear it out, I'm glad these are still available. But after ten years of constant use, mine is still in great shape.
Source: bought it new
Price Paid: $99

This review dings the bag on its exaggerated temp rating. This is not a 40 degree bag, ever. As the temperature descended through the 50s it was comfortable, so advise using when 50 is the lowest expected temperature. It is really very lightweight and packs to a grapefruit, making an excellent summer (or thereabouts) backpacking bag. The DWR and tightly woven fabric is effective in repelling dripping condensation and whatnot. High quality materials throughout. No trouble with the zipper.
In a 45 degree night below the dew point (therefore humid, with wet-air cold being appreciably worse than dry-air cold), reviewer's hands were uncomfortably cold inside the bag while wearing a full light layer, sleeping on a plush 2.5 inch Insul-mat, inside a full coverage tent; before things got any worse the reviewer had the luxury of switching to a thicker Moonstone bag in the middle of the night. It was fortunate to experiment with the Marmot Pounder before relying on it for any backcountry excursions for which it would not be adequate.
The Pounder has a full head box and this reviewer guesses Marmot expects it to be used to warm the head in order to claim some of its optimistic range.
This reviewer will continue to use this fine lightweight bag, just with a realistic appraisal of its comfort range.
Design: Mummy
Fill: Primaloft Sport
Temperature Rating: 50 F realistically; 40 F officially but not accurately
Weight: 1 lb 2 oz for the long
Price Paid: $119 on eBay

I was very, very, very cold in this bag one night. The temperature was 52F, and humidity was relatively high. I was in a tent. I bought it because it was a very lightweight bag. I didn't realize it was also a very lightweight bag. I was nearly to the point of starting to shiver.
I used it another time, at 70 degrees, and I was comfortable, though slightly cool.
I use a RidgeRest closed cell pad.
I toss and turn a little when I sleep, and don't usually sleep with my head in the hood. Given how quickly my leg got cold when some blankets slipped off me (luckily I was car camping and was able to call in reinforcements the next night), it felt like there was maybe too much air permeability in this bag.
For a trip where temperatures are over 65F and I have some sort of liner, sure. For anything below that, it is really a bit too iffy for me.
I've learned my lesson and ordered a 0F bag. I can always unzip a bit if I get too warm.

Design: Mummy
Fill: Primaloft Sport
Temperature Rating: 40F
Weight: 22 oz.
Price Paid: $119

I may just be a warm blooded person and a hot sleeper but I found myself in the middle of a 5 night rafting trip on the Salt River in Arizona with this bag. I thought being in the desert would stay warmer, but it was my first trip to a desert in mid May and temps went below freezing every night (I know because my wet suit was frozen every morning!). To be upfront I was using a Big Agnes Insulated air core pad and CoolMax bag liner with the Pounder, but I slept soundly without the aid of alcohol or meds every night (I did have some crazy dreams though).
I love the light weight of the bag, it's perfect for summer sleeping over 50 F and would make an awesome liner for a slim user that placed this inside a 10-30 degree 3 season bag for deep winter use as a bag liner. It rolls into a bag smaller than a two liter without compression, could probably fit into a nalgene if compressed.
Design: Mummy
Fill: Synthetic-can't remember brand
Temperature Rating: 50
Weight: 1 lb 5 oz
Price Paid: $160

Purchased my Marmot Pounder in good used condition at an REI sale. Bag is rated at 40-degrees, but I recently used it in Yosemite when the overnight temp in late September was 50-degrees but woke up cold the first night even when sleeping in a small one-man tent.
In the middle of the night I pulled on long-legged, and long-sleeved mid-weight Patagonia underwear, plus a Mont-bell ultra-light shell and Mont-bell Half Sleeve Jacket, a thin lightweight balaclava, and 2 pairs of socks. Slept soundly for hours till dawn thereafter; wasn't cold. Best you be wearing your clothes to bed if you're using the Marmot Pounder in temps down to 40-degrees, or below.
In conclusion, to save some space in my pack, I do not use a stuff sack. I stuff The Marmot Pounder into the base of my pack atop my tent that's been placed in my pack the same way; no stuff sack. You'll find this is the best utilization of space in your pack.

Design: A roomy mummy-style sleeping bag
Fill: Polyester
Temperature Rating: 40-degrees
Weight: 1 pound, 2 ounces
Price Paid: $30

It is an awsome piece of gear. The lightest bag of its size and temp rating, it's roomy -- I probably could get an extra person in it if they were pretty small and we knew each other very well. Plus if I realy want to I can get it in a 4.5" by 9.5" stuff sack. I have not had problems with it sticking to my person even in extreme heat. The only problems I had is that it is only offered with left side zippers so it took some getting used to and price (though I must admit to thinking that all camping gear is insanely overpriced).
Design: mummy
Fill: primalost
Temperature Rating: 40 f
Weight: 1.6 pounds
Price Paid: $169

The lightest bag out there for the warmth/versatility factor.
Packs ultra small, about half the size of the stuff sack that's provided. Really is incredibly warm if considering how light it is.
Get a liner or sleep in long underwear, the bag is going to stick to your legs/back when things get sweaty, but I suppose that's the downfall of all bags that aren't fleece lined.
(Shivers when thinking about their weight)
A great bag for a great price.
EMS Velocity 35 is similar but much to spacy for my taste.
Height: 5'10"
Weight: 148lb
Built: Medium/Light
Clothing Size (Top): Small-Medium
Design: Mummy
Fill: PrimaLoft Sport
Temperature Rating: 40 F
Weight: 1 pound
Price Paid: $135

I really like this bag and have taken it on a few trips. Packs down super-small. Mine weighs 19 oz, instead of 16 as advertised, but still very light.
ONE COMPLAINT: the temp rating is not accurate. I spent a very cold night in ~50 degree weather. Great for a summer bag, but not warm enough for 3-season.
Design: Mummy
Temperature Rating: 40 Farenheight
Weight: 1 lb, 3 oz
Price Paid: $159

Awesome bag if you're looking for quality and light weight. Packs down nice and small and is super-light. Haven't used it below 60°F but worked well down to there. Stayed nice and warm. We highly recommend this as a summer bag.
Price Paid: $179

Your Review
You May Like
Specs
Price
Historic Range: $94.34-$179.00
Reviewers Paid: $30.00-$179.00

Recently on Trailspace