Marmot ROM Hoody

I love this jacket. I've been living in it for a few months now. It absolutely blocks the wind, but breathes really well. Fit is outstanding! Best uses would be anything active, really.
Pros
Great fit
Excellent breathability
Stretchiness feels natural, not cheap
Excellent protection from wind
Great warmth when it's just cold enough to need a jacket
Cons
Very limited water resistance (like a few minutes)
Tad heavy/bulky, but it's worth it
Let me start by saying that I've never really liked softshells. They seemed to not really do enough for me, and I'd just end getting rid of them in favor of something else due to their cost. I had also never owned one with a hood. Well, I don't know what got into me, but I tried this one on in REI, and just didn't really want to take it off!
Here I am on a backpacking trip a couple weeks ago in the Big Frog Wilderness wearing the ROM Jacket.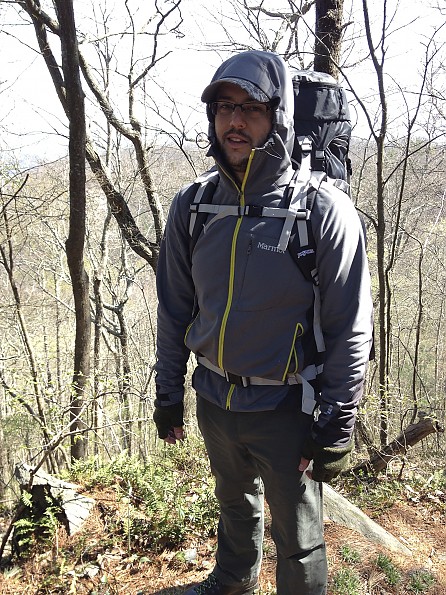 Fit, Comfort, Layering, and Adjustability
I tried it on with just a tee: fit well. Tried it on over my Primaloft layer: still fit well. Really well. Hmmm. I'm usually in between a medium and large, so I'm glad I was able to try it on (I'm 5'9.5" 185lb). I went with the medium because I knew I'd usually only have a base layer on underneath, and even with an insulation layer, it still fits well (attributing that to the stretch, which is super-nice). Sometimes a medium jacket will be too tight under my pits and around my arms, but this one stretches and feels perfect.
Adjustability is fine, though I'll admit, for most things I usually just set it and forget it. The one thing I do adjust is the hood's drawcord. I'll tighten that down when it's windy and cold, and it feels really nice. I really don't mess with the cuffs a lot because the stretch fabric goes over gloves really easily without the need to readjust. Also, I really like how the forearms are fitted. Nice and snug.
Breathability, Warmth, and Wicking
I wondered: would it keep me warm (but not too warm)? I wore it around the ~70° store for a while and I wasn't even hot. I figured I'd give it a shot, and I wasn't disappointed.
On long hikes under 60° or so, I usually don't take it off at all. It's not that I'm cold, but rather, it feels fine on, and I just kinda forget about it. That's pretty much the perfect amount of breathability in my book. If I'm active, I'll wear it alone with a base layer into the thirties and feel just fine. Sweat gets wicked away quickly, and the Gore Windstopper fabric really does an excellent job stopping the wind. Just outstanding.
The coldest I'll go when I'm not active in this jacket alone is probably mid- to high-forties. Colder than that, and I'll throw an insulation layer underneath.
Function and Ease of Use
I love the way the zippers feel. Nice and tight. Not too hard to pull, but not loose either. The chest pocket in kinda invisible, which is cool, and the hood is shaped really nice. Not funky or obtrusive in any way. If I ever buy another softshell, it will surely have a hood. I love that feature, especially with it being Windstopper.
None of the zippers have snagged at all, and once you get used to how the hood adjusts, it makes a lot of sense and feels natural to just pull the cord down to tighten it. There's also a drawcord inside the pockets for the waist, but I haven't really used those much. They seem to function fine.
Construction & Durability
The jacket is built really well, and the fabric feels silky-smooth. There are a few different fabrics used, but they work well together. All the stitching is very clean and finishing is beautiful inside and out. Most of the lining of the jacket is a soft material. Not sure what it is, but it is great. Not too soft and mushy, but just soft enough to feel nice.
After several months of almost daily wear, the soft lining started pilling a bit in high-friction areas (upper-back, sides of the neck, upper arms), but it's not bad at all. I won't even give it attention to remove the pilling for another year or so I'm sure. That could be a durability concern, I suppose, but I bought the medium knowing it was close-fitting, so I think it's a small price to pay for such a great fit, and a nice, soft interior.
The outside shows no signs of wear, except for stains. The Windstopper fabric seems to like holding onto stains in general. I've washed it multiple times, but the stains just kinda linger. I'm not really concerned enough to use stain remover; it's just a note.
Water Resistance
So, here's my gripe. I had to have at least one, and that is that this jacket is not meant to be used in the rain is any way, really. Sprinkling? Sure, no problem. Drizzling? Yeah, I guess. Raindrops coming down? Absolutely not. 
Before our last trip out, the most I had tested in the rain was short walks/runs to the car or only a block or two. It would be fine if it was barely coming down, but if I walked casually in a downpour, the jacket would be soaked, and the shoulders would be leaking within a few minutes. Still warm, but just wet.
I decided to buy some Nikwax wash-in Softshell Proof, along with Tech Wash to prep it. The initial process went fine, and I took my newly "proofed" ROM jacket into the wilderness on a really wet Friday. It was pouring when we got out of the truck, and we headed for the trail. I noticed the water beading up on the jacket better than it had before, and I was optimistic.
Well, after 20 minutes or so, the jacket was wet again, and I could feel my shoulders getting wet as well (and of course the fabric on the sides of the jacket lets water right in). The rain eventually let up, and the jacket dried up while I was wearing it, but it really did next-to-nothing as a rain jacket (because it really isn't a rain jacket at all).
I learned my lesson and bought a super-lightweight rain jacket to replace my bulky Columbia one, since I knew I'd usually have my softshell on, but would also need to rely on always having my rain jacket handy.
Conclusion
This is an amazing jacket that does what it says it will do. Sometimes I like to put too much faith in things, and I'm disappointed when it doesn't perform to unrealistic standards. That was surely the case with the rainy experience, but that was really my fault for believing in a magic water-proofing product. 
This jacket does exactly what it says it will, and it does it with ease and comfort. All around, five stars.
Source: bought it new
Price Paid: $150

Good fitting, adequate water repellency for a softshell. EXCELLENT breathability for the wind resistance offered.
Pros
Fit
Breathability
Water repellent
Wind resistance
After years of using different jackets for different seasons (a sports hoodie or fleece for shoulder season and  bulky Columbia jacket for winter) I decided to re-approach my outerwear with a layered system. First was the North Face TKA 300 fleece to keep me warm. The next was some sort of shell to wear over it when the conditions were a bit worse. I was torn over weather resistance (hardshell) and breathability/movement (softshell).
I decided that I'd forgo a little weather resistance, if the weather got *that* bad, I'd throw a rain jacket over top. After narrowing it down to a few softshells, the other being the MH Embolden and TNF Alpine, I decided to go with the Marmot (my first ever Marmot purchase). 
Fit: (I got the XL) I initially thought the "athletic" cut of this jacket wouldn't fit my broad shoulder/chest, but if actually fit better than the others. Arm length was just right for my 6ft height, and I liked that the jacket length was a hair bit longer than the other 2, right at the hip bones, rather than just blow the waist. The XL , for me, gives just the right amount of room to layer over the fleece, but not overly bulky if worn on its own.
Adjustments: The usual - waist and hood. I liked that the waist pulls were in the pockets. The only nitpick is that the hood opening pulls can just flap around your chin if you don't have them under the zipper. I don't do mountaineering, so helmet fit is moot, but the cinches deal with the extra fabric well.
Breathability: This jacket breaths good, especially for not having pit vents.  It has a different type of fabric in a strip under the arms, to the pits, then down the sides. The only caveat is that this fabric is less water resistant than the Windstopper fabric the rest of the jacket is comprised of.
Durabilty: Haven't really tested this, as I'm pretty gentle with my clothes.  The one area that I worry about is the neck/chin area has some sort of felt on the inside, I wonder if the constant beard stubble I have may wear that area quicker? More time will tell.
Windproof: The jacket does its job: it keeps the wind out.  Granted, I'm in the Midwest and haven't tested it on Mt. Washington (yet, plan to this fall!), but gusts up to around 40mph were handled well.
Warmth: As the norm with these types of jackets, you need to be active for it to perform. Just a good hiking pace will be sufficient. or use a liner.
Waterproofness: It's a softshell, they're not waterproof. That being said, the ROM jacket does pretty well in a mist, light rain, or gentle snow. During a recent 12" snowfall of pretty "wet" snow, it shed the dampness for about 15 minutes before I noticed the moisture wicking into the material. I think I may try to apply some aftermarket DWR treatment to see if that helps at all. 
Another thing, this jacket looks nice.  I got the blue one, I've had people mention how "cool" it looks. Can't go wrong with that...
Source: bought it new
Price Paid: $180

Great softshell jacket for high on the mountain or just around town. Highly recommended as an essential part of your layering system.
Pros
Alpine fit
Breathability
Durability
Moisture wicking
This thing breathes incredibly well especially for not having pit-zips which makes it lighter. It offers some warmth but definitely is to be used as a layering system on colder days.
I'm almost 6'1" and weigh 220 and have a large (that's me on the right). It fits snug and streamlined but I can still wear a powerfleece underneath along with baselayer of course.
The hood works well with a helmet but you don't feel like it swallows you without one. 
Great climbing jacket as you don't feel it ride up when you're reaching higher with an ax or for a hold. It's also a short cut to accommodate a harness but not too short.
The Windstopper material is a plus and comes in real handy when storms start to kick up.
In short, I love this jacket and look forward to it serving me well for years to come.
Disclaimer: I received this product without cost and direct from Marmot but not as a professional athlete or reviewer.  They helped out a charity climb up Mt. Rainier with some gear.  I would definitely purchase this on my own but in this case I didn't have to.
Source: received it as a sample, freebie, or prize (Marmot)

I bought this as a layering softshell. At 6'3", 170 lbs thin the L fits very well. It has an athletic cut that works well for a skinny guy like me. It does well in a light rain though it's overall a tad bit colder than I had hoped. Great jacket.
Pros
Athletic fit
Durability
Windstopper
I bought this as a layering softshell. At 6'3", 170 lbs thin the L fits very well. It has an athletic cut that works well for a skinny guy like me. the arm length is perfect. Over the wrists with little movement when stretching your arms out. The neck is tidy and the hood closes up tight. great cords for lots of tweak and adjustments to fit. Good pocket locations and plenty to choose from.
Windstopper is good but when wind is whipping no amount of Windstopper will take the bite out of the air.
It does well in a light rain though it won't hold up to anything very heavy. It's overall a tad bit colder than I had hoped. However when layered with a nice 100 fleece you can be comfortable walking in 30s.
I recommend this to anyone.
Source: bought it new
Price Paid: <90

Superbly breathable, wind proof, versatile softshell. My go-to layer from fall to spring.
Pros
Breathability
Pockets
Wind resistance
Cons
Arms could be longer
Can't cinch hood when zipped up
At 5'10" 200 lbs, a large fits me pretty well, with room for a fleece or thin puffy underneath. I use it day to day for over half the year, either by itself ~10°C or with a light insulating and base layer down to -10°C when I am active (ex. snowshoeing, hiking, ice climbing).
Arms could be longer for climbing, although I have a +2.5" ape so take that with a grain of salt. Also, to stow the extra cord when cinching the hood you have to open the jacket, as the ends are on the inside. Not ideal, bit still very usable.
Durability has been great, only thing is the Windstopper branding on the left cuff is delaminating bit, otherwise fantastic abrasion resistance against ice, rock, trees, etc. The Windstopper/non-membrane combo is ideal for me, being super breathable with a DWR strong enough for a solid week of early season ice before needing a run through the dryer. This is my most used layer, and is still awesome two seasons in.
The pockets are awesome for me, having the inner and outer napoleon pockets let me keep a phone/DeLorme and point and shoot on hand.
Overall a highly recommended jacket.
Source: bought it new
Price Paid: $180 CAD, on sale

When I originally went on my way to buy a soft shell jacket, I was aiming for a mountain Hardware--perhaps the Optimo or similar. Due to necessity, and the fact that my store was sold out of MH Optimos, the salesperson convinced me to try out the ROM.
For the first while, I wasn't sure. I wanted heavy duty water resistance, but breathability as well. If I have to choose, I'd rather be a bit damp from the rain then soaked to the bone with sweat.
I'm happy to say the ROM does this just fine. It's warm enough, especially if you are hiking or walking briskly, and it stops wind dead. Furthermore, I don't know how they did it, but they made it pretty water proof. I tested this jacket out in the shower just last night and was able to withstand 5 minutes of water and there wasn't a trace of dampness on my shirt underneath. Tonight, I plan to test it until it DOES leak. There was a bit of leaking near the zippers of the pockets, but that wasn't the biggest issue.
Other then that, the price, comfort, and imperviousness to wind--along with it's high water resistance--makes this jacket a solidly good buy for me, especially when compared to the $500.00 optimo I was originally going to buy. Keep in mind the Optimo is a totally different jacket--but it would have been an "overbuy" for my needs; the ROM fits my needs perfectly.
Price Paid: $180

Fantastic soft shell for ice climbing!
The two material design allows you to dump heat from under your arms without having any pit zips to snag on double length slings slung over your shoulder while allowing for the windstopper to still keep you warm while moving/standing still for short belays.
Arms and length are a nice cut (I'm 5'9" and a medium is a great fit) so the jacket does not pull out from under my harness nor do my wrists become exposed when reaching and swinging.
Hood is helmet compatible (I use a Petzl Ecrin Roc which is far from streamlined) and fits well without a lot of loose flap
Overall fit is athletic so it does not bunch and make it hard to grab/see screws or draws off your harness when twisting.
I had an old (7 years) Patagonia Dimension shell for years and this jacket is by far my favorite.
Price Paid: $125

I just got this jacket after wanting a softshell with a hood and I love it!
I am a huge Marmot fan and maybe that makes me a little biased, but this blows my Black Diamond softshell and even my Marmot Leadville out of the water!
I wear it often around and town and have used it snowshoeing and hiking, it is perfect! I plan on using it in another year when my wife and I hike the A.T. It compresses great in a backpack and using it climbing I have yet to snag it on any face. 
Haven't been in snow or anything yet really, no rain either, but I have no doubt and no fear that it will live up to the challenge!
Price Paid: $124

Your Review
Where to Buy
Help support this site by making your next gear purchase through one of the links above. Click a link, buy what you need, and the seller will contribute a portion of the purchase price to support Trailspace's independent gear reviews.
You May Like
Specs
Men's
Price
MSRP: $225.00
Current Retail: $123.72-$249.95
Historic Range: $22.99-$249.95
Reviewers Paid: $90.00-$180.00

Main Fabric
GORE-TEX Infinium, 92% Recycled Nylon, 8% Elastane, Plain weave, 170g/sqm

Weight
16 oz / 445.1 g

Center Back Length
29 in

Women's
Price
MSRP: $225.00
Current Retail: $113.99-$168.73
Historic Range: $18.89-$215.00

Main Fabric
GORE-TEX Infinium, 92% Recycled Nylon, 8% Elastane, Plain weave, 170g/sqm

Weight
14 oz / 409.5 g

Center Back Length
28 in

Recently on Trailspace