Marmot Sawtooth 15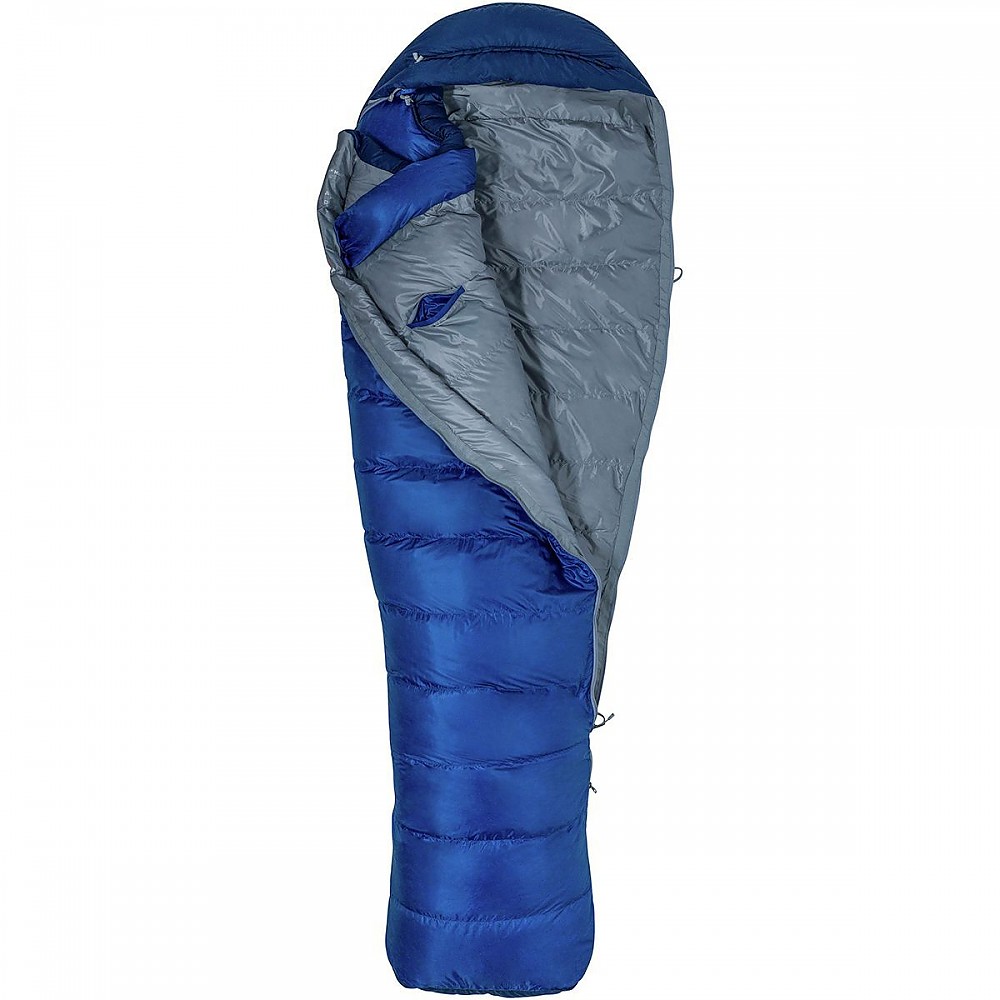 Long lasting, warm bag that serves its purpose well. Great hood system and nice feature set. The zipper is poor on my model but newer purchasers suggest this has been fixed. I recommend it as a great value.
Pros
Long lasting bag
Great hood system
Warm
Cons
Terrible zipper
Doesn't pack small
I have owned my Sawtooth for more than a decade and in that time it has seen more than a 365 days worth of use, including at least 180 days worth of subfreezing temperatures. So this bag gets a big plus for longevity.
The lowest I have had the bag is 12 degrees and the highest is 40 (because after 40 it gets too hot). When I bought the bag there were no "EN" ratings but I agree with them for this bag. The real sweet spot is between 25-35 degrees. The bag is perfect in that range. Under 25 degrees layers become important and under 20 layering is crucial. I would trust this bag down to zero degrees (I wouldn't sleep well, but I'd survive).
Another positive about this bag is its great hood system which works really well at allowing one to control temperature. It has separate drawstrings for the baffle and the hood enclosure. This system really shows its superiority when one is camping in a windy environment, as it allows complete blockage of the wind. If it's cold and dry I sometimes forgo my tent altogether knowing the system will keep at least a moderate wind off of me.
The one annoyance with this system is that the string clasps are identical which means that when groping for them in the dark it's easy to snag the baffle when you want to grab the hood. There is no way to tell them apart by feel. It's a thirty cent fix that would make a huge difference in how this bag works in practice.
Besides the hood the other thing I like is the nifty features. There is a pocket in the bottom for foot warmers or one's cell phone (to keep it warm. The bag is six feet which makes it nice for the average person to snuggle in (some bags clock in at 5'10 or 5'11" and it is surprising the extra difference one or two inches make.) It has a baffle that drapes the zipper so cold air and wind stays out. In other words, the design reflects solid thinking about the conditions and usage the bag is likely to get rather than a premium being placed on cutting costs.
The main reason I give this bag four instead of five stars is the zipper. The zipper on my model is terrible as it snags everything. I have noticed that more recent purchasers have praised the zipper so perhaps this problem was fixed on newer models. But on mine this zipper is the zipper from hell. When one needs to get up at night and take quick pee the last thing one wants to do is get in a war with the zipper. Sadly, that is the norm. Having used it so much I have gotten used to it by now but I do dislike it.
One other thing I'll mention is that the bag is fairly roomy for a mummy bag. I have a slender frame and there is plenty of room for me to wiggle around in and to keep extra gear (like a jacket) inside the bag (in case it gets colder than forecasted). I have a pair of wool booties for my feet I use with this bag and if it gets to hot I just kick them off inside the bag and there is room for them and my feet without feeling squashed.
I paid $300 for the bag ten years ago and I consider it money well spent. The fact that it doesn't pack small is to me a minor inconvenience--I am not an ultralight zealot and I have rarely had it out for more than a few nights at a time. I just wish it had a better zipper. If it did, you'd only be able to pry it from my cold, dead hands....
Source: bought it new (Bought at REI)
Price Paid: $300

Spacious, reliable bag, true to its 15 degree F rating.
Pros
Roomy enough to roll around
Drawstring acts as thermostat
15 degree rating accurate
Cons
Doesn't compress super-small
Heavy for a down bag
Untreated (non-hydrophobic) down
After carefully comparing a range of reputable down bags for bicycle touring in the mountains and general cold weather camping, I found a Long, Extra Wide version of the Marmot Sawtooth Down 15 Degree F sleeping bag for $150 online. Being over 6 feet tall but skinny, I knew I'd need a long bag, which always adds to the price and size/weight aspects. I don't need the extra wide size but I appreciate how it allows me to move around inside my bag, and could accommodate someone with a much larger torso.
I'm still wary about all the drawbacks of down, which amounts to me paying more for something that can't take as rough of use, but the synthetic bags I've owned in the past haven't held up to the night time temperatures in the mountains even in the middle of summer.
It came with a stuff sack that has a storm flap but no compression straps and is probably not water-proof, as well as a large mesh storage sack. I'm currently opting to hang it from the ceiling by its two loops at the feet in order to maintain the most loft over the years.
When I packed it up in a separately purchased 20 liter waterproof compression sack for a recent bike tour into the Colorado Rockies in early October, I learned that it nearly fills up one of my large rear panniers, and weighs nearly 5 pounds, so it wouldn't be ideal for lightweight backpacking trips.
During the course of that trip, it took me several nights to figure out the relationship between the hood drawstring and the temperature it would maintain. In freezing overnight temps, I would easily overheat if the hood was even halfway cinched, but in my experience it's always better to have a bag that's too warm when fully zipped and cinched than a bag that's not warm enough.
The Sawtooth is apparently one of the last down bags from a major/high end company to not feature treated hydrophobic down, as popularized by Sierra Designs Dri-Down. But from the studies I looked at comparing hydrophobic down to untreated down, and actual advantages aren't worth the increase in cost.
I worry a bit that the moisture created by my breathing, sweating, and morning dew and condensation might decrease the loft, but I think even a treated down bag will be pretty much ruined if it gets thoroughly soaked by rain (the way I lost my last down bag, due to the mildew that resulted).
Source: bought it new
Price Paid: $150

Kept me warm in the teens. This bag lives up to its warmth rating. Updated my rating primarily due to weight.
This bag is rated for 15 degrees and has held up to that. For its price, it packs down well and is relatively light at just over 3 lbs, or at least was when I bought it in 2005. There are probably lighter down bags now. 
I have used it in winter temperatures down to 10 degrees and been comfortable with no liner. A couple of nights my feet were cooler so I had to wear socks, but I think that was due to my older tent being a little snug at the feet and some condensation rubbing off on the bag.
As it is down, you have to be careful keeping it dry, but as long as you do that it will keep you warm. I would think that with a liner or adding a layer of clothes it could handle anything above zero. Durability is excellent...after 9 years it is like new.
My only minor complaint, which I have had with several bags, is the zipper will catch occasionally if you aren't careful. It has never damaged the bag when this happens.
I highly recommend the Sawtooth 15 for spring, fall, and winter trips.
UPDATE 10/23/14:
I bought a new bag (Feathered Friends, which I will review separately after a couple more trips), and had to downgrade this bag a notch as I really appreciate the higher quality down in the new bag (added warmth and reduced weight).
The Sawtooth is still a great bag for its price point, but there are better. I will continue to use this as a loaner to friends/family on cold weather trips.
Source: bought it new
Price Paid: Don't remember

This is a well-made sleeping bag with a lot of function for the price. It is insulated with 600 fill goose down and weighs about three pounds. It stuffs into a fairly small stuff sack. Mine does not have a membrain waterproof/breathable outer shell, but it is available with that at some extra expense.  
What I like - the zipper has a nice, grippy pull tab and stiffer/thicker strips of nylon that flank the zipper and run the entire length of the bag - which very helpfully prevents the zipper from snagging most of the time.  Good width at the shoulders.  Well-designed hood that cradles your head, draft tube in the proper location around the top of the shoulders/neck area.  
Two sets of drawstrings, one to tighten the edge of the hood (outside) and another to pull the draft tube tight around your shoulders/neck. The bag has a lower EN limit of 14 degrees fahrenheit, and a comfort rating of 26 degrees fahrenheit.  I think that is accurate from sleeping out in weather right around 32 degrees, when I was plenty warm. no down leakage.
Things that could be better - the draft tubes that run the length of the zipper are fairly insubstantial. On a few occasions, i could feel cold air in the area of the zipper and draft tubes.  
For me, this bag is a nice compromise of weight, down quality, and price. Spending more money will buy you 700 or 800 fill down, save you 1/2 to 1 pound in weight, and get you a little more room in your pack because the loftier, more expensive backs stuff smaller.  but, this occasionally shows up on sale for about half the price of an 800 fill back.  
My conclusion - excellent design and quality from Marmot except for the draft tube along the zipper, which is merely good. A very good 3 season down sleeping bag for the price.  
Price Paid: $160

Worked well enough and kept me plenty toasty on my 2012 Appalachian Trail thru-hike. However if you're looking into a long-distance hike, then look elsewhere. This bag was just far too heavy and bulky.
Pros
Comfortable
High quality
Warm
Normally thru-hikers will carry two sleeping bags: one for winter, and one for summer. I started with the Marmot Sawtooth 15° Long at Springer, switched out to the Mountain Hardwear 45° Long in Pearisburg, and then back to the Marmot in Hanover, NH.
So, let me start with the Marmot. It definitely kept me warm! There were some extremely cold nights starting out, a lot of which has to do with your elevations, but also time of the year. I think the coldest it got was in the 20s, and I was fine. I do normally sleep warmer I think than most, so take that into consideration, but this bag kept me nice and toasty, especially when I wore my long johns to sleep.
My only problem with it, and it's kind of a big problem, is that it is massive and pretty heavy when packed down. Seriously, it took up about half of my pack. It weighs 3lb 7oz, and packed down to about the size of a newborn baby. Weird analogy?
If you are able to, I'd go with something perhaps more expensive but much lighter, such as a Western Mountaineering bag. Those things are awesome.
Source: bought it new
Price Paid: $229

A solid performer overall and pretty true to its temperature rating. A good all-around bag for those who aren't too picky about weight.
I've been using this bag for about 2 years and it has stood up well to a fair number of trail nights. The Sawtooth keeps me warm and comfortable on nights down into the 20s, but I've pushed it as low as the teens and was able to sleep well with extra layers. Cold spots have not been a problem so far, and the bag seems to have kept most of its original loft. Careful storage is important with any bag.
The bag is roomy enough, especially compared to the tighter-cut bag I previously owned. No problems with sticky zippers, so getting in and out isn't a problem.
In terms of packability, this bag doesn't compress down to the size of many of the higher-fill bags. The stuff sack that came with the bag also leaves a bit to be desired. It's a little to small and has no compression straps, or even a place to grab on to for that matter. Needless to say, it's a slippery little bugger when packing.
Weight is not really a big issue for me, although there are much lighter options out there. Again, this often comes down to an issue of price!
Overall, a solid three-season bag that is well-constructed and won't break the bank.
Source: received it as a personal gift

Overall this bag is amazing. It is lightweight (1.1 kg), warm (I haven't tested it in its low point though), soft, with comfy materials.
Pros
Real 650g fill down
Lightweight
Best price
Trusted brand
Cons
It smells a bit (have tested three of those bags).
I bought this bag after searching online for a good down sleeping bag. After a good recommendation from friends I understood that Marmot has great products in this field.
The Sawtooth is -9 deg C. and it weighs 1.15 kg. This bag has the best price in its category. Most of the comparison I made was versus North Face, but their bags were more expensive comparably to the performance stated.
Currently I have used this bag in temperatures going towards the 0 deg C, and felt warm and nice inside. Also a female friend of mine who has the same bag stated that.
The down feathers inflate good after you unpack it from the compression sack, and therefore you receive good insulation. Until now I feel no shrinkage in the uncompressed size.
The outer material the bag is made of is very comfortable and soft. It is a nice feeling to dive inside each night!
The only flaw this bag has is a weird, but mild, scent. To me it smells a little bit like burned hair/feathers, but the other people who smelled it didn't think it's too bad, only me.
Source: bought it new
Price Paid: 200 usd

This bag is great for the price. It's kept me comfortable and warm into the low and windy/wet 30's (this was in a three season tent with mid-weight wool base layer for sleeping). The hood pulls tight comfortably and the draft collar works (I another bag rated to -0 which is not as warm because the draft collar sucks, have to wrap a jacket around my neck to keep the cold out).
I'm really impressed with this bag, especially, again, for the price. I used it on a couple of 40 degree nights with a bivy. I was breathing into the bivy and the condensation from my breath moistened the foot of the Sawtooth pretty good. It didn't soak into the bag and did not effect the loft or warmth. The moisture on the bag beaded and dried fast. I would still pack it in plastic while hiking.
Shoot, I was so impressed that I just bought a Marmot down vest, and would seriously consider buying another Marmot bag when and if the need arises. I've already been eying the Helium; just can't justify the expense right now as the Sawtooth is really an all around good value.
Someone else mentioned in another review, and I repeat: You have to use a sleeping pad under your sleeping bag, or it definitely will not live up to its rating.
Sweet dreams and sleep tight.
Design: Sawtooth regular
Fill: 650+
Temperature Rating: 15 degree
Weight: 2+ pounds
Price Paid: $180

I'm not happy with this bag, and am online now looking for another one. I'm a serious backpacker and have worked as a guide. I go on about 6-7 week long backcountry trips a year.
This bag was a replacement for my North Face synthetic 20 degree bag, and immediately I noticed a difference in quality-the Marmot bag is much lighter (ie less bombproof) material, with a much smaller draft tube and a basically worthless draft "collar." Also, after a few seasons of use, it has developed serious cold spots above my chest. I now have to shake the daylights out of it to distribute the down, which is getting really clumpy. Maybe it's just worn out (but I think it should last longer), but I've been frankly unhappy with the quality of this bag from the beginning. I'm no NorthFace bag, but my Cat's Meow, which is now many years older than the Sawtooth, is now just as warm and much more durable.
Plus, the bag now has TWO large holes in it (the Cat's Meow never ripped), plus down is leaking from all the seams. Not cool.
Design: mummy
Fill: 600 down
Temperature Rating: 15 Farenheight
Price Paid: not sure

One of, if not the best three season down bag on the market. I looked at nearly every bag (down and syn.) made before slipping into this one. Once I got in and examined the attention to detail, i had to have it. The stitching is super tight. The fabric is very tough and light. Even the stuff sack is the best i've seen.
I was weary of Marmot's bags cause i had heard they were constrictive, but i'm 6'1", 180 lbs, and fit perfectly, with some room to wiggle. If you want tight, try cramming yourself into a TNF Blue Kazoo. The temp rating is accurate. Notice that it's a 20 to 30 degree bag. I'm a very cold sleeper and it takes me down to 25 degrees. My feet have always froze in any other bag, but have yet to in this one. If I had any complaints, it would be that it gets a little clammy on the inside. But i think it's cause I sweat no matter what.
My second choice would have been a Sierra Designs Lewis (down), or a Moonstone 3D/Zone 2 (syn.).
Design: mummy
Fill: 600+ fill down
Temperature Rating: 20-30 degrees F
Weight: 2 lbs 12 oz. (long)
Price Paid: $160 ($220 retail)

Just what the doctor ordered. Packs down nicely without a stuff sack and nicely warm.
Roomy enough to sleep comfortably while keeping you very warm. Some say it's on the heavier side, but I think it's perfect. Great features and the treated down is a nice safety net should the bag become damp/wet.
Source: bought it new
Price Paid: $200

Just four words...This Bag Is WARM!!! I love this bag and will not leave home without it when the temperature drops below 50°F. Fairly light, but incredibly warm. Went rafting in Northern WI in early may and the temp dipped to about 30°F at night. While others were shivering in their bags, I was nice and toasty! I have found no cold spots and the quality of this bag is excellent.
Fit is great. Nice and roomy. I bought the regular and I am 5'6" and 165 lb.
I highly recommend this and any Marmot sleeping bag. They are excellent!
Price Paid: $169

Used for cycle touring in S.America.
At 0c I am cold and need to put on thermals. Heavy considering lack of warmth. Leaks a lot of down.
I have the long version which is long enough for my 6'3", but much wider than it needs to be. I am 90kg and it is way too roomy (it is not the wide version). It would be warmer and lighter if the fit were narrower.
The Kathmandu bag that this one replaced was cheaper, warmer, lighter and had a water-resistant shell, so overall I'm disappointed.
Design: mummy
Fill: 600 fill down
Price Paid: $200

Found this bag as a close out online. I Was looking for a bag for my wife to use on a 14 day backpacking trip at Philmont scout ranch in northeast New Mexico (Sangre de Cristo range - Rocky Mountains) She doesn't like mummy bags much because of the confinement and can't carry much weight because of shoulder problems. This bag was the answer to my prayers!! Nice and roomy, very light weight, well constructed, temp rating right on, packed small, and on top of all that it didn't bust my budget! Great Sleeping Bag.
Design: Mummy
Fill: 600 fill down
Temperature Rating: 20F-30F
Weight: 2lb 6oz
Price Paid: $99

Version reviewed: Long
This bag has clearly the best quality/price ratio! I did a lot of research (thanks for all the posts here and elsewhere) and the Marmot Sawtooth emerged on top in my category. I am quite tall, but I don't feel 'stuffed into' the bag, there's sufficient room to wiggle. When I went to my local sports store in NYC to pick it up I was prepaired to pay $217 for the long version. But what a surprise, when I learned at the cashiers that the bag was discounted 40%!!!
Design: Mummy
Fill: 650 fill down
Temperature Rating: 20-30F
Weight: 2.2 lbs
Price Paid: $142

I don't have any serious complaints about this bag. My 2nd Marmot bag, my first was the Mistral w/Lite Loft ins. It lost all its loft so I bought this, at REI. 
I have woken in the morning with ice crusted on it, and been roast toasty. The zipper frequently gets caught, unless I baby it along. No big deal, that's what bags do.
I am skeptical of REI's price now, it's 50 bucks more than when I bought it 5-6 years ago.
Price Paid: $210

The bag is very nice. I have used it in temperatures bellow freezing and in the snow without any problems. It packs very small and doesn't weigh much. There isn't any sort of color or yoke, although this doesn't seem to be a problem. The price is a bit steep for the bag, but for down it is not really that bad. The shell material (Horizon Ultra) is water repellent and drys fairly quickly. It is better than the comparable North Face bags.
Design: Mummy
Fill: 600 down with PolarGuard draft tube
Temperature Rating: 20-30 F
Weight: 2 lb 12 oz
Price Paid: $185

a nice comfy bag. i've only used it in temps over 40 degrees, so i can't vouch for it's warmth, though others seem to like it. my main reasons for getting it is that it compresses nicely and weighs so little. it did get a tiny puncture somehow after it's second trip. i noticed the feathers the second day of the trip. this has made me question it's ruggedness, but then again, i'm usually kind of rough with my gear.
Design: mummy
Fill: 600 down with PolarGuard draft tube
Temperature Rating: 20-30f
Weight: 2+ lbs
Price Paid: $149

It's very functional. I used it in my coldest trip yet, 12 degrees in Blueridge and it kept me toasty with thermals, socks, and sweater. Honestly, if you need a bag for all seasons, this is it. It will keep you warm in the winter with layers and is breathable enough to use during the summer. I like it because it's fairly wide too, I can't use tight bags. For me, it fits all my needs.
Price Paid: $215

I really would like to have a lighter, smaller packed 15 degree bag, but one will cost me $200 more than I paid for my Sawtooth. If the temp will drop below 30, it's in my pack. I had an REI subkilo, but it was too confining. I can toss and turn all night in the Sawtooth and it keeps me comfortable (into the low 20s so far). I agree with other raters, it's a great deal.
Design: mummy
Fill: 600 fill down
Temperature Rating: 15
Weight: 2.14
Price Paid: $160

Best sleeping bag I've ever owned. Nothing better than Marmot and I've even named my dog after the brand. I've used the Sawtooth everywhere from Montana to Kenya. Even on the equator it was comfortable enough to just drape over myself. I lost it once in Yellowstone and it was apparently special enough for the crew there to mail it all the way back to New Jersey. Marmot for Life
Price Paid: $189

+++ to Bill and Herbert, the regular fit me perfectly at 6'0" and 220 lbs. Nice and warm in Utah mid March...low 20's to high teens nights at lowest temp. 5 stars for value and warmth! Though not as light as others.
Design: mummy
Fill: 600 fill down
Temperature Rating: farenheight
Price Paid: $165

Oh I love this bag! I have never felt cold in this bag.
I wish it was slightly lighter but you can't get everything.
Packs down small and the outer material is quite water resistant I noticed.
Design: mummy
Fill: 600 fill down

Bought the extra long and extra wide, me and my wife love it. We only have to carry one bag. We will definitely buy more Marmot products.
Design: mummy
Fill: 600
Temperature Rating: 15 f
Weight: 3 lbs 7oz
Price Paid: $150

Being somewhat wide shouldered and stocky, one of my main concerns in buying a bag was the amount of room. The Marmot Sawtooth is roomy enough. Much more roomier than North Face bags that I tried on at the store. It kept me toasty at low 30's in the Smokies. Will try it out this winter to test that 20 degree rating. Seemed to me to be one of the warmer, roomier, better made bags at a good price. Also has a locking zipper to keep it from unzipping inadvertantly.
Design: mummy
Fill: 600 fill down
Temperature Rating: 20-30 F
Weight: 2 lbs 12oz
Price Paid: $150

Totally useless piece of shit!
Used four times, lost its loft and i nearly succumbed to hypothermia in 25 deg temps!
Down does not stay in place properly! Traded in for a North Face Cats Meow.
Price Paid: Too much

Your Review
Where to Buy
Help support this site by making your next gear purchase through one of the links above. Click a link, buy what you need, and the seller will contribute a portion of the purchase price to support Trailspace's independent gear reviews.
You May Like
Specs
Regular
Long
Price
MSRP: $229.00
Current Retail: $134.25-$319.00
Historic Range: $70.00-$319.00
Reviewers Paid: $99.00-$300.00

Weight
3 lb 1 oz / 1389 g
3 lb 4 oz / 1474 g
Fill weight
1 lb 6 oz / 623 g
1 lb 8 oz / 680 g
Temperature Rating
15 F / -9.4 C
15 F / -9.4 C
EN Comfort
26.1 F / -3.3 C
26.1 F / -3.3 C
EN Lower Limit
14.4 F / -9.8 C
14.4 F / -9.8 C
EN Extreme
-19.1 F / -28.4 C
-19.1 F / -28.4 C
Fill
600 Fill-Power Down
600 Fill-Power Down
Shape
Mummy
Mummy
Max User Height
6 ft 0 in / 180 cm
6 ft 6 in / 200 cm
Hip Girth
58 in / 147 cm
58 in / 147 cm
Foot Girth
40 in / 101 cm
40 in / 101 cm
Price
$229 USD
$249.00 USD
Recently on Trailspace