Marmot Scree Pant

The Marmot Scree Pant is an extremely comfortable, water resistant, breathable, highly wind resistant soft shell pant that performers exceptionally well in 4-season weather. Points can be added for the stylish look of these pants.
Pros
Fits well
Comfortable
High effective at wind protection
Warm
Stylish
Cons
Moisture build up in the pockets
Only one cargo pocket
Testing Parameters
Several day hikes and mild weather backpacking. Three days on Mt. Rainier with lower elevation temps in mid-60s, upper elevation temps in low-20s with 30-40mph winds.
=========================================
Fit & Comfort
I purchased these pants in a store after trying them on. Past experiences have taught me that soft shell pants are short in the inseam and purchasing them online leads to shipping them back. This was the first pair of 32-inch waist soft shells that comfortably fit my 34-inch inseam.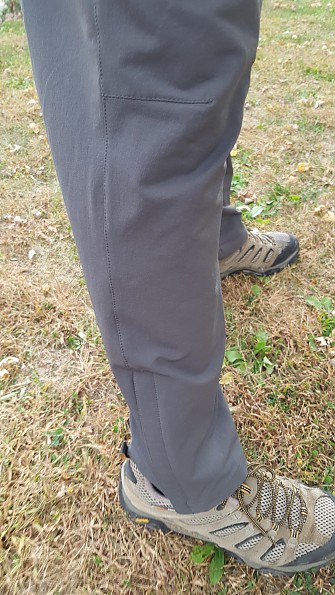 The pants are soft and comfortable, easy to move in, and a pleasure to wear. The articulated knees (pictured below) cause a relaxed, fluid movement.
Zippered cuffs at the ankles allows for a tapered fit, reducing the chance of wind running up the leg.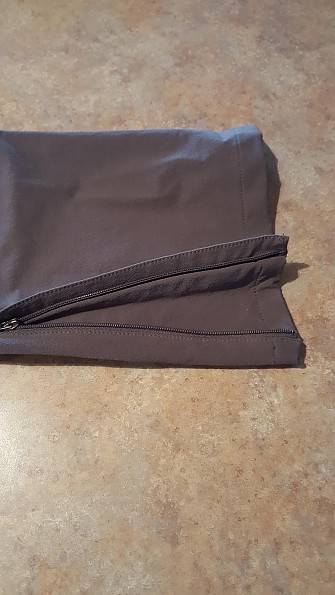 =========================================
Water Resistance and Breathability:
Marmot classifies their softshells into three categories, M1-M3. The Scree Pant is rated M3, "most breathable in the collection" (That's marketing code for "least water resistant."). Tags with the pant say "...best for high aerobic activities in drier, milder conditions." I have not worn these pants in heavy rains or exceptionally wet conditions. Taking the occasional knee on Mt. Rainier glaciers and snow fields, moisture never penetrated the pants.
For the most part, I feel the pants breath well. Over my three days on Rainier I traveled through several different temperature zones, I never felt wet or clammy at any elevation. However, all the pockets are zippered, and I found that anything I kept in the pockets were damp anytime I reached for them. This was particularly annoying when reaching for my camera phone. It had a sheen of sweat across the screen at every temperature.

=========================================
Wind Resistance & Warmth
Softshell pants are not advertised at wind "proof." However, in high winds, I never felt the wind cutting through the pants. These pants are warm. The were almost too warm when we set out for base camp in 60F temps. At 10,000' I only donned a pair of hard shell pants when we stopped hiking for the day. I felt no need to add a light baselayer until we began our summit attempt from high camp at 2am, starting at 11,500'.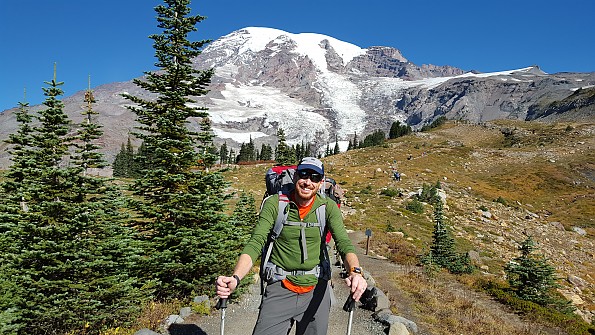 =========================================


Construction, Durability, & Abrasion
Obviously, I was not trying to damage a $100 pair of pants. However, the pants are tough and well made. Given the lifespan of some of my lesser hiking pants, I expect these to last me several years.
Pockets are the Con
I already noted the pockets get clammy when zippered shut. The pockets are shallow. They held my Galaxy S6 phone in its case, but just barely. I was not comfortable leaving the pockets unzipped, where items could fall out. I also wish there were two cargo pockets, instead of just one on the right thigh. After all, I do have two legs. I deducted half a star in my rating due to the pockets.
=========================================
Overall, a great soft shell pant. If you are looking for a pair, I would recommend these.
Source: bought it new
Price Paid: $99 on sale

These pants are comfortable in a wide range of temperatures for a variety of uses. They stretch enough to do the splits and don't look too much like "outdoor" pants.
Pros
The fabric is durable and highly breathable
Fabric similar to Schoeller but about $150 less
Highly breathable
Cons
The fit is a bit old school with a tall rise
Too warm to use in the summer
Zippered cuff doesn't expand very much
My original intention with these pants was to use them as a summer climbing pant. But after the first day wearing them I realized they were intended for much colder temperatures. The highly breathable stretch woven is perfect for cool to cold weather activities including such things as bike commuting to work very early in the morning, hiking in the high country in the fall and cross country skiing.
Even though the pants fit trim, I can layer thin fleece tights under them when it gets really cold. The fabric is very abrasion resistant and has been tested in diverse activities such as manzanita bushwacking, cycling, chasing toddlers around on the carpet and failed attempts at off width climbing. Even after two plus years of use the pants look great and there's no discernible wear on the knees or butt.
All the pockets are deep enough to be functional and zippered to prevent loss, the ankle drawcord works well to turn the pants into knickers when you get too hot. The zippered cuff doesn't really expand the cuff very much, the pants could probably function just as well without the zippers.
Would I buy another pair of these pants? Yes, in fact I own both colors - gray and black and if they came in red I'd probably buy a third pair.
Source: bought it new
Price Paid: on sale for $80

I love wearing these pants on short backpacking trips and afternoon outings alike. They are lightweight, perfect for layering.
Pros
The three pockets (all zip) make organization easy on trail
machine washable!
Fleece lining on the upper pockets is LUXURIOUS, my favorite feature
Excellent job repelling burs
Cons
Slim cut makes it hard to layer with boots, despite the zippers
Its only been 8 months, but I'm already getting pilling on the seat of the pants
The fit of these soft shell pants was unusual—I went up a size, and can easily throw on 1 or 2 wicking layers to stay warm in most conditions.  That said, there is a lot of flexibility in the fit of these pants, the elastic waistband has plenty of give, and the ankles can be zipped up to tightly seal out cold air, or opened (although mine still would not fit over the ankle of my boots). 
I've also found that the fit is comfortable enough that I'll just add fleece pants right over them when I get into camp after a day on the trail (or a hard-shell in poor weather).  I've used the pants in rainy, snowy and windy conditions, and found that they do a good job of keeping me protected.  They do not provide warmth, but they do a good job of blocking the wind, and the wet- including sweat. This does well at wicking away sweat so when I stop for breaks, my temperature doesn't do a nose-dive. 
So far, my main issue with these pants has been handling abrasion. I'm not gentle on my gear, but I'm surprised to  see pilling (especially along the lines where my harness hits) after 8 months.
Otherwise, this is a pair of well made pants, the seams are showing no signs of use, the fleecy pockets are still fleecy and I'm still going to be wearing them for a long time to come.
Source: received it as a personal gift

I ordered these pants off of Sierra Trading Post's site and wore them around the house to see whether or not they were worthy of keeping. The fit, material, comfort and look of the Marmot Scree Pants put them at the top of the chart.
The first chance to get them outdoors came on a car camping trip with my wife down to Cape May, NJ. They were a hit but I never really had the chance to put them through their paces (so to speak).
Last weekend I took them on a backpacking trip to Bear Mountain/Harriman State Park in New York with two of my friends. I started out wearing a pair of OR pants (I cannot remember the name) because it was a warm day (I'll try using the Scree's exclusively the next time I have the chance). After arriving at our shelter the next day, a front came through and it got significantly windier and definitely colder. Perfect.
Now it was time to break out the Scree Pants and put them to the test. I instantly realized their wind resistant properties and the soft interior not only felt nice on my skin but created the warmth securing properties I was hoping for in these pants. They allowed me to wear my own belt (so I could hang my Leatherman), resisted stains and made my friends jealous.
If you purchase these you will not regret it. I am a 50 year old man, 6' 225 lbs and the Large pair fit me quite well. As a former U.S. Army Special Forces chaplain who now owns his own home remodeling business whose been backpacking/camping/being outdoors for 37+ years now--you can trust these words. Enjoy!

I can only speak to fit and not function although it was immediately obvious that the Scree is very well made with quality materials. They also offer as little restriction as you could possibly want and are soft against your skin. Impressive pants.
I ordered the Screes after a lot of research. Unfortunately, I couldn't find the size I wear available at any local retailers to try on in advance. When they arrived I was stoked. While they were fine in the butt, and the very forgiving elastic made them comfortable in the waist, they were too baggy for my taste. I have pretty big legs and bagginess isn't usually a problem. 
I called over to a store and got someone on the floor who knew about the Screes. He said they tend to run loose in the legs. He suggested the Marmot Rockstar as an alternative which uses the same M3 material but has a more low-profile cut.  
These are still excellent pants and would do as well over a base layer as they would under a hard shell.  I just prefer a little more fit in the legs. The Rockstar delivered that and I'll be doing a review once I've got them out there a bit. 
Of course, as it is whenever you're talking about cars, body types and tastes, your mileage may vary.
Source: bought it new
Price Paid: $110

Durable, water and wind resistant, good winter soft shell.
Pros
Durable, simple design
Water, wind resistance
Perfect with base layer underneath
Cons
Not that comfortable against the skin
Too warm for summer
I've had these for four years, and have used them primarily for snowshoeing, xc skiing, and winter hikes. They still look like new. When worn with a mid weight base layer, they're perfect in cool to moderately cold winter weather.  When I bought them, I could only get them in a 32" inseam, which is just long enough, but thankfully they haven't shrunk at all with washing. 
The fabric is stretchy enough for active motion, but heavy enough for good wind and water resistance, and the articulated knees seem perfectly cut. The stitching and seams are strong, and the zips don't snag. They have a zippered ankle cuff, which could zip a bit higher for AT ski boots, and as others have mentioned the pockets aren't very deep. I don't really use the pockets except the side leg pocket, which is fine for stuffing a map or phone in. The belt loops are well positioned. 
For the price these are a great buy, and I'm glad to see that they are offered in different lengths and colors. I'll likely buy another pair in the future. 
Background
Many snowshoe, hiking, and skiing trips. No climbing or other more clothing-abusive activities.
Source: bought it new
Price Paid: About $90 cnd.

Used to be the best pants ever.
Pros
Comfortable.
Look good enough to pass for business causal most days.
Warm AND cool.
Cons
Can be expensive if not bought on sale.
Changes to design over the years have left these pants a shadow of what they once were.
I bought my first pair of these a decade ago it seems.  They turned out to be the most amazing comfortable pants I had ever worn.  They seemed indestructible and to give you and idea of what I mean, I still have be original pair but they look ratty these days.  I have hiked with them through rocks and poking things like brambles and branches.  The most amazing feature of these pants is temperature regulation.  Or at least it was.  The first designs of these used thicker material and oddly not only did they keep your legs warm in temperatures down to freezing, they also kept them cool.  I hiked with these pants in the winter and the summer.  Never was I uncomfortable in them.  Within the last 5 years, maybe a little longer, they have change the material to something much thinner.  They seem as durable, the material doesn't fray or pull out if snagged.  But the thinner material means no more cold weather hikes without some type of insulated underlayer.  Also, they started removing pockets.  No more rear wallet pocket.  One grip is the side leg pocket, its at just the right height to be annoying.  It needs to be a little further up on the leg to keep whatever is in there from touching your knee  I'm deducting a star for changing something that was perfectly good to begin with.
Also, buy these on sale. They go on sale every year for at least half off.  Never pay full price, no reason to.
To give you and idea how much I like these, I currently own 6 pairs.
Background
I have owned and used sets of the pants for at least a decade.
Source: bought it new
Price Paid: $60 - $75

OK, so I got the black Marmot Scree Pants 3 months ago and have been wearing them around town to see how they fit and I can say that they are a very good design.... BUT just wearing them around is really not enough to fully understand what these pants are worth so we went to North Fork and did some hiking and kayaking for 4 days and I found that these pants are truly the very best 4 season pants on the market and I'm buying the grey ones as soon a I can.
They kept me warm, they have a stretch quality kinda like a soft shell jacket, they are stretchy and bend with every movement. I am 5 foot 11 inches and I got the Medium/Reg. These are the best on the market!
I recommend winter hiking, skiing, snowshoeing, summer hiking, climbing etc. This is an all around pair of pants.
Price Paid: $89

These are fairly light so can be used in warmer weather. The factory DWR is very good but I haven't had them long enough to know how long it lasts. Good wind resistance and fast drying. Great in colder weather as they flex over a base layer well. Not insulated at all tho.
Pros
Comfortable and flex without that polyester leisure suit feeling
Good comfort with elastic in the waistband
Cons
On the thin side for winter use
Oops, I pretty much said it all in the summary.
Source: bought it new
Price Paid: $69 on sale

These are great stretchy, warm pants for cool conditions. They are very wind resistant and withstand a ton of abuse.
Pros
Good fit
Stretch
Durable
Zip cuffs
Cons
Needs more lighter colors
Ankle elastic a little irritating at times.
I don't think they would do well in temps above the 60s (F) because they're pretty warm, but they do breathe well.
Source: bought it new
Price Paid: $79

Your Review
Where to Buy
Help support this site by making your next gear purchase through one of the links above. Click a link, buy what you need, and the seller will contribute a portion of the purchase price to support Trailspace's independent gear reviews.
You May Like
Specs
Men's
Price
MSRP: $100.00
Current Retail: $48.78-$122.00
Historic Range: $27.48-$399.96
Reviewers Paid: $69.00-$110.00

Weight
1 lb 1 oz / 481.9 g

Main Material
Softshell Double Weave 90% Nylon 10% Elastane Stretch 6.3 oz / yd

Women's
Price
MSRP: $100.00
Current Retail: $60.94-$122.00
Historic Range: $23.83-$122.00
Reviewers Paid: $80.00

Weight
14 oz / 396.9 g

Main Material
Softshell Double Weave 90% Nylon 10% Elastane Stretch 6.3 oz / yd

Recently on Trailspace