Marmot Trestles 30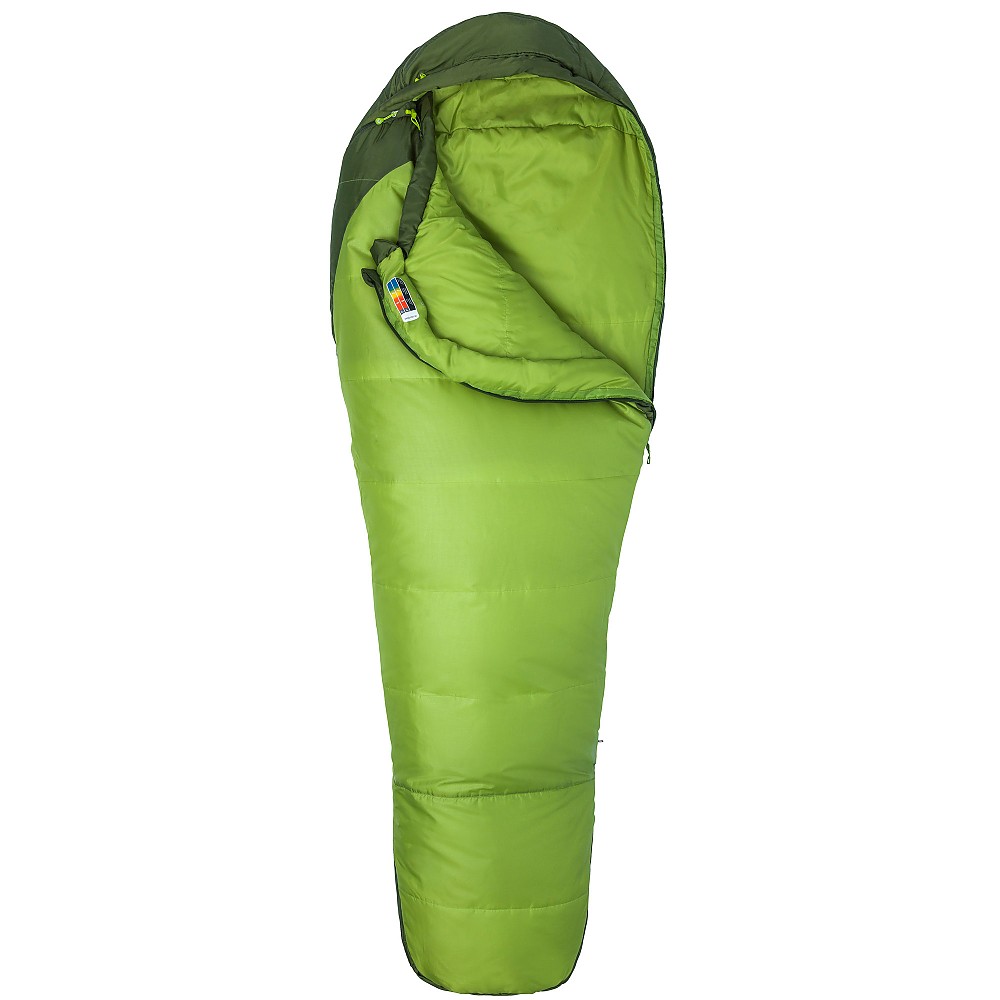 These are my initial thoughts after one use so take it with a grain of salt. I will attempt to update this after further use. Also, I have the yellow version with a stripe symmetrically down each side with "Marmot" in the middle. I think it is an older model even though I bought it new this year from the local outdoor store. The tag says "delivered spring 2006". Today's date is May 25, 2008.
About me: I'm 6'1" 175 lbs. I got the "long" version of the bag.
1. I stayed moderately warm in this bag in low 40's high 30's. I am also a very warm sleeper and was wearing sweatpants and a t shirt. The foot of my bag got a little wet because of my buddy's cheap tent. I didn't notice the wetness too much although it could have affected my temperature. I shivered only a little throughout a very windy/rainy night.
2. The zipper was slightly difficult to pull and a little frustrating at night. It seemed to get stuck on the draft tube all the time. This could just be it breaking in? A pleasant surprise was that the little zipper puller glowed in the dark!
3. The "stash pocket" kinda sucks. It took me a while to find it when I first got the bag. It is on the inside close to your chest with a small velcro closure. I found that things could easily slide past each side of the velcro and fall out of the pocket. Anything smaller than 3" could slip through. My knife could slip through and so could an energy bar. A zipper or more velcro would have been nice. I'd also prefer a pocket on the outside of the back instead of the inside.
4. The bag material feels very nice. I like that part a lot.
5. Packs pretty decently small and is fairly light.
6. Although the zipper sort of seemed to "lock" in place when zipped all the way up, I think I would prefer the normal little velcro strap to secure it a little more.
So far, initial conclusion:
-you get what you pay for-
If you are a price conscious person in need of a decent small bag to pack around with you in semi-warm conditions, this is it. Love the bag so far but I'm afraid it might not be an awesome bag when pushed a little.
Design: mummy
Fill: Spirafil
Temperature Rating: 30
Weight: 3.0 lbs
Price Paid: $80

Version reviewed: Long
32°F? I don't think so. But mind you, 32°F is the lower limit of any 3-season bag that is advertised as a 30°F bag. I have slept comfortably in this bag in temperatures anywhere from 40°F to 60°F. Anything warmer than that, I either sleep on top of the bag or with it halfway zipped down.
Pros
Comfy up to lower limit
Roomy
Offers versatility in different temperature ranges
Cons
Heavy
Bad sizing
Large pack size
Now to fit and comfort. I am 6'0'', and I was strongly advised to buy the Long instead of the Regular since I was kind of in between sizes. I bought the Long. Worst decision ever. The Long would comfortably fit someone who is 6'4'', not someone who is 6'0''. I will say that I do have lots of room. I mean, I can sit Indian-style in the darn thing. Hood is cool; it has a cinch that will vary the size of the head opening to prevent drafts of cold air from getting into your bag.
Very easy to get in and out of the bag. On the right side (when in the bag) there is a full zip all the way down to your feet and on the left, there is a half zip. All-in-all, this provides the user with lots of different options in varying temperature ranges. The Trestle 30 includes a small "Stash Sack" on the inside of the bag near the head opening to store small items such as a phone, headlamp, knife, whatever.
The shell and insulation aren't the most quality materials ever, but I have yet to have a problem with being wet in the mornings, even after humid nights in a poorly ventilated tent. I have woken up to having dew on the outside of the bag, but opened up the bag and been dry and toasty, so it must be doing its job!
The loft is still nice (uses SpiraFil High loft Insulation), even after having the bag for about a year. Packability is something I have a bit of a problem with. Even when smushed down to as small as I can get it, the pack size is a large 9'' by 5'' and weighs in at 3 lb. 3 oz! hardly a lightweight backpacking sleeping bag.
I will say that the bag is well made and will last you a long time, all though I would not recommend for long distance backpacking. It is possible to go lighter and warmer.
Source: bought it new
Price Paid: $119.99 USD

Fine but not impressed. I took good care of this bag, handled it nicely, never stored it compressed, fluffed it in the dryer, etc. And yet by the third season the bag was so cold that it was virtually useless in temps in the 40s without a really heavy fleece liner. I've had a lot of cold nights in that bag and I don't think there's even been frost in the mornings. It's fine for warm weather and cheap, but given the weight (52oz according to my own scale) and stuff size (12" x 9") you can find a better bag without spending much more.
Two qualifiers though. First, I'm 6'0" and 170lbs and don't have much meat to keep me warm. I swear someone the same height with 30 more lbs will do as well as me in weather 7-10 deg cooler.
Second, this bag is an older version. If Marmot has made big changes to this bag it may be fine. But how will you know until you've owned it for 3 years?
Design: mummy
Temperature Rating: 30 degF
Weight: 3lb 3oz

Got 2 of them. One for each son.
They don't pack small by any means, but they are warm and durable. Both boys use them year round in canvas and nylon tents. We always hang them, never have washed them — never any problems.
Having a zipper on both sides is a nice touch in warmer weather. Nice way to become a blanket.  lol. 
After having them for 4 years I'd recommend them to any Boy Scout or anyone else.
Price Paid: $65

Gone are the days when Marmot made durable and hardcore outdoor products. Instead, we now have Marmot, the maker of average to subpar outdoor products that are at best just a step ahead of Walmart quality. The Trestles 30 is suitable for car camping and campground only outings.
Pros
Cost
Compression stuff bag
Upper body zipper placement
Cons
Cheap stitching
Cheap materials
Poor quality construction
While I cannot say the Trestles 30 is a "bad" bag, I also can't say this is a bag that is going to do anything more than be a decent bag for car camping and front country endeavors.
Like other Marmot products I have tested of late it is not the same quality that Marmot was once known for. 
Source: bought it new
Price Paid: $90

Cozy sleeping bag. I have not used this bag at its suggested temperature rating but I was nice and cozy using this in lower 40 degree temps on a fall camping trip. In colder temps, it works best with a sleeping pad as long as you are, otherwise you get the dreaded cold feet. My backpacking pad is slightly shorter than I am, and I compensate for this by using my closed-cell foam sitting pad at the foot end to add the inches I need. The zipper does not work flawlessly 100 percent of the time, otherwise I'd give it five stars. It compresses easily and wonderfully and is very comfortable.
Design: mummy
Fill: spirafil
Temperature Rating: 30
Weight: 3
Price Paid: $100

I manage an outdoor gear rental center and I'm constantly searching for gear that is durable, cheap, and compact. The Trestles 30 is currently my favorite sleeping bag, not only because it reflects those three traits, but also because it has more loft than most of my cold weather bags rated 10 - 20 degrees less.
Plus, girls are attracted to its bright yellow color.
Temperature Rating: 30 Degrees Farenheight
Price Paid: $70

Just got this bag and first impressions are very good. I need a lightweight synthetic bag for kayack camping, usually in Mo and it gets very humid at times. I think it will be plenty warm enough for three-season use.
Very roomy and comfortable. It packs down to almost nothing with the compression stuff sack. More later!
Design: "I want my mummy"
Fill: spirafil, proprietary fill
Temperature Rating: 30
Weight: 2.13
Price Paid: $79 free shipping

Your Review
Where to Buy
Help support this site by making your next gear purchase through one of the links above. Click a link, buy what you need, and the seller will contribute a portion of the purchase price to support Trailspace's independent gear reviews.
You May Like
Specs
Men's
Regular
Long
Price
MSRP: $89.00
Current Retail: $63.77-$119.00
Historic Range: $44.73-$149.93
Reviewers Paid: $65.00-$119.99

Weight
3 lb 3 oz / 1445 g
3 lb 7 oz / 1559 g
Fill Eeight
1 lb 5 oz / 595 g
1 lb 6 oz / 623 g
Temperature Rating
30 F / -1.1 C
30 F / -1.1 C
EN Comfort
42.3 F / 5.7 C
42.3 F / 5.7 C
EN Lower Limit
33.4 F / .8 C
33.4 F / .8 C
EN Extreme
5.9 F / -14.5 C
5.9 F / -14.5 C
Fill
SpiraFil High Loft Synthetic
SpiraFil High Loft Synthetic
Shape
Mummy
Mummy
Max User Height
6 ft 0 in / 180 cm
6 ft 6 in / 200 cm
Hip Girth
58 in / 147 cm
58 in / 147 cm
Foot Girth
40 in / 101 cm
40 in / 101 cm
Price
$89.00 USD
$99.00 USD
Women's
Regular
Long
Price
MSRP: $89.00
Historic Range: $36.73-$148.95

Kids'
Price
MSRP: $75.00
Historic Range: $23.97-$89.98

Weight
2 lb 9 oz / 1162 g

Fill Weight
1 lb 4 oz / 566 g

Temperature Rating
30 F / -1.1 C

Fill
SpiraFil High Loft Synthetic

Shape
Mummy

Max User Height
5 ft 0 in / 200 cm

Hip Girth
51 in / 129 cm

Foot Girth
38 in / 96 cm