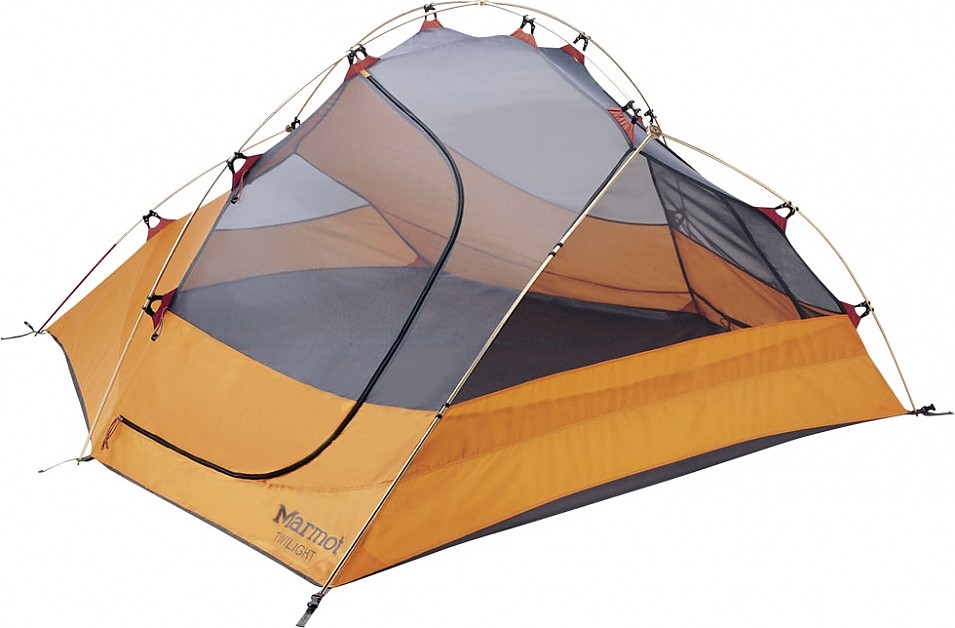 Specs
Price
MSRP: $259.00
Historic Range: $16.00-$269.00
Reviewers Paid: $100.00-$250.00

Maximum Weight
5 lb 9 oz / 2.5 kg

Minimum Weight
5 lb 4 oz / 2.4 kg

Dimensions
40 x 60 x 88 in / 102 x 152 x 224 cm

Packed Size
7 x 17 in / 18 x 43 cm

Vestibule Area
10.5 sq ft / 1 sq m

Tent Poles
2 / DAC FeatherLite 8.84 mm

Floor Area
34 sq ft / 3.2 sq m

Tent Floor Material
70d 100% Nylon PU 3000 mm W/R, F/R

Tent Canopy Material
68d 100% Polyester Ripstop, F/R

Tent Fly Material
68d 100% Polyester Ripstop 1800 mm, W/R, F/R

Reviews
17

reviews

5-star:

9

4-star:

7

3-star:

1

2-star:

0

1-star:

0
This tent is a backcountry luxury.  It has two fairly large vestibules (10.5 square feet each) to store large packs and boots, and there is plenty of room for two inside.  I have slept comfortably inside at 6'1" with another person who was 5'10".  One night we got two people and one 68 pound dog inside – doable, but certainly not recommended.  The tent body has a fair amount of mesh:
and the fly has two lightweight sewn-in "posts" on top that can be erected on a strip of velcro to address ventilation issues.  This tent breathes fairly well, and I haven't had much condensation, even on colder nights.  
Another great feature is that there are two doors and two mesh inner pockets for stashing things.  The hub pole system is a little tricky to do with only one person, but using the color coded grommets and pole tips, the only thing you will need to work on is technique.  I also really like the large clips that hold the tent body to the poles, as they are quite simple to snap on and off.  
Everywhere that I have seen this tent for sale has included a free gear loft and ground cloth.  The gear loft is a definite bonus.  For some people the ground cloth is a bonus – I still carry mine.  The tent has kept me dry in several nights of rain, one of which was quite hard (1800mm coating on the fly).  
One small complaint that I have is that it is basically impossible to fully zip the vestibules either open or closed while remaining fully in the tent.  The degree at which the vestibule slopes would just require very long arms to be able to zip it all the way: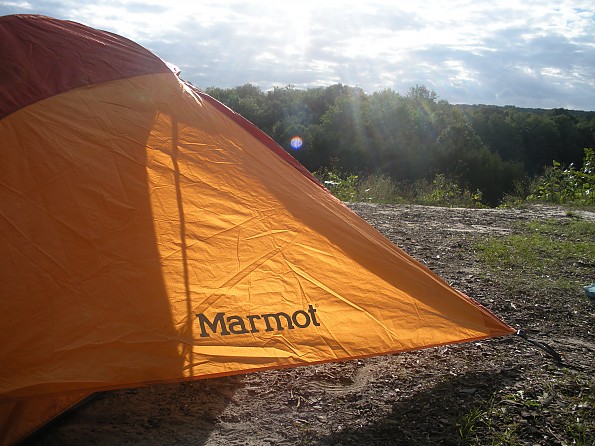 That said, all the stake-out points on the ground cloth have buckles that snap to the fly and tension very easily, and you could leave the tent body at home to shed some weight, which is something this tent does have a lot of.  At 5 lbs. 9 oz., a lot of backpackers will simply not consider it.  If you don't mind packing the extra weight for a little extra space, then this is a great tent for you!  
I did not count the weight of this tent as a negative in the review, since it is a specification that is easy to obtain beforehand, and thus nobody should be surprised at it's weight or size in the pack if they do decide to purchase.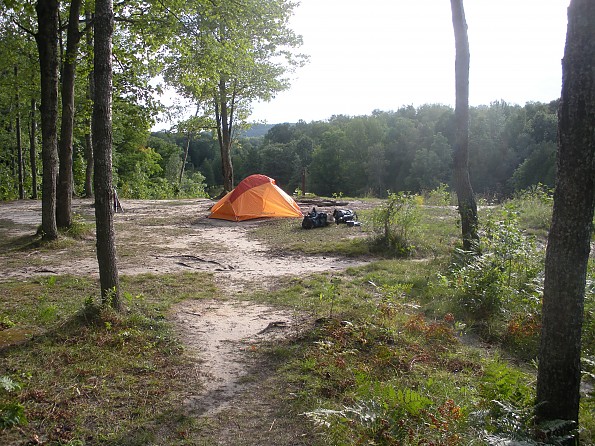 Price Paid: $250

This is a great buy, it isn't expensive at all and gives you a lot for your money. It is really waterproof, and it comes with a footprint. I slept in it with my girlfriend and my dog (a 65-pound Boxer).
Pros
Waterproof
Roomy
Vent
Easy to set up
Cons
Won't fit in ALL campground
It is really easy to set up, and you even a color code for the poles. It holds up in big wind and heavy rain like it was nothing.  The ventilation is amazing, and never felt condensation.
This tent is very big inside, its a roomy two-person tent. There is also a lot of storage.
The two vestibules  are amazing, there is place for all your gear and more!
Source: bought via a "pro deal"
Price Paid: 100$

My friend and I lived in this tent for 6 weeks while we hiked around New Zealand in the spring. We did several multi day hikes, the weight wasn't an issue as we took turns carrying the fly/ground sheet or the stakes and poles but I don't think I would want to carry the whole thing on my own (plus gear) for any multi day hikes.
There's plenty of room inside for 2 averaged sized folks, I'm 6 ft but never felt claustrophobic, we stored our backpacks in the vestibule which gave us more space.
We saw some very heavy rain, wind and a bit of snow, the tent never once leaked, a caterpillar ate a hole in the mesh but with ductape it was fine, the air vets are a great feature, condensation was never a problem.
The only drawback to this is it's almost impossible to fully zip the vestibule once your in the tent because of the length of fabric and angle to the ground. This is a huge issue when trying to keep sandflies (like blackflies on amphetamine) out of the tent. We eventually rigged up a system with a spare shoelace, a hiking pole and a headlamp 'lure'  but you cannot get in and out fast enough and there's not quite enough room to sit in the vestibule without the inner part of the tent being open.
Price Paid: $180

I use the tent for four months across Africa. The tent is good for weekender, nice campground or beach camping. The pole a light but after extend use they crack. The floor had hole and was needed to use duct tape to patch it. Zipper were olding but got broke also. Vestibule nice and large but can't fully close it due to configuration.
I'm very happy with my purchase except that this tent wasn't the tent to use in such condition. For 200$, I'm happy and that reasonable, over that think about searching for alternative option. Think anyway for another option, because there is a lot of them on the market.
Design: three season
Sleeps: 2
Ease of Setup: easy tent
Weight: don't remember, but light
Price Paid: $200

I bought this tent two years ago and have never regretted it. I got it in February and my wife and I were so excited we set it up in our snow free back yard to try it out. We awoke to find that four inches of snow fell that night and did not notice. We stayed warm and dry through other unpredictable weather.
Very low condensation and the vestibules really add a lot gear space or great cooking places if the weather is bad. I always seem to be setting it up at night but it is so easy that is up in about five minutes rain fly and all! Weighs about 5 lbs with the rain fly, foot print, poles and gear loft.

Design: three-season, freestanding dome
Sleeps: 2
Ease of Setup: color coded poles, one connected pole set, simple clip to pole setup
Weight: ~5 lbs
Price Paid: $219

We got this tent four years ago, along with the now-discontinued Twilight 3P. We have used it backpacking and car camping in all kinds of weather.
One trip to the Smokies, it rained for three days straight. On the fourth day, we were not only dry as a bone, but had the campground to ourselves.
Another time, we had a inch-thick sheet of water flow through our camp for three hours. Not a drop inside. I renew the DWR on the fly and bathtub floor at the start of every season.
Set up is idiot-proof, I've pitched it in the dark more often than not. Not once have we had any trouble with condensation even with all the hatches battened down tight. It can be pitched with footprint and fly only, but best of all, the tent can be pitched under the fly, which is a great capability for those hikers who want a dry tent after a long day hiking in the rain.
Tent, fly, and footprint all stuff into a medium Granite Gear compression sack with no ill effects (the 3P uses two small compression sacks), so it packs down smaller than a lot of solo tents. Inside is roomy for two and two dogs with ample headroom for my 6'2" frame. The fly can be half-pitched (covering the foot) for stargazing, but pulled over taut in seconds when the rain starts at 2 am. The vestibules are big, but low--keep your pack under your feet.
It may cost and weigh a little more than comparable tents, but it's worth it.
I've been enjoying this tent on a cross country trip involving hot and cold nights.
Pros:
Amazingly easy to setup. I often arrive at campsites in the dark and can set this tent up by myself in dim light in less than 10 minutes. I'll also note that shutdown is just as easy and I'm very comfortable packing it up quickly in a way that stores well and allows quick re-setup at the next sight.
Space enough for two typical people -- I'm 5'11" and it was all I needed, no more, no less.
There are two inside pockets next to each door allowing campers to store their wallet, keys, headlamp or anything else that is good to have in a consistent, easy to access location.
The loft works fine, but my head bumps into it so I've stopped using it in order to gain more head room.
On cold nights I've ditched the vestibules and kept the fly close to the tent. It's been 26F outside and 40F inside with no drafts or loss of heat.
Constructive criticisms:
It's a perfect fit for two people in length, width and height. That said, a little more of everything would be more comfortable. A couple more inches of headroom would feel better.
When the fly is on and staked down there are two vestibules on each side of the tent. Opening either of the tent's two doors is easy, but zipping down the opening in the vestibule to get out requires a reach. I see Marmot improving the easy of this somehow in the future.
Cons:
None from here. No defects or breaks so far and other than changes I'd make to suit myself, I see nothing to dislike about this tent.
Design: Three season, Two person, Easy Setup
Sleeps: 2
Ease of Setup: VERY EASY
Weight: 5.9 pounds
Price Paid: $190~

I used this produce on a week long bike trip across Iowa. Overall, the tent stood up to incredible demands. On two separate occasions the tend stood up to sustained 30 mph winds with gusts exceeding 50 mph. Inside of the tent, I had no idea that the wind had even gotten that bad. I watched out of the portal as my neighbor's tent blew over, and decided it was time to seek shelter. When I returned the tent was still standing tall.
There was ample room for two people. The vestibules allow for great storage of non-essential gear. On the clear nights, I was able to soak up the beautiful sky through the large mesh top with the rainfly off.
Very quick setup and take down.
The only problem I have with the tent is that I did encounter a lot of condensation on the trip, which could be a pain at times, but I didn't let that 'dampen' my spirits (pun intentional).
Overall I am still very pleased with this product, and I won't hesitate to buy another Marmot product in the future.
Sleeps: 2
Ease of Setup: Very intuitive. Takes 5-10 minutes.
Price Paid: $180

So I haven't used the tent on the trail yet, but just received it yesterday and set it up in my apartment. I'm giving it 5 stars for now and if need be, I'll change it after I make use of the tent this weekend.
I'm giving it such a high grade because the tent's size to weight ratio is phenomenal. 34 sq. ft. for just under 5.5 lbs. total weight is ridiculously good for this price. I'm 6' tall and can stretch out fully in this tent. It looks to be more than adequate for my girlfriend and I and maybe just a little snug for me and another dude.
I got mine at campsaver.com and it came with the footprint and gearloft. The gearloft is large and handy but there are also mesh pockets inside the tent where your head would be (plenty of storage to go around). The poles are light but feel real sturdy. Can't go wrong with a Marmot.
Sleeps: 2
Ease of Setup: Easy. 5 minutes the first time
Weight: 5 lbs 6 oz.

A great tent for a great price. It appears to "list" at a very high price, but lots of sites sell it for something in the $200 range.
Just brought the Twilight 2P for a camping trip in Red Rock Canyon, NV, and it was wonderful. Slept two people and a small(ish) dog inside without a complaint. If it's nice out, the screened top provides a great view and air flow. Very pleased with this purchase.
Sleeps: 2
Ease of Setup: stupid-easy (no more than 5 minutes)
Price Paid: $2??

After using this tent on a trip that included a nasty storm, I'm completely confident in any storm I would find myself in (I don't go out on a weekend hike if the weather predicts a nor-easter). I find that this tent doesn't have the same headroom as other tents with this headroom, but the floorspace is more than adequate. The ventilation on this tent is wonderful with two vents in the fly at the top of the doors. The dual doors are great too, and the vestibules have all the space you need for your gear and more.
The weight isn't phenomenal but not unacceptable either. If I were a weight weenie I'd go for a different tent (I'll count every ounce when I find I'm in perfect shape and can't loose any more weight). I didn't give it five because of the weight and headroom, otherwise a great tent.
Used this tent on a 4-day backpacking trip in the James Peak Wilderness, CO. We had lots of rain, some hail, warn, cool and cold temps at night. NO issues with condensation. Tent is very easy to setup, takes one person 5 minutes. This is very good size 2 man tent.. The tent, poles, steaks, fly, footprint, gear loft, you're looking around 6.5 pounds. Very good floor space for 2 man. Dual vestibules are huge, which leads to the ONLY problem.
The vestibules extend so far out, you pretty much have to get out of your tent to zip it all the way down. Some may not think this is a problem, but that's my only complaint. The 2 air vents on the fly worked great. The 3 joints in the pole structure make it very sturdy. Had plenty of room for my pack (inside or in the vestibule), plus my Dad's pack. Did not get wet under the vestibule or in the tent. I am very happy with this tent.
Sleeps: 2
Ease of Setup: Easy
Weight: 6.5 Pounds
Price Paid: $160

I spent a lot of time looking at different models; including; The Big Agnes Seedhouse SL3, Mountain Hardware Hammerhead 2, MSR Hubba Hubba – admittedly these are all great tents. The Seedhouse is very light weight, and well ventilated. The Hammerhead is stable, roomy and well ventilated, The Hubba is well ventilated and light weight.
I decided on the Twilight because it seems to be the perfect marriage of all the qualities I was looking for: At 5lbs 8oz it is only one lb more than the Seedhouse SL 3, and only 4 square feet shy of its floor area, while it is not completely mesh (like the Hubba, or Seedhouse SL) It is about 60% mesh, giving you great ventilation and star gazing without the feeling of being exposed. Neither the fly nor the tent body feel delicate like the material that makes up the other lightweight tents (The Hubba, and Seedhouse SL). Its two doors and large floor area (34 sq ft) make it a very roomy two person tent – and a palace for one person.
The price was a helpful factor as well. I got my Twilight for $155, but its MSRP is $225. Consistently lower than any of its competitors. The Big Agnes Seedhouse SL3; 379.00, MSR Hubba Hubba; 279.00 and the Hammerhead; 255.00.
There are only two things about this tent that I can see as a negative… The vestibules seem much smaller than I had expected based on descriptions (two 11sqft vestibules on each side), and the 'Pumpkin Orange' color is a bit ugly.
Nevertheless the vestibules are adequate size to store what gear I need, and aesthetics' shouldn't be a deciding factor on a tent anyway.
Five Stars!
Design: Three-season, freestanding dome
Sleeps: 2
Ease of Setup: moderate
Weight: 5lbs 8oz
Price Paid: $155 USD

This is a great tent! It is very roomy and the vestibules are huge. I previously had a one-person solo tent that was just too cramped. After using this tent I was astounded how much more I got for nearly the same pack weight and size as my single person tent. I've used it through the rain and it seemed to hold up fairly well, sometimes when the rain is very hard you can feel a mist coming through the lightweight material but not enough to really be concerned about.
The Hub pole design is a bit strange at first b/c the entire tent is held up by one large crazy shaped pole however the tips are color coded so anyone can figure it out. Getting the rain fly on just right is a bit tricky sometimes but you just have to line up the seams with the poles. The rain fly has a clear plastic window near your head that has about a 6 inch diameter which is nice when you're alone but it cannot be closed off which leads to some privacy issues when camping with others.
All in all besides the window the tent is great. Pound for pound, for the price it can not be beaten. Highly recommend.
Design: Three-season two-person
Sleeps: 2
Ease of Setup: Average
Weight: 5 lb 9 oz

Great tent! The first night in it we got sleet, rain, and woke up to 8 inches of snow. The forecast called for a light wintry mix ... go figure! Everything stayed dry and even though I was worried about it, the weight of the very wet snow did no damage to the tent or the poles. Set up is what I would classify as "silly simple."
Design: Three-season freestanding dome
Sleeps: 2
Ease of Setup: Simple
Weight: 5lbs 6oz
Price Paid: $169.95

This is an awesome tent. Fast to go up, roomier than it looks and with a few nice extras like colour-coded tent pole tips. On one trip we were stuck in the pouring rain for four days. At the end I was the only one without a puddle in my tent--and all the other tents were good quality makes as well. I have used this tent on backpacking, kayaking, and car camping trips. I would recommend it for any of these uses though if you were only going to use it for car camping you might want a tent that is a bit larger.
Design: three-season
Sleeps: 2
Ease of Setup: very easy, the hub system is great
Weight: 2.52 kg/
Price Paid: 280 Canadian (I think)

LOVE IT !!!!!!!!!!!

I am 5' 10" and my brother is 6' 1" and we both fit very comfortable in this.  My Clip Flashlight was just tooooooo small for anything other than solo trips.
The dual vestibules make it a perfect tent for short excursions and provide plenty of room for full size packs. I wouldn't want to lug this around by myself as it is a bit heavier, but overall it is an excellent tent and I am glad I upgraded to it.
You May Like
Recently on Trailspace