Matador
Camera Base Layer
Reviews
This is a camera case designed to protect the camera…
Rating:


Source: bought it new
Price Paid: $55

Summary
This is a camera case designed to protect the camera being used by active photographers. I have summer/canoe protection for my camera, but when snowshoeing in winter, or foul weather hiking any season, the neoprene case I have used is inadequate.

This case provides impact protection, and has an integrated rain fly for the camera. It also can be removed from the camera in seconds, so you don't miss that awesome wildlife shot!
Pros
Integrated rain fly
Quick removal
Easy to use
Cons
No color choice
A bit pricey
No attachment clip (there is a loop you can use to attach one)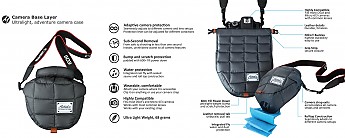 I purchased this case, when I received a new camera, as a warranty replacement. I decide to splurge and replace the barely adequate neoprene case I had been using, to get a case which more completely covered and protected the camera, and which had rain protection.
This case is compatible with most DSLR style cameras (I use it with a Canon Powershot SX60), and is easy to use, by sealing in the same roll top method as used with dry bags. The bag itself looks like a mini down sleeping bag! The "power down" case weighs only 68 grams, and utilizes your existing camera strap.
There is a small pouch at the base of the bag which has an attached rain fly. The rain fly stays in a small pocket at the base of the bag until needed...simply unroll it, and then roll it up and close it in conjunction with the down bag, and your camera is protected from the elements. This is extremely helpful to me, as I often hike when it is snowing, or I may encounter unexpected rain.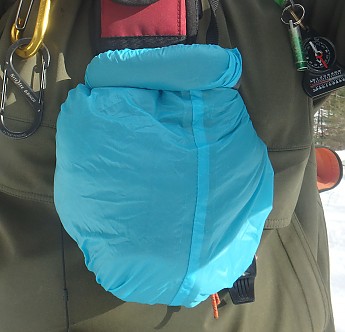 I use the bag on my camera, hanging around my neck. The secure closure system allows you to clip it to your belt, or other gear if you want...but I like that when around my neck, I can remove the case in a moment to take a picture...merely unclip the roll top, and tug on the base loop. Your camera is then free to take a photo.
There is a leather loop at the base to tug on...I have attached a small carabiner to it, so that if I am not using the case for a bit, I can clip it to my accessory loops on my pack. Prior to that, I had dropped the case a few times after removal, and I certainly would not want to lose it.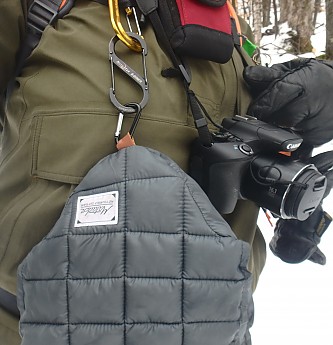 The 600+ Power down fill will obviously not protect the camera from a major impact...but it certainly provides more protection than the thin neoprene case I had been using. Yes, I have been known to take a tumble or two, and I also bushwack a bit through some very scratchy tree branches. Any protection I can offer my camera is a benefit.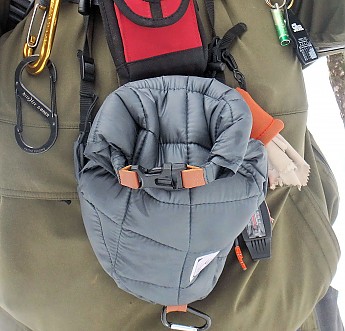 (The grip-strap closure system usually has the buckles towards me, but this gives an idea 
                                            of what the roll top closure looks like)



I really like this bag. It is comfortable, light, and easy to use. It is not inexpensive, but having already replaced a camera once, I think it is worth it. I wish there were some color selections, but I don't think my camera really cares about that. Matador does provide free shipping in the U.S., and I utilized a small discount coupon they offered. This case gets outside nearly every day, in all conditions, and I certainly would recommend it.
Was great at keeping my camera dry, even during some…
Rating:


Source: tested or reviewed it for the manufacturer (I received a sample of this product from the brand or its representatives in exchange for a review. I kept the product after testing.)

Summary
Was great at keeping my camera dry, even during some rainstorms. I am a big fan of how lightweight it is, but it comes at the expense of providing what I feel is adequate protection for some high impact situations. Overall a very good option for a lightweight camera bag.
Cons
Only basic protection from impact
As a member of another website, I sometimes get the opportunity to test different products in exchange for a review.
I photograph a lot on my adventures with a DLSR and noticed the Matador Base Layer, and a lightweight, protective case for my camera would be GREAT. I was a big fan of the built-in rain fly as well. Matador makes a few products friendly for wet weather and conditions, and this is no exception.
The bag is easy to take on and off your camera, and its "base layer" fabric is very reminiscent of a base layer jacket. It's well stitched so the insulated padding doesn't clump up in one area and keeps it well placed for protection.
Speaking of protection, yes it is a great bag for weather protection (rain, dust). No, it is not the best for high impact situations. It is a light case, and by default of that, it's protection is going to be limited. I wouldn't use this to wrap my DSLR + lens in if I was going to then put the camera in a larger bag and carrying/transport that around, but I would use it in situations where my camera would be out a lot and the impact risk is low.
Pros/Cons
When you need to use the camera, simply unclip the buckle and pull from the bottom. Very easy, very fast. One issue then is now you have a bag in your hand and you want to use your hands to take a photo. It's a little awkward trying to find a pocket big enough to stuff it. if you clip it back to the camera strap, it is awkward to then try and use your camera. You can clip it to a bag, sure, but what if you're not carrying a bag? I don't always and just hike with my camera and a water bottle.
I have enjoyed using this on day hikes in Colorado in Rocky Mountain National Park on easy trails, but would be worried about this as it swung from my neck/shoulder and then slipped on some trail and as I regain my balance (hopefully), it's swinging from my neck and knocks into some side wall or rock/tree. When you hold it in your hands you can tell it is super well made immediately, but I do wish the material was a bit thicker.
Version 2.0?
In a future iteration, I would love to see a camera sling bag made out of the same materials and buckle + rain fly system. Just a little thicker for more padded protection for higher impacts. Also, an integrated shoulder sling strap. On that strap there could even be a hidden pocket or inlet to clip camera lens covers to or something multi-purpose, like a stash cloth to wipe off lenses.
Your NanoDry fabrics are pretty cool, perhaps some integration there would lead people to want to test out other products if they liked the base layer, like the towels or teardrop bags. That all-in one bag would still be lightweight and still have water/dust protection, but could then stay slung over my shoulder, leaving me hands-free for taking shots.
Disclosure: The reviewer received a sample of this product from the brand or its representatives in exchange for a review.
Where to Buy
sponsored links
Help support this site by making your next gear purchase through one of the links above. Click a link, buy what you need, and the seller will contribute a portion of the purchase price to support Trailspace's independent gear reviews.
Matador Camera Base Layer
currently retails for:
$59.95
MSRP: $59.99

Recently on Trailspace