Merrell Chameleon II Stretch

The Chameleon II Stretch has been discontinued. If you're looking for something new, check out the best trail shoes for 2023.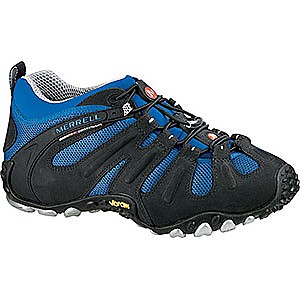 Currently looking into the newer version of the chameleon stretch. Might try the GTX.
I stumbled on these old reviews and just had to add... My first pair of Merrells were the Chameleon Stretch 2, and they are AMAZING. The stretch "bootie" and elastic "laces" are unique but really make this shoe shine. VIBRAM... 'nuff said. Comfort level is top notch, durability has not been an issue, still look pretty good minus the soles which have been punished for the last 4 years.
Have mostly used these while working in retail (aka hours upon hours of standing), walking all over Athens and the UGA campus x 4 years, backpacking/hiking in North Georgia and Western NC. In a physical therapy clinic (more standing). All have been comfortable, and have outworked all other shoes I have worn.
If I weren't a student living on student loans and watching the debt meter rise with every new week of DPT school I would buy a hand full of these shoes. I'd already be on my second pair by now but the first pair lasted so darned long.
Very Happy Customer, will look to buy these shoes for many years to come. 4.5/5 only because I'm a very tough evaluator.
Price Paid: $80 (sale at DSW)

Pros
Lasting range of shoes, I have 3 pairs.
Cons
The stretch range were soft and comfortable. The new ones are extremely hard on foot-muscles.
From South Africa, where can I still find a new pair "Stretch 11" range although discontinued (very stupid decision from Merrell manufacturer ).
They are soft to the feet and not like the hard ones these days.....
hannes.bmr@gmail.com
Source: bought it new
Price Paid: 1000 ZAR

Horrible shoes.
Cons
Soak up wet dew like a sponge.
The most worst hiking boots ever. Hard to put on and soak up wet dew like a sponge. After a 25-mile hike my feet are so blistered I can hardly walk. Wasted my $$$$ on these crappy shoes.
Source: bought it new
Price Paid: $80 on sale

Fit is good, comfortable to wear all day. Needs a shoehorn to get on though.
Cons
Hard to get on without a shoehorn
Lacks a way to secure the lace
I bought the pair used, but they were in excellent shape and when I first tried them on they fit like a glove...errr...shoe.  :)
They had been used for a season according to the seller, and looked to be in great shape. The insoles had to be replaced, but that was easy enough. Once I got them on they were very comfortable and I wore them around a mall, running errands and doing other shopping. They were very easy on the feet. No binding, no rubbing.
The only downsides are that the lace is a continuous bungie cord with bit of tubing at the top and a tension slider. It works fine, however there isn't anyway to secure the length of end lace once you've tightened them down. I wound up tucking the end piece under the bottom cross over  (sort of illustrated below) which isn't easy given you've already tightened the lace down.
The other downside is they aren't easy to slip on without a shoehorn. It can be done, it just wasn't as easy as I would have liked.
Overall, it's a great shoe and if you can get it on clearance I'd recommend it.
______
XXXXXX)
_______  at the  )  is where I'm trying to represent the bottom crossover of the lace.
Source: bought it used
Price Paid: ~$17.50 USD

Very comfortable shoe. Fits like a glove and doesn't slip. The stretchy lace keeps rocks and dirt out. Best shoe I've ever had.
Price Paid: $89

I used to be a sneaker freak. I would buy anything that I thought looked cool. I ended up buying a pair of theses and that was it...I now look everywhere for these shoes and buy them when ever I can (because they are discontinued). Most comfortable thing Ive ever put on my feet. Merrell is a great company who sells an unmatched product, I recommend any of their shoes. FAN FOR LIFE
Materials: Snapple
Use: anything
Break-in Period: 0.00
Weight: who cares
Price Paid: $70

This shoe is great and I'm very comfortable with it, one,because it have a vibram sole that can withstand snow, wetland and dryland. it is great for hiking and long walks and its lining is made of nubuck leather and breatheable lining for everyday comfort.
But last time i have a problem with it because its front sole is beginning to take away from the shoe, but i treat it before it gets worse and it's fine now.
Materials: nubuck leather and breathable lining
Use: walking, running, outdoor adventures
Price Paid: 4,000

This is my go to everyday shoe. No break in required. It's not made for rough trails, but definitely perfect for light trail and street use.
Materials: Leather
Use: Everything short of the rough stuff
Break-in Period: None
Weight: 215 lbs
Price Paid: $100

My foot type is:
size 11
narrow to normal
mid arch
Pros:
Most comfortable long-journey shoe I've tried.
Very little "break-in" needed.
Traction is second to none on all surfaces.
Lacing system is great; elastic-style laces with lace
locking slider stays snug and tied.
Well-made, very rugged.
Cons:
(These are not necessarily cons, because they're not advertised to be so. Just info. for you who are shopping)
Not waterproof (for water RESISTANCE, I use an aftermarket spray)
No ankle support (it's a shoe, not a boot)
Famed to be the shoe of choice for Bear Grylls (Man vs. Wild), I had to try a pair.
A nature lover, I spend countless hours in the wilderness. From Canada to Ecuador, I've spent enough time with nature to go through several pair of shoes. Keen, Merrell, Salomon, North Face, etcetera, I've used many brands.
For short trips, there are several that you couldn't tell the difference in, but the Chameleon II Stretch by Merrell have been the most comfortable, long-haul shoe that Ive found, whether ice, snow, mud, dirt, or wading water.
Break-in Period: Practically null
Price Paid: $59

Never before have worn a shoe that instill such great confidence while hiking. There was no need to ever worry about slipping, no matter the surface. After wearing mine on countless trips and through salty city slush they still look new.
Materials: Leather
Use: Hiking and daily wear.
Break-in Period: One week.
Price Paid: $100

Don't buy this shoe. The front toe kick rubber rap has come apart on me 2 separate times. After returning the first pair and trying again, I finally gave up.
Use: everyday
Price Paid: $100

Awesome shoe. Spent 3 days going up and down rocks, mud, muck, slippery terrain and serious inclines and never slipped. Not once.
I wasn't so sure about the slipper fit design, not having a tongue like a normal shoe, but I grew fond of it. I'm young, I've got to try new things, right?
I like the pull string shoe laces, and the only reason this shoe doesn't get a whole 5 stars is because the shoe bungies are hard to deal with once you tighten your shoes. But it was my first time wearing them out really, so I'm sure I was just being dull and not thinking about it the right way.
My feet hurt very little after putting on about 13 miles in a day, and about 23 in a 3 day span. Awesome shoe, would highly recommend to anyone else. Great multi-terrain, very good on the GA rocks and muck.
Way to go, Merrell.
Materials: Rubber? Spring 2008 model
Use: Dayhikes, Weekends with heavy loads
Break-in Period: none
Weight: 1 lb per shoe
Price Paid: $80.99 online (color was on sale)

Very comfortable and no break in time. Very sticky sole. Only problem is the the rubber comes loose. I am exchanging my second pair.
Use: day hikes, trail running, and some rough trail
Break-in Period: 0 days. No break-in period needed
Weight: heavier than my new ballance running shoes
Price Paid: $89

If you're looking for an all-around, all-terrain light hiking shoe this is the one. Springtime hiking here in the Pacific Northwest can involve travel over slick rock, these shoes seem to grip the ground well. The shoe is well designed and solid. I require good arch support and feel like these provide the best I have found without needing to add an after-market insole. They are comfortable on the trails and they are a great everyday casual shoe. Provided they hold up over time, I'll be buying another pair somewhere down the line!
Materials: Leather
Use: Various
Break-in Period: Out of the box!
Price Paid: $99.95

This shoe is amazing! It is the most comfortable hiking shoe I've ever worn. From day hikes on moderate terrain to wearing them on the job, I'd recommend them without hesitation. My knees are about ready for replacement so I need major cushioning and these shoes provide it. The only place I cannot wear them is on exceedingly rough trails as my ankles need more support than a low cut shoe provides.
Materials: leather, mesh
Use: dayhikes, on the job
Break-in Period: none
Weight: 154 pounds
Price Paid: $100

Excellent shoe. Second skin?...well pretty close. More like a very, very, comfortable anatomical glove for your feet. At first I really doubted the holding power of the elastic laces, but I have been very surprised. I have had no foot slip within the shoe that I can recall and attribute this to the anatomical fit last and secure compression of the design. I have done some pretty steep grades and these shoes have felt secure. The sole grip is outstanding even in wet conditions.
The cushioning is good enough for jogging trails although if looking for a racing shoe these are heavier than performance shoes like Salomon and the like, but much sturdier. They are low cut, so aggressive, loose stony ground (about baseball or softball sized stones), may require something with more ankle support but overall, they easily earn 5 stars of 5. This shoe concept will definitely be on my repeat buy list as long as they are produced.
Use: 8mi light hikes, light backpacking (20lb pack)
Break-in Period: 1-2 outings
Price Paid: $99.99

I sell hiking boots and shoes for a major outfitter and spend hours standing on concrete floors and running up and down stairs. When I first started the job, I tried everything -- Ecco walking shoes, Vasque hiking boots, Nike multi-sports and even dress shoes. No matter what I wore, at the end of the day I had sore feet, occasional blisters and a sore back. I read the literature and product reviews on the Merrell Chameleons, and decided to try a pair. I liked them so much I bought a second pair.
I've found that they are just as good on the trail as they are at work. They felt great out of the box with no break-in period required. They provide reasonable, but not rigid stability and the collar that goes around your foot does a good job of keeping debris and pebbles out of your shoes. I'd really recommend them to anybody as a high quality light hiker and as a substitute for everyday sneakers.
I have only a few complaints about these shoes. They are really, really unattractive, or maybe I'm really, really too old. I ordered one pair that was supposed to be chocolate and red in color, but the "chocolate" is actually an unpleasant greenish gray. Lastly, Merrells almost always run 1/2 - 1 size smaller than your normal shoe size. That's no problem in the store, but if you are mail ordering you need to take this sizing disparity into account. Other than that, these are great shoes that I wouldn't hesitate to recommend.
Use: day hikes, retail work
Break-in Period: 0
Weight: 150

I have never written a review about anything, but if you're looking for a comfortable shoe this is it. I walked into a Bass Pro Shop in Charlotte and ask the guy for the most comfortable shoe they had. He said he owned a pair of these and they were very comfortable. I bought them, wore them out and a couple of days later ordered a pair online just so I could have a pair in another color. If you do a lot of walking trust me these are great and I've tried much more expensive shoes and they don't compare!
Price Paid: $89.99 & $99.99

Without a doubt the most comfortable shoe I have ever worn. I stand for hours on end in the work I do and frequently go hiking across variable terrain and this shoe fits perfectly with either activity.
Highly recommend it for anyone looking for a lightweight comfortable shoe to do anything in.
Price Paid: 24£

I have three pairs of the Chameleon II Stretch. I have one pair each of about ten other brands. The Merrells are as good as they look. I live in Colorado Springs and hike mostly on a creek trail (T-Bar Trail) behind my apt. and in Palmer Park, a mesa-like bluff with most degrees of difficulty. Ever since I bought my first pair of Chameleon IIs a few months ago, all my other hiking shoes except a pair of New Balance 851 have been collecting dust. These are the best hikers I've had since I went up the Grand Teton in 1982 in a pair of Asolo Ridge.
Materials: Fabric with leather
Use: short dayhikes on moderate or rough trail.
Break-in Period: Five or six miles is plenty.
Weight: 2.2 pounds
Price Paid: $90

These are the most comfortable shoes I have worn in years, probably ever. I immediately went back and bought a second pair, fearing they would be discontinued. Both pairs are now well worn, but look amazingly good for all the miles I've put on them -- mostly treadwear. They perform as well on the trail, giving me surefootedness and comfort all day long.
The stretch is what makes them comfortable, since my feet swell during the day. Lastly, they are very light, which, in a size 13, is very important to me. Great product. I am going to buy another pair today.
Use: short dayhikes,
Break-in Period: None
Weight: Light
Price Paid: $93

Hi, my name is Mark and I'm a Chamelon addict. Since my 10 year old daughter told me I should buy a pair (because they looked cool) when they first hit the market several years ago, I have purchased five pairs. Right now I'm wearing the Chamelon II Stretch and have a new spare pair tucked away in closet.
The shoe is light, tight, and slips on and off with ease. I live in Montana and walk between 3-5 miles a day (my dog gives no days off) on mountain trails in this shoe and find the sole aggresive enough to guarantee good footing on any surface short of slick ice. The shoes hold up well and I average over 1000 miles of hard walking per pair. I also use them for everyday wear. My feet stay dry in all conditions and by the time the "shoelace" breaks they are ready for retirement.

Materials: Gore-tex
Use: dayhiking
Break-in Period: 5 minutes
Price Paid: $79

Your Review
You May Like
Specs
Men's
Price
Historic Range: $50.00-$109.95
Reviewers Paid: $17.50-$100.00

Women's
Price
Historic Range: $59.83-$100.00

Kids'
Price
Historic Range: $27.50-$54.95

Recently on Trailspace