Merrell Grand Traverse

The Grand Traverse has been discontinued. If you're looking for something new, check out the best backpacking boots for 2023.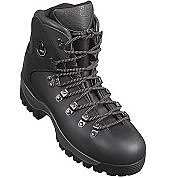 I previously owned a pair of Merrell Wilderness (see review) and the Grand Traverse almost lives up to them.
The glued soles peel especially in rooty/rocky environments. And again, the lining wears think behind the heel but isn't that what duct tape is for?
They are very comfortable and took about a month to break in. I've backpacked about 400 miles in these, I'm 250 lbs.
Materials: Leather
Use: rough trail heavy pack
Break-in Period: 30 days just wearing around
Weight: 4 lbs
Price Paid: $135

After a one-day trip the soles started peeling off. Trying to resolve issue between store where they were purchased and the manufacturer. So far not much luck.
Price Paid: $160

Got them for the support, as I weigh 290 without a pack. Broke in with no problems after just a few trail miles and some around town wear. Ball bearing eyelets give great fit in the forefoot area, but 1st set of speedlace eyelets are a bit clumsy. No big deal. Very waterproof, good traction wet or dry.
Fit is good but I did get some blisterng on back of heel and tendon. I think a bit of custom fitting and a good pair of insoles (Superfeet or the like) will take care of minor complaints. All in all, a heckuva deal, since they list for 249. Give em a look.
Materials: Leather/Gore tex
Use: rough trail with high loads
Break-in Period: 15 miles
Weight: 3 lb
Price Paid: $149

Great out-of-box fit! Have double EE wide feet and this boot accomodates me just fine. Use a surgeon's knot mid-way up boot and you will be contented by the customized fit you can create. Overrall, very pleased with these boots. Notwithstanding, on ascents, these boots chew up my heels.
Materials: Leather
Use: mid to heavy
Break-in Period: virtually none
Price Paid: $180

Admittedly, my first pair of heavy trail boots, but they are tough. High ankle and watertight; I have no fear of crossing icy streams. Very tight across the front of the foot. Definitely big in the heel, but with my narrow heels, it's a foregone conclusion that I'm going to have trouble fitting them. I wear a liner sock under a Thorlo Trekker, plus I glued a no-slip pad into the back of the boot. I tried on many different boots, and these were the coziest by far. Nice cushiony feeling. The ball-bearing eyelets are dope for really getting the laces tight. The black boots look bad-ass too if that matters to you at all.
Materials: full grain leather
Use: rough trail trekking
Break-in Period: couple of weeks
Weight: 3 lbs. 8 oz.
Price Paid: $185

A very well constructed boot. Utilizes a stainless steel ball bearing lacing system-smart! After the initial brief break-in period, I didn't even notice the boots (which is what I enjoy not thinking about). The bellows tongue does its job well in keeping water from entering the top of the boot. The Vibram sole gives excellent traction, although I would like to see a bit more aggresive treads toward the front.
During a few scrambles on a mountain covered with loose scree, the boots became very flexible, which surprised me coming from leather construction-another bonus!
They do come waterproofed (non-goretex). But I suggest buying a rub-in Nikwax for later on, because the waterproofing will deteriorate over time, especially with hard use.
I will be doing the West Coast Trail next summer (July-2000) and I have no problems with taking these boots.
Materials: full grain leather
Use: rough trail-heavy loads
Break-in Period: one weekend trip (because they're leather)
Weight: 3lbs, 8 oz.
Price Paid: $320 CDN

These boots have held up amazingly well, i am quite pleased with the performance. The only downside, in the first week of use, all of the plastic fray guards at the ends of the laces fell off, nothing major, i just had to melt them with a lighter. Overall, if your looking for a $200 or so boot, i would reccomend the Grand Traverse.
Materials: Full Grain Leather
Use: Rough trail w/ 30-40 pound pack
Break-in Period: around 10 miles
Weight: 3 lbs
Price Paid: $175

I bought the Merrell Grand Traverse boots as my midweight boots--my other boots are an old pair of Raichle Spirits (REI now has the Spirit II boots, the latest edition) and a pair of Alico Everest leather mountaineering boots. You'll notice the trend to Full Grain Leather (FGL) here, so be warned of my bias.
The Grand Traverse is new for 1998, and as such I was a bit leary of buying them. However, I've had good luck with Merrells in the past, having owned a pair of low top trail shoes, hiking sandles, and a pair of semi-dress/casual mid-height walking shoes, all from Merrell (another bias warning).
My Grand Traverse boots are two months old, and now have about 100 miles on them. Most of those miles have been dry, but about ten of them were in
They're nice and snug in the heel and across the instep, yet provide plenty of wiggle room for my toes. (I've got a narrowish heel--Merrell switched to a narrower last round about 1994(?))
Overall, my initial impression (based on two months and 100 miles of hiking) is that these are great boots. I'll post more info with respect to durability after I've put a few more miles on them.
Materials: Full Grain Leather
Use: Off trail
Break-in Period: minimal
Weight: 4lbs 2oz size 10.5 US
Price Paid: $175

Your Review
You May Like
Specs
Men's
Price
Reviewers Paid: $135.00-$185.00

Women's
Price
Historic Range: $39.95

Recently on Trailspace