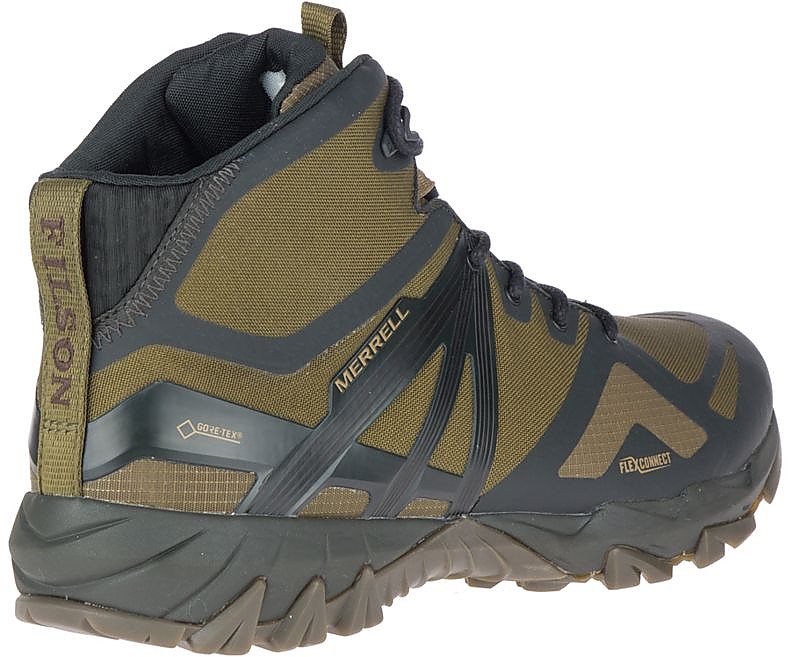 Specs
| | |
| --- | --- |
| Price | MSRP: $160.00 |
| Weight | 1 lb 12 oz / 788 g (full pair) |
| Lug Depth | 5 mm |
| Other | Vegan-friendly |
Reviews
1

review

5-star:

0

4-star:

0

3-star:

1

2-star:

0

1-star:

0
A limited edition boot that turns out to be reliable for cooler, wet weather hikes and hunts. The Merrell MQM Flex Luna Mid Gore-Tex Filson has a rock-solid upper, is waterproof, fairly lightweight, and has solid traction. This boot shares many similar features with other products from Merrell's MQM Flex Gore-Tex line.
Pros
Lightweight
Waterproof
Durable
Subdued colorway - not bold and neon like so many others on the market today (personal preference)
Cons
Stiff
Minimal arch support
Excessive volume in forefoot
Conditions: 
I've worn the Merrell MQM Flex Luna Mid Gore-Tex Filson boots for 3 months in the spring and summer in the eastern U.S. The terrain mostly consisted of wet, muddy trails at lower elevations in the spring and rocky, dry trails at higher elevations in the summer. I also used them a few times as a semi-work boot, for things like splitting wood and removing invasive vegetation from nearby woodlands. Temps ranged from 50-95°F (10-35°C). The longest single day of wear was a 14-hour day of cutting/splitting/stacking wood and hauling brush in 75F (24C) and the longest on-trail use was for a 9-mile trip in the mid-80s °F (28-30°C).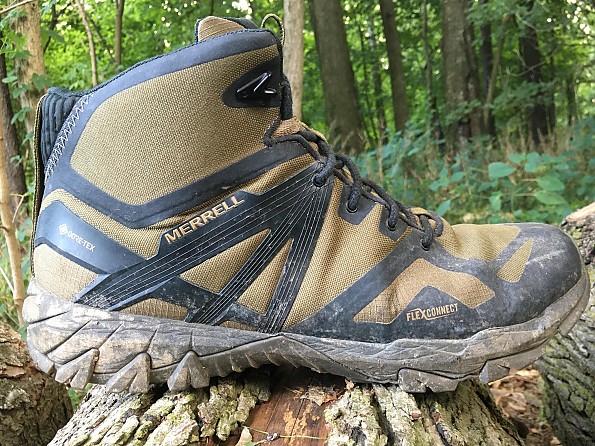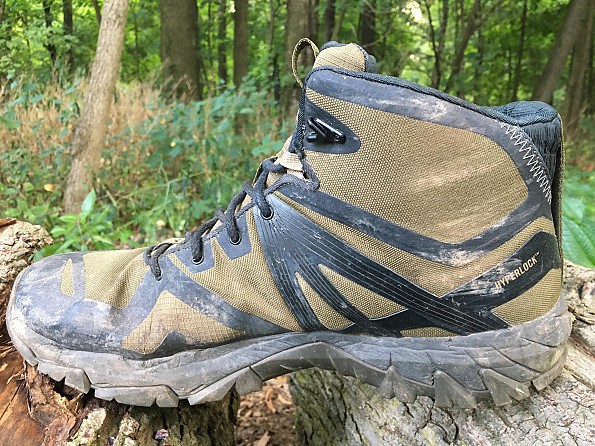 Specs:
Size: Men's US 13 (EUR 48). It should be noted that these come in a wide range of size options (men's US 7-16). 
Weight: 2 lbs. 1.8oz per pair (or 33.8oz aka .958kg) 
Model: This is a limited edition collaboration between Merrell and Filson, however some similar features exist in Merrell's other MQM Flex Gore-Tex line of products. This product can also be found on the Filson website and some other places online as the Filson x Merrell MQM Trail Runner. Different name, same boot. It appears that only a men's version of this boot was released. A similar (but not a Filson collab) boot for women would be the Merrell Women's MQM Flex 2 Mid Gore-Tex in the Lichen colorway.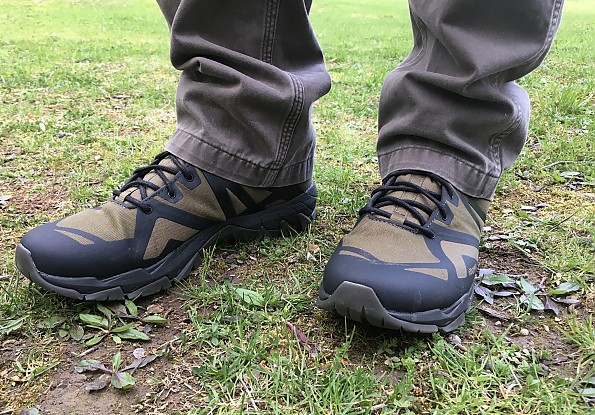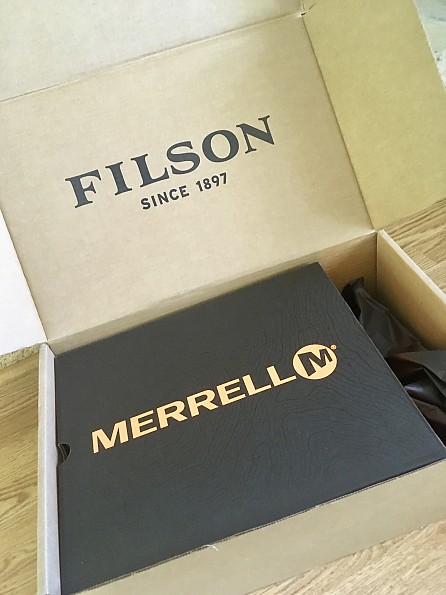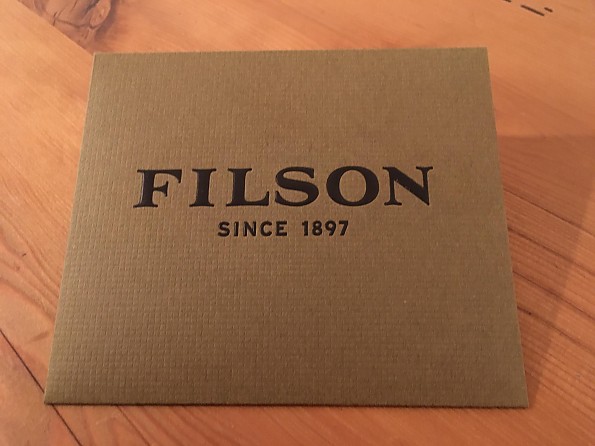 The box the boots arrived in was very nice, and even the shipping details/receipt was included in this fancy embossed envelope. Talk about making a good first impression. 
Construction and Durability:
The Merrell MQM Flex Luna Mid Gore-Tex Filson feature a "waterproof ripstop and high abrasion woven mesh upper and a TPU toe cap for protection." Straight out of the (really nice) box, the durable upper fabric was the first thing that caught my eye. It looks tough, feels tough, and after three months of use, can verify that it is indeed pretty tough material. The ripstop fabric can take a beating, as evidenced from bushwhacking through mountain laurel or climbing through a huge brush pile with a chainsaw in hand.
This fabric is not thick, so don't expect them to protect like a steel-toed boot, but it is durable. I truly have abused these boots over the last three months of testing and there is hardly a sign of wear, with the exception of them being filthy, but that's okay. With the ruggedness of the boots though comes the rigidity that I described earlier. Even the laces seem a bit stiff.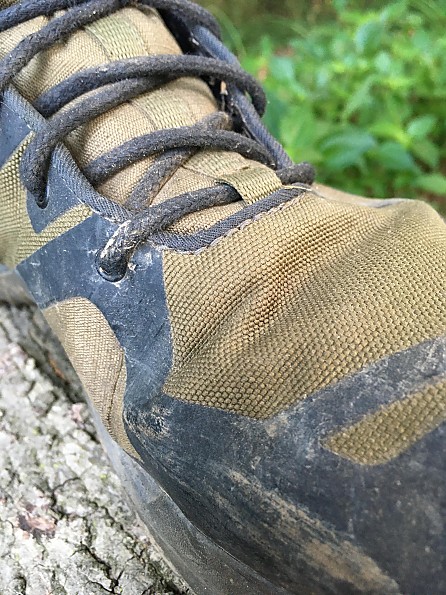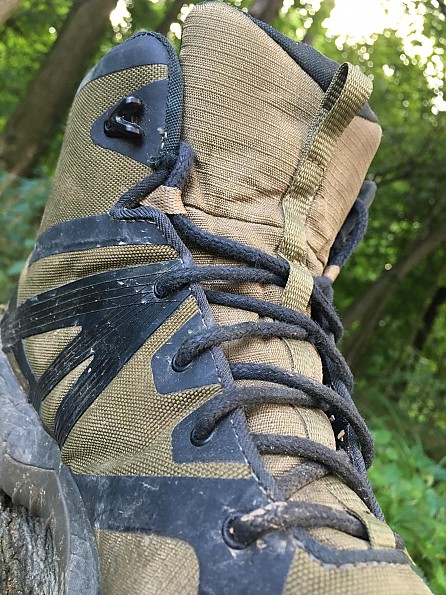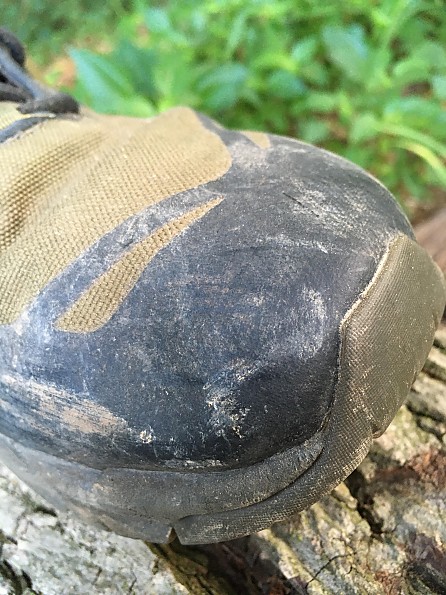 Fit: 
The fit of these boots is a little different than many other hiking boots I've owned, mostly in that there is stiffer padding around the ankles and more volume in the mid-foot and toebox areas. I haven't owned a pair of Merrells in almost 10 years, so I'm mostly comparing to non-Merrell brands. I know for some, extra space in the toebox is appreciated, particularly those who have a lot of descents in their hiking and don't want to jam their toes on the downhill, and for others, the extra room is unwelcomed.
I tend to sit on the fence on this one, typically liking a little bit of room for my toes to wiggle, but not too much. To me, these feel like a little bit too much volume, especially on the edges of the forefoot, where the boot bends with the toe. There isn't a whole lot of foot in this area, but the volume of the boot in that area seems like a lot, to the point that the outer fabric sometimes folds over itself and "clicks" or "pops" when walking. It's sort of annoying to listen to, but doesn't impact comfort or usability. I found it can be remedied by wearing thicker socks, thus taking up more space in the boot.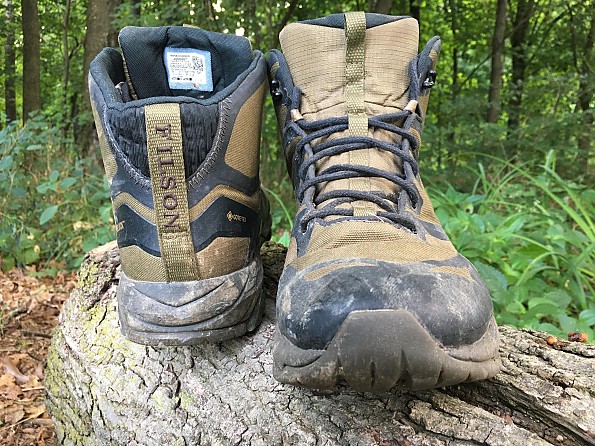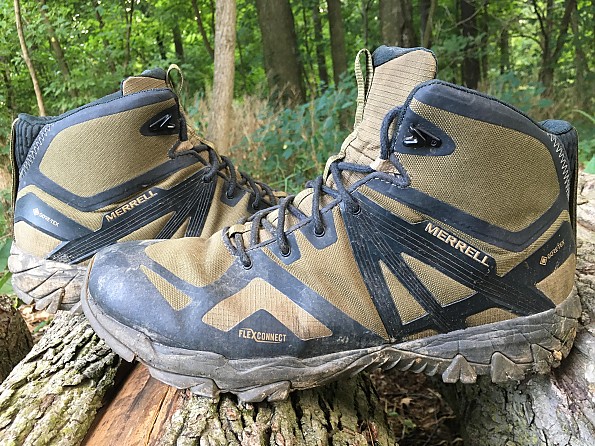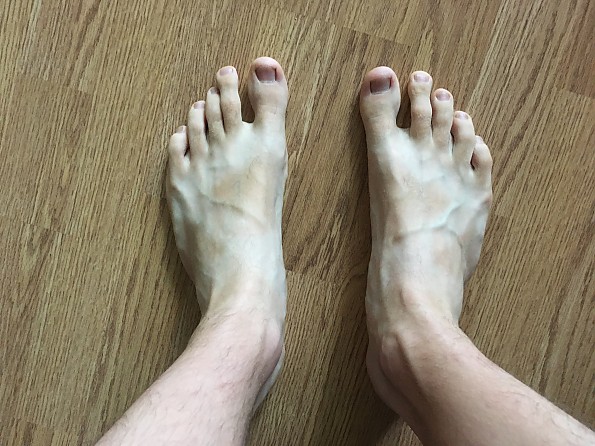 Comfort: 
From my previous experiences, any Gore-Tex boot that offers a high degree of protection from water, isn't necessarily the most comfortable. There is usually a tradeoff of some kind between weather protection and comfort, as one increases, the other tends to decrease. I'd say that is the case with these boots. While not terribly uncomfortable, they are a bit stiff, particularly prior to breaking them in, and even some afterwards.
After a couple local day hikes, I wore these boots for 14 straight hours while cutting/splitting/stacking wood and hauling brush. That seemed to be the day they felt officially broken in, but they still aren't quite the fast and athletic billing that the manufacturer claims. A bit stiffer than what I expected for something dubbed as having, "the best features of a trail runner and a hiker into one fast, protective shoe" and "feels like an unprotected shoe."
They are certainly lighter and more athletic-feeling than Gore-Tex boots of the past, but there is still some progress to make.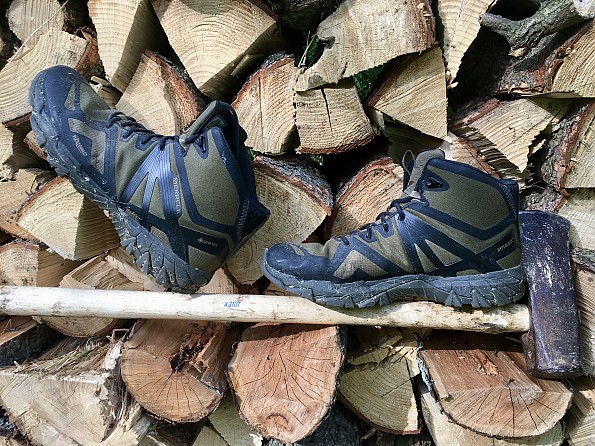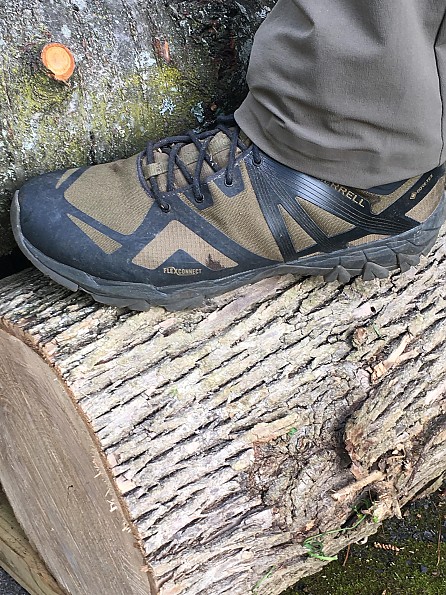 Support and Abrasion: 
The boot has a lot of features to provide support for the foot and ankle, including a removable contoured insole, a rock plate, and an air cushion in the heel for added shock absorption and stability. The true test for me, however; is how a pair of boots supports my feet and ankles when hiking the nearby rocky ridge trails that crisscross Pennsylvania (some call it Rocksylvania for a reason).
I can usually tell fairly quickly on these rocky trails whether or not a boot will support my feet/ankles. Do my feet throb after a ridge hike or do they feel good as new? With the Merrell MQM Flex Luna Mid Gore-Tex Filson, the support I felt was mixed. Ankle and heel felt good both during and after the hike, but the arch support felt lacking and somewhat flat, and I'm not sure how much the rock plate helped. This discomfort was not to the point of causing pain, but it should be noted that, in general, my feet are very forgiving and adaptable to a wide range of footwear. I very, very rarely get blisters or hotspots and do not use any custom or aftermarket orthotics. So after wearing these boots on rocky, hilly terrain, in general, my feet felt pretty good, but would have been happier with a little more arch support.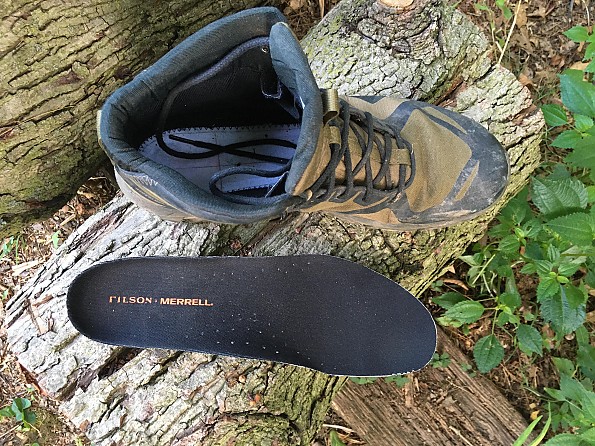 Removable contoured insole. Can be easily replaced with custom orthotics, if needed. 
Water Resistance and Breathability: 
The Gore-Tex feature lives up to its waterproof claims, keeping my feet completely dry from rain, creek-crossings, dew-laden grasses, etc. However, the breathability of the boots have a little left to be desired. I've found over the years of wearing Gore-Tex footwear (this is my fifth pair of boots that feature Gore-Tex waterproofing), that it tends to not be as breathable as non-waterproof boots.
However, the technology has improved over the years and Gore-Tex boots now seem to be lighter than before and more breathable than before, but still not as breathable as a non-waterproof boot, as those have also improved at the same time. I like having a least one pair of waterproof boots at all times, especially for the shoulder seasons and warm winter days, when the trails are really wet. But I don't tend to use waterproof boots as much in the warmer summer months, preferring a more breathable pair of boots or shoes. For me, that means these boots will likely sit on the shelf in the summer, but will be put to good use in the cooler, wetter months.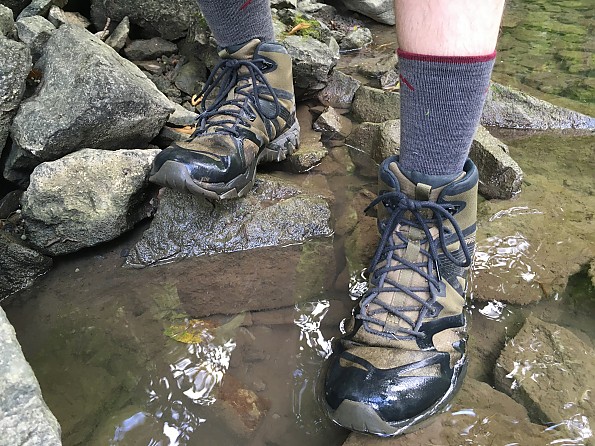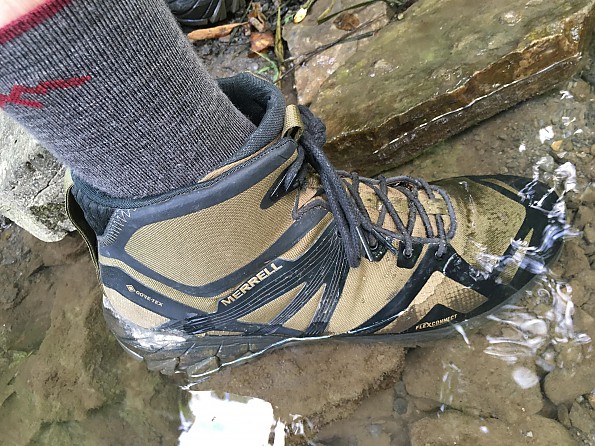 Traction: 
These boots are equipped with Merrell's mountain-grade Quantum grip rubber outsole. By the looks of them, the lugs aren't as deep or narrow as many other boots I've owned or seen on the market. The manufacturer states the lugs are 5mm. I wondered from the outset if this would effect traction. After several hikes in various terrains, I found the traction to be reliable and sufficient on rocky trails and caking of mud to be held to a minimum. The grip on wet surfaces and rocks was as good or better than any boot I've used.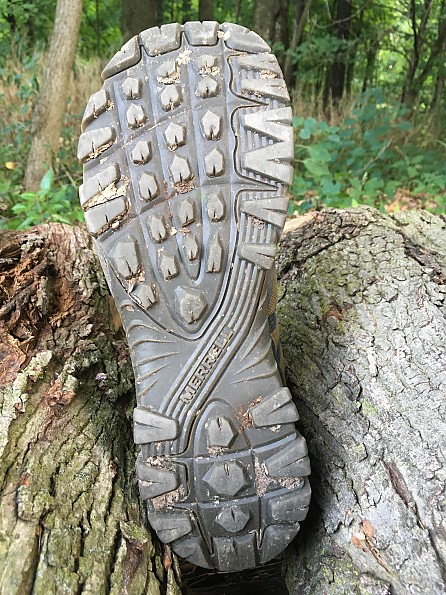 Best For: 
Overall, the Merrell MQM Flex Luna Mid Gore-Tex Filson is a pretty good boot for general purposes, and performs particularly well in cool, wet weather. For me, this equates to hiking in the fall and spring, and maybe even hunting in the winter if the weather is mild (the colorway is perfect for hunting). For someone who is looking for a durable boot that is waterproof, fairly lightweight, and has solid traction, this is a good choice.
After three months of use, the boots remain somewhat stiff, particularly for something marketed as being a cross between a trail runner and a hiker. As with any footwear, I recommend an in-store try-on first or ensure there is a good exchange policy if ordering online. These boots are a limited edition collaboration between Merrell and Filson, so if you're thinking about buying them, I'd do so before they are gone, or check out other footwear from Merrell that features the same MQM Flex Gore-Tex technology.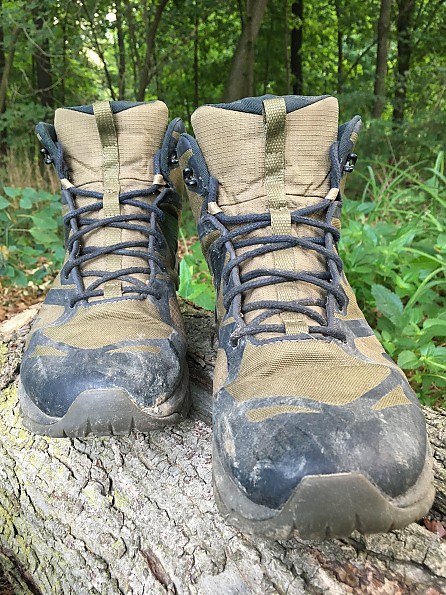 Experience
I've owned five pairs of Gore-Tex boots and one pair of Gore-Tex shoes, all for hiking and hunting purposes, made from a variety of manufacturers.
Source: received for testing via the Trailspace Review Corps (Sample for testing and review provided by Filson)

You May Like
Recently on Trailspace