Merrell Overdrive

The Overdrive has been discontinued. If you're looking for something new, check out the best trail running shoes for 2023.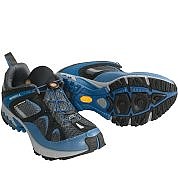 The shoe felt great from the first time I put it on and it also felt great when running first couple of times on the trail.
The sole has a really really good grip, one of the best soles I have ever had on any trailrunning shoe.
However - compared to the Salomon XA Pro 3D XCR that I also own this shoe does not have a lot of stability sideways. It happened to me several times that I roll the foot on rocky trails. While the traction is excellent with this shoe I have to rate it down from a stability point of view. Maybe cause my feet are quite narrow. Otherwise the shoe fits great, there are no issues with friction and blisters at all.
Another minus is the lacing system. It is easy to tighten but for some reason a bit cumbersome to open (compared to the Salomon).
I also found the design of the upper tongue which is supposed to hide the lace ends not working very well. The lace ends come loose quite often and slip out of the little pocket from the tongue. This works quite well on the Salomon too.
Break-in Period: 4 weeks
Price Paid: 100AUD

Look elsewhere. Sole of the heel started peeling off after two to three runs, other areas look like they are set to go the same way.
The quickdraw laces are nothing but a pain in the top of my foot - they cut like razors when the shoe was tightened to my liking. The excess lace is annoying and whatever that flap on the tongue is designed for, it doesn't hold the laces well and is just another annoying sideshow. This is honestly the worst running shoes I have ever donned - more fool me for buying a shoe because it was heavily discounted. There was obviously a reason why.
I sent mine back and am hoping Merrell fits me with a shoe other than the Overdrive, as I requested.
Price Paid: $60

Great shoe, by far the best running shoe I've owned... Great feel running on and off the trail. The moment I put on these shoes it made me want to run. They feel fast. The tread makes these shoes very stable too, I barely slip in these.
Only a few problems I've found, the heel lug tends to fall off after two weeks of rigorous use...easy fix though, 2 dollars worth of superglue fixed them permanently. Also, thin mesh all around the shoe helps ventilate well, but unfortunately lets a ton of dirt in, be prepped for dirty socks wearing these!
All in all a great shoe though. I am definitely glad I bought 'em...
Use: Running on and off trail, go-to shoe for work as a camp counselor
Break-in Period: didn't really need one...
Price Paid: around 86 bucks

Great shoe straight out of the box like all similar reviewers. However like a few other users have reported it went rapidly down hill from there.
Get rid of the speed laces straight away and put in the traditional laces. The sole starts to break up very quickly. The heel lugs fall off first and then other bits and pieces on the sole break off too easily. After this the mesh side begins to break up and gets holes.
For a very expensive shoe this is not good enough!
Price Paid: Too much!!!

Very comfortable - I loved this shoe from the moment I put it on. I went about twelve hours straight in the first wearing while doing an orienteering course. No problems - feet felt wonderful. Shoes are particularly light. I've found other shoes that I like, but this is the first adventure racing shoe that I loved. Others have mentioned about the sole coming apart – I've found the shoe to be wonderful.
Break-in Period: None - out of the box and ready to go
Weight: 190 lbs.
Price Paid: $90

Great, fast shoe. Good support, and the non-friction lining is killer. I love the vent, and it's worth the dirty socks when you get home. Don't care too much for the speed lacing, but Merrell includes traditonal laces, so no knocks on them for that.
Update: January 24, 2007
Addition/Correction to my previous review, one of the lace anchors came undone after my second run, and the lug on the heel started peeling.
Materials: Mesh
Use: Trail Runs
Break-in Period: 2 Months
Price Paid: Doesn't Matter

I had purchased these for Christmas last year and they didn't last long. Some of the sole was coming off and threads were unraveling and I only had these for about 2 - 3 months with only 100 or so miles on them. I'm more ken to higher arched shoes while these are flat and uncomfortable. They've been relegated to lawn mowing shoes.
Use: trail running

BUYER BEWARE! I've had the sole come apart on two different pairs apparently due to a manufacturing problem. Both times after less than 50 miles.
Weight: 215
Price Paid: $90

I can't believe it, this is an extremely comfortable shoe, but also had the padding on heel come loose, but fixed that quickly, now the laces have snapped...and Merrell does NOT supply replacement laces, and the lugs are too small for conventional laces.
Bottom line, spend top money for top brand, that fails, and you have to throw away a good pair of expensive shoes because of a snapped lace ???
Price Paid: R950

Your Review
You May Like
Specs
Men's
Price
Historic Range: $29.70-$90.00
Reviewers Paid: $59.99-$90.00

Women's
Price
Historic Range: $62.95-$90.00