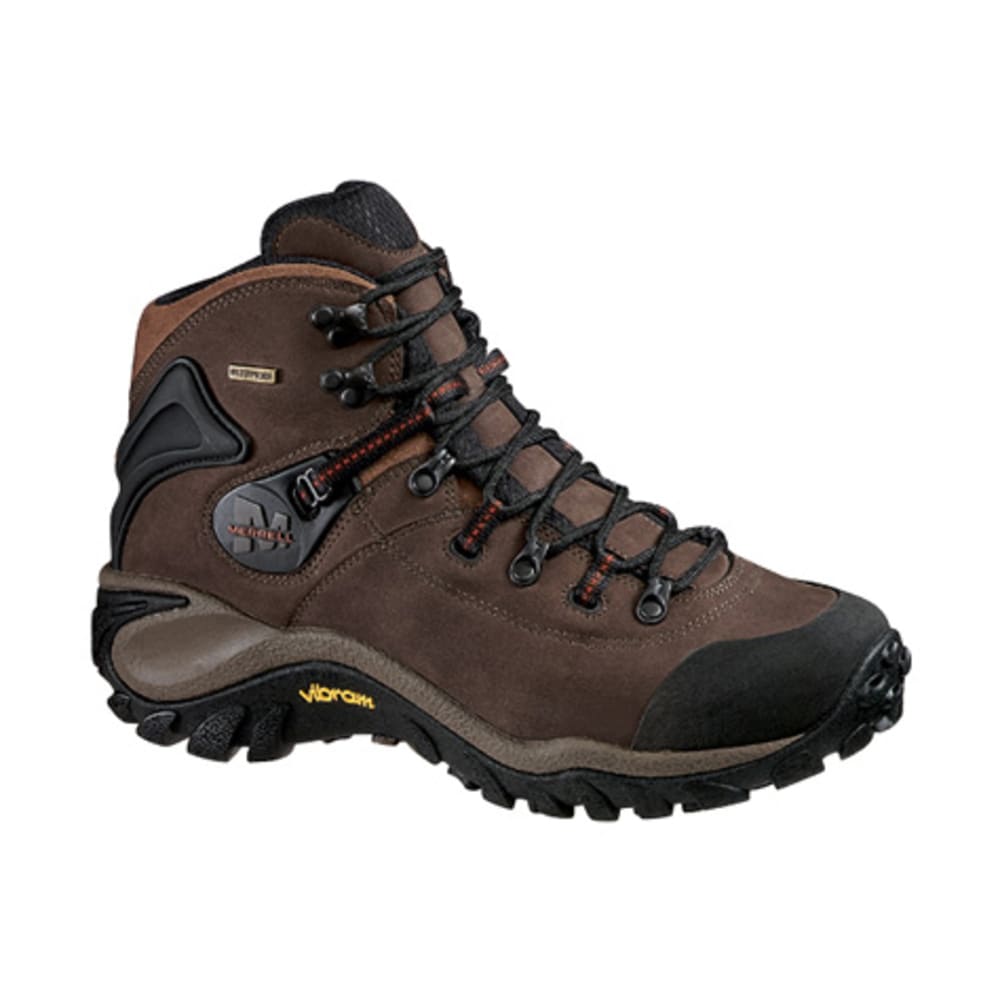 Specs
Price
MSRP: $150.00
Historic Range: $41.83-$174.95
Reviewers Paid: $100.00-$155.00

Weight
3 lb 1 oz

Sizes
7 - 12 (Half Sizes) 13, 14, 15

Materials
Nubuck Leather Upper

Reviews
14

reviews

5-star:

5

4-star:

7

3-star:

1

2-star:

1

1-star:

0
Good all around day hiker boot or light backpacking boot.
Pros
Quality/durability
Lacing system
Comfort
Looks
Value
Cons
Platform too light for heavy loads
Not 100% waterproof
I bought a pair for backpacking and they turned out to be a little light for heavy work. I'm a heavier guy at 260# so add a 50 pound pack and the platform softens up after about 50-70 miles of use. If you are 200 pounds or under, add some good insoles and you are probably just fine with a reasonable backpacking expectation.
The boots are very well made, leather is nice and are mostly waterproof most of the time. I have had wet feet in wet grass on more than one occasion. Fit is true to size. I am 10.5 between med and wide and they fit spot on.
Lacing system while a bit suspect at first is one of the best I have ever used. Lacing loops go all the way under the boot and the laces run down into the toe box. This allows the boot to be snugged a bit past the widest part of your foot which is GREAT for descents and stops you foot from jamming into the front of the boot.
Lower ankle height is good and not too high, but still has some support. Wide sole has held up well but has seen mostly dirt miles, not asphalt. 
At this point I have had them for over three years and 100's of hard miles hiking and hunting and they are still in pretty good shape and show no sign of falling apart. The last has softened up a bit as I spoke to, but as a day hiker for me, they are still excellent and my go-to footwear. Bottoms are just firm enough to stop most intrusion from rocks. 
Overall good light backpacking boot and great day hiker. Durability has been excellent and waterproofing mediocre (mink oil is your friend).
Wanted to go 4.5 stars because of the durability, but the 80% waterproof issue brought it to 4.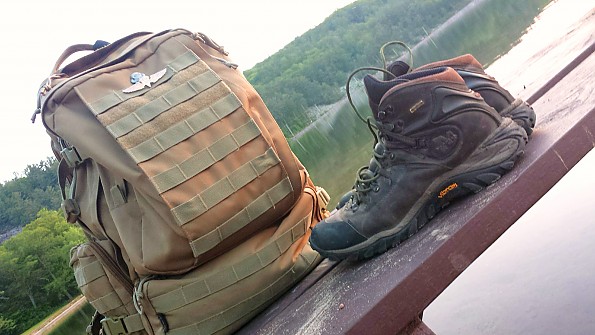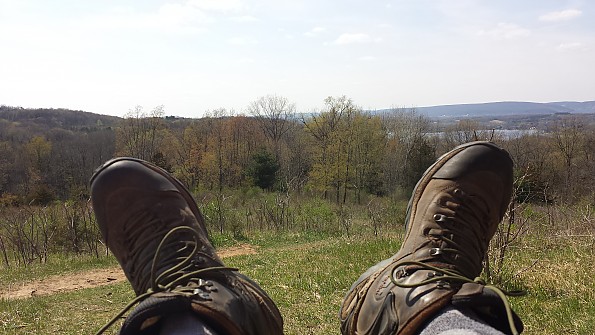 Source: bought it new

Good boot for cold weather. Too hot for summer trips.
Pros
Durable
Good lacing system
Good boot for cool to cold weather, but not so much for warm to hot wether. My feet burn up in these unless it's cold weather. Toe area is a little cramped. Very good lacing system.
Source: bought it new
Price Paid: $100

Amazing boots for hiking and trekking in most conditions.
Pros
Comfortable
Solid
Waterproof
Windproof
I've had these boots for over a year now, and worn them on dozens of trails in a variety of conditions ranging from deserts to snow, mud to ice. They are solid, dependable, comfortable, and handle a variety of conditions very well.
I highly recommend these boots. The only downside I've found is that they do wear a bit quickly on the mid-sole, and probably won't last for 2 years of real use.
Source: bought it new
Price Paid: $120

So far so good. I have had these boots for about 2 years now and they are still going strong.
So far so good. I have had these boots for about 2 years now and they are still going strong. Seem to be waterproof as one could hope for. No break-in time, good right out of the box, true to size.
Good support, not good for standing on a hard surface for long periods of time. Good traction, could be a little more aggressive. They seem to be quite supportive. I have had no issues to speak of with this boot.
Source: sent back bad Moab and got these in return.

Very comortable fit. No areas rubbing.
Very comfortable hiking boot. No slippage noted. Kept my feet dry.
Source: bought it new
Price Paid: $155

Very good, long lasting.
I had the very same previous model without the rubber toe caps. They are the longest lasting hiking boots I have ever owned.
The waterproofness was very honest into the wearing of them for the first three years, then lining got somewhat worn down and the leakage started, not immediately after encountering the wet environment though. The leather upper stood well into the punishment the nature has thrown on them over the years.
The boots were telling me "please let us go and rest in peace" for a long time but I kept them going, constantly gluing and everything until the last trek when the plastic heel supports on the right boot simply disintegrated.
The overall integrity of the boots is still OK, the outsole is still firmly attached to the leather upper, but the looks are gone.
They are still in production with probably better features. If you are looking for dependable boot, do not hesitate to buy a pair.
Source: bought it new
Price Paid: $135

Clouds for your feet.
Pros
Comfortable
Actually waterproof
Good grip
Cons
Warm boot for summer (not a con just a warning)
Took about 5 decent day hikes to break in. Very comfortable. They were obviously stiff the first few hikes and once you break them in it's bliss. I got a half size larger than I normally wear and it paid off.
I was trout fishing in about a foot of water and not a single drop leaked in. My previous boots said 'waterproof' and found out that was short of the truth. Good insulation, but very warm boot for summer. 
Short review but will add more input as I hike/camp more this summer. 
UPDATE 4/14: Still no cons two years later. I wear them quite often and have no complaints still. 
Source: bought it new
Price Paid: $150

Good boot. Used in the Yellowstone area all summer, and loved it. Sturdy meets flexy.
I have large feet, so most good boots are going to weigh a bit. These are right where I want them in regards to weight.
Amazing comfort and good traction are the bright side as well, with warmth being the darker side. The comfort is due to all the nice padding inside, but that also equals heat retention and build up. However, for me, totally worth it.
After breaking them in the inside heel of the left boot started rubbing, so I changed the lacing and found a solution.
I will be giving them a shot at my winter work boots in Yellowstone, we'll see how warm they really are!
Price Paid: $145

This boot was a last ditch resort as the only one I could find in Estes Park, CO, that fit. I was teaching Outdoor Ed. at YMCA of the Rockies at the time and immediately hit the trail hiking five miles a day in them from the get go. That was three years ago, and these things are still my main hiking boot.
They took about two weeks to break in, which I learned the hard way. The waterproof label is good for about two months of constant use, a good silicon spray does the trick nicely. As for wear and tear, I've hiked all over and back and also wear them as an everyday shoe, these boots have never let me down.
The construction is solid and the treads have little signs of wear, as I have a wider foot some of the stitching on the outer side of the toe box is showing some signs of fraying, besides that these things are perfect for the weekend hiker, or for one who just needs a solid boot for a little of everything.
P.S.- if waterproofing do not use a petroleum based formula, it may dissolve the synthetic parts of the boot, aka primarily the threads holding it all together.
Materials: Leather / "gore-tex" knock-off
Break-in Period: Two weeks
Weight: On the lighter side
Price Paid: $145

Had these boots for 2 years now and they are great. Had no problems with them on the trail. They broke in a short period of time and give great foot support.
Price Paid: $100 Canadian

I recently bought these boots after spending a good 2 hours in the store trying on different boots. These were more comfortable than any others that I had tried on. Waterproof for pretty deep water and the ankle support is excellent. I backpack and couldn't ask for a better pair of boots for hiking, and other outdoor activities.
Use: day hikes/ backpacking weekends etc.
Break-in Period: few weeks wearing regularly
Price Paid: $140

I have done numerous day hikes of 4-10 miles over some pretty rugged terrain with these boots. I haven't taken them backpacking yet but these boots are incredibly comfortable. I have not gotten a blister from wearing these boots yet.
Additionally, the ankle support is the best I have ever had. I have owned Asolo, Vasque and Timberland boots over the years, and none have had anywhere near the ankle support as these boots.
My only negative is that they are slightly heavy and bulky, but I guess that is to be expected considering the excellent support.
Price Paid: ? (Gift)

Overall the boots are comfortable but I had problems with the quality. The rubber toe guard is pealing away on both boots and the inside of the arch, where the sole meets the leather, is coming apart. It looks to me like there is an issue with the glue in both cases.
The left boot is not waterproof, I was standing in about 3 inches of water and the left boot had a good amount of water seeping into it, the right boot was fine. The break in period did cause some soreness around my upper ankle but it went away in couple of weeks, then they were fairly comfortable. Normal breaking I guess.
The boots are made in China and I wonder about the quality the Chinese put out. In my case the glue seems to be substandard. It only took about 5 months for the pealing to start on the toe guard and arch of the sole. After hearing so many positive things about Merrell, I was pretty disappointed.
Materials: Leather
Use: Daily wear/ Light Weight Hiking
Break-in Period: about 2 weeks
Weight: 3
Price Paid: $120

When I went boot shopping, I was willing to spend a lot more than what these boots cost. I tried some higher dollar models on and spent a few hours in the store going through everything they had (Bass Pro Shop-big selection). In the end, these boots had the best fit of any I tried on-so for me, these were the keepers.
I was a little concerned that they didn't have Gore-tex, but the sales rep said that Merell uses their own "Gore-tex" membrane that is equal to the original. I don't know if that is true or not, but he seemed like an honest guy-so I took him at his word. I have had these boots for about half a year now. They have felt wonderful on my feet. I love the feel on trail and off. The majority of my hiking is in the backcountry on various terrain and the boots have been superb. No complaints at all-except maybe the laces come untied quite a bit with a regular tie. I just use a special knot on them and that problem is solved.
As for the waterproofing--first time out I went and stood in the stream for a while--no wetness at all. Last time out I hiked in a full day of rain--no wetness at all again. Really nice shoes and it is a pleasure to hike in them.
Other note: Typically I carry about 25-30 pounds on my back. Final note: I have only worn them for about 50 miles, so I cannot comment on their long term durability. I look forward to finding out though. Good luck and thanks, Merrell.
Use: rough trail/30lb pack/2-3 day excursions
Break-in Period: after 50 miles they feel like mile #1-perfect.
Weight: 3lbs (I believe)
Price Paid: $120


All Phaser Peak Waterproof versions
In addition to the 14 men's reviews above, there are 3 reviews for other versions of the Phaser Peak Waterproof. Read all reviews »
You May Like
Recently on Trailspace