Merrell Reactor Waterproof Mid

The Reactor Waterproof Mid has been discontinued. If you're looking for something new, check out the best hiking boots for 2020.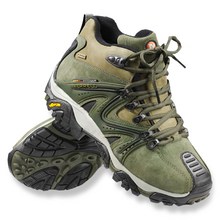 Specs
Men's
Price
Historic Range: $60.00-$79.83
Reviewers Paid: $70.00-$110.00

Women's
Price
Historic Range: $59.95-$69.83

Kids'
Price
Historic Range: $46.93-$65.00

Reviews
4

reviews

5-star:

1

4-star:

0

3-star:

1

2-star:

1

1-star:

1
I love these boots.  I have worn them for a number of outdoor activities since 2005. If I could find another pair I would buy them in a second.
I wore them on a six-day canoe-backpacking trip through Algonquin and they kept my feet dry and comfortable the entire time. I hiked in the Rockies, in Vermont, and a number of spots in N.Y. with these and have been very satisfied. 
Only very recently has the Gore-tex membrane started to fail. They are still great boots, but just not as waterproof as it use to be. 
Price Paid: $110

I was disappointed by this boot.

Good: Fit and comfort
Bad: Quality of construction, grip and styling

Reviewer: 39 year old male, 5'11", 190lbs

Break in period: 4 days before I returned them to the original store.

I am active duty US Navy stationed with my family in Japan. While I do a lot of outdoor activities and traversing, we have usually lived pretty close to sea level so I have not owned a pair of dedicated hiking boots in a while. When my son's boy scout troop started talking about Hiking Mt Fuji this summer I got immediately excited. Unfortunately after weeks of looking, the only brand of boots I could find on sale were Merrell. I say unfortunately only because I wish I could have compared more brands and styles. While I have never owned Merrell Boots before I have seen plenty of them around, so I figured the quality had to be at least ok.

After going to many stores where they do not even carry men's size 12 shoes in anything I finally found a store that carried the Merrell Reactor Mid and the Sawtooth in my size.

I selected the Reactor based on initial comfort and because the Sawtooth was a bit too "military" in appearance for my off-duty time, plus the Sawtooth they had in stock was not water-proof. I was not initially impressed by the Reactor styling, but figured I would eventually get over it. But I carefully noted the stores rigid seven day exchange policy.

Good: Fit and Comfort.

So for the next four days I took the Reactor Mid pair out and wore them every minute. I also took them on a 3 hour muddy hike with a 20 lb pack to break them in and test how water proof they were. I probably walked a total of 20 miles in them over four days. After a very short break in period, I could barely feel them on my feet. They felt great.

Bad: Quality of construction, grip and styling

In the first few days It really only took a very short time to "break" the shoes in. That's probably because they feel almost like heavy-ish leather running shoes. I did have a difficult time getting the uppers tight enough to feel like I had any ankle support. There was an initial uncomfortable patch where the tongue was rubbing the top of my forefoot, but that was minor and only lasted two days when I really cinched the laces down.

Grip was not good. I was not impressed by the grip on wet hard surfaces like wet cobblestones, wet river rocks or wet stumps. But I'm used to Tevas and they have awesome grip on wet surfaces. I literarily almost fell on two occasions on wet stairs.

I never really got over my disappointment in the styling. It's like it couldn't decide if it was a boot or a running shoe.

But in the back of my mind I kept thinking about a few reviewers of other Merrell products that complained of occasional shoddy material and construction. This afternoon I was unfortunately not too surprised to see a 1 inch gap had developed between the leather upper and the mid sole where the sole is still very much built like a running shoe. Lots of cushion for a great feel but the glue was obviously just not keeping the sole on the shoe. It took me about 30 minutes to get to the same store where I bought them and I exchanged them for the Sawtooth version as that was my only other option in my size.

I give the Reactors a generous two stars only because they actually were very comfortable when I was just walking, otherwise it would have been a zero.

Use: Intended Use - Mt Fuji
Break-in Period: 4 days until I returned them
Weight: 195 lbs
Price Paid: $115

First Merrell product I have ever had to send back...got these to replace my other lightweight hikers. They fit great, but after only about 30 miles the lace eyelets were already causing so much abrasion the laces broke...then after about 10 more miles one of the metal eyelets broke all together. I fixed it with a key ring, but these things were worthless for trying to get a nice snug fit. Hopefully they replace them. I still love Merrell, these eyelets just did not work.
Materials: leather
Use: hiking, light backpacking
Break-in Period: 15-20 miles
Price Paid: $79.99

Good boots for the price. Only two complaints, the round threads toward the front of the vibram sole pick up small stones whenever walking on gravel. They also tend to feel hot compared to both my old Hi-Tecs and my Asolos. They are definitely a better boot overall then the Hi-Tecs in both quality and comfort after hiking, stay away from them if you live in a desert climate (I'm in WI so no worries).
Materials: split leather
Use: day hiking
Break-in Period: zero out of box perfect
Weight: ??
Price Paid: $70

You May Like
Recently on Trailspace