Merrell Reflex

The Reflex has been discontinued. If you're looking for something new, check out the best trail shoes for 2023.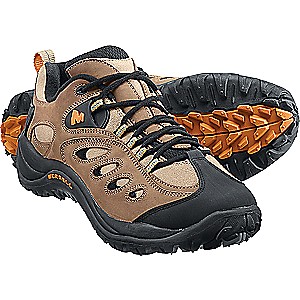 Super soft and comfy—not ideal for seriously rocky conditions. Brilliant for general use and walking the dog. I absolutely love these shoes. Recommended.
Pros
Soft rubber sole, really comfortable
Really grippy in the dry
Could wear them all day, most comfortable shoes I have ever owned
Cons
Soft rubber sole; too flexible for rock climbing
Can be a bit slippy on some wet surfaces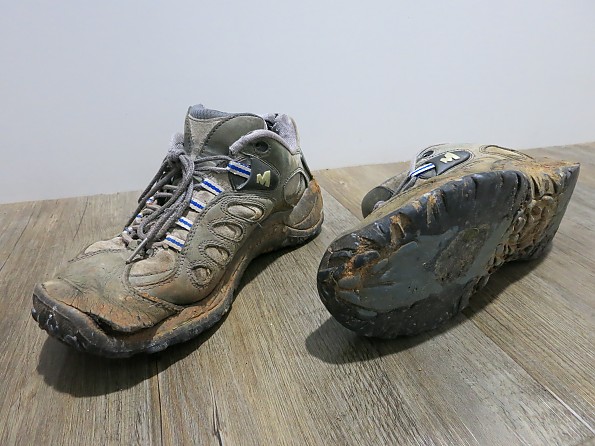 (18 years old - Now allowed to buy their own beer!)

Really disappointed, I have only had these shoes for 18 years and they are now coming apart at the toe, and the sole has completely worn down. If I could remember where I bought them, I'd demand my money back. Glad I bought two pairs (have just opened the box).
Seriously though, they are soft soled, and not ideal for mountain hiking; but for walking or running in the hills or woods they are brilliant. The footbed is not rigid, so the soles of your feet can take a bit of a bashing if you clamber over rocks a lot.
I have worn these a lot, and I just can't believe they lasted so long—unbelievable. I am very light footed though (should have been a ninja!).
I don't know whether they were supposed to be waterproof or not, but I cannot recall getting wet feet in these (been out in all weathers, not through streams though) not until the toe came apart recently that is ..... so sad ..... they had to go ..... loss of an old friend.
The soft rubber can be a bit slippy on some wet surfaces (including the odd pavement), but super grippy on surfaces you wouldn't expect. Faultless in the dry, running, turning sharply, assault course scrambling and so on.
I don't believe they needed any breaking in and were super comfy from day one (too far back now to remember precisely).
They are so comfortable they are like slippers. I really hope the second pair lasts that long!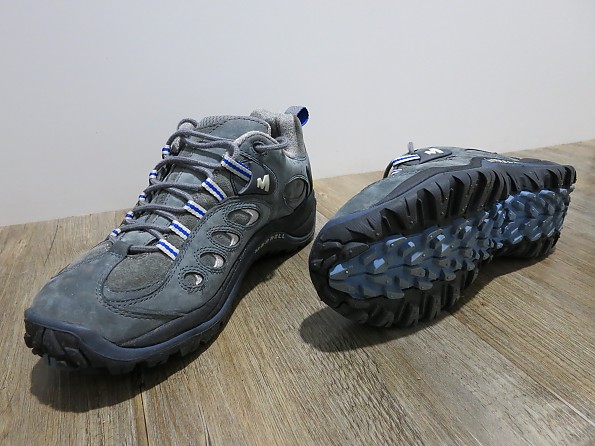 (Straight out of the box 28/11/2016 — purchased before 1998)


Source: bought it new
Price Paid: Retail price at the time ?

I've bought the Reflex Mid line since about 2001. Over the years I hiked a local rugged 3-mile rock scramble for exercise three times a week and went through about a pair every year until about 2012.
Don't let the frequency of the purchase fool you. I put this shoe through hell and back.
Over the past few years the line has gone from the REFLEX 2, 3, and  4. I hate to say it but the quality and performance of this line has suffered dramatically.
Source: bought it new
Price Paid: $129 consistantly over the years

Great waterproof hiker. Good sole, fast break-in, very comfortable.
Pros
Great waterproof design
Comfort
Great ankle support
Cons
They are a bit hot on warm days
Sole is prone to slipping on wet rocks
I purchased a pair of these Merrells for general hiking. It is my second pair of shoes from Merrell and although I do enjoy my original pair of shoes, these are far superior.
I thought a Vibram sole was the way to go, but Merrell has done a stand-up job at making one that rivals that of Vibram. I find the waterproofing to be great as long as one doesn't decide to take these boots swimming.
My only true complaint is that the soles have a tendency to become slippery on wet rocks. I know it is something that is hard to grip...but I think a little more traction on rocks would be ideal. I did a hike where a lot of it was rock face and when it started to rain I was catching myself every little bit especially going downhill. 
Without a doubt I would recommend these boots to anyone looking for a well priced boot.
Source: bought it new
Price Paid: $140

After two months of use — light hiking/walking the dog twice a day — the soles are wearing out. Heels and ball of the foot worn smooth. The rest of the shoe looks great and fits great... greatly disappointed in material quality.
Pros
Great fit
Upper well made
Cons
Soles too soft/wear too quickly
The shoes fit great right out of the box. Very comfortable for long walks (2-4 miles) on mostly flat terrain. After two months noticed the heel lugs were worn flat and through the sole and into heel support material.
The ball of the foot on both shoes worn flat also. Have never had any other hiking, work, hunting, or military boots ever wear out that fast.
Source: bought it new
Price Paid: $99 plus shipping

I've absolutely loved these shoes from day 1. I actually getting ready to buy my second pair. These shoe are very comfortable long walk or the short trac up a hill. I would highly recommend these shoes.
Use: dayhikes
Break-in Period: minimal
Price Paid: $80

The best hiking shoes whatever I had. They are perfect for 20 km of challenging trail or for urban walking.
I'm really upset, because Merrell discontinued this model.

Price Paid: $100

These hikers are the best. The ankle support and rugged sole support and protect your feet in the worst conditions. They take awhile to break in but it's worth it. I wore these boots occasionally about a year before I started hiking in them. Now two years, and many miles, later they are still going strong. Their grip in mud and slippery hills is unrivaled. I'm a real Merrell convert and have a pair for every occasion. These are so comfortable that I was looking for a second pair to keep nice for casual wear.
Materials: leather
Use: rough trail hiking
Break-in Period: long breakin period. Never a blister but hard and inflexible.
Weight: light enough to enjoy wearing
Price Paid: $45

I have had these shoes for three years. I originally bought them for backpacking in the mountains. They break in very fast and are very comfortable. I wore them in the mountains and many days after. The only problem I had was the tread wear is fairly fast. As of now, three years later, they are pretty much worn down. Other then that they are great. The materials they are made out of are very durable and do not skuff or rip easily.
Materials: leather, plastic, rubber
Use: hiking, backpacking, everday use
Break-in Period: 1 month, on and off
Price Paid: about $70 on sale

Your Review
You May Like
Specs
Men's
Price
Historic Range: $59.98-$104.99
Reviewers Paid: $70.00-$140.00

Women's
Price
Historic Range: $55.25-$85.00
Reviewers Paid: $45.00

Recently on Trailspace