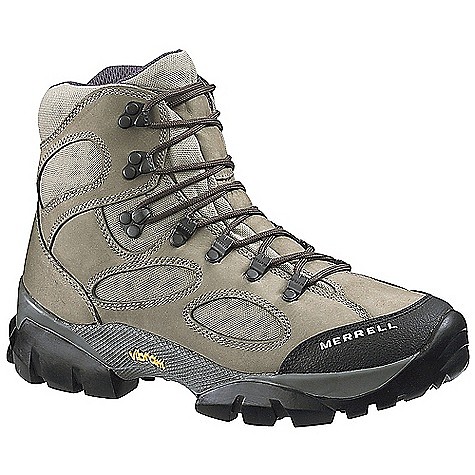 Specs
Men's
Price
Historic Range: $44.95-$120.00
Reviewers Paid: $67.00-$119.00

Women's
Price
Historic Range: $57.95-$89.95

Reviews
12

reviews

5-star:

4

4-star:

4

3-star:

1

2-star:

1

1-star:

2
This is a boot that will fit wider feet and looks to be a durable hiker. The drawbacks that I have found are in the lacing system. It appears that the grommets beind the lacing eyes will not support firm lace tension as I had one pull out after two months of light use.
Pros
These boots will fit a wide foot and although a bit stiff are comfortable to wear after a minimal break-in period.
Cons
The lacing eyelets do not have a big enough grommet behind them to support tension when you lace them firmly.
I purchased these boots after an online purchase of Danners proved futile. I picked these after an hour of trying various shoes at a local outfitter store. The width of these fit me well and although they seemed stiff I felt like they would work for my intended use...day hikes and weeklong pack trips.
I wore these boots on several shorter hikes and on one 8 miler. They were loosening up pretty well and I felt like I had a good thing going with them until I pulled one of the eyelets through the leather on one boot. I was really disappointed and now after reading of others having this same problem have decided to try to find another boot.
Hopefully the outfitter will let me return them for credit toward something else. I did contact the customer service people at Merrell  and they advised me to try to deal directly with the retailer. Hope this works out.
Source: bought it new
Price Paid: $114

I have owned my boots now for almost four years, have hiked much of western Maryland, with these boots using them four times a week, and they have travelled with me to Colombia and been used extensively here over various terrain and are still going strong.

These boots are great. I will change the laces and add an innersole and probably get another four years out of them. Going with me to the Mexico border region next.
Pros
Sole durablity (Vibram)
Rugged
Comfortable
The fit was great for me, 10.5 fit like a 10.5. Were a little stiff to start, but broke in quickly. I can wear these shoes all day every day that is how good the comfort is. The support is great. I like the height of the boot and the ankle protection it offers.
These are not waterproof and your feet will get wet, but I don't know any boot that when your feet are completely submerged will keep that water out. Drying time was relatively quick though. The traction is great as long as I am not walking across a freshly mopped tile floor, at which point they are like ice skates.
Overall it is a great boot for rugged terrain. I got hooked on these boots several years ago using them in Afghanistan in areas that were so rugged we were replacing boots about once every 90 days. The Merrell Sawtooths lasted me the rest of my tour another 8 months, and they are cool, not being Gore-Tex helps in that area.
Source: bought it new
Price Paid: $90

Don't waste your money on these Merrells. There are much better boots out there; Scarpa, and La Sportiva come to mind.
Pros
Has monster cleat Vibram soles.
Cons
Eyelets will rip out when you tighten the boot.
Stiff as a ski boot when new.
Boots received at 11:00am via UPS, and put on the first, and last, time at 2:30pm. The first time I tightened the strings to tie the boot one entire eyelet rivet pulled out of the boots side, leaving a nice giant hole where it was riveted into the leather.
The boots are also stiffer than a ski boot—even after I mink oiled them. Save your money, for better boots.
Source: bought it new
Price Paid: $119

Good boot if you don't mind the military style.
I bought a pair of Merell Reactor Mids that I tried to break in for a few weeks for the purpose of climbing Mt Fuji with my kids. I chose the Reactors originally because they were more comfortable initially and I was unsure of the Sawtooth military style. As it turns out the Merrell Reactors were not good, starting immediately falling apart from shoddy construction and I returned them inside a week for the Sawtooths.
I broke the Sawtooths in over a four week period before doing Mt Fuji with my kids this week. I have been wearing them almost daily for a few hours.
Fit, durability and finish were much better than the Reactors. Mt Fuji is a cinder cone and has sharp volcanic boulders all over it. The Sawtooths did great and barely got a scratch.
Fit - Good, fits like a military boot not like the way some new boots fit like running shoes. I only got one blister over my right toe that I quickly got used to and then no issues.
Only two complaints prevent this boot from being a five in my book: Insoles are useless. Invest in a pair of padded insoles immediately. I don't get how a $110 boot can have a 2 mm thick insole with no padding and call that an insole.
Construction. So far so good, but my Reactors started falling apart within days from bad glue. I am currently watching a small quarter inch gap where the glue may be beginning to separate on my Sawtooths. If it gets no worse I will simply leave it alone or glue it back together with a dab of Super Glue or Shoe Go.
Solid boot and I am very satisfied.
Use: Mt Fuji
Break-in Period: 4 Weeks
Weight: 190 lbs
Price Paid: $110

I bought my first pair of Sawtooths right as they seemed to be phasing them out. I was happy and sad at the same time because I had just gotten a sweeet deal on some great boots but thought that I'd never be able to replace them. I am glad that they are back!
My boots have been all over North America's flatland, rain forest, desert, and mountains and have never so much as slipped a thread! After four years of heavy use I finally wore through the lining at the heel.
The fit is impressively comfy for such a well supported boot. The footbed is superior and really eliminates the shocks and bruises. The shank is good and stiff and provides a kind of "forward roll" feel as you move along. The sole is a Vibram and it is one of their better ones for traction. I feel like a mountain goat when wearing these boots.
I have to say that I am also a hunter and find this sole to be rather noisy so I can't say that this boot is very stealthy.
I live in and spend most of my time in very dry regions, but something to consider when buying this boot, it is not waterproof. If your feet get as hot and sweaty as mine then you will be glad that they don't have Gore-tex or one of those type of membranes but if you need to slog through cold wet slop on a regular basis you may want to re think your purchase.
As for me, I will be buying three pair this time to make sure that I don't run out for a while!
Materials: Nubuck Leather, Cordura
Use: Heavy hiking
Break-in Period: A couple of short hikes
Weight: Light
Price Paid: $67

A real bad pair of boots for the frequent hiker. From the reviews I read they are great around the house for yard work. Description states the boots are light and tough and designed to go the distance. What a lie! After 2 months of hiking Mt. Monadnock NH (granite state) on average 3 times/per wk the boots began to show signs of deterioration of the stitching around both toes boxes, vents and after 3 months the vibram soles became loose under the forefoot, the grey rubber piece which sits on top of the sole peeled away and the stitching was no longer holding the toe protectors.
I purchased these boots online thru Track n' Trail and they do not warranty the boots. I will never buy another Merrell boot. I had purchase a previous pair that was so called waterproof and I had similar problems. I just recently purchased a pair of Gore-Tex lined Danner Men's Expedition GTX Hiking Boots thru Backcountry that have a lifetime warranty. They are recommended for backpacking long range thru rough terrain. I never owned a pair of Danners before and so far they seem quite durable.
Use: Hiking
Price Paid: $90

I own two pair of Merrel Sawtooth boots and they are the best hiking boots I've ever owned. I wear mine to work (trucker) and alternate pairs of boots each day so they can dry/rest a day between wearings. I've had both pair of mine close to 3 years and they are still going strong. I'm a big guy (300 lbs) and I couldn't ask for a better boot or one that has given better service!
Price Paid: $89

Great fit and feel. Well below average quality. Many of the stitches came out and the sole started to come off of the boot. I'm not sure if I got a bad pair, but if they won't warranty them, this will be the last pair of Merrell boots I'll own.
Overall a great medium weight hiking boot. Sometimes I wonder where Merrell is going with their designs, but they hit the mark with the Sawtooth. The boot is comfortable beyond expectation. Support is more than adequate at all points, traction is great, and my feet stayed cool. I felt like I couldn't go wrong for the overstock price of $55. We'll see how well they hold up.
These boots are perfect for hiking the dry buttes in Antelope Valley. Ankle support seems to be very secure in rocky terrain. Instep adjustment is finicky but comfortable when you find the right tension on the lower string area and engage the midway string lock eyelets firmly. The vibram soles are perfect on sandy/rocky slopes. The boot is comfortable in the cold (20F), and in the dry heat (115F) of the Mojave Desert. I will buy them again. Note: not comfortable for distance driving because of the ankle stiffness on the achilles tendon.
Materials: nylon & leather
Use: desert mountain hiking
Break-in Period: not applicable
Price Paid: $79

I am an operator on a protection detail in Iraq and spend most of my time on my feet. The Sawtooth is the best boot for the job, by far, more comfortable than Danner or Matterhorn military boots. Price is also a lot cheaper.
As far as i am concernd this is the best boot i have owned.
Keep it up Merrell.
Materials: leather
Use: protection detail
Break-in Period: none
Price Paid: $90

I did a lot of shopping around because I have feet that are wide at the toes and narrow at the heel. I have bunions as well so a good fit is extremely important to me. The Sawtooth fit my foot quite well. There is a minor amount of slippage in the heel but nothing that a nice thick pair of socks and proper lacing didn't take care of. I wore them on a 5 mile, rocky hike, right out of the box and not a single hot spot developed.
I don't like the fact that they are not waterproof however. I did spray some sealant on them the day before the hike but water still came thru the tongue gusset when I crossed thru a running stream. I also wanted a boot that would really support my ankles because I've had a severe sprain in the past which causes my ankle to be weak. The Sawtooth did the trick. There were several times I would have twisted it again if it hadn't been for the support from the boot.
Overall, I loved the boot and loved that I only paid $90 for them. The only real complaint I have is the lack of waterproof materials. I will say that when the water did get in, my feet didn't really feel wet. I had merino wool socks on with liners so that helped I'm sure. Didn't bug me at all though.
Price Paid: $90 - Galyan's

You May Like