Merrell Switchback Gore-Tex

The Switchback Gore-Tex has been discontinued. If you're looking for something new, check out the best backpacking boots for 2023.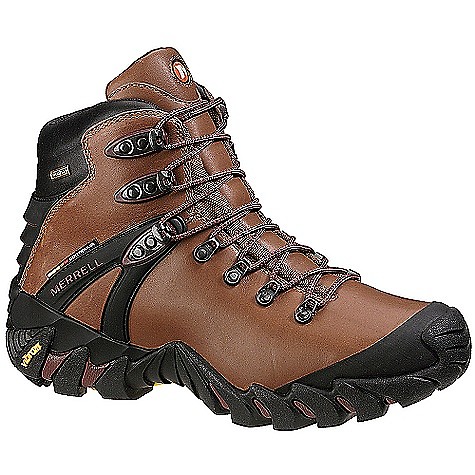 I'll say flat out that I am disappointed with this boot, particularly with its construction. It may look superficially pretty, but the construction is so poor that the boots fell apart fairly quickly. I have had the boots since late 2007, and have used them perhaps 15-20 times, for a total of no more than 30 days.
1. When the boots were new, I used them in the city during a snow storm. After 2-3 days of this, several of the metal lace eyelets over the arch became badly corroded by salt and were almost entirely eaten away. The jagged edges left over tore at the boot laces. Perhaps this wasn't in keeping with the boots' intended use, but I think that the eyelets should have been made out of stainless steel or at the very least given a protective coating.
2. After an overnight trip that involved scrambling over some rocky terrain, I noticed that several of the Vibram lugs on the forefoot of the boot had been ripped off. This boot uses two different densities of vibram, one of which is supposed to be stickier and provide more traction. It was this sticky vibram that ripped off under the forefoot. The interface between the sticky and non-sticky vibram appears to be a weak point on the sole.
3. A few days ago, I got back from an overnight snowshoeing trip and realized that on BOTH boots the stitching holding the leather upper to the plastic/rubber heel counter had torn away, leaving the back of the boots open to the elements and completely destroying its waterproofness, which wasn't fantastic to begin with (non-goretex version). Upon closer inspection of this ruined section, the stitching appears to be very poor quality: there was only one row of stitches holding together this critical seam, and the individual stitches were quite far apart. I can't be sure, but the stitching failure here may be related to the fact that I have gotten the boots pretty wet several times. Maybe the stitching rotted?
After roughly 1.5 years of use the boots are now essentially useless. Poor construction wasn't the only issue though: when wet, the boots would become progressively looser and sloppier, making going downhill on uneven sections very difficult. I'm not sure if this is the fault of the boots themselves or the laces which came with them.
Materials: leather, vibram
Use: multiday trips in forest and alpine; snowshoeing
Break-in Period: none, really
Price Paid: $200

These are flat out the worst boots I have ever put my feet in. They rubbed the tops of my foot raw in less than a mile and I couldn't put my feet back in them after this experience. I was told by Merrell there's a break-in period, but for a very expensive pair of hikers these are a disaster!

Switching production to China may have saved money but I'll never buy another pair of Merrell boots.
Cons
Extremely pooor construction
Worst boots ever. Period. Very uncomfortable and poorly constructed. I have read some very positive reviews of this boot, which leads me to believe quality control in China is just not up to par. If this were a 50 dollar pair of boots I would not have wasted my time writing this, but these boots are going in the trash.
Source: received it as a personal gift

I bought these boots in preparation for a Grand Canyon trip. I was having problems with my feet, and I needed something with enough support to protect a problem area on my foot, but lightweight enough to not weigh me down to much, as I am not an experienced hiker.
I started breaking them in, and the heel was really bugging me. Did some small half day hikes and had to use moleskin on my heels. As my Grand Canyon trip got closer I stared to have concerns for my feet. I wear a 15, and you can't just go buy another pair of boots easily. I was wearing the boots to work everyday, and they slowly started to feel better.
When I got to the Grand Canyon, I was nervous that my feet wouldn't be able to take it. Hiked down South Kabob Trail, hiked to Ribbon Falls, hiked back out on Bright Angel, drove to Havasupai and hiked down and out in one long day. Hiked about 32 hours in 4 days, and didn't even have the hint of a blister or any other discomfort in my feet (don't even talk about the leg muscles).
Since then I have hiked a lot more, and have had nothing but good experiences with these boots. I was actually considering custom made boots, but now I just buy Merrell.
Saw in a magazine at a hiking store and had them ordered the next day. I typically wear around an 11.5 and these hit the mark, with a near perfect fit at size 11.5.
First things I noticed were that these boots were a few inches taller then my previous pair and started to rub a little which lasted throughout the first week (Break in)on my leg, but quickly subsided. After that it was on to the torture test which was running a 3000 ft water line under ground in absolutely miserable conditions, wet/muddy as hell/cold for 4 days straight. My feet were kept warm and extremely comfortable without a single incident.
Several hiking trips later and one backpacking expedition confirmed my original conclusions that these boots are definitely keepers. They have these wonderful toe buffers making down hills climbs a breeze. I've had these for about a month now still without issue, so as usual time will indeed probably tell, but for now I'm extremely pleased.
Price Paid: $150

Pros
Increadible sturdiness
Waterproofness still working after 10 years
Great ankle support
The Vibram sole provides all the grip needed in rock, mud, and snow
Well insulated
Bought them in Nov 2005 for a trip to Germany during winter. Excellent warm and comfortable shoes for temperatures as low as -15°C.
Afterwards, in Jan 2007 I went to Torres del Paine National Park in the Chilean Patagonia for a 100 miles long trek around the park, and again the boots were sublime, no blisters nor hotspots in the whole journey.
Ever since I got them I've been trekking an average of 40 miles a year, and they are still going as smooth as new.
If you're able to get a hold of a pair of these boots I would strongly recommend you to buy them. You won't regret it.
Source: bought it new
Price Paid: $170

Hi, Bought these boots over the web after having tried on in-store multiple boots at REI. Originally bought the Asolo 520 but they hurt my baby toes with more walking, and concluded they were for European and not American feet. Merrell boots fit American feet so they tend to be a little wider. Also a size "9" means a "9" and not 9.5". I have had big problem with heel slippage so for me that was very important.
Anyway, these boots can be worn out of the box. They require little break-in time. Day one with a 40lbs pack I took them over Thunderbolt pass in King Canyon NP. No heal blisters so no suffering. I would recommend these boots. Not sure how long they will last but so far so good.
Use: Heavy backpacking
Break-in Period: None
Price Paid: $125

I bought these boots and wore them around town for a couple of days to start breaking them in. I took them on their first hike on moderate terrain and found them to severely rub the back of my heels on uphill climbs. The worst part of all is the materials and construction of these boots. I had mine decently tight to hold my foot, and the shoelace ripped though the metal mount at there different locations. Whether I had the laces too tight or not, THIS SHOULD NEVER HAPPEN in a pair of boots. I will never buy another pair of Merrells after this experience.
Materials: leather/gore-tex

These boots by far are one of the most comfortable hiking boots that I have ever worn. When these boots are on your feet you can traverse any trail in confidence. I don't think that you have to get the Gore-tex version. I am sure that the leather version is more than suitable.
My one problem with these boots, I have flat feet and these boots lack proper arch support. This is a relativly easy problem to fix just a Dr. Scholls insert and they are perfect. Otherwise break-in period was only about 10-15 miles of easy trail hiking and they fit like a glove.
Materials: Gore-Tex
Use: dayhikes, rough trail, backpacking
Break-in Period: 10-15 miles of easy hiking
Price Paid: $150

This is a great boot....I took them out on a 13-mile hike thru trails covered in snow and mud. Several times I was scrambling across wet granite and with a 50lb pack on I didn't have to worry about losing my footing at all! Great grip and tough, waterproof leather are going to make this pair of boots a real keeper.
Price Paid: $159

Your Review
You May Like
Specs
Men's
Price
Historic Range: $74.96-$150.00
Reviewers Paid: $125.00-$200.00

Women's
Price
Historic Range: $90.00-$150.00