Midland X-Talker T51VP4 Walkie Talkie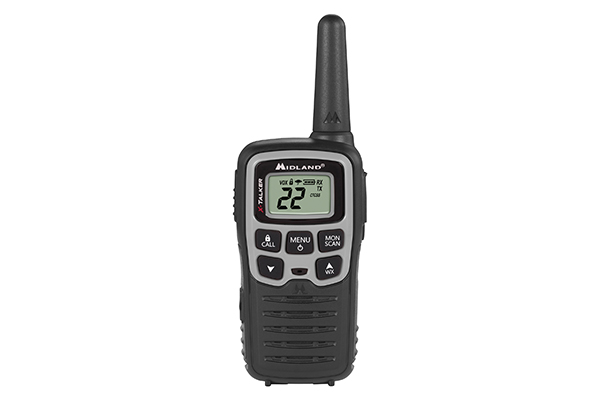 Specs
| | |
| --- | --- |
| Price | MSRP: $54.99 |
| Channels | 22 |
| Range | Up to 28 miles |
| Privacy Codes | 38 |
| Features | Weather Alert Radio, Call Alert, eVOX Hands-Free Operation |
Reviews
4

reviews

5-star:

3

4-star:

1

3-star:

0

2-star:

0

1-star:

0
Disclosure: The author of this review received a sample of the product from the brand or its representative in exchange for a review.
This product worked great for us because we needed something to assist us when backing up our travel trailer and keep track of our kid. The radios are lightweight, have clear sound (both on handheld and earpieces), and even have a VOX setting or hands-free option.

My only issue with these radios is the range. The manual states it has a 28-mile range, but that is not exactly accurate. I tried it in my neighborhood, in convoy while driving, and at our last campsite, and I couldn't get more than a mile. If there any obstacles or large building than this radio loses reception.

Overall I am happy with radio because we mostly use it around the campsite, and for that, they are great handheld radio.
Pros
Great battery life
Very clear sound from both handheld and earpiece
Fits perfect in hand and isn't too heavy. Perfect for carrying around the hiking trails.
There is a USB charging port on each radio if the base gets broken or lost or during travel, you can still charge the radios.
VOX (hands free option) works well, just a little delay at first, but still gets the job done if you truly want to go hands free.
Cons
Range of the radios is not good when there are any obstacles nearby. Not a good walkie talkie for use around the neighborhood or long distance. Quickly loses reception between houses, buildings or trees. Less than a mile range unless on flat service.
No charging indicator light on the charging station. You have to keep looking at the radio itself to see if it is fully charged. Not all bad, but a fully charged green light could be an added feature.
Slight static sound in the background while talking at long distances but otherwise the voices are still clear.
I am fortunate to receive products to review from time to time. This product came at the right moment because we just upgraded our travel trailer, and these walkie talkies were very helpful when backing up our new "to us" vintage trailer during our latest adventure. Before having a large travel trailer, I really didn't have a need for two-way radios, but they definitely came in handy while on our last camping trip.
After getting these radios, there were a few key functions I wanted to test which I feel would be the most beneficial.
1. Range
2. Clarity
3. Battery Life
When we arrived at our campground and got all checked in, the first thing we did was grab our Midland radios and started backing our trailer into our campsite. I have to say, having the radios during this process was beneficial enough for us. We get below-average cell phone service when camping, so just having these radios to help us park our trailer was amazing. It even has a VOX (aka hands-free) option which is helpful when you need both hands on the wheel and all eyes on your backing partner. So, for that fact alone, we are very happy we had them.
Besides being good for backing up a trailer, these radios are also useful for keeping track of kids or friends when you're at an RV or state park. Sad to say, the range of these radios is not as good as I would have hoped. The manual says they have up to a 28-mile range, but that is only on completely flat ground with no obstacles.
Unfortunately, there are obstacles everywhere these days. I tried these in my neighborhood first, and I couldn't even get three streets over before losing reception. I also tried them in convoy on a somewhat straight road with a few hills, and I don't think I got a mile of reception. So these radios are great if you are in close proximity to each radio, but they don't really have far range.
However, the battery life on these is great. We used them most of the day without having to charge them once. I simply plug them in at night and wake up to fully charged radios that last all day. Also, the sound on these radios is loud and very clear. I don't have any issue hearing the other person talking which I greatly appreciate.
For us, these are a great set of radios because we can use them to back up our trailer and keep track of our little one. At the end of the day, we are very happy with our Midland radios.
Experience
We received these radios shortly after buying our 25' Avion travel trailer, and it was perfect timing. I have only used these radios for about a month now both at home and on our latest camping trip. Before now, I had only used radios in a work environment, but never for personal use. I had heard of the Midland brand, but never used their product myself. They are good radios, and they will come in very handy when backing up our trailer during all our future camping trips.
Source: tested or reviewed it for the manufacturer (kept it)

Disclosure: The author of this review received a sample of the product from the brand or its representative in exchange for a review.
Great product.
Pros
NOAA weather alerts
Privacy channel
Battery life
Great pair of Walkie Talkies. First off, they are a great size, small and light. Easy to carry or attach to a pack or hip. The learning curve was fairly easy, directions are easy to follow but there are many functions and it can take a while. I had no problem getting them set up and ready to use very quickly. There are plenty of channels to scan through and find a private one for yourself.
As far as the range goes, I was not able to achieve 28 miles, but I do live in the mountains and that will effect it. However, I had great quality out for a few miles which is all I need in them. I plan on bringing these on some upcoming scouting trips for a hunt and they will work perfectly. 
A huge feature that I love is the NOAA weather alerts. This is huge for when you are in the backcountry and need to know what Mother Nature is about to deliver. The battery is rechargeable and it comes with a charging stand. Charge lasted me all day and they charged up fairly quickly. USB Charger is great to use with battery packs when camping. 
They do come with headset which I have not used but I may bring them when scouting to cut down on sounds. Overall I am pleased with these, they perform as they should and they will work great for what I need them for. 
Source: tested or reviewed it for the manufacturer (Midland)

Disclosure: The author of this review received a sample of the product from the brand or its representative in exchange for a review.
This is a review for the Midland Walkie Talkie XTalker T51VP4. I was given this product as a freebie to review. I am pleased to say this was a great product.


Pros
The whole package...chargers headset and cords.
Lightweight
Good range
Durable
Cons
We have not found any true cons yet.
The clip could be a bit easier to use.
This is a review for the Midland Walkie Talkie - XTalker T51VP4
Do you have an uncle, grandpa, husband, brother, or someone who stays out on the lake too long in their boat? We do! So we now have a walkie on the boat and one with the cottage. This allows us to tell them to come home for dinner since they left before breakfast.
Even though this is the least expensive model this comes with a lot of features. We got 8 miles away and it worked perfectly for us. We also were able to use the headsets, but probably won't much in the future. It is not really needed. The multiple channels helps a great deal as well.
The charging stations and cords are highly durable, which we like as it will get tossed around a bit on the boat we already know. Battery life is a little unknown as we used them for three days and they were still working for us. We already plan on buying a few more.
Experience
We used this product for the first time with communicating between a boat and the lake house. We are not overly experienced with the walkie talkie. We are new to the walk talkie systems, but enjoyed it.
Source: tested or reviewed it for the manufacturer (The Dyrt)

Disclosure: The author of this review received a sample of the product from the brand or its representative in exchange for a review.
My husband and I are full-time travelers and spend much of our time outdoors; we primarily use walkie talkies for short range transmissions when operating our motorhome. This includes site setup and RV maintenance. Ever since we were growing up our families have always packed a set of walkie talkies for family adventures.
Pros
Charge by micro USB on base or directly on radio
Water resistant
Rechargeable battery or 3 AAA's
Cons
Power on indicator difficult to see
Belt clips are lacking hinges
Missing knob for power/volume
These walkie talkies have a potential range of up to 28 miles dependent upon obstacles (hills, mountains, trees, houses and buildings). Optimum conditions are over clear line of sight (fields or lakes). We like that they have NOAA weather bands to keep us safe when camping in unfamiliar areas. The over ear, hands-free headsets are comfortable to wear, and the reception is clear. The radios have a simple setup menu and are easy to learn to use.
There are a few changes with this model than the ones we have experience with. While charging there is no light or indicator on the base. Charging is indicated on the LCD screen battery icon. The units are powered on by holding down the Menu button in the center until unit beeps. We're used to the knob on top controlling on/off and volume up/down so this update will take some time to get used to.
The belt clips are slide on and unhinged. We miss that our previous radios had hinges to make it easy to widen the clasp and will probably swap them out with the other pair. The belt clip can be removed by pressing down on the lock tab and sliding the clip upwards toward the top of the radio.
We love the Midland brand. They've always been reliable, have superior customer service and if need to access a manual or request assistance their website is easy to navigate.
Overall, we are extremely pleased with these walkie talkies and plan to continue using them for hiking, camping, biking, kayaking, and road trip caravans. The over-ear headsets are an upgrade and will make setting up our motorhome much easier in the future.
Disclosure: The author of this review received a sample of the product from the brand or its representative in exchange for a review.
Experience
We're full-time travelers and communicate remotely daily.
Source: tested or reviewed it for the manufacturer (Keep)

You May Like
Recently on Trailspace