Mion Pen Shell Clog

Mion is no longer in business, and the Pen Shell Clog has been discontinued. If you're looking for something new, check out the best footwear for 2023.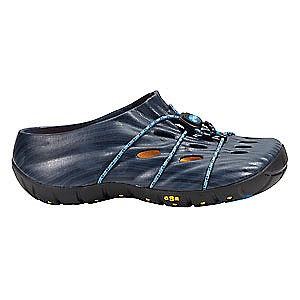 I discovered MION shoes while shopping at Ross one day...and it was the best thing that could have ever happened to my feet!! I have 3 different MION sandals...and the clogs are one of my favorites!
I took out the foot liner and wear them absolutly plain!! I am a size 10.
They are soooooo incredibally comfortable. I can hike in them, explore, go to the beach, get them wet...rinse them off and head out somewhere new. I can do yard work in them....just about anything!
The traction of the sole is incredible! Super fantastic grip!! I walk on rocks while exploring tide pools in La Jolla, CA in my shoes...and never slip!
I keep my clogs right by door..and toss em on anytime I need to help outside. Or I wear them on my all day adventures to places like the zoo!
My feet have never smelled icky once. In fact, I just took off both of my shoes, and took a deep breath in and they don't smell at all..not the slightest foot smell. That's how awesome they are...the antimicrobaterial stuff REALLY works!!
I have had many many compliments on my MION shoes. I am a weird shoe kind of girl!! I take them everywhere I go...on all my trips, no matter the location. I recommend them to all my friends! In fact..I am recommending that I buy another pair for myself!!
Materials: the awesome rubber, with GSR sole
Use: everyday, hikiing trails, steep terrain, slippery rocks, the beach, mountain terrain,
Break-in Period: maybe 2 days...
Weight: I dont know..it never bothers me
Price Paid: I dont remember :)

This is an outstanding addition to ones' gear or wardrobe. Comfortable, durable and 360 degrees of recreational ability. You can't go wrong!!!
Pros
DURABLE
COMFORTABLE
VERSATILE
Cons
Make sure to get the right size to get full ability of footwear
I LOVE THIS PRODUCT!!! I must clarify that i did use this item as daily footwear, but did for 3 YEARS and still going!!! I say daily I literally mean everyday; I walk a lot of wooded trails and would wear them as a work shoe involving  one to be on their feet for hours.  Great as a work shoe and running around.  
As for technical wear bear in mind that they were given to me as a gift so they were at least a size too big, maybe 1.5 ( it's a clog what's it matter). Great cushion, good tread/sole, my only issue was that once they got wet the insole would slip out as you'd walk; could be due to the wrong size causing tightening to not work.  
Very durable!
Source: received it as a sample, freebie, or prize (sister)

Buy them. You will love them!
Pros
Comfort
Durability
Traction
They're really cool looking
Lightweight
Cons
I really don't have any complaints at all
I found mine at Gabriel Brothers (don't know if you're familiar with them). They were $15!!! I've worn them for about 6 years.
I also took out the footbed insole and wear them without. Mine should be a half size bigger to utilize the insole but a larger size. They're extremly comfortable. I actually used the insole in another pair of shoes. I wear these to work, shopping, they're my go-to shoes when traveling. In the snow, in the rain. They are excellent. I would like to have them in brown and green; I have blue.
I tried to get my mother to buy them first, but she didn't appreciate their unique beauty. She thinks they're the ugliest things she's ever seen. I've been complimented on them numberous times.
LOVE LOVE LOVE them!
Source: bought it new

Worn daily, since 2007, repairing computers, motor vehicles, in rainy weather, and in dry, Mion Pen Shells are PERFECT!
Mowing five lots on my riding mower, shopping in malls, hunting swamp gators in Florida, they have shown zero wear!
I build/refurbish, stock the Seminole County, Florida library bookstore with Linux Mint computers, and move them from concrete warehouse, to truck, to build area, then, to the sales floor; and I fish, hunt, kill, cook, and eat tasty animals, in them!
ONLY one flaw, they are OUT OF STOCK planet wide! I hope the aliens who made them return so I can get them in other colors! Have GREEN, so they resemble the gators I love to catch, and eat!
Want the RED Mion Pen Shells, in size 10, for my XXX wide feet, to resemble the Boa Constrictors that are soooo tasty! And, want them in all the colors!
I get great comments on them, from everyone, and folks want to know where to get some!
Price Paid: $25 at Beales

As a registered nurse and being on my feet all day, these shoes are far superior to those I have tried before. I wear them all the time, not just for work.
The Mion clog puts you into correct posture. The ergonomic design is perfect for me. Being six feet tall with bending and lifting all day, these shoes keeps me straight and tall.
They are very slip resistant. They are the best "green" shoes I have found on the market today.
I have had so many people ask to try them on and where to buy them.
I hope they don't go away anytime soon!
Thanks, Mion!
Materials: Not sure
Use: EVERYTHING
Break-in Period: None
Weight: not sure
Price Paid: $59

I am also an RN and wear only these shoes for my 12hr shifts. They are the only shoes I have found comfortable for this much standing, walking, lifting and constant on-your-feet work. I am very disappointed that they don't seem to be making them anymore.
Fortunately, I had bought about 6 pairs in diff colors when they were more available. I guess I will be wearing them all into the ground now. I guess when they are gone, I will have to find other work!
Use: work
Break-in Period: none
Weight: weightless on
Price Paid: $50-$90

They are VERY comfortable but are not very durable. I have only used them for casual walking and have developed a tear in the top of the shoe. Also very heavy.
Price Paid: $25

Your Review
You May Like
Specs
Men's
Price
MSRP: $95.00
Historic Range: $39.96-$79.95
Reviewers Paid: $25.00

Weight
10.4 oz

Women's
Price
MSRP: $95.00
Historic Range: $79.95
Reviewers Paid: $59.00

Weight
8.7 oz

Kids'
Price
MSRP: $95.00
Historic Range: $24.96-$40.00

Weight
5.6 oz

Recently on Trailspace