Montane Quattro Fusion Jacket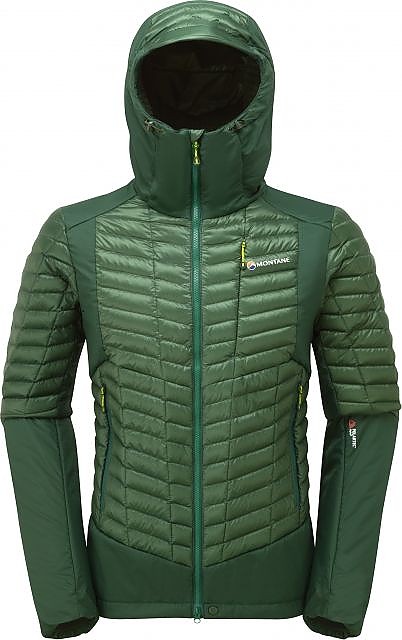 The Montane Quattro Fusion Jacket has an innovative hybrid design that incorporates both 800 fill down and Polartec Alpha Direct fleece insulation. An interesting approach to solve the problem of down getting packed down and sweaty while wearing a pack.
Pros
Hybrid design
Fit well with other layers
Cons
Does not compress very well
Not a great down jacket or fleece jacket
I tested the Montane Quattro Fusion during the fall and winter of 2017 and 2018 in Northern New Hampshire. This was an interesting season and we saw everything from -20 degrees with knee-deep snow, to rain and 60 degrees, then back to temperatures in the teens with lots of snow again. I used this jacket during morning hikes with the dogs, fat biking trips, and adventures on skis (both nordic and alpine touring).
I was impressed by Montane's innovative hybrid design, incorporating both down insulation and Polartec fleece. However, I found that this design made it limiting in some ways, particularly in its packability. 
Fit and Comfort: 
I found this jacket to fit well. The arms had extra length allowing the wrist to stay covered even when reaching or stretching. The body was snug enough to keep warmth inside, but not so tight that it was uncomfortable or limited layering. The areas that are not filled with down are Alpha Direct fleece, which is soft against the skin and base layers.
Montane kept the seams between the down section and the Polartec pieces away from high rub areas like shoulders and hips. This prevents discomfort from these seams pressing against your body. The upper portion of the zipper is lined with soft fleece to protect the neck and chin from the cold metal of the zipper and prevents irritation. 
Adjustability: 
This jacket has all the standard adjustments you would expect in an insulating layer. There is a hem drawcord at the waist, hood closure to cinch down the opening around your face, and a pull cord at the back of the hood to tighten everything down around the head.
There are no cuff adjustments, but they are elastic and wrap nicely against the wrist and are flexible enough to fit over gloves. I did not take often advantage of these adjustments because I found the neutral setting on them to be fine for all situations. However, it is always nice to have these included and they functioned well during my tests. 
Water Resistance: 
Typically, a down jacket would not warrant much discussion when it comes to water resistance. Down is not designed to be worn in the rain or wet snow without some kind of protective shell because it is not water resistant. That is still the case with the down sections of this jacket, which have a Pertex Quantum Pro outer fabric with DWR. There is some water shedding capability of the outer material but it is not impermeable, and if you wear this jacket in the rain you will get wet and cold. However, the Polartec fleece portions of this jacket do provide some warmth even when wet and shed water pretty well with their Pertex Quantum Air outer material. 
This is worth noting because on the arms from the elbow to the wrist it is all Polartec fleece. I do a lot of fly fishing and feel that this jacket will be a great compliment to that activity during the early and late seasons. Full-disclosure, I have not had a chance to get on the river as of the writing of this review. But it is my theory that having the Polartec insulation on the lower parts of my arm that will come in contact with the water while landing fish will be beneficial. 
Breathability: 
Down jackets are not known for their breathability. This is normal and a key part of their design. The Montane deviates slightly from this guiding principle by having a hybrid design combining both down insulation and Polartec fleece. This creates a jacket that provides down insulation at the chest, bicep, and hood while providing a breathable fleece at the hips, lower arm, shoulders, and back. The fleece areas just so happen to line up exactly where a backpack sits. 
This allows the user to wear a pack without sweating through the down in the jacket. It also allows the jacket to breath better in the sections that often generate the most heat.
Warmth: 
It is my experience that the hybrid design limits the jackets ability to handle cold temperatures. The down portions are fine and combat the cold well, the fleece sections are not very thick and unless you are wearing a pack and maintaining fair level of activity, create significant opportunities for cold air to get in. I did not wear this jacket once temperatures dropped into the single digits even though this is normally the time I would wear a down jacket of similar insulation. The fleece just could not stand up to the cold. I will touch on this more in the "Features" portion of the review.
Layering: 
The fit of this jacket was similar to other jackets of this category and allowed for a few base layers to be worn underneath and a shell to be worn over it. It never felt stuffed or tight. I typically layered this jacket with a thin base, thin pullover, and a mid-weight layer. This combination was great for the initial portions of fat bike trips and ski tours but I would typically ditch the Montane after about 20 minutes. 
Abrasion: 
The hybrid design allowed this jacket to hold up well against pack straps. The fleece sections of this jacket were placed where shoulder and hip straps sit and this allowed for a decent level of protection for the jacket. I have not noticed any worn out spots or trouble areas.
Function: 
Overall, this jacket functioned well. The drawcords worked at cinching up the areas they are supposed to. The pocket zippers closed and kept things inside. The pockets were adequately sized to hold gloves, sunglasses, and phones. The one area that I had trouble with was the main zipper. The laminate that coats the zipper prevented it from letting the zipper attach and close easily.
This caused a fair amount of frustration at the beginning of testing but over time worked out. I assume this was a one-off situation with this jacket, but I would keep an eye out for it. I would have not been happy if I bought this jacket new and had it arrive with a zipper that functioned the way this sample did.
Features: 
The key feature to this jacket is the hybrid design. The chest, upper arms, and sections of the hood have 800 fill down. The back, hips, shoulders, and back and lower arms are made of Polartec Alpha Direct fleece.
I understand the idea behind this design. Anyone that has worn a pack with a down jacket has likely endured the unpleasant and insulation robbing experience of back sweat matting down the feathers of the down so that the back and shoulders of the jacket are basically just two thin layers of nylon. This has happened to me and it is not fun.
Normally, though, I deal with this by starting cold, just wearing a few thin layers, and letting the activity warm me up. It is my understanding that the idea behind the design of the Montane is that you can put it on at the start of your trip and the fleece sections will dump the heat better and prevent some of the back sweating conditions mentioned above.
I think that is a great idea, however, I did not feel like it really helped me that much. I typically only wore this jacket for the first 20 to 30 minutes of an activity before I was too hot. I would then take it off and stuff it in my pack until I took a break. 
The act of stuffing it in my pack is where the hybrid design shows one of its largest weaknesses. Fleece simply does not compact as well as down. Due to this fact, I more often than not found myself taking my trusted 100% down jacket with me on trips. I value my pack space too much to want to include a down/fleece hybrid that does not compress.
I also found that the fleece portion of this jacket did not keep me as warm as I would like when I was not wearing a pack. I often take my dogs for walks in the morning up the mountain we live on. This walk does not require the use of a backpack and when the temperatures dropped into the teens I found that my chest was warm where the down was but my back was freezing because it was only protected by a thin layer of fleece. This meant that I either needed to wear more layers underneath or I needed to wear a different jacket that provided constant warmth. 
Overall Impressions:
I like that Montane is taking an innovative approach to jacket design and that they are trying to combine the best of both worlds when it comes to down insulation and fleece. However, I feel that instead of creating either a great down jacket or a great fleece jacket, they have made a jacket that is just OK at being both.
They advertise the jacket as being designed for ski touring and mountaineering. I did use it for ski touring and found it to be all right but did not like that it did not stuff into a pack well. I did not use it mountaineering but based on my limited experience (summit attempt last summer on Rainier) I would not have picked this jacket to go with me and I also do not think it would have passed the inspection of the guide service I used.
I just never found a place for this jacket in my lineup to date. I do want to test this as an insulating layer for when I hit the rivers fly fishing which will be coming up in the next few weeks. Once I do that I will update this review.
Just because I did not fall in love with this jacket does not mean others will not like it. I would recommend this jacket for someone looking for the comfort of fleece with some of the added warmth of down. I would also recommend this for someone that runs cold but lives in more mild environments.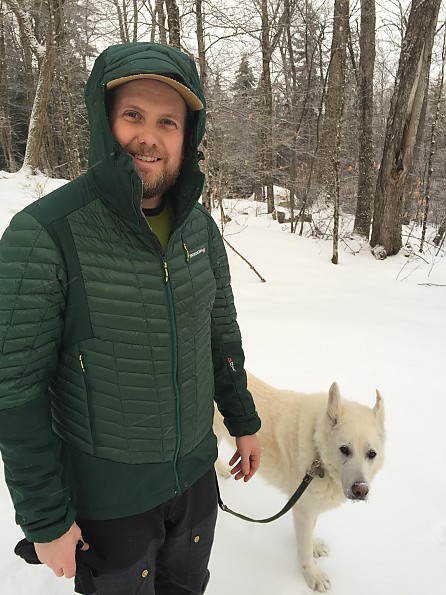 Source: received for testing via the Trailspace Review Corps (Sample provided by Montane for testing and review)

Your Review
Where to Buy
Help support this site by making your next gear purchase through one of the links above. Click a link, buy what you need, and the seller will contribute a portion of the purchase price to support Trailspace's independent gear reviews.
You May Like
Specs
| | |
| --- | --- |
| Price | Historic Range: $149.83-$300.00 |
Recently on Trailspace