Montane Super Terra Pants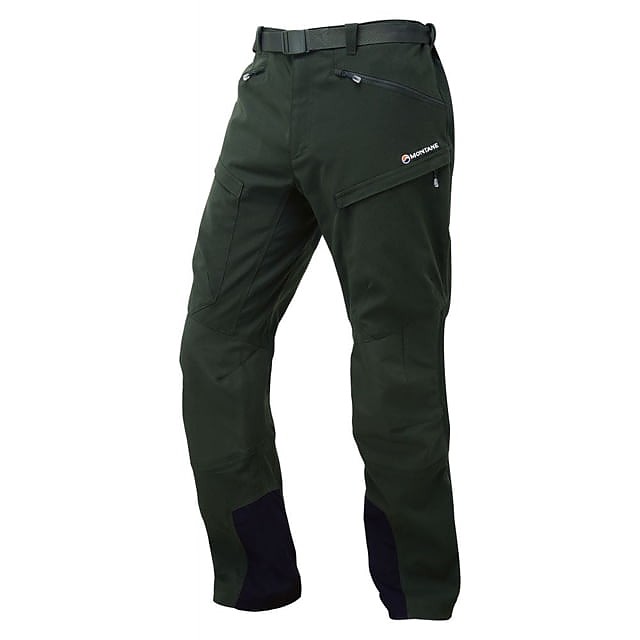 These are rugged outdoor pants which can be used for many different activities. Durable, yet stretchy, Montane's Super Terra Pants are comfortable in fit and feel. With plenty of deep pockets located nearly everywhere, having access to any gear or food on the trail isn't an issue. Even with leg vents, I'd still recommend wearing these for cool/cold weather use as the material itself isn't very breathable.
Pros
Comfortable fit, not impeding range of motion (stretchy)
Several pockets of varying sizes; easy access while wearing pack
More durable fabric in high stress/active areas such as knees and seat of pants
Integrated gaiter hook and cuff adjustment
Cons
Gaiter hook inadvertently attaching to shoelaces
Removable belt is very difficult to feed through belt loops
In warmer weather…lack of breathability even with leg vent open (designed for cold weather use)
Pants available in regular (S-XXL) and short (S-XL) lengths, but not long
Testing Process
Montane claims that the Super Terra Pants can be used for several uses such as backpacking, hiking, scrambling, and hiking. The pants are specified as being durable, stretchy, water repellant, and fast drying, while also having a cotton-like feel. These were the features which I focused upon in my review.  I also addressed other features of the pants which I list out in the specs.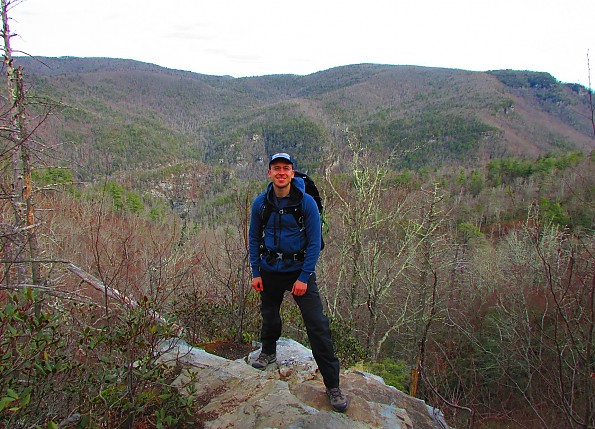 When reviewing the Super Terra Pants ("STP") I compared it to other backpacking pants I own. I listed some of the features which are similar to the STP and those which contrast; each of the pants share features which the STP are claimed to have.
(1) STP, (2) Columbia Cool Creek Stretch Cargo - nylon, 14 oz, water repellant, (3) Columbia Twisted Cliff - cotton blend, calendared fabric, 9 oz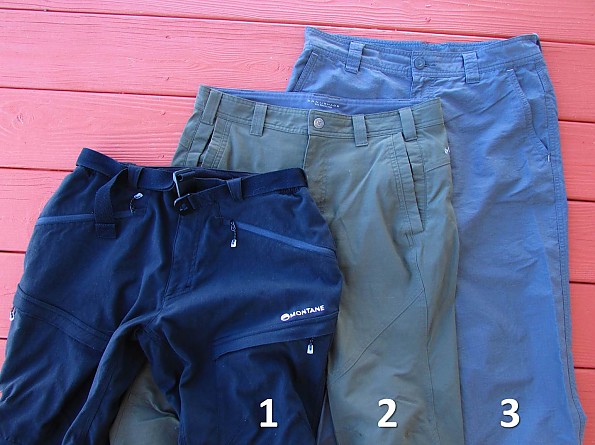 Background & Overview of Specs
I am 5'9", average, athletic build and received the Regular, Medium-sized pants for testing, measuring 32x31 and weighing 22.8oz. Below are some specs, I have either described these further in my review through the narrative or pictures.
Six total pockets (two hip, two upper thigh, one zippered compartment within right hip pocket, one back right pocket)
Integrated gaiter hook on the front of each cuff as well as a cuff adjustment (three button adjustment snaps…the tag with the pants stated "Velcro adjustment" so I'm not sure if the tag is from a previous version or just a different option)
Removable nylon belt (can be a bit difficult though, I only did it once and that was it for me…though it is an option) as well as a stretchy waistband (so each size waist can be +/- a few inches)
¼ length ankle zips (~10" long on my size M) and mesh side vents (one each side, ~11" each)
Fit/Adjustability
Based on what I've heard about other Montane items, I was expecting the STP to be very athletic or even slim in its fit. I actually found them to fit quite well, what would be considered a casual or relaxed fit. Montane offers only basic sizes S-XXL in regular length. I received the Regular Medium, which are recommended for 32" waist and 31" inseam; which I found to be accurate. With this clear cutoff in size, it's somewhat of an "all or nothing" in fit. Unfortunately, right now there aren't any long sizes offered either. Their sizing chart is here.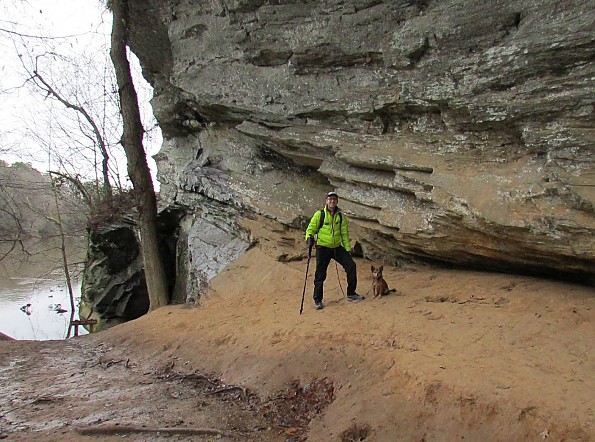 The waist has a removable belt. It does hook very well, but the word "removable" should be qualified. It is very difficult to remove. The belt loops are sturdy, thick, and well attached, but almost to a fault. The belt loops made it hard to fit the buckle through them, even when I turn it in every direction. I took the belt off once for the first wash, after that I just left it on.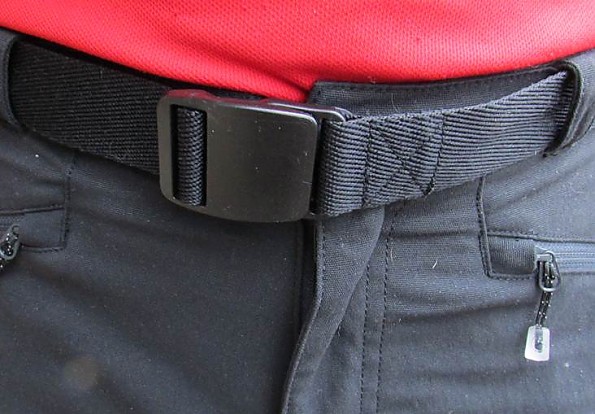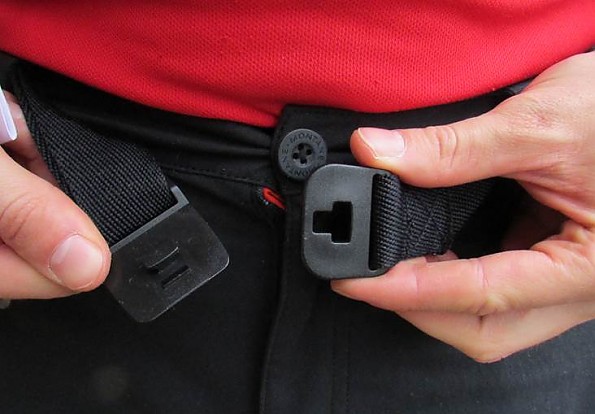 The waist fits very well; it is snug without being overly tight. With the size medium, I feel that if I were an inch or two wider that they could fit due to the elastic expansion on each side of the waist band. For my size I could even get away without wearing the belt, as the elastic kept the pants secure.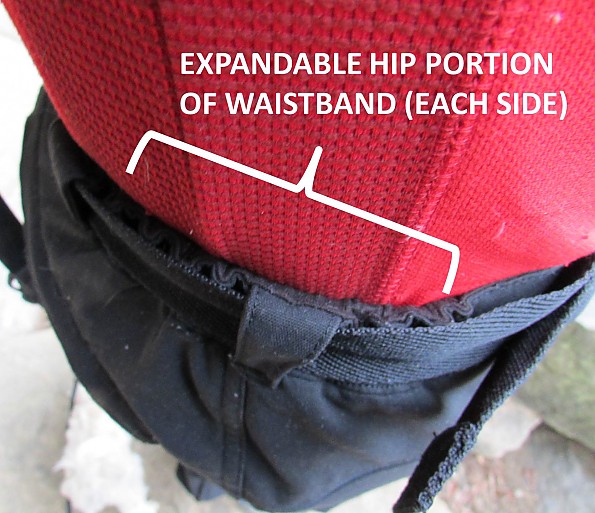 Durability & Fabric Quality
The main fabric is made from Montane's Granite fabric (93.5% nylon, 6.5% Spandex). Rated at UPF 50+, Montane claims this material to have a "cotton-like feel". This material actually does feel like cotton and the perfect comparison is to a 100% cotton collared polo shirt. I went to my closet and side by side they both feel the same. These pants have a much tighter weave and are from a different fabric, but they feel identical, just as claimed.
I have washed the STP a total of 14 times. Durability during cleaning is just as important as on the trail (if stitches fray or fabric tears after a few washes, what good will it be on the trail?). Montane states warm wash with mild soap is adequate, but recommends using Nikwax Tech Wash. I washed once using Nikwax but all others with just generic detergent. I only used my top loading washer; the top loading washer can be quite aggressive, especially when the agitator gets working. I haven't noticed any damage or wear due to washing.
Extra button also located on the tag, which shows the Nikwax info, in case you forget.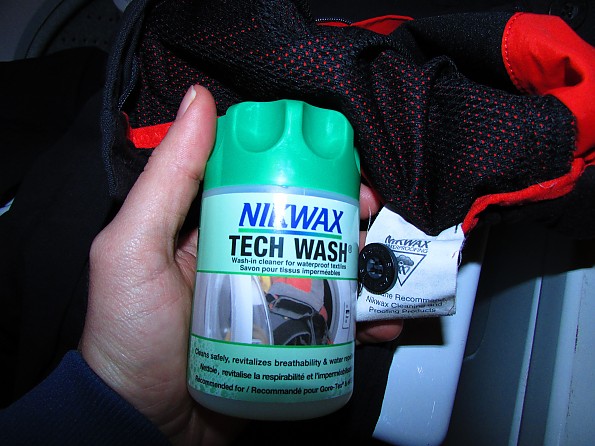 There are CORDURA reinforcements at the knees, seat, and instep. This is the same type of fabric that can be found on luggage to outdoor gear and so far its abrasion resistance has performed very well. These areas are more water repellant and are well placed for the times I just take a knee or sit down to eat a trail snack.
These were the only two minor snags that I had. One on the outer thigh and other at the knee. No cause to worry.
Of course a caveat should always be kept in mind when reviewing a piece of gear with durability as one of the claims. While I feel that I tested the pants sufficiently over my testing period, time is always a factor and testing and updating over the long term is the name of the game.
Water Repellancy
The Granite fabric is claimed to be water repellant. Both Granite and Cordura fabrics performed exactly as expected. For me, the biggest difference for pants with water repellant areas is how long it takes to start absorbing. Rain on the Cordura (reinforced areas) held off a bit longer than the Granite.
I had more soaking at the area where my jacket touched my pants, but they held up really well.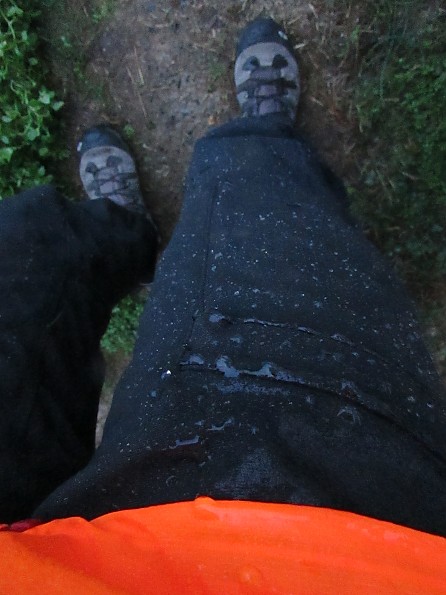 Dry Time
A quick dry time is a big claim for these pants. With the heavier material, I was curious how it would turn out and I wanted to compare them to my (thickest) Columbia pants, the Cool Creek pants. I also had polyester tights on for both tests. Maybe this soaked up a bit, but I don't think so. I had the mesh vents opened and I think that helped the STP's dry time.
STP: 43 degrees, low humidity, 37 min
Cool Creek: 45 degrees, low humidity, 18 min
I also had a control test of hang drying all three pants inside. The STP dried in 3hrs 30 and the Cool Creek and Twisted Cliff both around 3 hrs 10. Considering the STP are 21 oz. and the Cool Creek are 14oz. and of similar material, I expected the STP to be a little longer. In 43 degrees, having the pants be dry in 37 min from soaked, is pretty nice.
Other Features
Pockets
The pockets are very generous, both in number and in the size and features. I've mainly used the front pockets (I'm not a back pocket sort of guy, especially if I have a pack on). Those located closest to the hip I used most often. With an additional zippered pocket inside the right and a cell phone/GPS open pocket in the left, the hip pockets met my expectations and are very versatile.
Both different Columbia pants have open hip pockets, Velcro back pockets, and one side leg pocket. While this is better than nothing, I really got used to the STP pockets. The pockets are angled  upward for the top pockets and downward for the thigh pockets. They seem to match the body's natural motion when accessing. I really like the angle of the top pockets and thought I'd prefer the thigh pockets to be parallel, but the way the pockets are currently made actually work well.
The lower front pockets are generous enough to fit smaller trail maps.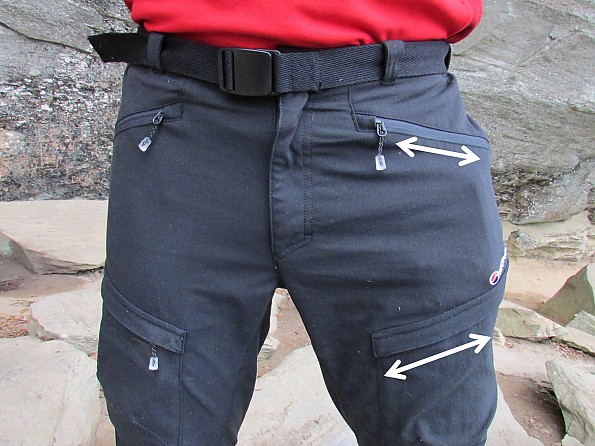 Easily fits a phone or GPS and the zippered pocket was handy when I went on day hikes. I stashed my key into it and at the end of the day I didn't need to go digging through my bag or worry about it falling out of my hip belt.
The pockets are also located enough under my hip belt, that accessing isn't an issue.
The zipper pull is easily gripped, even with thicker gloves.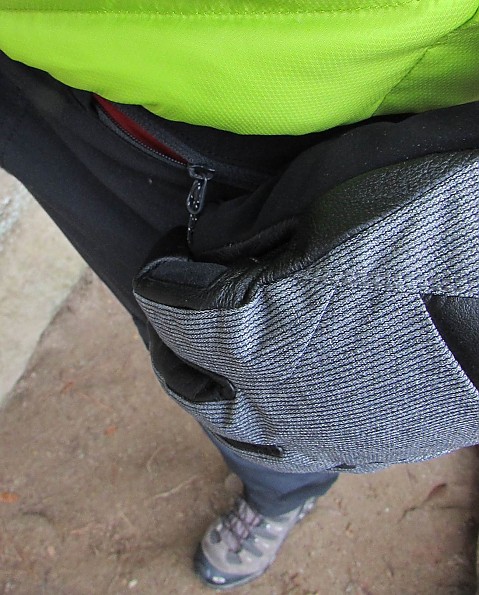 Integrated Gaiter Hook & Cuff Adjustment
The pants didn't become too tight when the gaiter hook was attached. I thought they'd maybe feel like I was wearing a child's pants with booties, but for my size, it was acceptable.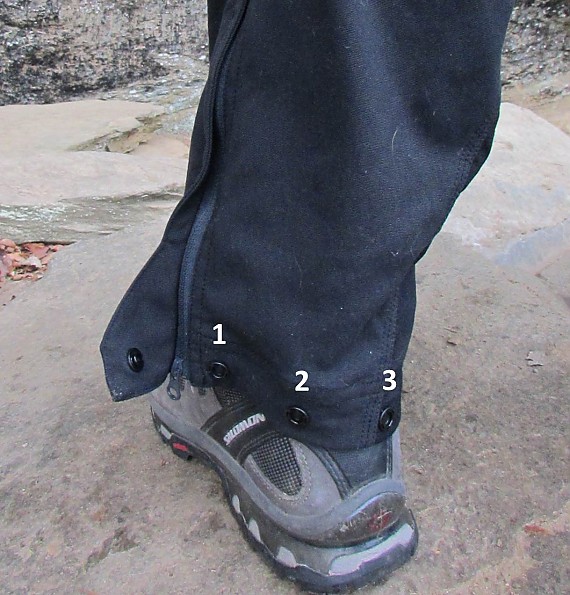 Mesh Vents, Ankle Zips, & Breathability
First note this, that the Super Terra Pants are designed for cooler temps. The first weekend I got them, I took them out for a day hike. It was in the mid-60s and that was quite warm for these pants. They are thicker and not too breathable. I will say, though, that I feel the mesh vents performed great for speeding up the dry time while on the trail. Great for breathability? No. Great for drying? Yes.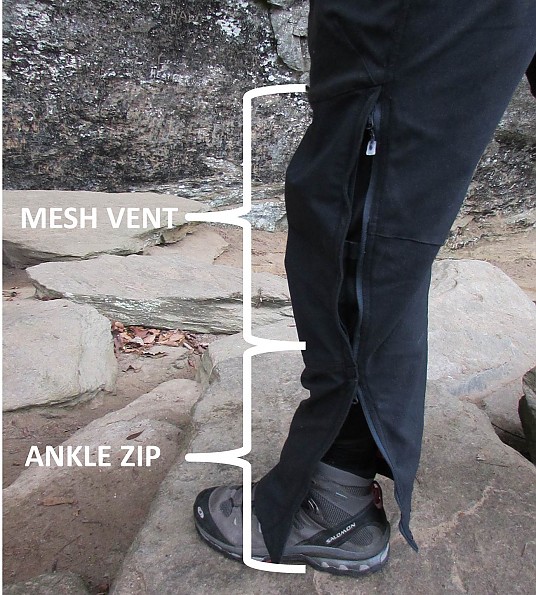 The mesh zip is only slightly larger than 1" wide and doesn't open that wide.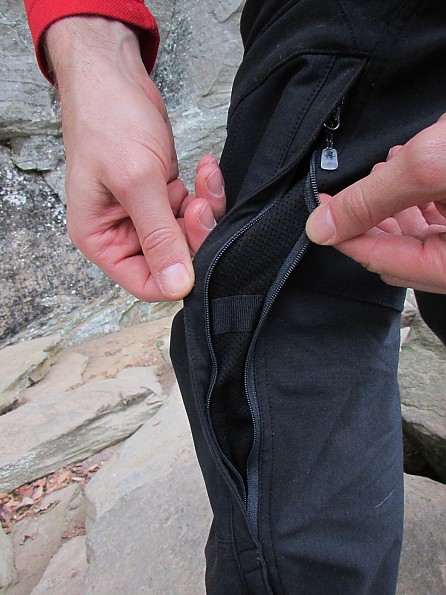 Field Conditions
I've tested these pants in the field in central and western North Carolina including two backpacking trips to Linville Gorge, as well as day hikes at the South Mountain Game Lands, Eno River Trail, and seven day hikes at Raven Rock State Park. At Raven Rock I emphasized speed, wearing my trail runners instead of boots and focused on mobility (stretchiness of the material vs. my range of motion) due to the rocky and uneven terrain. Temperatures averaged about mid-40s and ranged from a few high-20 degree mornings to mid-60s when I first received them (a bit too warm!).
Here finding a geocache in Lincolnton, N.C.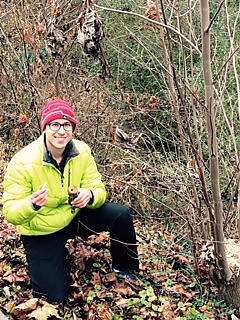 Summary
I've enjoyed wearing the Montane Super Terra Pants. At first, I was curious how much these pants would actually differ from my other trail pants. Trying not to get lost in the bells and whistles of its features, I was not disappointed. The Super Terra Pants met my expectations which Montane set out of being durable yet not impeding mobility, being water repellant, and fast(er) drying. While I may change one or two features of these pants, I feel that they are well deserving of a strong 4.5 rating and would definitely recommend to others.
Thank you Montane and Trailspace for the opportunity to test and review the Montane Super Terra Pants.
Specifications from the manufacturer's website: http://www.montane.co.uk/
Source: received for testing via the Trailspace Review Corps (Sample provided by Montane for testing and review)

Your Review
Where to Buy
Help support this site by making your next gear purchase through one of the links above. Click a link, buy what you need, and the seller will contribute a portion of the purchase price to support Trailspace's independent gear reviews.
You May Like
Specs
Price
MSRP: $169.00
Historic Range: $117.93-$200.00