Montane Trail Stretch Gaiter

The Trail Stretch Gaiter has been discontinued. If you're looking for something new, check out the best gaiters for 2023.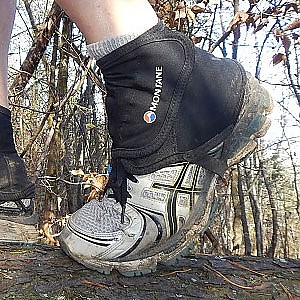 A low trail gaiter that finds a pleasing blend of light weight, durability, and functionality. This product is especially good for trail routes requiring frequent put-on and take-off (such as creek fords) due to ease and speed of application and removal.
Pros
Light
Comfortable / wearable directly against skin
Highly water resistant
Fast to put on and take off
Cons
Front lace hook hard to attach to some laces
Some of the threading has minor fraying after 250 miles of use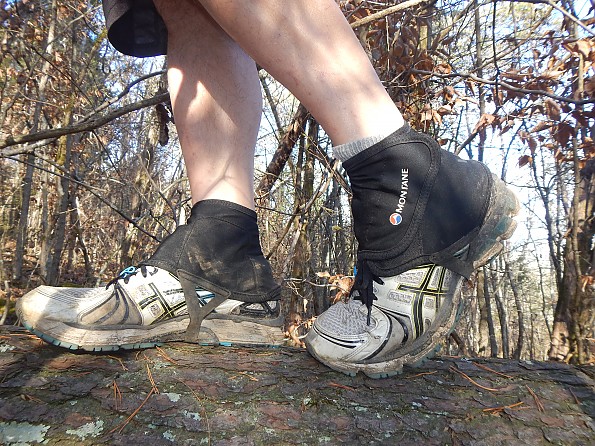 Click to enlarge
About the Gaiter:
This product is marketed as a trail running gaiter featuring Granite Stretch fabric (90.5 % nylon / 9.5 % spandex with DWR), RAPTOR UTL kick patches (500 denier 100% nylon with DWR), hook and loop fastening (known as Velcro to you and me), durable TPU underfoot strap, and Reflective logo details.
The medium is listed at 2.6 ounces. My sample weighs 2.8 ounces on my scale and could very well have .2 ounces of dirt on them. I don't subscribe to the activity of gaiter cleaning; why bother? :)
-------------------------------------------------------------------------------------------------------------
Video review covers the basics in about three minutes with field test clips following.
Video is best viewed in full screen:
-------------------------------------------------------------------------------------------------------------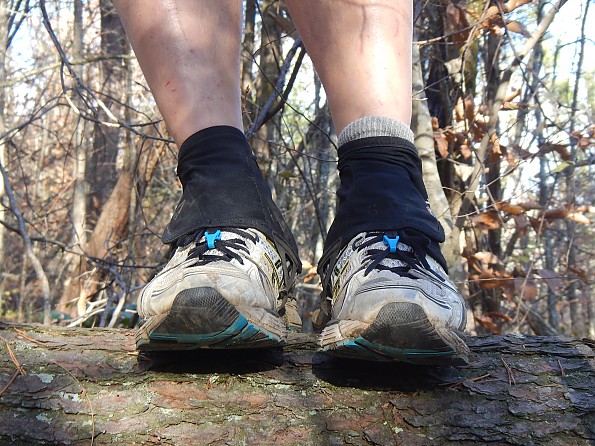 Front View: click to enlarge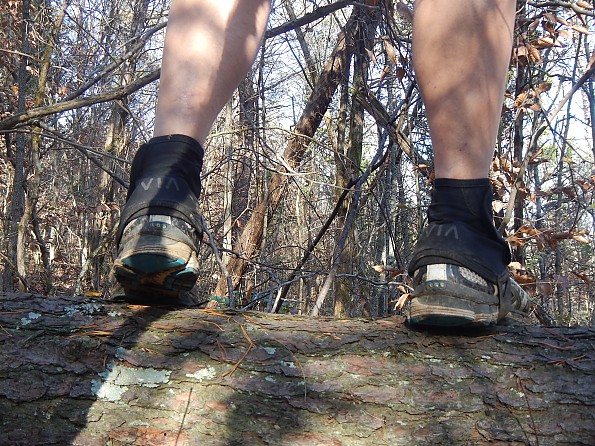 Rear View: click to enlarge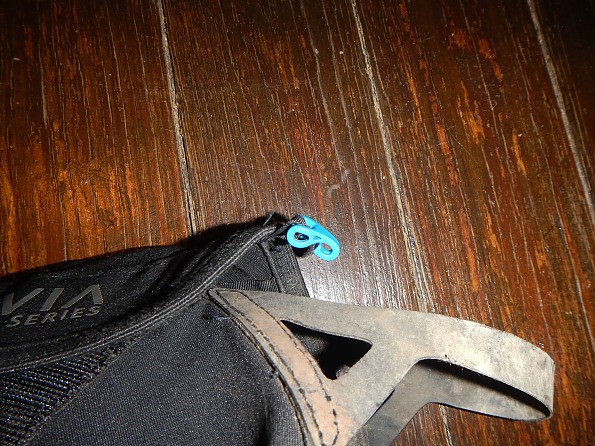 Front Lace Hook and Underfoot Strap: click to enlarge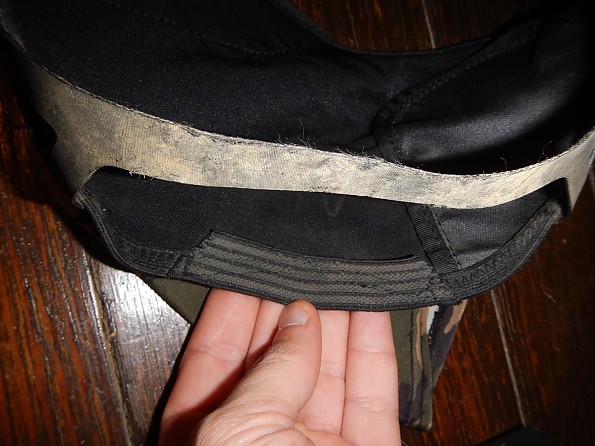 Heel Elastic: click to enlarge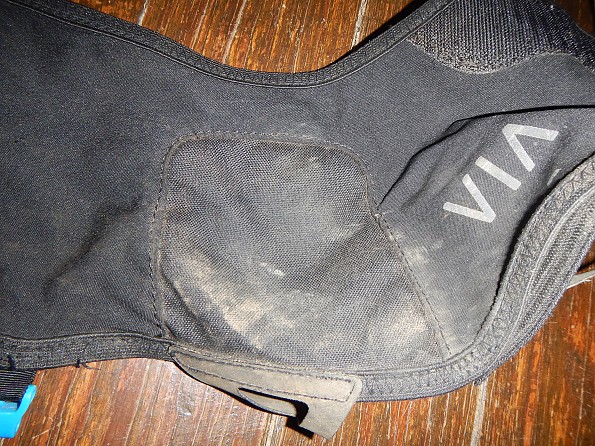 Kick Patch outside view: click to enlarge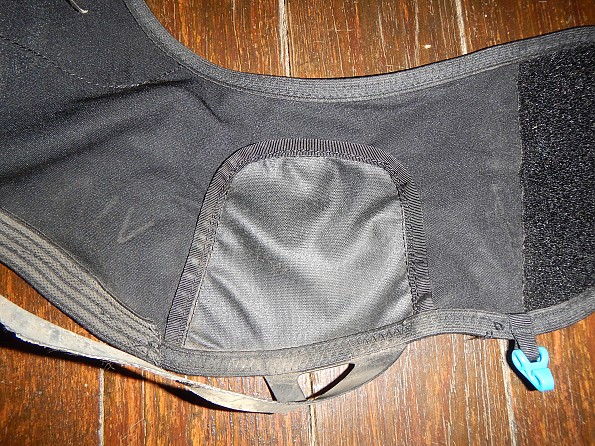 Kick Patch inside view: click to enlarge
About the tester and testing
I'm an avid backpacker and trail runner with many years of experience (check out my trip reports to see where I go). At the time of this review I've done about 200 miles of backpacking and about 50 miles of trail running in these gaiters. ( I backpack in low top trail shoes for which gaiters are requisite)
The backpacking was mostly done in the Southern Appalachian mountains and the trail running done in local wildlife management areas on multi-use single track trail. The longest single day of wear while backpacking was about 10 hours covering 26 miles. The longest continuous wear while trail running was about 2.5 hours covering 13 miles.
Fit and Comfort
I found that these gaiters provided a bit more coverage on my running shoes than when I wore the larger hybrid trail shoes that I use for backpacking; but they do in fact stretch enough to use for that purpose. The ergonomic cut and shape is among the best I've used and allowed the product to work (and work well) even when worn on shoes that could not accept the front lace hook.
The upper band is more comfortable against the skin than others I've used in this class; when backpacking I tend to favor socks that reach at or above the ankle but when running I prefer lower cut socks and these gaiters caused no irritation when worn directly against the skin.
Functionality
This is the area that really shined in my testing. The basic purpose of any low gaiter is to simply keep debris out of your shoe and this product does that even when you can't attach the front lace hook.
But what I found really useful was the ease and speed of taking them off and putting them back on. Because of where I live and play I frequently navigate water crossings (everything from rock-hops to fords and even wades) and this product really excelled in such scenarios. I have an array of gaiters that I use for different purposes and in this aspect the Montane Trail Stretch is among the top performers in my lineup.
I initially had some difficulty in properly lining up the primary Velcro faster but after a few uses I got the hang of it; There is a "pull and press" motion needed for good fastening.
Durability
As mentioned in the cons there are some threads fraying on my sample, but I have no concerns at all about durability. This product is quite solid and all the areas that need reinforcement have it in ample supply. As listed in the marketing there are sturdy 500 denier kick patches and closer examination reveals solid reinforced seams with multiple lines of stitching and the connection points for the underfoot strap are very strong.
Water Resistance
I found these gaiters to be quite water resistant; I spent more hours walking in the rain than I would have preferred, but my greatest exposure was when I spent an entire day doing trail maintenance on the AT. I was mostly standing with limited small movements while shoveling out water bars and was wearing thin DWR coated wind pants (Patagonia Houdini) that did wet through after a while. I was pleased to discover that no water had entered my shoe after many hours of this.
(Note: No low gaiter that I've ever used will completely keep out water that runs down your legs if the top of the gaiter is directly exposed in a downpour).
Breathability
While difficult to objectively assess breathability in a low gaiter, I observed performance in this category as adequate. For comparison (though not apples to apples in terms of product class), it's less breathable than a Dirty Girl (thin nylon) but far more breathable than the Outdoor Research Rocky Mountain Low Gaiter (thicker nylon).
Adjustability
There are no special adjustment points on this gaiter other than the velcro fastener (which could be set tighter or looser as required), but the nature of the stretchy fabric and ergonomic shape allowed me to use them with various running shoes and trail shoes.
Conclusion
I like these gaiters and they have earned a primary place in my kit. If I know I'm going to pull a lot of water crossings or expect a lot of wet weather on an outing, these will now be my first choice for a low gaiter.
Source: received for testing via the Trailspace Review Corps (Sample provided by Montane for testing and review)

Your Review
You May Like
Montane will not release the Trail Stretch Gaiter, due to a potential patent infringement with another company. See other Montane gaiters>>
Specs
| | |
| --- | --- |
| Price | MSRP: $34.00 |
| Weight | 2.6 oz / 75.1g (medium) |