MontBell U.L. Super Stretch Down Hugger #3

The U.L. Super Stretch Down Hugger #3 has been discontinued. If you're looking for something new, check out the best 3-season down sleeping bags for 2023.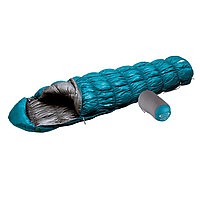 As an REI member, I had a 20% off coupon and a dividend of around $80 (I use their credit card). Despite these incentives, the more I heard about the Montbell UL SS line the more I grew attracted. I ended up buying this #3 bag before heading out to Big Bend National Park on the Texas/Mexico border.
The trip was mid-March. Temps ranged from 90s in the desert to below freezing in the mountains. We camped out for 7 nights. I used a 3/4 Therm-a-rest, and added a stuff bag with clothes at the end to keep my calves and feet off the ground (In retrospect, I would buy a full-length).
I really liked this Montbell #3. I had heard all of the fuss about the #2, and I figured #3 can't be that much different. I didn't plan on being out below 25 degrees, and the #2 was boasted to be able to go down to 10. This #3 was quite accurate in its rating of 30 degrees (see below).
1 night was in the 60s, 2 nights were in the 40s, 4 nights were in the 30s.
In the 60s with dry conditions, the bag was too warm zipped up. It was a bit drafty and sweaty when fully unzipped and used as a blanket. Nevertheless, I still believe this is a great bag for any temp between 30 and 60 degrees. Because of its weight and packing size, there isn't any length of trip when I would hesitate to pack it. It is quite versatile.
In the 40s, it was excellent in dry conditions and good in wet conditions. Inside of a tent, it was perfectly warm with just a t-shirt and long underwear. One night we slept outside and there was a lot of dew. The bag became a little cold and wet in the footbox (probably partly b/c I didn't have a full Therm-a-rest).
In the 30s, it worked great in dry conditions. Inside of a tent was perfect. One night sleeping under the stars in 30 degrees (with dew) was a little chilly, but the bag still stayed warm enough for me to sleep. One night it snowed and condensation built up quite bad in our tent. The outside of my bag was quite wet to the touch. That moisture never reached the inside of the bag though, and I stayed quite warm, even removing my fleece half-way through the night).
So, my conclusion about warmth is that the bag is very accurate. In dry conditions (especially within a tent), the bag can do at least 30 degrees. In wet conditions, the bag should do well within a tent, but may not do well outside of a tent if there is moisture in the air.
The fit is very comfortable and has lot of room for movement. This was a concern, but there was literally not one moment when I felt cocooned in.
The appearance looks a bit like a space mushroom. The material is shiny and ultra-light. The hood has a surprising amount of insulation, so it creates quite a mushroom-like cap when pulled tight around the head.
Overall, just a really great bag. I'm glad I spent the extra money and saved my REI discounts for another time. REI just needs to carry Montbell, then all would be well.
Design: Mummy stretch
Fill: 800 down
Temperature Rating: 30
Weight: 1+
Price Paid: $270

This is an excellent bag--as light as many summer-only bags, but good down to freezing. My long weighs 1 lb 11 oz, and I have had it down to 32 degrees, in just shorts and a t-shirt. It is so roomy and comfortable, I know if I put on my long underwear and down jacket, it would be good to 20 or so.
My previous bag, a REI sub-kilo, is rated to 20, but is cut so slim that the down was always compressed by elbows or whatever, and I was cold well ABOVE freezing. I got a TNF bag expander which solved that problem, but then the weight was close to 3 pounds. This Montbell is much much lighter, and warmer too. The system they have of many individual pockets of down (read their catalog) means you don't wake up at night with a thin spot over you due to the down shifting.
I know there are other bags out there -- Marmot, Western Mountaineering, that are also light and warm, but they are cut pretty tight...if you don't sleep like King Tut, if your elbows push out a bit at night, you need the Superstretch. BTW, I am not big, 6 ft and 170 lbs, but do sprawl a bit when sleeping.
Only complaint, their very lightweight, close woven nylon, does not seem to be as breathable as some of my older plain ripstop nylon bags. But it's no worse than Pertex.
Design: mummy
Fill: 725 fill down
Temperature Rating: 32
Weight: 1 lb 11 oz
Price Paid: $240

Donations Needed!

Hey to all you campers out there who may have some no longer used sleeping bags!

This winter the students of The New York Public Interest Research Group's chapter at Manhattan Community College will be hosting a Winter Warm-Up Drive to benefit the Coalition for the Homeless, a homeless shelter in downtown Manhattan.
There are currently 33,000 homeless people in New York City. Please make a donation that will help make the cold winter months a little more bearable for those without a warm home. We will accept any clean or new donations that will warm one up throughout our cold New York winters. Examples of donations include, but are not limited to, coats, blankets, sleeping bags, sweaters and sweatshirts.

Please send to:
BMCC Chapter of NYPIRG
9 Murray Street 3rd Floor
New York, New York 10007
Please call Rachel or Ryan with any questions: 212-349-6460 x1149
Your Review
You May Like
Specs
Price
Historic Range: $202.96-$279.00
Reviewers Paid: $240.00-$270.00

Recently on Trailspace