Montem Ultra Strong Trekking Poles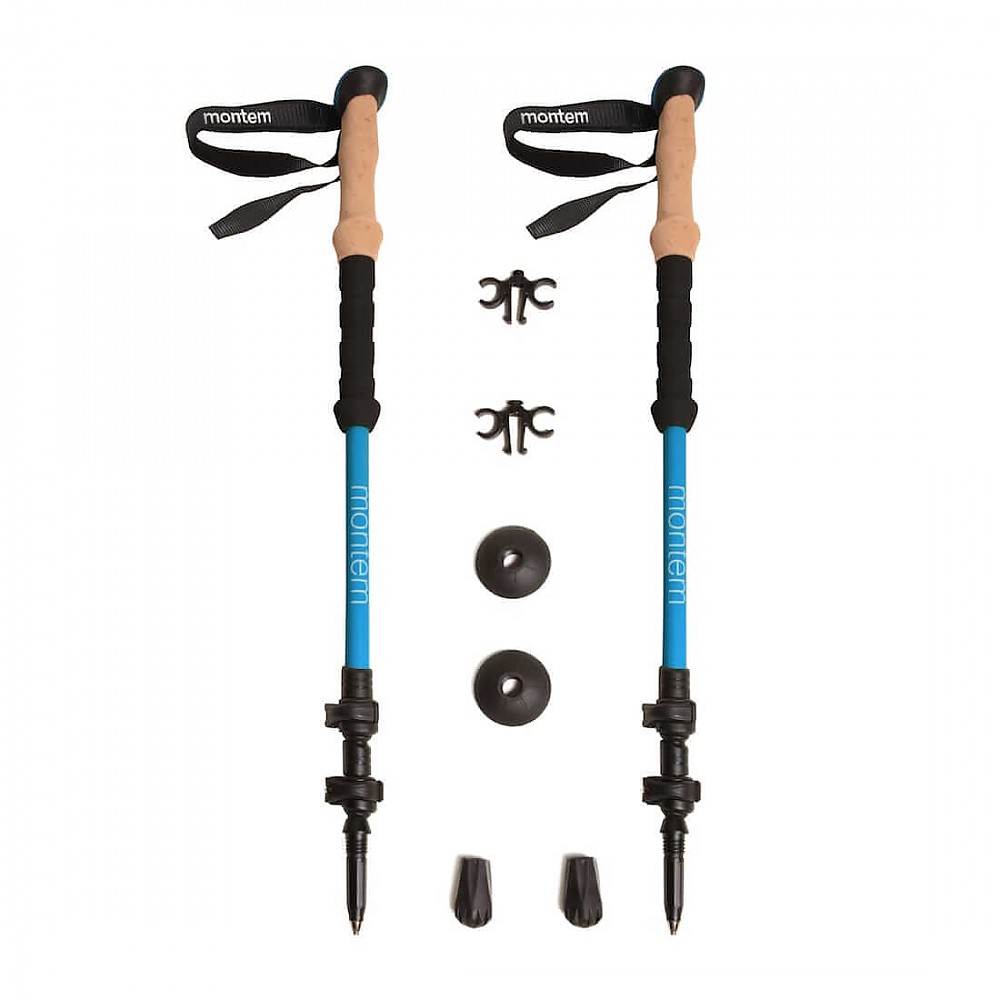 These Montem poles have shown that they may function well as a good, dependable choice of trekking poles for the economy-minded adventurer. The features on the poles make them easy to use in a variety of conditions. They may not be the lightest poles available, but their affordable price and durability make them suitable for most recreational hikers and walkers.
Pros
Economy pricing for a strong and durable pole
Collapse to 24" for storage and transport
Extended non-slip pole grips
Comfortable wrist straps
Cons
Grips can be slippery with dry bare hands
Directions and packaging information seem incomplete
Need to really tighten and re-tighten up the screws on adjusters to prevent slippage
Company's warranty policy appears inconsistent
When I was offered the chance to review these trekking poles, I readily agreed, looking forward to giving a good tough test to these economy poles. I have become a firm believer in the value of using poles for hiking. I hike year-round, in all conditions, and have come to depend on my poles for support on climbs and downhills, balance, stability on uneven surfaces, testing uncertain trail condition in my path, and as a means to relieve some pressure on my aging knees. I expect my poles to be durable, strong, with aggressive tips, and comfortable grips. My poles tend to take a beating, and I can report that these Montem Poles have lived up to my demands and expectations.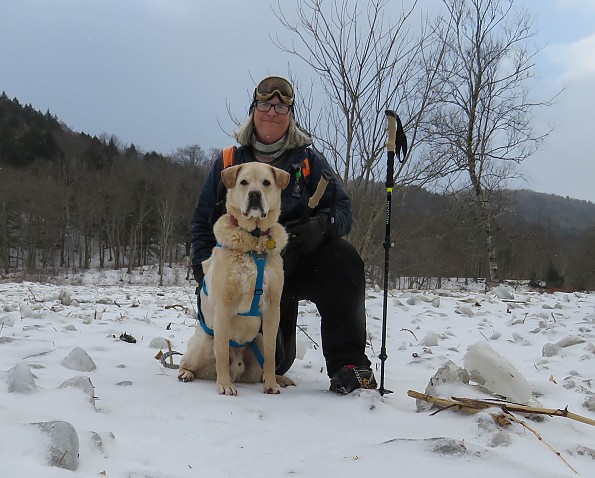 Acres of pure ice, a lunar landscape
Montem produces five models of trekking poles, with variable price points, performance features, and technology/composition of materials. I received the "Ultra Strong Trekking Poles", which are said to be their "Best Selling" poles. However, I initially was uncertain of which model I had received, since the packaging to which the poles come attached, and graphics on the poles do not identify the model.
The label on the plastic bag in which the poles were packed said only Hiking/Walking/trekking… Y) Crafted by Montem (Black). By searching the SKU number on the plastic bag in which the packed poles arrived, I was linked to websites identifying them as the Ultra Strong Poles. I examined photos of this model pole on the Montem website, and noted that upon extending the pole shaft. there is a graphic Duralumin 7075. This, and examining the grip and adjustment features, verified the model of pole; it would be nice if the attached cardboard or plastic packaging identified the model, so that you could be sure you receive the poles you desire.
Montem's extensive website describes a plethora of ways in which you can use their poles. In addition to benefits for hiking, they talk of poles being used for defending yourself against wild animals, deflecting backcountry nuisances, serving as tent poles, emergency first aid splints, and  for Nordic walking, strolls in the park or trips to the supermarket.
I never used the poles as tent or lean-to supports. I am well aware of the potential use of poles as an emergency splint, and thankfully, never had to test out that potential use! I never had to fend off any bears, but I did use the poles to ward off a loose dog. The poles were used mostly on our mountain trails...though I will admit, during a particularly nasty ice storm, I used the poles to help me securely get across my ice glazed driveway and a nasty parking lot. 
During the four-month testing period, I used the poles, usually without the enclosed rubber walking tip, for hiking around northern Vermont. Trail conditions included mud, crusty snow, rocks, ice, wet leaves, slush, and snow.  Temperature range was from below zero to 60 degrees (f ).
The trails I frequent are commonly referred to as "moderate", with difficulty increasing with worsening conditions. I used the poles with gloves, as well as with bare hands on warmer days. The poles were usually in my hands, in use, though I did hike a few times with the poles secured to my pack, since their compactability is advertised as a positive feature. I did try the poles on pavement, with the rubber walking tip, for a few short walks.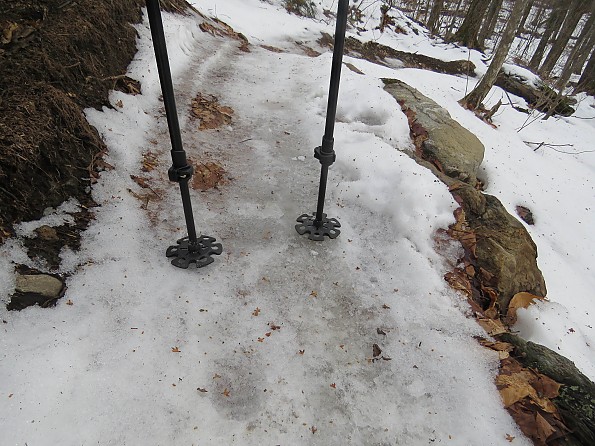 An icy and rocky early December hike in Vermont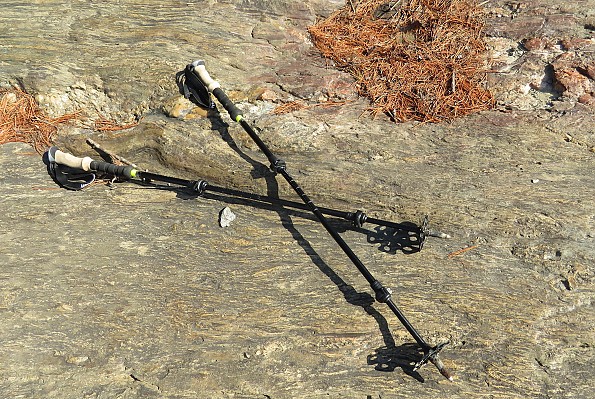 Bare rock section of trail
Pole design features and Performance:
Shaft material: These pole have aluminum shafts. The Duralumin 7075 material is strong, and the poles have maintained shape and performance. No distortion in the pole shaft has been noted, and they still telescope up/down  in size as efficiently as when new. The poles securely support pressure and weight being applied (as in support on gnarly downhills or stream crossings).
The poles weigh 9.2 oz. each, approximately 2 oz. more per pole than the Montem Carbon Fiber model pole. This is an economically priced trekking pole, so that minimal difference in weight seems unimportant. The poles I received are black; I have noticed some chipping of the black surface. The length marking numbers (in metric)  have remained easily visible.
Length Adjustment:  The poles can be adjusted in length from 24 inches to 53 inches (60-135 cm); this allows for use by hikers of different size, or for on-trail adjustment to deal with terrain or conditions. According to instructions, the pole's correct position is said to be with user's elbow at 90 degrees; I find this a rough estimate, as personal preference may vary.
The poles utilize a lever style "flick-lock" to adjust length; this is similar to other brand poles with telescoping shafts. There are two of the flick-lock mechanisms on each of the three-part poles. The directions (in very small font) on the display card attached to the poles does not adequately or clearly state how to use these adjusters. A visit to the website, and/or viewing instructional videos is necessary to clarify the technique.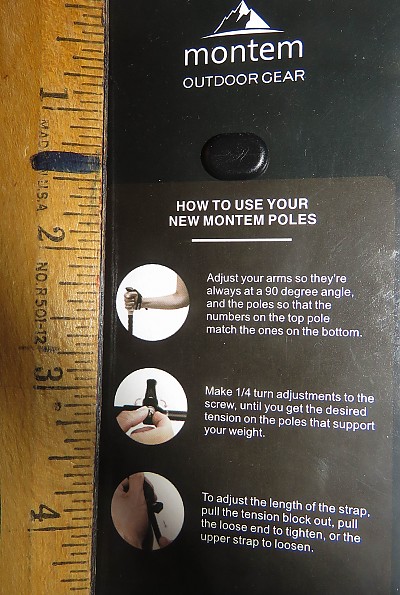 Small font, and limited instructions on package


The poles should be lengthened in such a way that the graphic measurements on the pole's lower two sections are at the same number. This does insure the most stability for the pole. According to Montem, to use the flick locks, you first position the lever in the open position. Then, the plastic screw on the other side of the locking device is turned ¼ turn, until it is snug; the lever is then closed.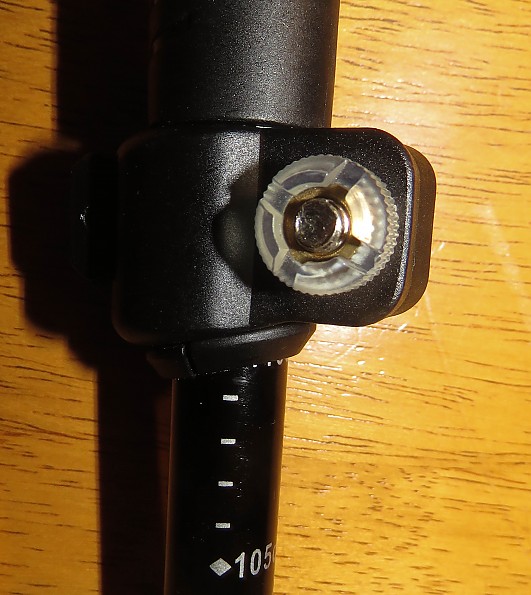 The screw need to be really tight, and should be re-checked for tightness as you hike.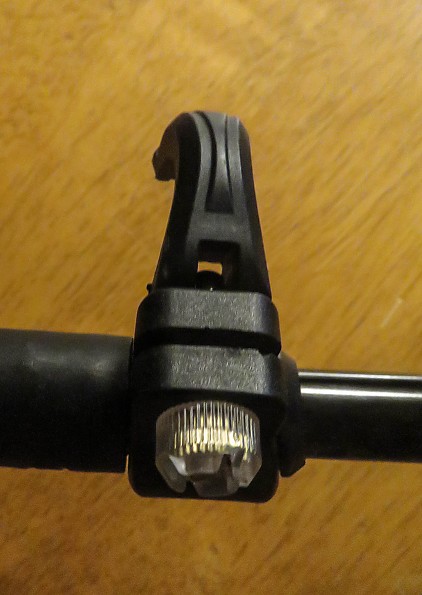 The flick lever, ready to  be pushed down into closed position



I found that on the first few outings, I had to frequently stop and re-tighten the plastic screw, as the poles were telescoping into a shorter position when force or weight was applied to them. Once I realized that I needed to really, really, tighten the screw, the issue of "pole shrinkage" resolved itself.
The poles do shorten up nicely for easy transport, in a vehicle, or on a pack. At 24 inches in length, they do still protrude above my day pack when in the side sleeves, but that is not a major concern unless you are hiking in an area with overhanging or thick foliage, or if you must crawl under fallen trees.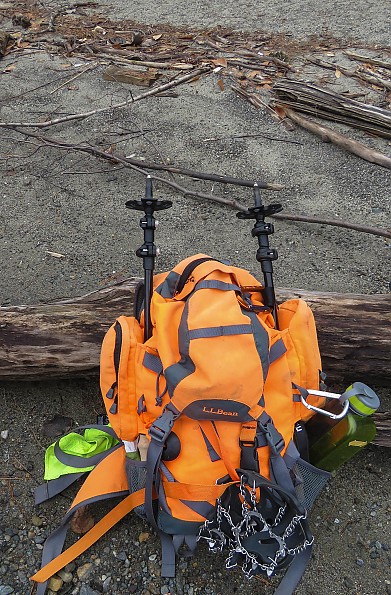 Grip: Montem describes their EVA Foam Grips as grips which wick sweat and do not chafe, providing all day comfort. The grips are light tan, similar in color to cork grips. The contours of the grip, its slightly compressible material, and its generous sizing, make this a very comfortable grip to grasp. Since I have an arthritic thumb, that is a feature I certainly appreciate. The top knob is nearly 2 inches, made of soft rubber, providing a good support when pressure on the top of the poles is necessary.
I felt as though I had a secure grip on the poles during all uses while wearing  gloves; this included dry, rainy, and snowy weather. With bare hands, I did note that the grips felt slick when my hands, and the grips, were dry.  When I had moisture on my hands, the grip actually felt more secure.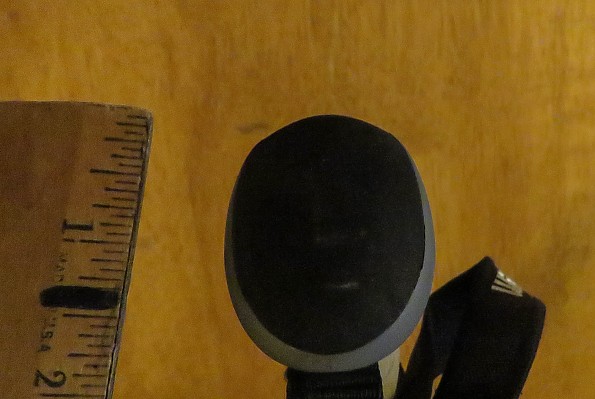 A large top knob on grip, supportive and comfortable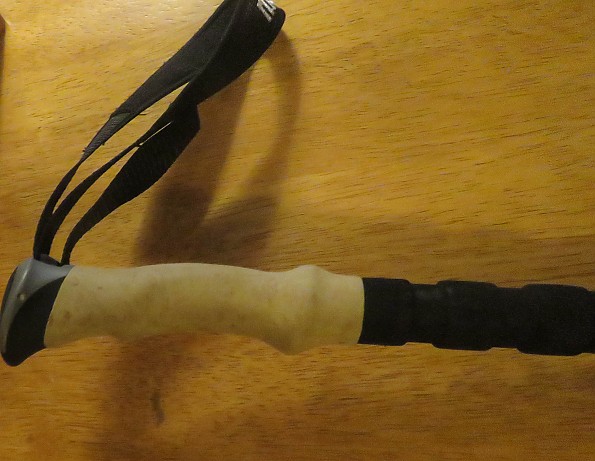 EVA foam grip, above the extended foam grip



The poles have a grip extended, beneath the EVA foam grips. This 5-inch extension, black foam with three wide grip ridges, is designed to allow a secure grip when grasping the pole in a shortened manner. I generally will not use a lowered grip area on steep ascents or descents, but it is a secure, solid option for those who may.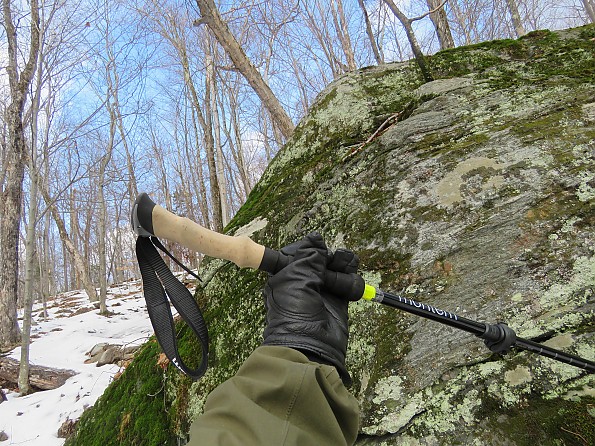 Extended grip (I placed a strip of reflective tape on poles for increased visibility)


Wrist strap: The wrist strap is comfortable, easily adjusted, and comfortable with bare hands or over gloves. At maximum length, it can be a bit snug over a large winter glove. The main portion of the strap is nearly 1-inch wide, and the nylon strapping is lined with a soft fleece-type material.
Tips: These are typical star-design tips, reported in some Montem online product descriptions to be made of tungsten, and in other descriptions to be carbide, so they are most likely tungsten carbide. A rubber walking tip is provided primarily for use when on firm terrain ( i.e. pavement). The rubber tip is notched with grooves for traction, and though it easily slides on/off the end of the pole, it remains snugly in position when the pole is in use.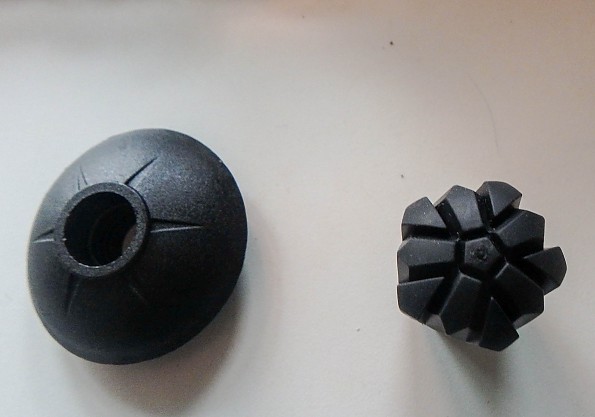 Mud Basket and Rubber Walking Tip


 When examining the tips for wear, I noted that there appears to be a very thin gap between the metal pole tips and the base of the pole that is not present on any of my many other poles of different brands. The base of the tip does not appear flush in its position against the base of the pole shaft. However, the tips do not appear to be loose, and this could be a design characteristic of this pole. The pole tips, while a bit battered after some rough terrain use, are still strong and provide traction and a solid pole plant as needed.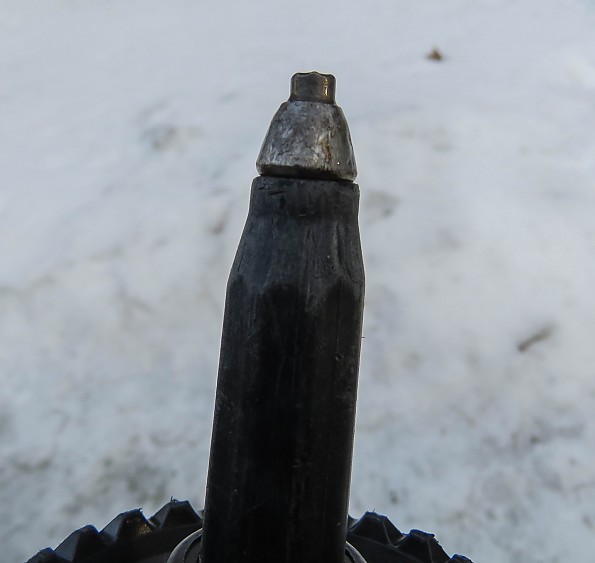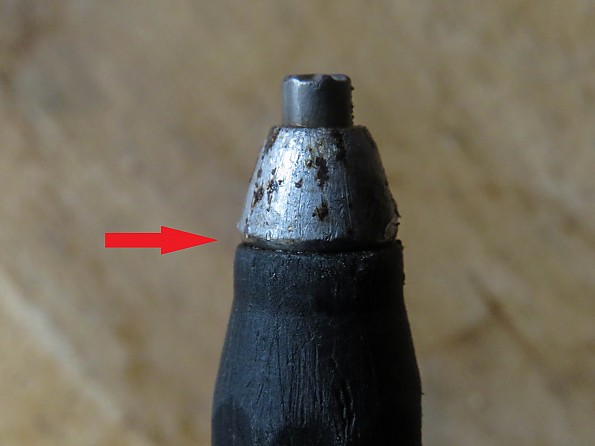 Tip does not appear flush with base of shaft



Baskets: The poles are sold with trekking pole baskets, referred to as "mud baskets" by Montem. These baskets, 2 inches in diameter, attach to the pole with a screw-on system; the poles have plastic threads onto which you can screw the mud baskets, or the snow baskets (sold separately for less than 10.00)
The second time I used the poles, which was with the mud baskets, it was on a very rocky and snowy trail. As I descended, I realized that one of the baskets was "floppy" on the pole. I attempted to tighten it up, but discovered that the plastic basket was in fact broken. The plastic cylinder area which screws into the pole, and the adjacent struts, had snapped off. I replaced the basket with one of the spares I carry.
I subsequently obtained a pair of Montem snow baskets, which work very well in snow or slushy conditions. It is important that the baskets be screwed onto the poles very firmly; I did lose (and quickly found) one snow basket that had not been securely fastened to the pole.
I contacted Montem as a customer, not as a Trailspace reviewer, reporting that the mud basket had broken on its second use; I inquired as to whether their warranty would provide a replacement basket. I did not receive a reply to my email for four weeks, so I sent another email inquiry. I then utilized their online support chat, and did receive a quick response. I was advised that the warranty covers the poles, but that the baskets are a "free addition" and not covered by warranty if damaged during use. I was told that they will sell me replacement baskets.
According to the Montem site, "our poles come in a pair (2 poles per set), with replaceable rubber feet, a clip to keep the poles together, and a free set of mud baskets"
The Montem website describes their limited warranty. "Montem Outdoor Gear products come with a standard one-year Limited Warranty from the date of purchase against manufacturer's defect. For more information, please see our Warranty Policy.  Registration within 1 year of the date of purchase is required" 
The limited warranty is reported to cover replacement at no charge of products "that are defective due to improper workmanship, not from conditions, malfunctions or damage not resulting from defects in material or workmanship". In order to utilize the warranty, for which you must register, you must first contact Montem to determine what they consider the appropriate course of action.
A few days after my online chat, I did receive an email response; this customer rep's response indicated that if you provide documentation of your purchase, and photo proof of the damage, it is possible you could get a replacement after returning the damaged part. Unfortunately, since I did not purchase the poles, I was unable to fully meet this requirement. This response by Montem at least, is a bit more indicative of a company that does value some positive customer relations.
I do find this warranty policy to be "less than user friendly" compared to many other companies with which I have had dealings regarding broken or damaged gear. I would offer that as a caveat to a purchaser of these poles.
Summary: This is a versatile pole, suitable for a variety of terrain and conditions. It is economically priced, and seems durable and sturdy enough for recreational uses. I did note that the price, on the Montem website, as well as on Amazon (as sold by Montem) and one other dealer, seems to be a perpetual discount.
This pole model, the Ultra Strong, is reported by Montem to have an MSRP of $79.99; however, I never saw it listed for that price, but always at a $49.99 price. The other pole models by Montem were similarly "marked down".  This fact clearly identifies the poles as designed for the budget minded user; that is fine, since the poles are a decent and dependable purchase in that price range.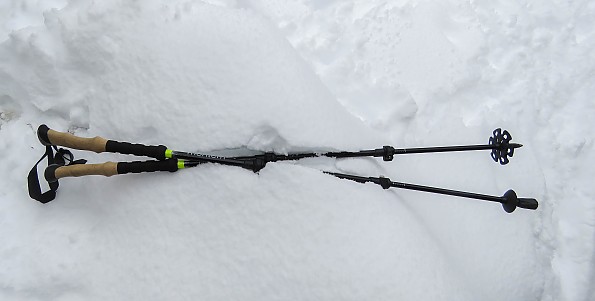 A versatile budget pole, suitable for varied conditions. (Snow baskets must be 
                                                     purchased separately)
Source: received for testing via the Trailspace Review Corps (Sample provided by Montem for testing and review)

Montem appears to be a fraudulent business operating out of a guy's apartment in New York City. Check out their address as listed on their website (20 Avenue A, New York, NY 10009) on Google maps and decide for yourself if this is where you want to spend your money.
Cons
This appears to be a fraudulent business operating out of a guy's apartment in New York City.
I ordered two pairs of these poles directly from Montem. They were in stock and were guaranteed to be delivered in 7-10 days. 21 days later, even though the poles are still "in stock," the poles have not even been put in a shipping box, let alone shipped (Oddly, their "office" is on the same block as a FedEx shipping center.)
Customer service is of no help because you can't reach them. This company is a scam and is stealing money.
Experience
None. And apparently I never will. These are never being sent to me even though I paid for them.
Source: bought it new
Price Paid: $178

Your Review
Where to Buy
Help support this site by making your next gear purchase through one of the links above. Click a link, buy what you need, and the seller will contribute a portion of the purchase price to support Trailspace's independent gear reviews.
You May Like
Specs
Price
MSRP: $89.99
Current Retail: $69.95
Reviewers Paid: $178.00