Montrail Cruiser

Top 50 in Climbing Shoes
The Cruiser has been discontinued. If you're looking for something new, check out the best climbing shoes for 2022.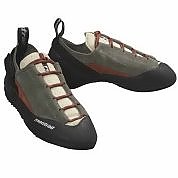 Specs
(no Gender)
Price
Reviewers Paid: $49.83

Unisex
Price
Historic Range: $29.95-$90.00

Men's
Price
Reviewers Paid: $28.45-$60.00

Women's
Price
Reviewers Paid: $90.00

Reviews
5

reviews

5-star:

2

4-star:

1

3-star:

2

2-star:

0

1-star:

0
I've used this shoe for 2 years.
This shoe has the following flaws:
- The sole separates from the rand soon after the first uses where you edge (toe/side), compromising it's edging and durability. A true design flaw, because I had a few pairs and all did that. I actually returned my 1st pair to Montrail for replacement when it was recent product. The replacement pair did the same soon after, but I used it 'till it fully tore down because in trad climbing I don't need a technical shoe. The ones I got on sale do it too now and I'm trying to save them with glue... Doesn't work too good, but $28.45 (at sierra trading post)!
- The heel strap and clip are useless and get in the way.
- The shoe is discontinued, so don't get too used to it. Now Montrail offers shoes with thermo-molding for extra comfort. Yet they don't seem to be able to break into the climbing shoe market.
- The toes are not curled, so you face climbers, it's not the best for you. The sole is flat, so not best for bouldering either. Also, it's lace-ups, not velcro or slipper for quick change.
And the following qualities:
- It's MSRP is cheaper than the top brands like 5.10, Sportiva...
- It's comfortable.
- It's a decent all around shoe, though not the best for beginners I think because of the sole flaw.
Materials: leather and griptonite
Use: indoor, outdoors crack and face
Break-in Period: used for 2 years
Weight: 9oz
Price Paid: $28.45

This is a great shoe that I would recommend to just about anybody that is looking for a solid shoe that is going to take a beating. This shoe has an awesome sole with incredible grip. Along with being incredibly durable I was very surprised the first time I put these shoes on because they were very comfortable. With my old shoes I would do a route and then come down and pull my heel out of the shoe.
As far as being a technical shoe I don't know if I can really comment. I would consider myself to be a beginner climber even though I have been climbing for about 2 years now and now on my second pair of shoes. I will say that I find it pretty easy to stick my toe in any hole. I think these are great shoes for the price and would recommend them to anyone.
Price Paid: $52

These are not a beginner shoe though a beginner can use them. And you don't always need to climb with toes curled!
It is very comfortable, and perfect for crack climbing and walks offs. It is decent for face, though for plastic crimp-climbing you'll prefer slippers or Anassazi's -with toes curled- and for bouldering some extreme arch shoes. And BTW, I used these shoes on plastic on up to 12b's, so they work there too. I stopped cuz I realized I was wasting them and later saved them for outdoors granite.
The griptonite rubber is very-very decent in terms of grip - not bad compared to C4, much better than lame vibram soles.
Cons:
This shoe is not produced any more - unfortunately. It has some minor flaws: the sole unglues at the tip after a few uses at the rand seam, and looses some of its edging. The back strap is useless ans should be cut off, the snap sometimes opens when doing crack and can be a bother. The leather will tear at the topmost lace towards end of life, and cracks will tear holes in the leather sides (I put cement on rubbing parts now to protect). That means when the sole's done, the shoe will be evenly worn - not worth resoling.
Pros:
The laces are easy to handle, and do not tear in cracks after use (many shoes wear through laces!). They're comfortable yet the feet do not roll inside. The tip is not as thin as other preferred crack shoes, but very acceptable. The sole is not boardlasted but not too mushy either so they do slabs. The rubber's great. Better than my Huecos.
My 1st pair I kept so long and beat up people were willing to pay me to not see them anymore :D
BTW I also bugged Montrail support and they were great and very helpful. Good company, support them!
Materials: leather and griptonite
Use: face, crack, slabs
Break-in Period: little
Weight: normal
Price Paid: $60

These shoes were my first (I'm on my third pair). The low price and comfort probably allowed me to get pretty far as a beginner climber in a short amount of time. I wore them 5+ times a week all summer. Because of how well they fit, I will actually get them resoled and keep them around as my second pair.
I don't think that the point-your-toes-downward type of shoe is requisite for climbing, contrary to the previous reviewer (neither does my climbing partner, who's been climbing for 30 yrs). My second pair was the point-your-toes down kind, which didn't work for me. I got a third pair, while I await my Montrail Cruisers to get resoled.
The rands on mine wore out quickly, though I think that is a function of a specific crag that I was working on over and over, and not design flaw or toe drag. I found the soles lost their stickiness pretty soon (though I was putting a lot of milage in a short time on them)... nothing that I good scrubbing w/a wire brush couldn't restore. There isn't a bad stretch factor, like there usually are w/velcro and slipper styles. I don't think the buckle/achilles strap thing does anything. They aren't the best edgers (compared w/my Mad Rock Phoenix).
For the money, I am really happy w/these shoes. They will definitely be resoled multiple times and be kept in use.
Break-in Period: since I was a total newbie, the first time, well, hurt. Like other things in life, they fit better and better w/each wear ; P
Price Paid: 49.83

The Cruiser: a beginner shoe which condemns you to being a beginner for as long as they last. This shoe is supposedly all about comfort, but their philosophy in constructing this shoe contradicts one of the most important guidelines for climbing shoes: wear them tight, with your toes curled. The toe box is round and stubby, making it large and awkward when edging, and useless for pockets. And the cinch heel feature isn't necessary at all.
I bought them small, and they are just as uncomfortable as the next tight climbing shoe even without cinching the heel. You should not buy these shoes if you plan to curl your toes and wear them tight.
Okay, redeeming this shoe is a good supportive sole, which keeps your feet from getting sore. Secondly the rubber is very strong, so I've been climbing hard for 7 months in these with little wear.
Think about it this way: you want expensive climbing shoes to last a year or more, right? But in a year, don't you want to be doing hard routes? Buy some shoes that aren't necessarily technical, but that will give you some toe precision so that there's some room to grow.
Materials: fancy leather
Use: belaying and jug-hauls
Break-in Period: 1 month with lots of use, 2 months with occasional use
Weight: 1lb
Price Paid: $90

You May Like
Recently on Trailspace