Montrail I.C.E. 9

The I.C.E. 9 has been discontinued. If you're looking for something new, check out the best mountaineering boots for 2022.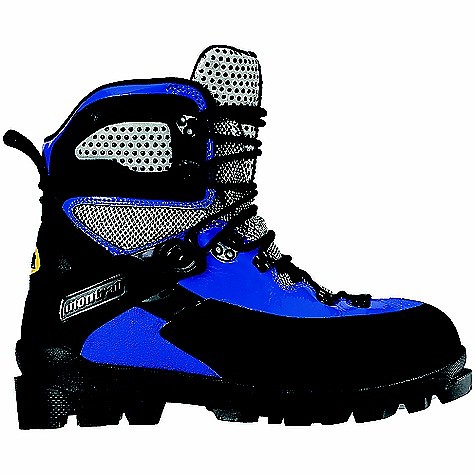 Specs
(no Gender)
Price
Reviewers Paid: $247.00-$300.00

Unisex
Price
Reviewers Paid: $250.00

Men's
Price
Historic Range: $325.00-$350.00
Reviewers Paid: $160.00

Women's
Price
Historic Range: $250.00-$350.00
Reviewers Paid: $300.00

Reviews
8

reviews

5-star:

1

4-star:

4

3-star:

1

2-star:

0

1-star:

2
The ONLY downfall of this boot is the crampon recall (and the metal hinge in the arch--which I successfully removed). Otherwise, this boot is EXTREMELY warm (I suffer from Raynaud's) and perfect for super-wide Hobbit feet. Another reviewer said no crampons were safely compatible... I disagree. The PETZL Charlet (Moser) has worked just fine for me. Not the best boot for vertical ice climbing-- I didn't find it stiff enough.
Materials: Stretch Schoeller Keprotec, polyurethane laminated leather, PrimaLoft, Vibram
Use: All-year Mountaineering
Break-in Period: Virtually none
Weight: 1 lb 11 oz/0.78 kg
Price Paid: $250

Bought these boots new off eBay, along with the ICE 9 crampons and gaiters. Of course the crampons fell off and when I complained to some climbing friends, I was informed of Montrail's recall. Kudos to Montrail, they were very helpful about getting me new Grivel Classics, which I can use on any type of boot (even trail runners). The gaiters are an odd fit and must really be pulled hard to close on top.
Now to the boots...they are great! Very light, great fit and quite warm for anything I've used them for, including glacier travel and snowshoeing at -20C. Yes, the metal studs on the soles used for Montrail's (recalled) crampon system slide on rock so they are coming off soon. I'm sure my opinion would be different if I'd paid full retail - then I'd be looking at La Sportiva.
Update: May 25, 2008
Since writing my last review in January of 2007, I've taken these boots to the summit of Aconcagua with a pair of OR insulated gaiters for added warmth. The boots were fantastic! As these were by far the lightest in our group, I really enjoyed the descent as well, being more nimble on mixed terrain than big and clunky double boots.
As with all gear, I've had to make a few mods: the steel clips for Montrail's failed integrated crampon system were cut off. Also, their integrated gaiters that clip on the boots remain unused because they are too snug to bother fighting with on the trail. Seems that a great boot was cursed by a bunch of marketing gimmicks!
Materials: leather, synthetic
Use: snowshoeing, mountaineering
Break-in Period: not required
Weight: 1.6 kg, size 9
Price Paid: $160

I bought these boots to be my only boot for ice, mountaineering. So far so good. They are very comfortable with a good heel hold and large toe box. I plan to get new laces that stay tighter longer so I don't have to tighten them when I have crampons and gaiters on.
They are light and comfortable enough to wear on approaches. They have been warm for all glacier and snowshoeing work I've thrown at them. They worked well in Nepal for some friends of friends.
The Ice 9 crampons that were recalled were not well thought out. Montrail replaced them and my Grivel 12 New-matics fit great, are secure, and adjust easily. I will get the underfoot nubs ground off. I also did not buy the gaitors- - cute but not necessary.
Overall, I am pleased with the boot, and with Montrail's service in general.
Materials: hybrid design, with Primaloft, kevlar, and Gore-Tex
Use: mountaineering, ice climbing
Break-in Period: none
Price Paid: $300

Montrail recalled their crampons, says they're not sure if they will ever reissue. All other crampons I have tried need modifications to work on these boots and then reliablity is in question. Don't buy ICE None.
Use: crampons came off on Icefall

I recently returned from a trip to Ecuador and used the ICE 9s on a summit attempt of Cotopaxi. The first time I used them on the mountain I could not believe how cold my toes were. Only after returning to the climber's hut did I realize that perhaps I had laced too tightly. On the actual summit attempt, the boots held up amazingly well. I agree with the reviewer who suggested a legnthy set up time for crampons. I took my time in the months before the trip tinkering with my adjustments, and had no problems on the mountain.
Overall, the boots run true to size and are surprisingly comfortable out of the box. I thought I would have to go on a few hikes to break them in, but after just one trip to a local trail my fears were put to rest. Looking back on the trip, I probably could have used the ICE 9s as approach footwear on some of the acclimitizing climbs before Cotopaxi. The boots do work a lot like a heavy duty hiker when not fitted with the crampons.
The only reason this is not a 5 star review is that you will need to use something besides your hands to get the crampons off on the mountain. I used my ice axe to pry the back away from the boot. Otherwise, when properly adjusted, you'll probably have trouble getting them off wearing gloves, full gear, and winter clothing.
Big credit to Montrail customer service too--I ordered a few extra parts for the crampons and they were very helpful in answering questions and getting the parts to me in a short amount of time.
Price Paid: Pro Deal

This boot is very comfortable and required no break-in time. Out of the box I did several approaches of 2 miles to 6 miles to get to climbs in temperatures from mid 20's to below 0F and feet stayed very warm, even while belaying. It does have a much better feel than my plastics and my Salomon Ice&Snow while climbing. They were great on low angled snow and ice and allowed my feet to climb in "pied canard" instead of front pointing forever. The low profile feels like it does not give you that stiff foot feel for vertical alpine climbing, but use the lace system and they hold just fine. I use horizontal crampons for all my climbing and the Khumbu crampons that form fit the boot work great with good secondary front points that are forgiving to my heel lift tendency.
The reason these boots get 4 stars instead of 5 is that the Khumbu crampons are more difficult to put on while all geared up for cold. Also, the crampons are not very friendly field adjustable -- so make sure they are tight -- tighter than your normal crampons. The adjustment process took about 2 hours as I tried every possible adjustment position. The manual with the crampons is a good starter, but getting that fine line between too hard to snap and remove and harder than normal took a while.
I purchased the ICE 9 gaiters and bought the recommended size Large for my 10.5 boots and was barely able to get them around the boot. I took them on the climb and was not able to return them to retail shop, but Montrail took them right back and are in the process of sending me an XL size.
I think this is a great innovation in climbing technology -- which I need as I get older, stiffer and....
Materials: Leather/Synthetic hybrid
Use: Alpine mountaineering
Break-in Period: None
Weight: Not sure...but light
Price Paid: $270

Purchased a pair of the Montrail Ice 9 boots and crampons. While hiking the boots had a tendency to skate on the rocks due to the metal clips on the bottom, this threw me off balance several times while crossing talus fields. However the worst aspect was the crampon system. Both the right and left crampons came off while crossing the Challenger Glacier in the North Cascades! I immediately took these back to the store for a refund,
Materials: gore-tex
Use: ice/glacier/snow/rock w/ heavy pack
Break-in Period: fast break-in and a very comfortable boot
Price Paid: $300

i purchased the Ice 9 because they claimed it would do well as a all around hiking boot that you could strap crampons on occasionally and use for ice climbing and crossing glaciers. I needed the Ice 9 wide due to having wide feet. It felt different than the La Sportiva Makalu and squeezed my pinky toe. The stainless steel crampon hook on the bottom of it is awkward also while hiking across a boulder field it was like walking on a piece of round pipe and would slip. the Ice 9 may be fine for just ice climbing but i would not purchase it for an approach or all-around boot like Montrail claims it is. I'm taking mine back tommorrow for a refund. I guess there is still no all around climbing boot for a wide footed person.
Materials: leather
Use: Rough with heavy pack occasional crampon
Break-in Period: Not going to
Price Paid: $247

You May Like
Recently on Trailspace