Montrail Vercor

The Vercor has been discontinued. If you're looking for something new, check out the best backpacking boots for 2022.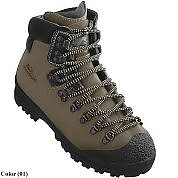 Specs
(no Gender)
Price
Reviewers Paid: $56.00-$200.00

Women's
Price
Historic Range: $31.96

Reviews
5

reviews

5-star:

4

4-star:

1

3-star:

0

2-star:

0

1-star:

0
I had these boots for two great years before they blew out. They were super comfy, hours of hauling a heavy pack around never hurt my feet. And Montrail has AWESOME customer service. I sent the boots back after they blew out (The sole started to completely come off) and they sent me a new pair back as well as my old ones so I could get them fixed.
But here is the problem, they stopped making this boot and they sent me the new better one, the Moraines. Man was I in for it! I tried to break these boots in, probably put close to 300 PAINFULL miles on them and they never got comfortable. It makes me almost cry typing this message. The boots didn't give me blisters, they just had NO coushining. I'd finish a day packing and could hardly walk because the bottom of me feet were so sore. I tried insoles and none worked.
So, if you can find the Vercors, I wish I could, get them!
Use: Rough trail and heavy pack
Break-in Period: 50 miles
Price Paid: $200

Wow, what an excellent boot. Not only that, I got them on closeout for $55. They are very heavy boots. The integra-fit (sp) system is so good. At first when I read about it, I thought it was a crock. I now believe in it though.
I have very wide FLAT feet with a narrow heal. In other words, hard to fit. When I put these babies on, my feet just said, "Ahhhhhh". From the get-go, they just fit my feet very well. The boot hugged my heal VERY comfortably and the toes had plenty of wiggle room.
They are extremely well made with very thick (3.0mm) Perwanger leather. This is a leather processed in Italy and is very tough and waterproofed. The boots do need a break-in period. It didn't take long. About two weeks. The boots were very comfy from the start, but the more I broke them in, the more unbelieveably comfortable they became. I just can't believe a big heavy boot can be that comfy!
Other boots I have tried: Lowa Scout II, Lowa Sarek, Scarpa Delta (all good boots too, but I really like the Montrails).
Materials: 3.0 Perwanger leather
Use: hiking and backpacking
Break-in Period: 2 short weeks
Weight: 2.5 pounds
Price Paid: $56

This is a pretty heavy boot. Just by looking at it you can tell that it will be a significant break-in period. I am completely satisfied with these boots. They are very comfortable and have the lateral stablity you need for hiking/backpacking.
I really like the adjustable tongue with the velcro. Sometimes my feet need to be more snugly held in the beginning of the hike and I can readjust the tongue later as my feet swell to another perfect fit.
These are really bomb proof shoes. I also like the fact that there is a toe guard on the shoes. I tear up toes by kicking (clumsy) while walking and stumbling. These boots still look brand new even though they have taken a beating. Great shoes. I would buy them again, even at full price!
Materials: 1 piece leather, great
Use: backpacking/hiking
Break-in Period: 2 weeks
Weight: not sure.
Price Paid: $100

Great pair of boots....buyer beware these are not day hikers. These things will take a while and alot of mole skin to break in. There is a reason why Montrail is not making these boots any more. They are above the mid weight hiker and below the heavy weight crampon boots (which you know are hard to break in). Try them on and get liners and good socks. Don't take them on a 10 mile hike with a pack until they are broken in for a while. Other wize great boots very tough and lots of support. Get on web for deals.
Materials: leather
Use: heavy pack
Break-in Period: 50 miles
Weight: 3 lbs
Price Paid: $70

This is an excellent boot. Full grain suede leather, rubber reenforced toe guard, and vibram soles. Although not gortex a couple Nik wax applications and your feet will be bone dry. For the the first real test of these boots I took them on a 25 mile hike (after about a 40 mile break in) through WMNF. They provided perfect support and grip on the rocky trails. Under a 50 pound pack my feet felt fine. Give these boots a good break in and you will love them forever.
Materials: Leather
Use: rough trail heavy pack
Break-in Period: 50+ miles
Price Paid: $125 on sale

You May Like
Recently on Trailspace