Morakniv Robust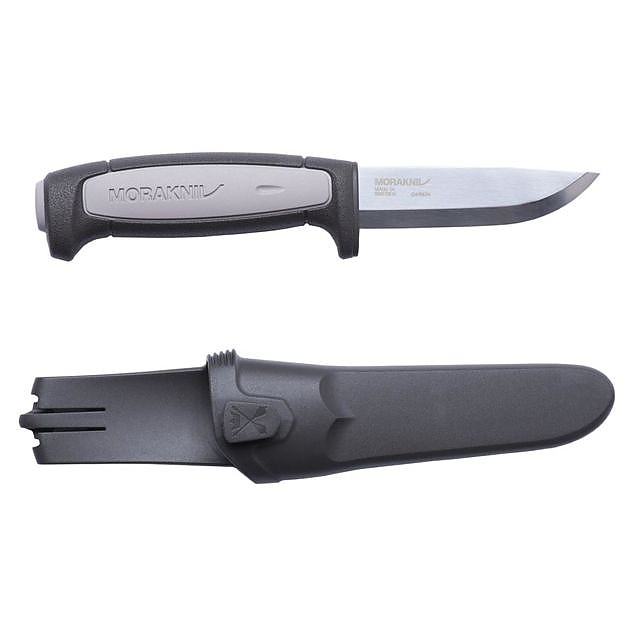 Light, durable, comfortable, and for $16, the best deal out there.
Pros
Lightweight for blade thickness
Heavy duty
Holds edge
Great grip
Easy on/off sheath
Easy click in sheath
Cons
The wide blade splits food instead of cutting
Carbon blade oxidizes immediately


After reading a review about these knives on Trailspace, I was very intrigued. I figured the price was worth the risk and so I bought this knife. I am thoroughly impressed. The knife was really sharp (enough to shave hairs on my arm) and it was surprisingly light for its size and blade thickness. The carbon steel blade is supposed to hold an edge longer and so far this has held true. It oxidizes immediately with water or when cutting anything wet. The blade will look tarnished and stay looking tarnished after only one use but the performance remains superb.
I used the knife for a week in the kitchen for all of my kitchen duties from cutting to chopping to filleting. When cutting potatoes, it splits the potato like a wedge splits firewood; this is due to the wide blade. This happens with any root veggie (carrots, kohlrabi, etc.) so, the cut is not so smooth with those darn tubers... but other than that, it worked great.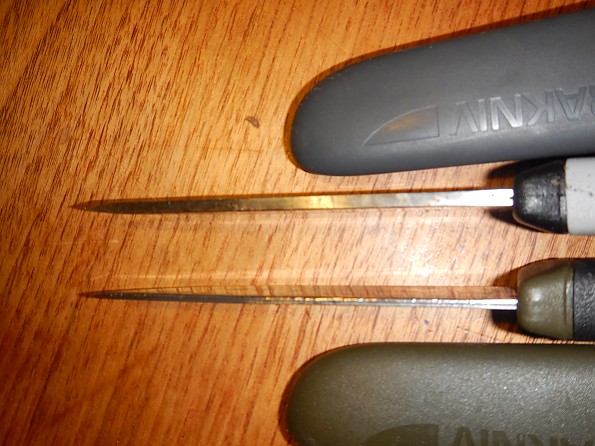 Mora Craftline (wide gray) compared to the Companion (narrow green)
I brought the knife on several outings to test its performance outdoors. Cutting roasting skewers and stakes for my tent was a breeze. Whittles nicely. I cleaned several fish with the knife. The backside took the scales off with ease and the razor edged cut through flesh and bone with no problem.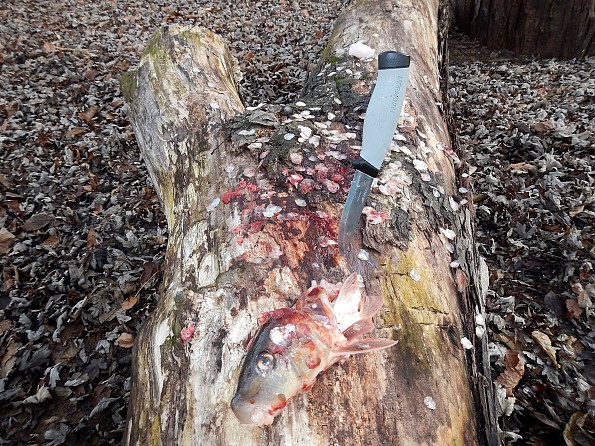 I wondered how the same knife would perform with a more narrow blade so I went out and bought two more Morakniv models. 
Another reviewer speculated that the Morakniv standard sheaths might come loose from your belt if you sat down and they popped up. If you look closely, the design is quite clever and prevents this from happening. I've had the sheath push hard while sitting and I've never had it come off the belt nor do I ever expect it to. If you attach it to the side of your pants with no belt, there is a chance of it popping off or tearing your pants.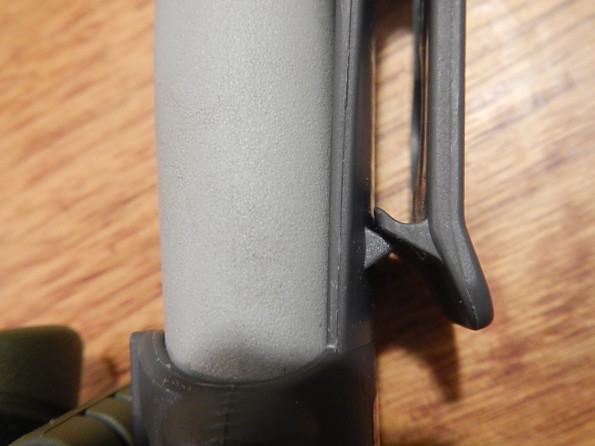 Ease of Use: The knife pushes into the sheath and "clips" into place. The sheath is very easy to put on and take off of your belt of webbing on your pack. The handle is very ergonomic and grips well in just about any condition. 
Features: The knife has a compatibility option where you can connect other models to it via the sheath. It locks into place tightly and works. If you can find a reason where one knife won't do, I suppose you'll like this. I don't yet see the need for it unless you are a ninja...which you might be.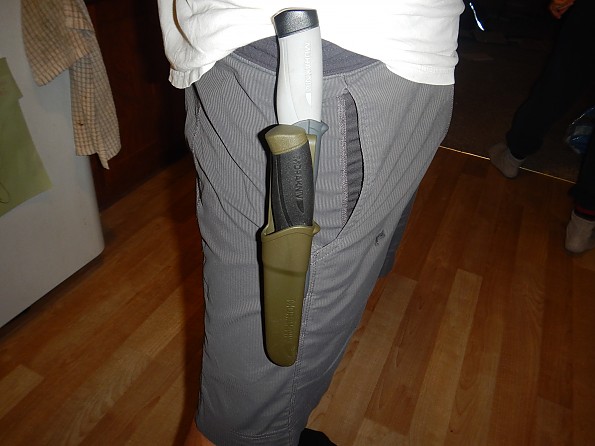 Construction and durability: For $16, I feel the construction is on par with all of the $40-$100 knives I see on the market. I've used the knife for one season so far and I haven't sharpened it yet.
Conclusion: Go out and get one!
Update 12/15/15
I was on a trip with a group of youth and they wanted to get some coals started to use to heat a Dutch oven. I started to pound the knife into an oak log to shave off pieces of it. It worked quite well, so the kids wanted to try the same thing.
They hammered the knife in with another log and worked the blade down by striking the end of it. In my mind I was thinking that this would be the last time I would ever use this knife. My only request to them was to use downward thrusts and try not to bend the blade.
The Morakniv split the log over and over again into 1/2 inch lathe. At the end, there wasn't a scratch on it and it was still sharp enough to filet with!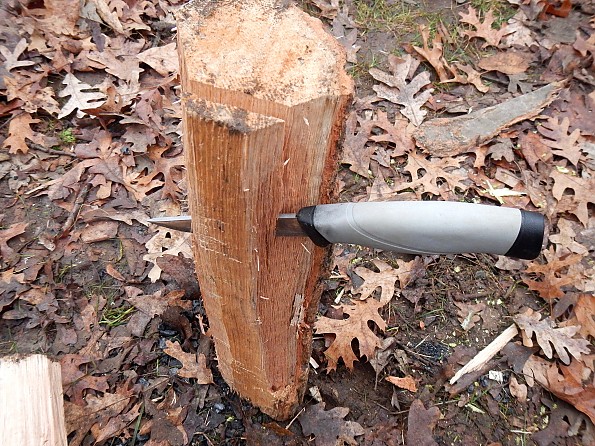 Sad Update 4/4/17:

They discontinued this model. The newer one has that squarish katana tip to it. I immediately bought a backup of the old model while some distributors had it. Glad I did, my first Mora just fell into a raging river this past season. 
Source: bought it new
Price Paid: $15.99

Mora is the best deal out there.
Pros
Price
More than competent quality
Well thought out and handy
Cons
Possible sheath breakage at the belt clip if you are too rough on it, but it can take a lot!
I have been using Mora knives for several years. My very first one was a Craftline stainless steel one with blue and black handle and of course it came with the sheath. They are impressive. You can't beat them for out-of-the-box sharpness, the quality-to-price ratio, and just their handiness. They are must-have little knives and I felt dumb for discounting them for so long after I finally tried one. I often thought "for 10 or 12 dollars, they must be junky and that's just a waste of 10 or 12 dollars."
I bought my first one at Smoky Mountain Knife Works in Tennessee because it was $9.99 and I got to handle it at the counter. It immediately became one of my go-to and favorite knives. I have since purchased three other Moras in different styles and given two of them as gifts. I got a great deal last year on the Mora Light My Fire knives for $18 and gave them at Christmas. They were a big hit and I've seen them in use many times since.
Mora is just one of those companies that has a great product, keeps it affordable, and does things right. Some people will mention that the knives aren't full tang all the way back through the handle and the rat tail style tang could be weak.
OK, fair argument...for a $100 plus knife. Not for something that is 12 bucks. If you know that about the Mora and see the $12 price tag and still think that is a downfall with all the other benefits you get in that knife, then you are probably a little too picky.
I have more than $200 Bark River and Survive brand knives, more than $100 RAT and Buck knives...and my Moras do just as well with typical camp tasks and even some bushcraft and survival type jobs and tests.
Would I pound on my Moras like I do my other, more heavy duty knives? Yes, and I have. But I also am mindful to be more careful so I don't ruin them on purpose or because I'm just plain being abusive on them.
But if they break it'll be because I tried to break them...and IF that time comes, who cares...it was 12 bucks. I could buy five or six Moras for the money I'd spend on another budget-minded brand that wouldn't be any better in quality, have no better steel, wouldn't hold an edge any longer, AND wouldn't be as easy to maintain and sharpen.
Would a Mora be my first and only choice if we were suddenly thrust into an apocalyptic world full of zombie hordes? No, not if I had my pick of knives. But, my Mora is becoming an old friend that I just can't leave at home. It goes with me as a backup on every adventure and sometimes is the lone fixed blade I take because of space, weight etc.
It has whittled walking sticks, marshmallow and hot dog sticks, it has cleaned fish stream side, field dressed Pennsylvania whitetail deer, pheasants, turkey and squirrels, it has prepared wood for campfires, it has done kitchen tasks in the house, it has been a utility knife while doing chores and construction jobs, it has been my truck knife and been in the console when I reached for it.  It makes me feel like it is capable and dependable.
And all for 12 bucks. It's pretty much the biggest no-brainer you'll ever face.
Source: bought it new
Price Paid: $9.99

Thanks for the reviews. I purchased mine because of these reviews. I ordered it from Amazon on Saturday and got it Monday (thanks to Amazon and Canada Post).
Pros
High carbon stainless steel
Good size
Very sharp
I've had this knife for only 2 days and it's done everything I ask it to do.
It's just the right size to carry on your belt. It's very sharp. It cuts through everything with ease.
Source: bought it new
Price Paid: $20.99

Your Review
Where to Buy
Help support this site by making your next gear purchase through one of the links above. Click a link, buy what you need, and the seller will contribute a portion of the purchase price to support Trailspace's independent gear reviews.
You May Like
Specs
Price
Historic Range: $9.95
Reviewers Paid: $9.99-$15.99