Morakniv Survival Kit for Kansbol/Garberg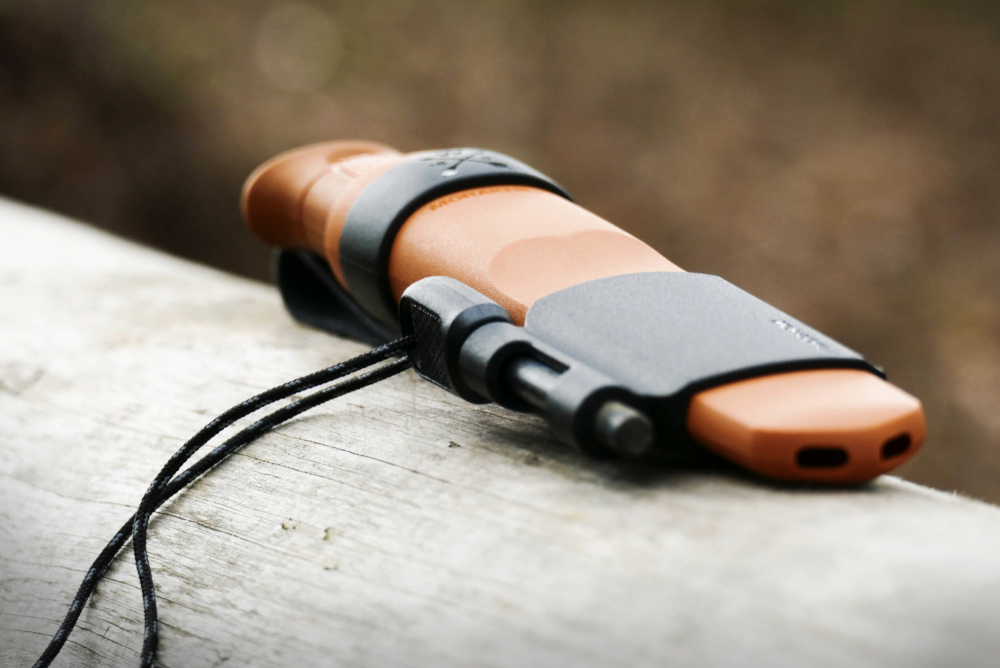 Version reviewed: Survival Kit for Garberg
A reasonably priced accessory for the popular Mora Kansbol and Garberg knives that provides a sheath-mounted ferrocerium rod for fire-starting and a diamond sharpener for field sharpening. Quality materials and solid design make this a win for any Kansbol or Garberg owner whose knife use includes fire-starting and hard tasks.
Pros
offers on-the-sheath options for fire-starting and sharpening
made of durable, high-quality materials
fits securely on knife sheath
Cons
no current replacement option for ferrocerium rod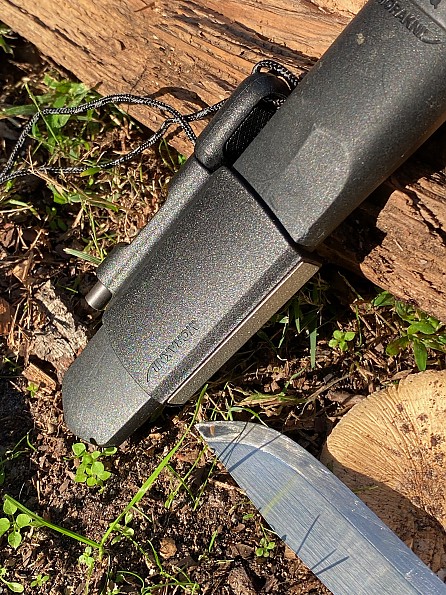 Background
I am the sort of hiker, camper, and backpacker who is never without a knife. I've enjoyed going down the gram-shaving rabbit hole, and I find weight consciousness is an excellent habit to maintain, but cutting tools are something I find both useful and enjoyable: in short, worth the weight.
When permitted by regulations, fire-building is one of the primary uses for my cutting tools, and consequently, I purchased a stainless steel Mora Garberg knife several years ago. Morakniv, the maker of the Garberg, is a Swedish company that traces its origins back to the late nineteenth and early twentieth century, and the company is famous for making excellent quality, low-cost knives. 
Its Garberg is well-designed for fire building, featuring a Scandinavian grind for slicing curls of wood off of sticks for kindling (or making "feather sticks"), a square 90˚-angle spine for scraping wood fibers or throwing sparks from the ferrocerium rod to ignite tinder, and a full-tang construction that provides durability and allows one to split thicker pieces of wood into smaller kindling by batoning the knife through the wood.
What One Gets
The Survival Kit for Kansbol and Garberg consists of a black polymer sleeve that slips over the sheath of a Garberg or its lighter-weight sibling, the Kansbol (it will fit on any model of Garberg or Kansbol—their sheaths are basically identical—but not on any other knife sheath).
The sheath and sleeve designs allow the kit to slip on and click securely in place. This sleeve has a diamond knife sharpener integrated into one side and a sturdy clip that holds an included ferrocerium rod for fire-starting on the other side.

A short lanyard with reflective braiding is provided to allow one to spot the ferrocerium rod if it is dropped at night.

The entire kit weighs 1.4 oz/ 40 g. Note: the sleeve only fits one way: as one looks at the sheath, the sharpener is to the right, and the ferrocerium rod is to the left. 

For those interested, Morakniv sells the Garberg (in stainless or carbon steel) and Kansbol with this kit included for MSRP USD $111.99 (stainless), $121.99 (carbon), and $71.99, respectively.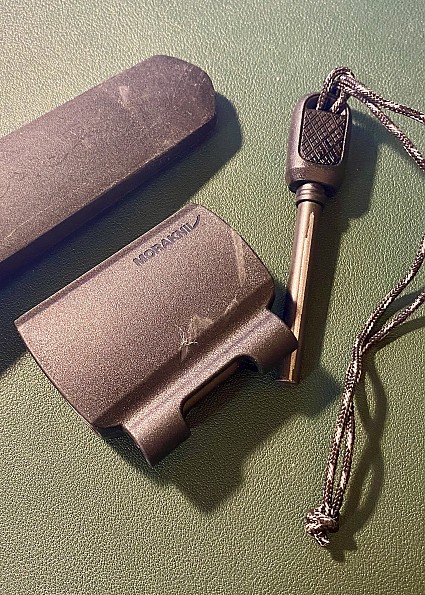 This compact Survival Kit, scarcely larger than the sheath itself, is intended to complement the Garberg and Kansbol by providing an onboard fire-starting and sharpening option. A ferrocerium rod throws sparks when scraped by a right-angle edge such as the spine of a knife. It is impervious to water. The combination of sharpening tool and ferrocerium rod is one campers, backpackers, and especially bushcrafters often add to their knives on their own; indeed, many aftermarket knife sheaths include a loop to hold a ferrocerium rod and a pouch to hold a sharpening stone.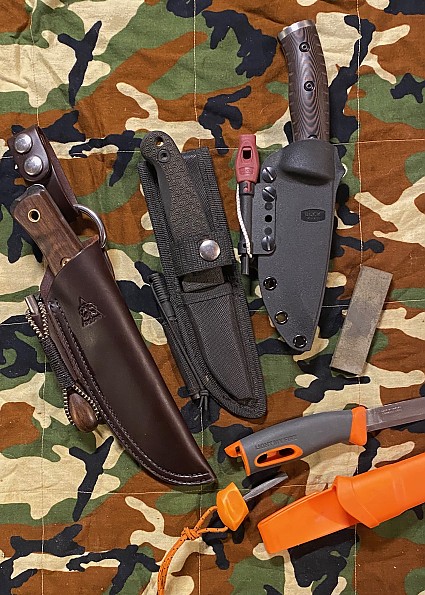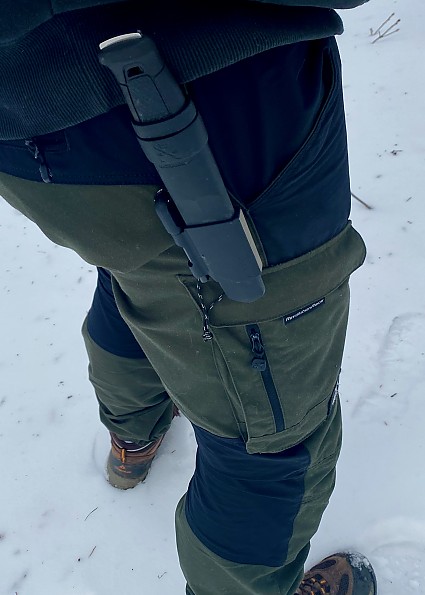 What Morakniv has done, then, is provide such a combo for two of their most popular knives for an MSRP of USD $31.99. 
Observations
Any concerns I may have had about the security of the Survival Kit on the sheath were quickly erased the first time I tried to remove it after I had slid it into place with a click. Only intentional effort will dislodge this sleeve from the knife sheath.
The name Survival Kit may be a bit misleading. When one thinks of a survival kit, one often thinks of a bevy of compact little tools that can help one survive when necessary, but with the Mora Survival Kit, there are no included fishhooks, snare wires, needles, or the like: only the ferrocerium rod and lanyard stowed on the poly sleeve with the diamond sharpener, partnered, of course, with a capable cutting edge.
However, the name is not a misnomer: a cutting tool, a means to maintain its edge, and a fire-starting tool are arguably among the most essential tools to have in any real survival situation. For instance, if one slips into a stream, loses one's pack, and regains shore with this kit and a knife on one's belt, drying out from a blazing fire remains an option.
The Ferrocerium Rod
The ferrocerium rod is .28 in/ 7 mm in diameter and has a usable length of 2.17 in/ 55 mm (overall length: 3.54 in/ 9 cm). The rod features a textured, patterned grip made of polyamide with a diamond design that matches the Garberg and Kansbol handles; this grip appears to be securely epoxied to the rod itself.
I found the grip was not the grippiest, but it was sufficiently grippy for me to hold the rod steady when using it. A hole in the grip accommodates the 2 mm diameter lanyard which is about 15.7 in/ 40 cm in length, which, doubled, provides a generous loop of cordage. The rod itself is of a fairly hard composition.
Ferrocerium rod users will know that there are softer and harder varieties of ferrocerium rods. The softer ones, often less expensive, readily throw abundant sparks while getting eaten up rather quickly. The rods of harder composition, such as this one, wear more slowly and–in my experience–allow one to use techniques that allow for a more controlled throw of sparks. This rod is of good quality. Note: while a replacement ferrocerium rod option is anticipated, none is currently available at present.
The collar of the ferrocerium rod grip snaps authoritatively into the sleeve. As with the sleeve itself, the rod is unlikely to come out unless one is trying to get it out. In fact, it is challenging to pull straight out, but the designer has cleverly designed the grip and sleeve so that twisting the ferrocerium rod causes the grip to slide against a ramp on the sleeve, effectively popping the rod loose from its "locked" position.
One word of caution: the ample lanyard could become a liability if a passing branch were to snag the lanyard, but I would imagine the user would feel the wrench of the branch before the ferrocerium rod would snap free.
Using the spine of my Garberg, I had no problem throwing sparks and igniting tinder using this ferrocerium rod. I will add, though, that I have used ferrocerium rods for years; one must use effective techniques and good tinders to achieve success in starting fires this way. Years ago, I confidently and ignorantly set up camp, pulled out my new ferrocerium rod, and failed repeatedly to start a fire. With the requisite knowledge and skill, the rod that accompanies the Survival Kit for Kansbol and Garberg will start thousands of fires.
The Diamond Sharpener
The diamond sharpener is a slightly trapezoidal strip of metal, mounted to the sleeve, and coated in a fine diamond powder that is intended to put a serviceable field edge on a knife. Extended or hard use (such as batoning wood into kindling) gradually dulls the edge of a knife; this sharpener allows one to quickly bring back a knife edge to cutting sharpness. By making this a diamond sharpener, Mora has chosen the fastest means of hand-sharpening a knife's edge in a material that allows for less weight than, say, a sharpening stone would.
The sharpener insert itself matches the taper of the sheath, decreasing over its more or less 2.36 in/ 6 cm length from a maximum width of .4 in/ 10 mm at the top to .3 in/ 8 mm at the bottom. The insert rises just above the edge of the sleeve surface on which it is mounted, providing clearance for one's knife.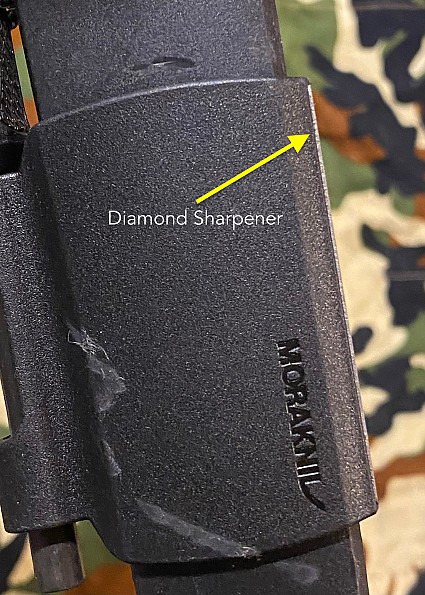 The primary cutting edges of the Garberg and Kansbol are Scandinavian grinds, which means that one can simply draw the face of the knife bevel across a stone to sharpen it. Scandinavian-ground knives are among the easiest to maintain in the field, and thus with practice, the small surface of the diamond sharpener provides one with an adequate surface area to sharpen one's knife in the field when it grows dull. 
I would term the diamond sharpener to be of fine grit. It is perfectly adequate to bring back a cutting edge, but it is not what one would want to rely on for really thorough sharpening. It is simply a field expedient, one that allows one to keep using a sharp knife in the field (as in a survival situation). 
Conclusions
Overall, this simple Survival Kit provides a lightweight, low-profile option of adding a fire-starter and a sharpener to one's Kansbol or Garberg. Made of tough, resilient materials, this kit is durable and well-designed. It securely snaps in place on the existing sheath, providing no-nonsense emergency fire-starting and sharpening options.
For whom is this Survival Kit?
For Kansbol or Garberg owners who wish to equip their knives with ferrocerium rods and sharpening stones as a matter of course–perhaps guides, hunters, and others–this kit provides a reasonable value without the expense and hassle of ordering a custom Kydex or leather sheath that can house a ferrocerium rod and a sharpener. 
Yet such a kit is not for everyone. After all, many backpackers eschew even a small pocketknife when camping, so adding weight to an already stout knife is not everyone's cup of tea. One must think about whether or not one intends for this kit to be a regular-use item or an emergency kit. If the latter is the choice, one should then ponder whether or not one's adventures may make such a kit desirable (and whether or not one knows how to use the rod and the sharpener, too). 
While I will certainly carry this kit for peace of mind when I take my Garberg into the backcountry, I would not likely carry this for regular use. Instead, I routinely use a Light My Fire Army 2.0 ferrocerium rod for stove lighting or fire-starting–it is part of my fire kit–and I use an array of diamond sharpeners, Japanese water stones, and strops to maintain my bladed tools. I seldom have the need to carry a sharpening tool in the field since I carry freshly sharpened tools and I have planned return dates. 
Nevertheless, this kit's ferrocerium rod is especially handy there on the sheath, and there are times one spontaneously wishes to draw a blade across a stone for that extra keenness. Someone who wants the convenience of a sheath-mounted kit should consider this option, although one should also consider the price.
For most, the price seems reasonable: I've paid USD $20 for a quality ferrocerium rod before; here, the $31.99 also gets a secure means of stowing the rod on the sheath as well as a diamond sharpener. The Survival Kit for Kansbol and Garberg is a product in keeping with Morakniv's reputation for offering high-value, modestly priced tools. 
If there is a downside, though, one that could affect the kit's ultimate value, it is the current lack of a replacement ferrocerium rod option. While one seldom exhausts the spark that one can throw from a ferrocerium rod—they can literally throw thousands and thousands of spark showers—these little tools often get mislaid at inopportune times. The sheath kit has a proprietary mounting system for the ferrocerium rod; it will only secure the rod that comes with the kit. A replacement option would be nice, and while one is evidently anticipated (Trailspace inquired), a replacement is not available yet.
Aside from this, though, the Survival Kit is an excellent accessory to the Kansbol or Garberg, one recommended for peace of mind, practicality, or even regular use for those who carry and use these knives in the backcountry.
Experience
I used the Morakniv Survival Kit for Kansbol and Garberg for several months during the fall and winter. I have long used ferrocerium rods as my principal means of starting fires or stoves, and I have used a wide range of sharpeners to put a cutting edge on my many knives. I have many analogous ferrocerium rod set-ups on other fixed blade knives and a few sheaths with pouches to hold sharpening stones, so I was curious about how Morakniv would offer its own solution to this common knife sheath modification.
Source: received for testing via the Trailspace Review Corps (Sample for testing and review provided by Morakniv)

Your Review
Where to Buy
Help support this site by making your next gear purchase through one of the links above. Click a link, buy what you need, and the seller will contribute a portion of the purchase price to support Trailspace's independent gear reviews.
You May Like
Specs
| | |
| --- | --- |
| Weight | 40.1 g |
| Comes with | fire steel, sharpener |
Recently on Trailspace