Moss Tents Starlet (Three-Season)

Moss Tents is no longer in business, and the Starlet (Three-Season) has been discontinued. If you're looking for something new, check out the best three-season tents for 2020.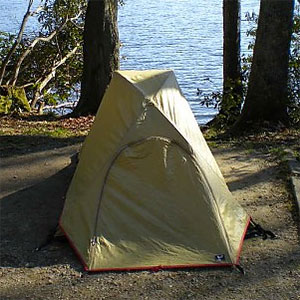 Specs
| | |
| --- | --- |
| Price | Reviewers Paid: $350.00 |
Reviews
4

reviews

5-star:

3

4-star:

1

3-star:

0

2-star:

0

1-star:

0
Beautiful, technically satisfying, sadly no longer made.
Pros
Intelligent design
Lightweight for its day
Waterproof
Windproof
Fit into a daypack for motorcycle camping trips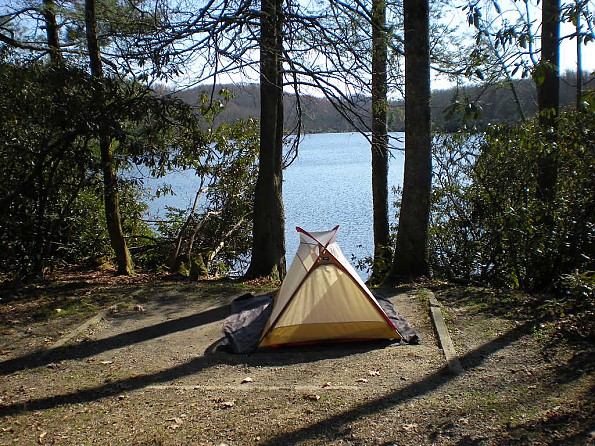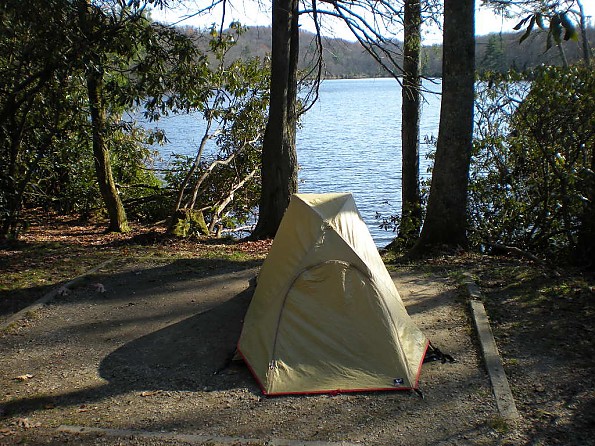 Just wanted to include my review of this no-longer-obtainable tent so as to post pictures.
Okay, also to reminisce a little. I bought this when my little Italian sportbike was still up and running and I'd just started the adventure of motorcycle camping. The tent I had at the time was a Eureka Bike-N-Hike. It had served me well, including several motorcycle trips, a car-camping trip one July from north of the Arctic Circle through Alaska, down the Cassiar Highway to Seattle, and on a long solo hike in British Columbia. But it was not free standing and was showing its age: the fly ripped in a strong wind after about eight years of steady use.
The Starlet was the perfect replacement, three times the cost, but infinitely better quality. Free standing and tiny, its small pole lengths allowed it to fit perfectly inside the daypack that was the only space left on the Monza. The tent was waterproof from day one, snug, cute, homey, and versatile.
Almost 20 years later, it is still usable. I'll be kicking myself forever for putting it away damp one trip about four years ago, when I switched to another tent and found out days later that mildew had set in. That's been irreparable, but I still use it on occasion when I need a smaller tent for a day or so.
Anyway, these pics are from near the Blue Ridge Parkway in late fall.
Source: bought it new
Price Paid: About $460 CDN

I was looking for a 2-person, 3-season backpacking tent and saw the Moss tents in REI. This was in 1984 and I recall there was a Star Gazer and its little brother the Starlet. I fell in love with its parabolic looks and quality of craftsmanship and the thought of looking up at night and seeing the stars.

I purchased it and it was expensive for me, over $300, but as I assembled it, it had this Swiss watch quality, very well thought out and designed.

I used it in the Sierra Nevada range and it was bomb proof! Winds and rain were manhandled by this little tent as we just slept soundly inside. With the rain fly off, it let the clouds, breezes and the stars swirl above us. A beautiful little tent.

It's been 30 years now and just a couple of little tears in the floor, Ponderosa Pine tree sap on the rain fly and the small holes in the mosquito netting that I tried to fix with 4lb fishing line and a needle are all he battle scars this Starlet shows.

They make tents lighter now and with better pole and clip systems I guess, but Mr. Moss was a true innovator. He built high quality American made backpacking tents that were ahead of their time, and as strong as the Granite mountains they were carried into.
Pros
Great design
Easy assembly
Rugged construction
Cons
Heavier than modern 1-2 person tents.
Snug, a bit snug for 2 people (but great if those 2 people "sleep" well together!)
As I've said before, the Moss Starlet is a design from a generation ago. Yes, they are a bit heavy, but it's "Beefy" heavy, "Strong" heavy. The kind of heavy I was very glad it had as I snow camped on the top of Bridalveil Falls 4.000 feet above Yosemite Valley.
It's an old school shelter that people who see it stop and ask questions and tell stories about their interests or experiences. Like when a muscle car rolls up into the gas station and people notice the rugged and archaic lines of something old, but well made. Well made in Camden, Maine, U.S.A.
Source: bought it new
Price Paid: $350

I also absolutely love this tent. Have had it for several years. Cycled across America last summer '09 and used it on several other cycle trips.
It has only 2 poles so very easy to put up. I plan a long trip (Cairo to Capetown) with a group and actually bought a Hubba Hubba but I think I will stay with my Moss. I also love the netting which is good when no fly is needed.
I am wondering if anyone maybe at a store that used to sell the Moss might have a 'footprint' or ground sheet made especially for it.
I am shocked and wondering why Moss no longer makes that tent ... or the people that bought out Moss don't. What a SHAME.
Judy
Sleeps: 1
Ease of Setup: Very easy
Weight: maybe 5 lbs or lighter
Price Paid: Can't remember

This is THE most perfect tent I have ever used. Moss has really made a sweet tent this time. I needed a 3-season backpackable ventilation tent to deal with hot humid weather. I have tried for years to find a North Face Ventilator, but have never been able to get ahold of one due to the short production run (1994-1996). I read a review on BACKPACKER about the Starlet and was very impressed. Even more impressive is that Moss is one of the few companies to make their tents in the good old USA.
This tent can hold two people without a problem. The rain fly is rip-stop material, and has yet to leak. I have had this tent a long time and have put it through the trials of backpacking. Easy to set up and tear down, easy to get in and out of, very lightweight, and packs up into a sack that is no bigger than my sleeping bad in its stuff sack.
Can't say enough about this baby. I was very sad to hear that this year (2002) Moss is no more. They have been bought out by MSR. MSR now has made some slight changes to the Moss tents, and now sells them as their own. I guess this just goes to show how good the Moss products really are. Those interested in a Moss tent should go out TODAY and get one. They are becoming harder to find everyday.
If anyone has any questions about this tent I will try and answer them for you. Just e-mail me. Now....GO OUT AND BUY A MOSS WHILE YOU STILL CAN!!!!!!!!
Design: Three-season freestanding ventilation
Sleeps: 2
Ease of Setup: Very easy to set up. Only 2 poles, and a rainfly.
Weight: 3.65 lbs.
Price Paid: $350

You May Like
Recently on Trailspace