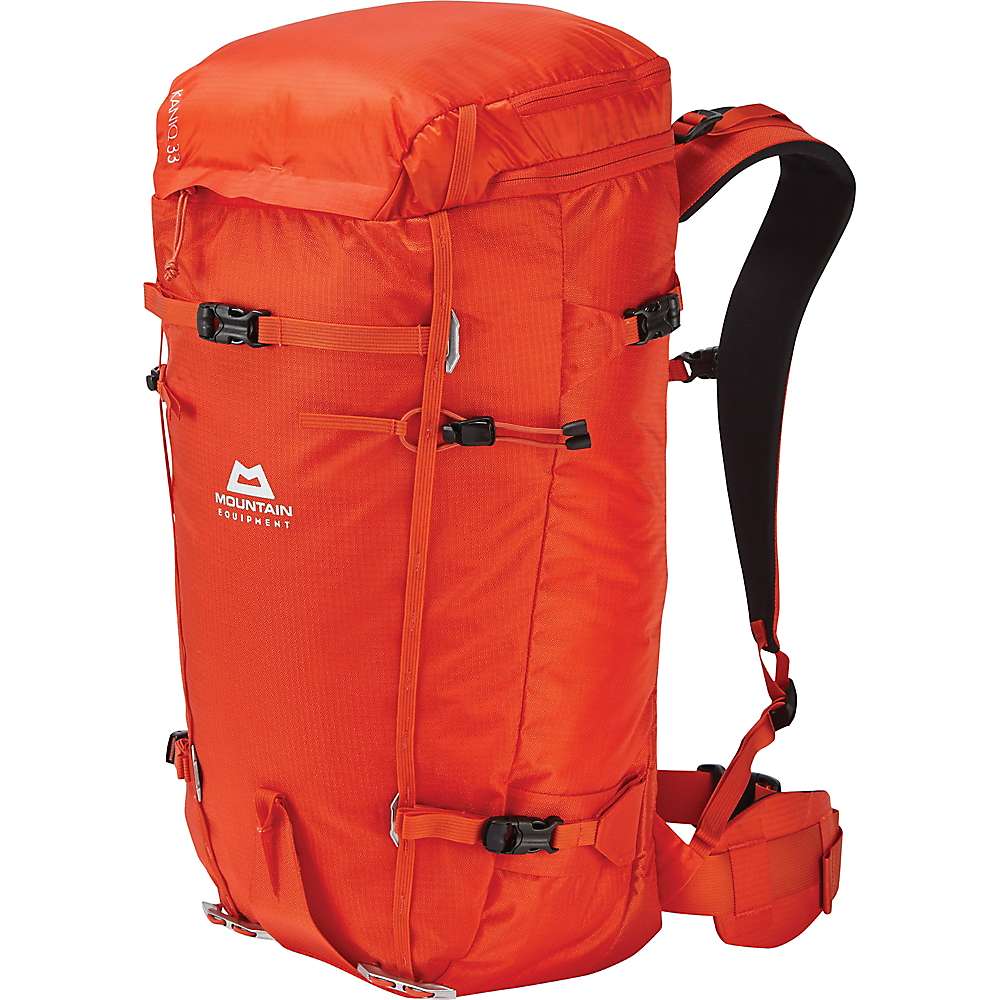 Specs
Price
MSRP: $265.00
Current Retail: $264.95-$265.00
Historic Range: $264.95-$265.00

Weight
940 g / 2 lb 1.2 oz

Capacity
33 L

Reviews
The Kaniq 33 is a lightweight, 33-liter day pack with a full suite of features for ski alpinism or just plain backcountry skiing. Solidly built and snow and water resistant, with some well-thought-out lightweight fittings to keep weight down, but doesn't ride well when full and not everything functions optimally.
Pros
Solid materials and construction
Lightweight
Reliable A-frame and diagonal ski carry
Roll top inner closure
Smart ice axe and crampon attachment systems
Removable and adjustable external attachments
Cons
Zipper main compartment closure limits expansion
I'd prefer an external rather than internal shovel/probe pocket
Shovel/probe pocket Velcro closure rips open during routine handling
Unreliable helmet net
Back panel rounds out and can roll on back when pack is full
Sternum strap loosens under movement
(Preliminary, early-winter review)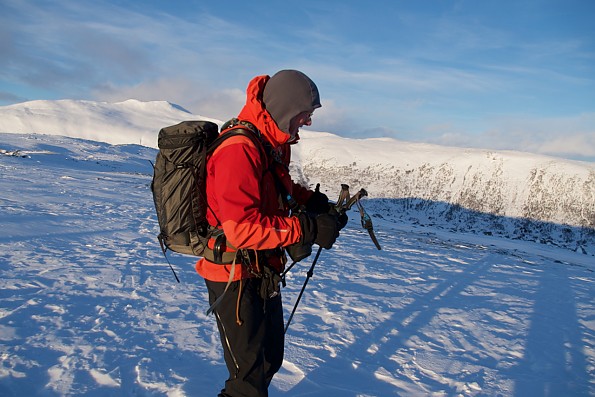 As the days get longer in Norway, the summits start calling. They come in many shapes and sizes: everything from broad, avalanche-safe slopes that are still steep enough to cut powder turns to steep, exposed couloirs that are best skied only in stable spring snow, sometimes with summits that require exposed scrambling or roped climbing to reach the top. Skiers here need to be ready for full-on midwinter blizzards, bluebird corn-harvest days extending into midsummer, and everything in between. The Mountain Equipment (ME) Kaniq is designed specifically to fit the needs of backcountry skiers, with a shovel pocket, helmet net, and ski carry options added to the well-tested features ME's line of tough, lightweight climbing packs.

Materials, Construction, and Weight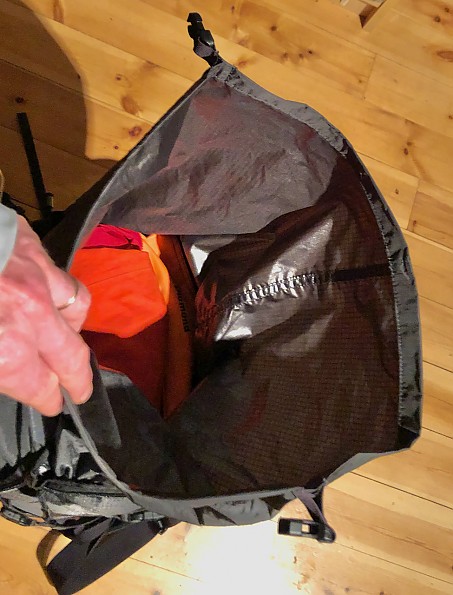 The main body of the pack is made of ME's double ripstop, TPU coated PACT 300 fabric, with the roll top, top pocket, and partitions made of the somewhat lighter PACT 100. The fabric and the coating both seem quite tough, but time will tell how well they hold up. The seams on the roll top and pack interior are not taped, but the internal seams of the main compartment are closed and reinforced with bias tape. Although I haven't taken it out in the rain, between the roll top and the tough TPU coating, I think it should live up to ME's claim that the pack is "highly weather resistant," but in an all-day rain or in soggy snow some water might get in through the seams.
The contoured shoulder straps have a PACT 300 outer with a smooth, stretchy liner against the shoulder and are padded with closed-cell foam, with adjustable shoulder stabilizers and a sternum strap. Compression straps and the lower shoulder straps are made of ca. 1 cm (1/2 in) webbing, while the daisy chains are more like 0.5 cm (1/4 in). The waist belt is ca. 3.5 cm (1.5 in) webbing.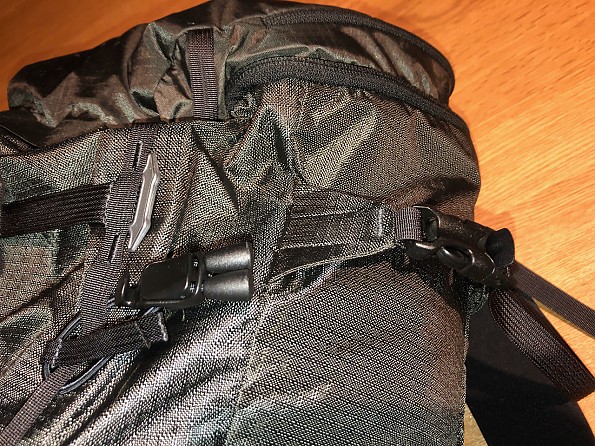 (aluminum t-head, cordlock, and lever-lock quick release fittings)
The Kaniq employs some ingenious, lightweight Fastex and aluminum fittings for different purposes, all in small sizes to keep weight down. The sliding side of the quick releases on the compression straps have lever locks to keep them from loosening up under the weight of skis. The cordlocks on the bungees used for anchoring ice axe shafts and crampons or overflow gear also have a little spring-loaded lever so that they slide easily but lock securely.
The free ends of some accessory straps are anchored to the rear daisy chains with aluminum t-head fasteners that are easy to move or remove to lighten up. Small, movable plastic fittings anchor the sternum strap to daisy chains on the shoulder strap and the helmet net to cord loops in its stash pocket. All of these are very functional and well-thought out, but I will discuss a few exceptions below.
With helmet net and bungee installed, I weighed the pack at 931 g, a little under ME's claimed weight of 940 g. Overall, I'm impressed by the materials and construction of the Kaniq, which manage to keep weight down and durability up.

Fit, Suspension, and Ride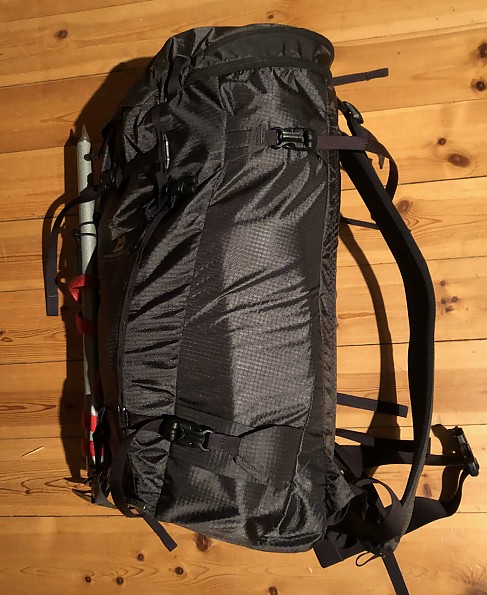 Like most packs in this class, the Kaniq is one-size-fits-all, with minimalist shoulder, waist and sternum straps. ME does not specify a range of torso sizes that this pack will cover, but I am on the long end and it works for me. The shoulder strap adjustments are basic, as appropriate for a pack of this size and capacity—just the usual length adjustment and shoulder stabilizers.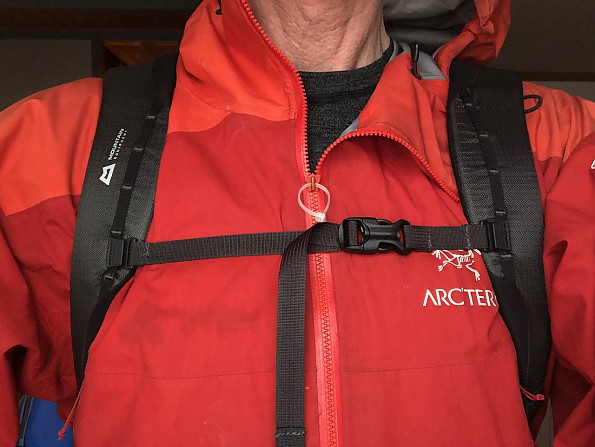 The sternum strap can be adjusted up or down in ca. 2.5 cm (1 in) increments by changing the position of tough plastic fittings on small-gauge daisy chains on the shoulder straps. The quick release slider on the sternum strap gradually loosens under the jiggling of a moving body, so that it needs to be periodically retightened to keep the pack riding properly, something I have noticed on various other packs. I'd suggest that ME use the same lever-lock fitting as on the compression straps here.
Carrying skis and climbing gear can jack the weight up enough to test the comfort and durability of the suspension, something that I haven't yet had the opportunity to do, but based on experience I'd say this pack's straps should be able to handle the load with reasonable comfort.
The removable hip pads seem like an afterthought and have to be slid back into place on the hips when buckling up but can be removed easily (saving 56 g). This pack isn't really designed for carrying the kind of weight that requires hip support anyway—for me the belt is really about keeping the pack from rattling around during an energetic descent. I took the hip pads off after the first few days of use, but will try them again when carrying more weight.
There are no hip pockets, a feature that I have come to appreciate on some of my other packs as a place to stash energy bars, sunscreen, GPS, or a point-and-shoot camera. Given the Kaniq's customizable design, including the removable hip pads, perhaps hip pockets could be offered as an add-on.
The back panel is stiffened by a thin, rectangular, plastic framesheet that is not rigid enough to prevent the pack from going cylindrical when stuffed full, with the result that it can get a little roly-poly on the back, very undesirable while descending. That may be a weight-for-function tradeoff, but I'd prefer a pack that holds its shape so that it rides better.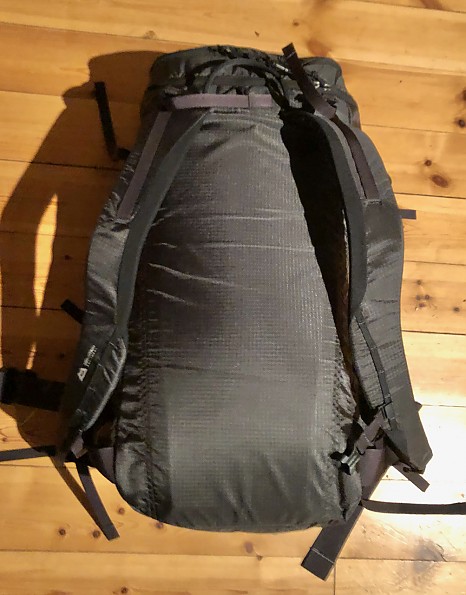 Capacity and Stowage
The 33-liter volume is generous for full-day outings, with room inside for extra layers, emergency gear, and lunch. Add-ons include dual ice axe attachments, a helmet net, and a daisy chain—zigzag bungee setup for carrying crampons or a shell jacket on the back of the pack. Along with my usual array of day gear, I have been able to fit in a silk sleeping bag liner (generally required in huts) and my share of the food for a two-night hut trip.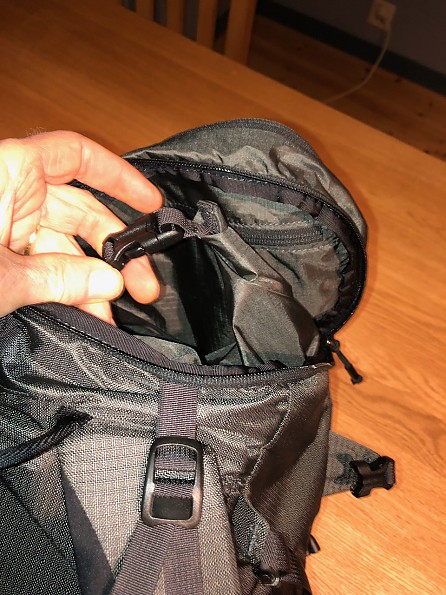 (main compartment zipper partly open, showing the roll-top closure)
The roll-top closure is great for keeping spindrift and rain out, but the extra zip closure for the main compartment seems unnecessary, limits overflow capacity, and could be prone to zipper failure in the long run. I'm a fan of floating top lids for those times when you can't quite fit everything in.
On this pack the roll top could potentially extend well above the zipper to accommodate that extra day or two's worth of food on a hut trip, but then you would have to leave the main compartment zipper open so you'd end up with the top pocket flopping around on the back of the pack. An upside of the zipper lid is that skins and gloves can be nested over the roll top and under the zipper for quick changes while yoyo skiing.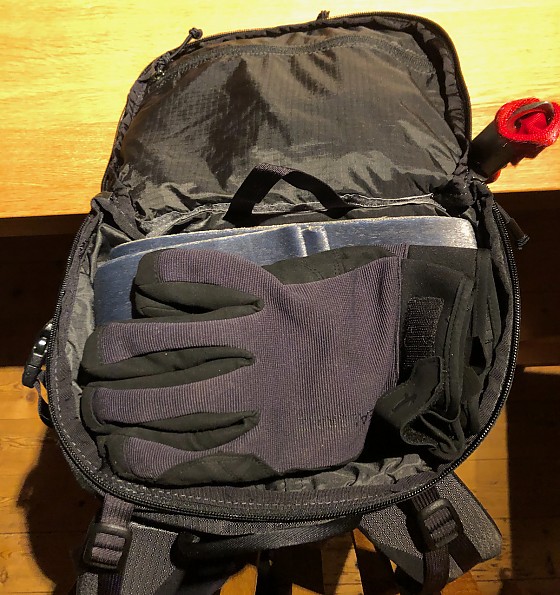 The two-way, water-resistant zipper on the top pocket opens on three sides for full access to whatever's inside, in my case typically sunglasses, map, GPS, maybe a snack or two, but user beware—opening too wide can allow items to fall out and roll or slide away.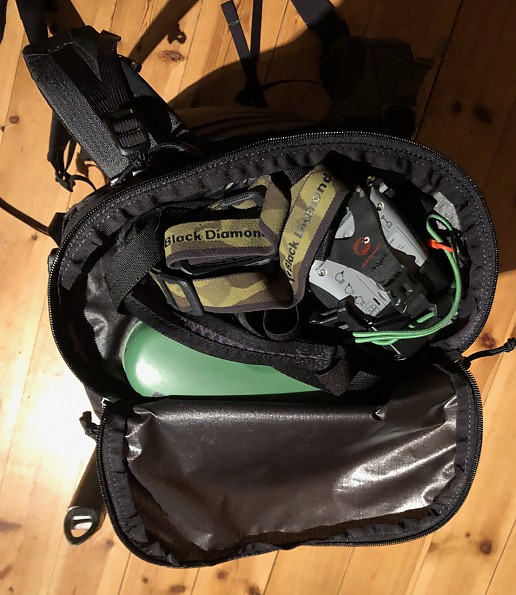 (top pocket fully open)
The inner valuables pocket has room for a wallet or cell phone and a few other flat extras, and a keyring clip, especially appreciated because I often need to carry a key for hut access.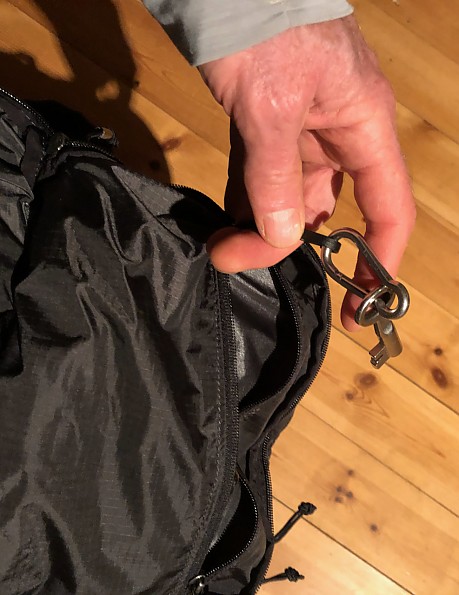 Ski carry and compression straps
Most of my tours are skin up-ski down, with no need to carry skis on the pack, at least until late spring and on into summer, when carrying may be necessary to reach snow or get up a steep couloir. When I do carry, I prefer a solid A-frame carry, with the ski tips strapped together over my head, in part to spread the tails so they are out of the way of my feet.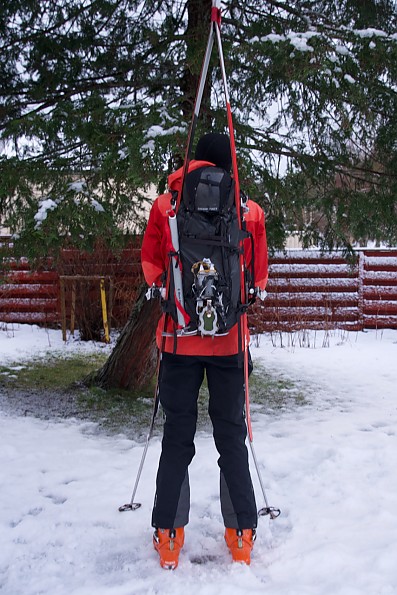 The Kaniq has a solid pair of ski holsters at the bottom of the pack, with compression straps to further anchor the skis higher up, a common formula for many ski-specific packs.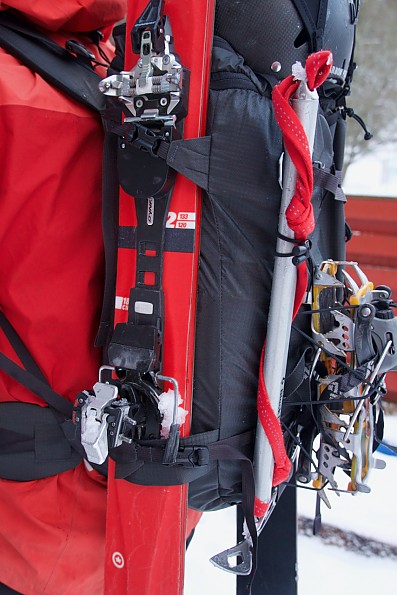 The upper compression straps are well-anchored with wedges of the pack material. The ski holsters are made of the pack material with and extra fold to hug the ski and one end adjustably anchored to the daisy chain with a t-head fitting, which allows some extra width for carrying a splitboard or maybe super-wide skis. Lever-lock sliders on both upper and lower straps prevent loosening.
My biggest skis are 102 mm at the waist and fit with room to spare, locking in under the holster to keep them from shifting forward or backward. With tips joined with a strap, the result is very stable. A third, removable compression strap with quick release and lever-lock runs between the daisy chains on the back of the pack and can be adjusted up or down by means of simple aluminum toggles.
The A-frame carry pinches the top of the pack, making access to the top pocket and the main compartment a little difficult, but I have found I can get in well enough to pull out or stash a jacket or gloves or the top pocket contents.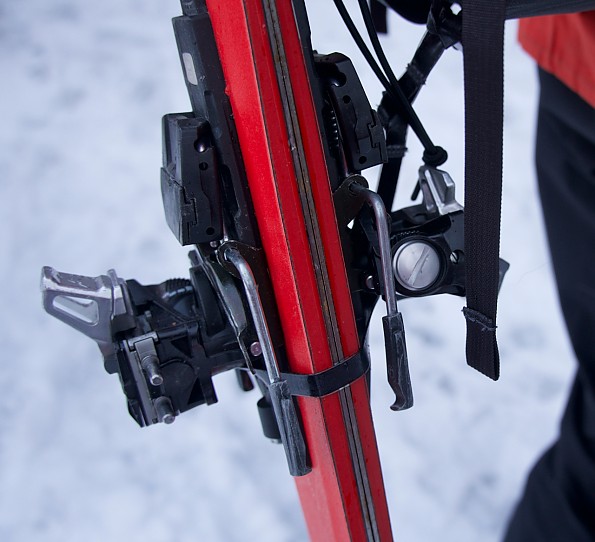 The Kaniq also comes with an accessory strap for anchoring skis at the bottom of the pack for a diagonal carry, using the back compression strap for an upper anchor. The lower strap is only about 6mm /1/4 in wide and seems tough enough when new, but I wonder how well it will hold up in the long term. When attached to the bottom of the daisy chain, it results in very low carry, not bad for going uphill through trees, but not so great for going down, when the ski tails can dig into the slope. This might be remedied by tying it into the daisy chain higher, something I will try when the time comes.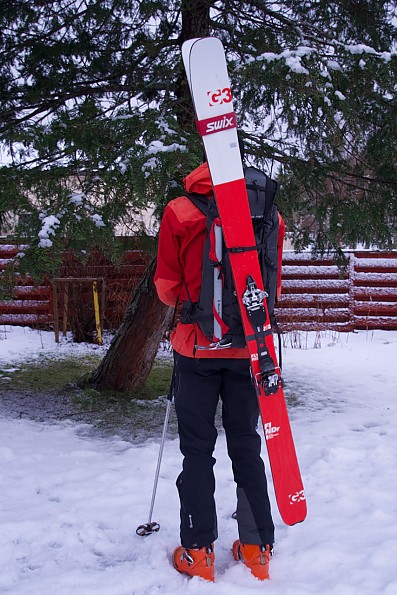 The back strap could also be used as an upper anchor for a snowboard but I don't see any provision for a snowboard or snowshoe carry at the bottom of the pack, although one could be improvised using the daisy chain. ME might do well to provide a second strap like the one on the top of the pack to keep snowboarders and snowshoers happy.
For my part, the ski carry system seems solid and well-thought-out and I look forward to putting it to work.
Shovel and avalanche probe pocket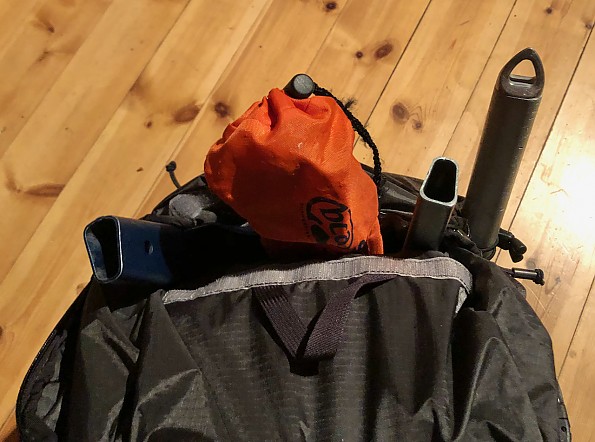 ME says that the Kaniq "ensures ready access to shovel and probe", but the shovel-probe pocket is under the lid—it is necessary to zip open the main compartment to get at the contents. In my view, access would be readier if it were external. During a day trip, the shovel comes out for digging test pits, for excavating sitting places and constructing wind breaks for a lunch stop, and for the nightmare scenario of digging out avalanche victims, when rapid access to shovel and probe is even more important.
In all these cases, there is usually no need to get other gear deeper in the pack before putting the shovel to work, and there may be a very real need for quick access. I would like to see ME develop an external pocket with the same attention to detail as they have applied to other parts of the pack.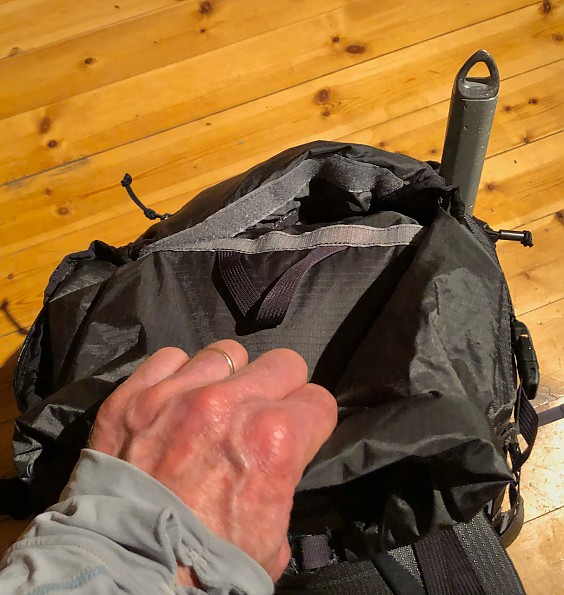 The shovel pocket is closed with a strip of Velcro that pulls open easily during routine handling of the loaded pack. Even the weight of the top pocket as it flops open can rip the Velcro. That's more annoying than dysfunctional, but whatever closure system is used should stay closed.
My big-bladed Leki shovel just fits in the shovel pocket, and I have to take the telescoping handle apart into two pieces to get it to fit, but that problem is not unique to this pack—it's a big shovel, and I often use a smaller one for packing convenience and reduced weight anyway. Any more standard size shovel with a detachable handle should fit just fine.
The helmet net is another weak point. At first it seems well thought-out, made of stretchy material with lightweight attachment fittings and a pocket for stashing the net when the helmet is in use, and the ability to switch between carrying the helmet on the top or back of the back. It is anchored at one end to loops of cord inside the stash pocket and at the other by an ingenious little forked fitting that slides onto a folded webbing loop.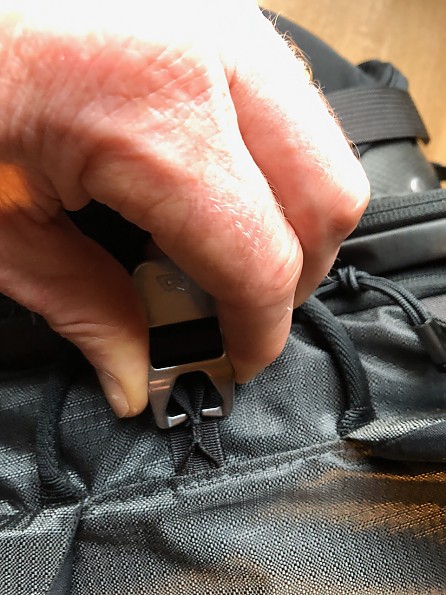 But maybe not ingenious enough—it works fine until it is pulled in the wrong direction, in which case it can pop off, so I'm not sure I can trust it. Furthermore, the net holds the helmet well enough when the pack is stuffed full, but if there is any slack in the pack body, the helmet net loosens up. Then the helmet can fall off or be knocked out, whether on top or on the back of the pack. On a steep slope that's a recipe for a lost helmet. When in doubt, I will be inconveniently trying to fit my helmet inside.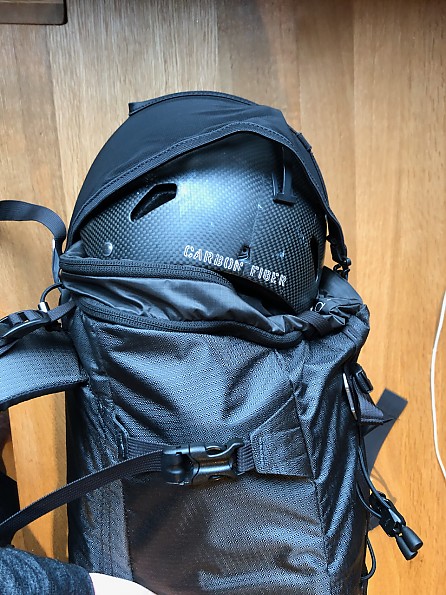 With the helmet on top of the pack, the net blocks both the top pocket and main compartment zippers, and so the helmet has to come off to pull out anything form the main compartment, but it's possible to get side access to the top pocket. I'll go for the rear carry when I can for that reason.
ME provides another accessory strap for affixing a rope across the top of the pack. It attaches to the same cord loops as the helmet net, and there isn't room for both, so one or the other will have to go in the pack or hang via an improvised attachment. As with the helmet in the on-top position, the rope has to be removed to open both the top pocket and main compartment. I'm likely to carry my rope inside unless I'm really pressed for space.

Instead of the usual ice axe loops, ME has opted for aluminum toggles, one on each side, that fit through the carabiner hole in the head of an ice axe, and quick release elastic loops to anchor the shafts higher up. This seems pretty solid and will get a workout in couloir season. The "Pickpocket" is a much appreciated little add-on, a wide strap of pack material that keep the picks of ice axes out of trouble. The ice axes do not interfere with ski or crampon carry.

Crampon and overflow bungee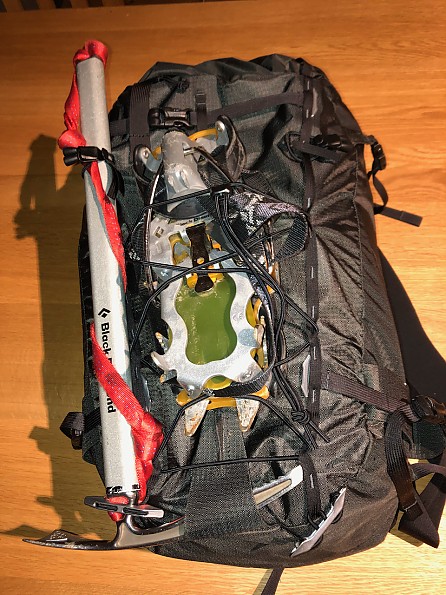 The included bungee can be zig-zagged through the daisy chains on the back of the pack, with some positioning options and a cord lock to let out or take up slack. It will hold crampons or a shell layer securely enough during ascent, but it's probably best to get everything inside for any kind of more or less vigorous or serious descent.
All together now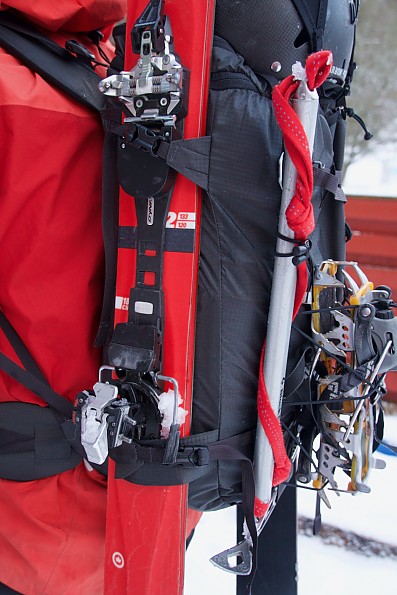 With the exception of the helmet-rope tradeoff, the external attachment systems are generally compatible. A diagonal carry would preclude carrying crampons on the back of the pack, but an ice axe is still out of the way. I have rigged the pack with an A-frame ski carry, one ice axe, helmet on top, and crampons on the back, a full load that I might carry during an approach on a couloir day.
Preliminary Conclusion
I look forward to using the Kaniq this winter and spring, and maybe I'll learn to live with its limitations. This pack has a lot of promise, but in adding the skier-specific features to its line of climbing packs, ME hasn't quite hit the nail on the head. With some improvements in version 2.0, it should make a very fine pack for ski mountaineering and light-and-fast hut trips with some summits on the side.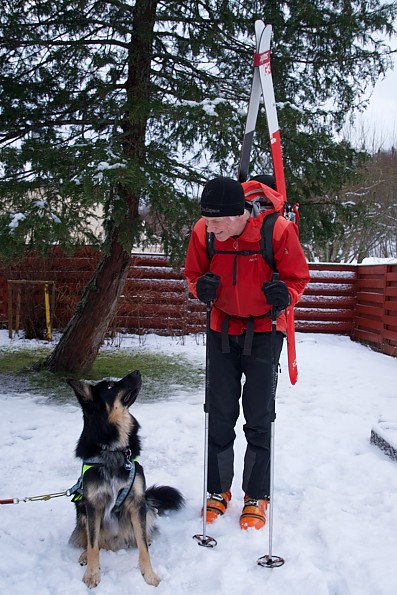 Experience
So far: Three backcountry hut trips of 1-2 nights length, no summits yet due to short days and poor conditions. And a whole lot of fiddling around with the pack at home. The main backcountry ski season in Norway begins as the days get longer in February, and I'll be out there!

I have been backcountry skiing in one way or another for nearly 40 years, and have been a regular visitor to Norway's summits since moving here nearly 18 years ago. I have two other ski-specific packs in the 30-40L range.
Source: received for testing via the Trailspace Review Corps (Sample for testing and review provided by Mountain Equipment)

Where to Buy
Help support this site by making your next gear purchase through one of the links above. Click a link, buy what you need, and the seller will contribute a portion of the purchase price to support Trailspace's independent gear reviews.