Mountain House Beef Stew

Top 50 in Meat Entrées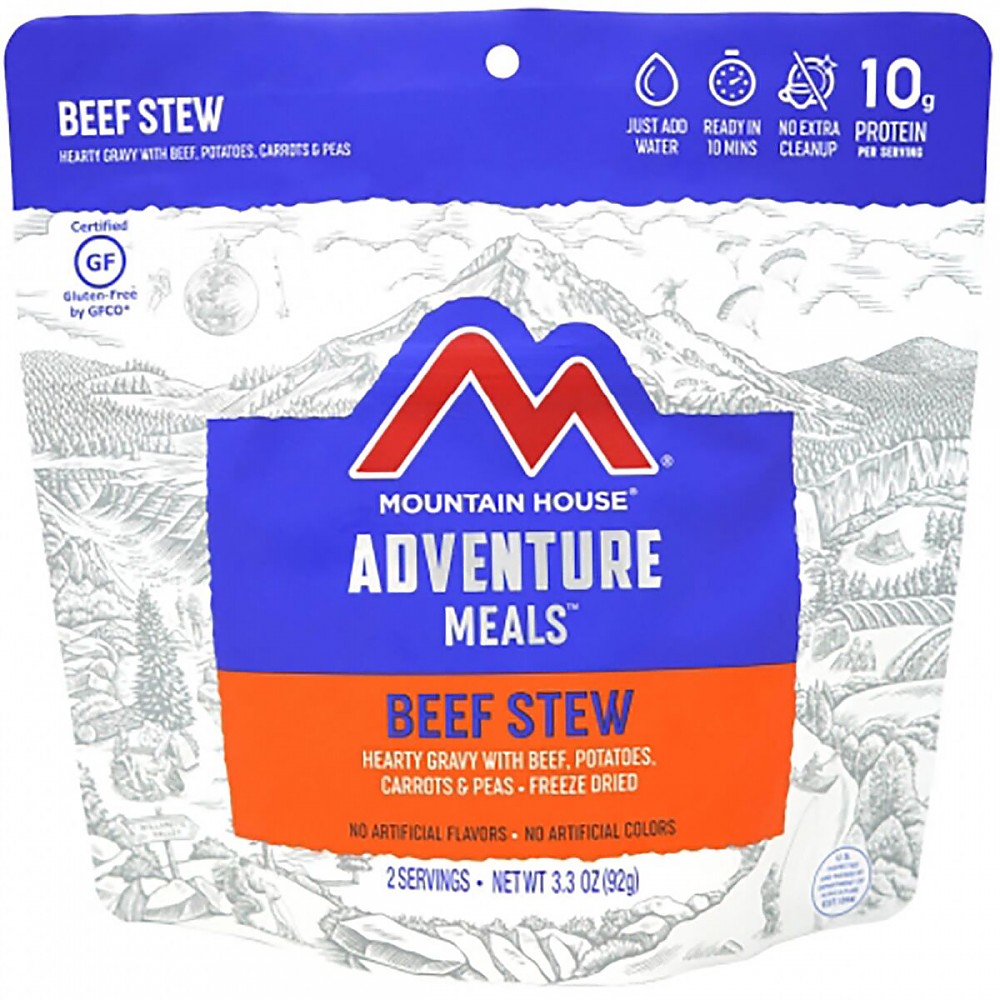 Specs
Price
MSRP: $6.39
Current Retail: $9.95-$10.99
Historic Range: $4.93-$45.00
Reviewers Paid: $7.00

Reviews
3

reviews

5-star:

1

4-star:

1

3-star:

1

2-star:

0

1-star:

0
I recently received an exciting package from Mountain House, an amazing company which provides food selections for hikers, preppers, travelers and even military usage in simplistic freeze dried form.
Pros
Versatile
Simplistic instructions
Quick cleanup
Easy to repurpose
Long shelf life
Cons
Might be considered a bit salty for regular use, although this is perfect for high activity use
I received a sample of this product from Mountain House in exchange for a review.
Information & Specs:
Name: Mountain House Beef Stew
Servings: 2.5 Serving Pouch
Shipping Information:
From the time I corresponded with Mountain House to the day I received the item there was less than a week's wait. I have previously also received items from Mountain House through other companies which sell and distribute their items, again with little to no delay on receipt.    
First Impressions:
The packaging for this product was slightly different than the item I had previously ordered, a Pro-Pack version of Mountain House which is designed and packed for higher altitudes and thus is sealed much more tightly.  The directions on the packaging were clear and concise and it seemed as though it would be pretty simplistic to prepare.
Field Testing:
In previous experiences with freeze-dried meals I had been a little less than excited by their flavors, many seemed flat or chalky tasting. Being that I am a texture eater as well I don't like the off putting feel of something being soggy when I eat, so I was very eager to see how Mountain House held up to the challenge, especially when it came to stew, something which typically can go pretty soggy when preparing.
At my location I wanted to test how easy the pouch would be to prepare, how far it would stretch, and also how I could potentially easily incorporate it into my camping in a variety of ways. The meal itself was very easy to prepare with very little requirements for doing so.
Basically I only needed a small bit of water and something to heat it to make it work, this I found to be key when I do more minimalist camping or backpacking. I prepared the meal in this way first to get an overall feel of the meal and gauge if I would respond well to the taste and texture. It was a success! After a total of less than 20 minutes to fully prepare the meal from start to finish, I was very pleased by the flavors, the perfect texture of the meat and potatoes, and how the carrots and peas seemed to just melt in my mouth.
Though I often travel alone, making 2.5 servings more than enough to send me to bed in a food coma for the evening, upon occasion I do have additional people traveling with me. This made me think, what if I needed to stretch this meal a bit further because there were two people starving after a busy day? How would I do that? I put a lot of thought into options and concluded that there would be several ways you could do so.   
If continuing to be on a minimalist prep you could simply take tortillas and with the added starch find a way to make the contents stretch. But what about having my full camp setup at my disposal, how then could I stretch my meal to accommodate another person? My conclusion was to prepare a delicious meat pie by adding just two ingredients (puff pastry and mushrooms). With this idea, you could of course add any items you want and make your pies as large or as small as you would like. I would also suggest peppers or onions if you really want to expand the contents without taking away from the flavors. These are all items which compliment the flavors of the pouch well.  
I prepared with a single puff pastry four small pies and still had enough left over in the pouch that I could have made a solo meal out of that alone. By far Mountain House is one of the most diverse and flavorful providers of freeze-dried meals. No wonder around 70% of all freeze-dried meals sold in the US are Mountain House.
Rating:
If I were rating this item I would have no questions in giving it a 5 of 5. I feel like the content of this items package standing alone is enough to speak for itself as the robust flavors bring you that little sense of home while in the wilderness. It is designed for the every day camper to have something which is easy to prepare but has the ability to transform into much more than a pre-packaged meal. This item is perfect well beyond the bounds of camping however, I am most excited about adding this item to my supplies for emergencies as well in case of power outages during cold winter months of bad weather which can often leave me without power living in the country.
Experience
Great overall experience, I since have purchased one of the 4-day emergency kits to keep at my house or use for future travels.
Source: tested or reviewed it for the manufacturer

The author of this review received a sample of the product from the brand or its representative in exchange for a review.
I was kind of hoping for more.
Pros
lot of veggies
light
easy
When I think beef stew I think a hearty Irish stew with a thick gravy and large chunks of meat, potatoes and vegetables. I know that it is easier to freeze dry small, uniform pieces than large chunks, but the 1/4 inch cubes reminded me of caned soup and not a hearty dinner. The broth was a thin brown gravy that didn't stick to the noodles I served with this. The stew didn't taste bad, it just made me think of canned beef soup that was strained with only a little of the gravy left.
All the negativity aside, this wasn't bad considering it didn't weigh that much and all I did for cooking was heat some water and wait ten minutes. It filled us up and did not have any off favors. As for portion size I would NOT serve this alone as a meal for two.  After a day for hiking my nine-year-old son and I ate this and four ramman noddle packets (OK, he ate three and I managed to get one out of his hands). 
Source: bought it new
Price Paid: $7

I decided to use bread, Idahoan Mashed Potatoes, and Mountain House Beef Stew to create a dish I called Brotato Stew.
Pros
Easy to prepare
Light and easy to carry
Can be shared
For a trip I was provided one package of Mountain House Beef Stew to review. The challenge was to create a dish using the beef stew as an ingredient.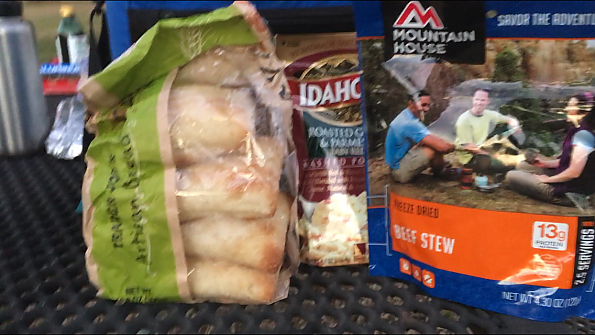 With one package of beef stew, a package of Idahoan Mashed Potatoes, and some Ciabatta bread I create Brotato Stew. Bread + Potato + Beef Stew. I divided up the meal amongst six people and ate the meal as an appetizer. It ended up tasting good and was petty satisfying too.
Here are the instructions:
Boil 4 cups of water in a pot.
Pour 2 cups of boiled water into the Mountain House Beef Stew package and let it sit for 10 minutes.
Mix 2 cups of boiled water with the Idahoan Mashed Potatoes in a bowl or cup and mix thoroughly.
Using onion rolls or Ciabata bread, cut the top of the bread and form a little bowl.
Spread the prepared Idahoan Mashed Potato into the bread bowl.
Spread the prepared Mountain House Beef Stew on top of the Mashed Potatoes.
Enjoy!
Experience
I've eaten a variety of Mountain House products over the years. I took up the challenge to create a unique dish using one package of beef stew. I decided to make Brotato Stew.
Source: tested or reviewed it for the manufacturer

The author of this review received the product from the brand or its representatives in exchange for a review.
You May Like