Mountain House Breakfast Skillet Wraps

Top 25 in Breakfasts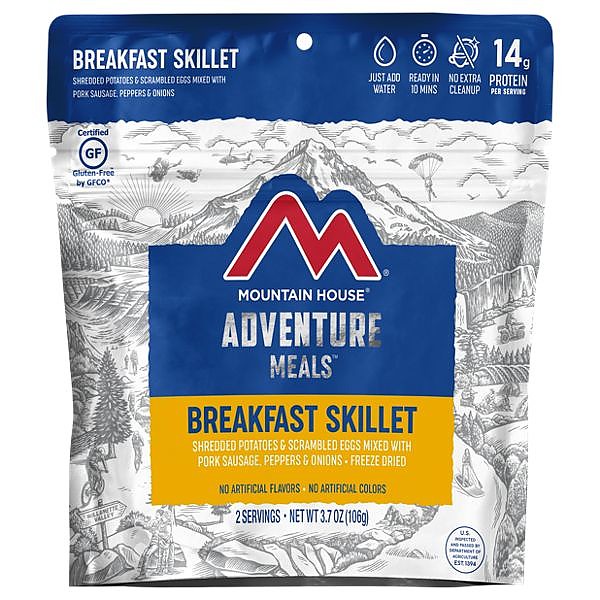 Specs
Price
MSRP: $6.99
Current Retail: $9.99
Historic Range: $4.90-$51.99
Reviewers Paid: $5.00-$6.40

Weight
0.44 lb

Servings
2

Serving Size
1 cup

Reviews
4

reviews

5-star:

1

4-star:

1

3-star:

1

2-star:

0

1-star:

1
I'm a pig and this breakfast stuffs me. In fact, if you are packing up and moving on early right after breakfast, this meal is too big. I always need to take a good outdoor pit stop soon after eating before heading out because I am so stuffed.
I always bring a large burrito flour tortilla with each skillet and some tapatio packets from subway. These things are so good! The eggs are fantastic, hash browns taste real, and the sausage hits the spot.
I loved it so much I cleaned out my local REI to stock up for the summer so I would always have some for my backpacking trips.
Price Paid: $6

I don't usually eat "breakfast" stuff, but on the trail this was not bad.
Cons
Took longer to "cook" than expected
Not very pretty to look at
We bought this for our last backcountry trip. We use a Jetboil and therefore don't have extra pans to cook in. I don't usually eat breakfast at home, but on the trail or in camp, I usually try to force something down. The bag says you can use tortillas, but I would not carry the extra weight.
This has potatoes (which I love), sausage, eggs, peppers, and onions. It did not look very nice, but it tasted good. It has a lot of fat in it which is also something that improves the taste. We bought a 2 portion meal and split it between us.
I should have let it "cook" or sit longer which I think would have improved the texture. Some people mentioned hot sauce as an improvement. I would use red pepper flakes as they are lighter, less trash to pack in and out. Just put a little in a snack bag and use as little or as much as needed.
Source: bought it new

This was one of the worst things I've ever eaten, even by Mountain House standards. It actually was stamped as "USDA Approved Food," as apparently they needed to remind the consumer that it was in fact edible.

Pros
Good for insulation
Fire resistant
Taste: It tasted OK, actually. It wasn't as though it tasted rotten or disgusting. It was mostly bland and inoffensive, and improved with hot sauce. However, something about it made it so my partner and I had to force it down.
Prep: Prep was standard — heat the water, pour it in, etc.
Satiety: It filled me up in the same way drinking liquid concrete will fill me up and form an impenetrable brick in my stomach.
Energy: I am barely sure that what I ate was even food and did not feel as though this nourished my body.
Claims: I doubt the claim that the item was food, and I am very serious that the one I bought had a stamp that certified the item as actual food.
Packaging: Standard.
Best for: Insulation and fire protection. We tried to dispose of the majority of this that we could not force our bodies to accept by burning it in a large fire. It took 10 minutes for the blob of food to char (seriously). After 20 minutes we poked the blackened mass with a stick to find that the char only went a centimeter in and the entire mass of food was still unburnt.
We spent an additional 20 minutes trying to scrape the dish apart so it would burn but it was to no avail. We ended up losing an hour of hiking time to garbage disposal and ultimately left the food out in the open. We were OK with leaving it as it was, as we agreed that no bear would ever recognize this as food.
Source: bought it new
Price Paid: $5

This is the first freeze dried breakfast from Mountain House I have tried outside of granolas and blueberries. I have tried many breakfast meals in the military and have never been impressed with the breakfast field rations.
I was in REI and saw this so I decided to pick it up for a recent backpacking trip.
I was very surprised. It was pretty good. Nothing amazing, but for something simple and easy it was really good. I added in a packet of mild salsa from taco bell and that made it even better.
This packet says it serves 1, I normally eat a fairly large portion and consider the MH "2" person dinners to be 1 person serving size. I ate two wraps and there was still enough to make another easily, I could not eat any more than the 2 wraps I brought with me. You could easily make this a 2 person meal or could split it up into 2 meals.
Unlike some breakfast egg dishes this one is not watery in the least (I think it's because of the hash brown/potato pieces). The breakfast skillet has egg, hashbrowns, pork sausage pieces, peppers, and onions.
I would get this again for sure. Don't forget the hot sauce, or salsa!
Price Paid: $6.40

You May Like
Recently on Trailspace