Mountain House Chicken a la King with Noodles

#7 in Meat Entrées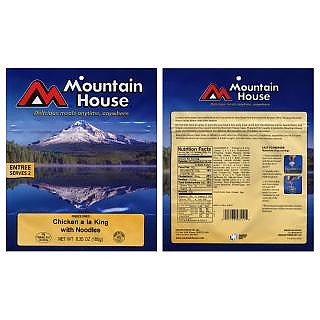 Specs
Price
MSRP: $8.09
Historic Range: $6.44-$45.99
Reviewers Paid: $8.56

Weight
0.58 lb

Servings
3

Serving Size
1 cup

Reviews
1

review

5-star:

1

4-star:

0

3-star:

0

2-star:

0

1-star:

0
Shy of taking your mother with you on the trail, and having her cook for you and your friends in camp, this is the single best freeze-dried meal I've eaten by this brand or any other. With the same praise-garnering egg noodles used in the MH lasagna and stroganoff, it elevates itself above elbow mac or spaghetti. The chicken is plentiful and sits sturdily in a cream-based sauce that binds these together with a medley of flavorful and varied vegetables. This is, without question, my favorite meal on the trail and I wouldn't even mind eating it for dinner at home or the office - I actually crave it when I'm not outdoors!
Pros
Big, 3-serving size for big appetites
Good-as-homemade quality comfort food
Same wavy noodles found in MH lasagna and stroganoff
Rich and savory white cream-based sauce
More than enough chicken to get some in every bite
First time in my life I've liked having as many vegetables as this dish has - it's a definite medley!
Cons
I never seem to buy enough of it - it goes quickly!
USE/CONDITIONS
Backpacking here in the Chicago suburbs is a sizable undertaking, and not as easy as driving a few miles down the road and stumbling into the backcountry. While the options for backpacking are limited in my home state, the options for hiking are much more plentiful. When I'm not backpacking, I spend my weeknights and weekends day hiking in the immediate area, and when I've spent most my day on the trail, I like coming home and making a stupid-simple dinner that requires as little time as it does effort.
I read in someone else's review that they like to "audition" their freeze-dried meals at home before they take them on the trail. It's the same exact mindset I have, and I try keeping the circumstances as close as possible, using the hunger level from miles of day-hiking to replicate what mine would be in the backcountry.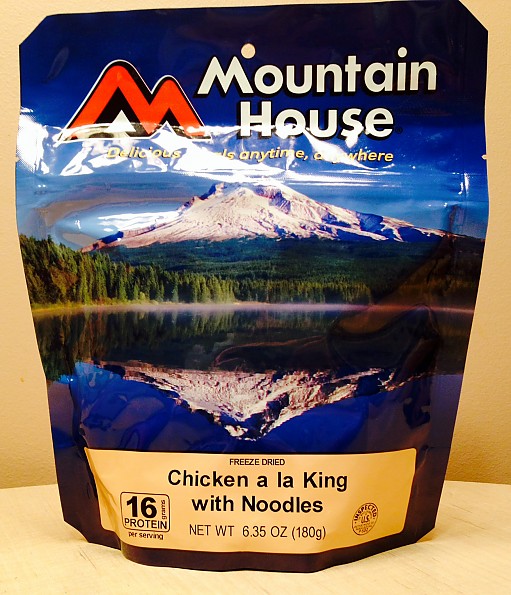 Mountain House meals are my go-to answer without resorting to the microwave. It's almost a grown-ass man's way of making a meal requiring college-level cooking skills.
Take that, Top Ramen.
INGREDIENTS, PER VENDOR'S PACKAGING
In layman's terms?
Noodles, a chicken-based cream sauce, chicken, mushrooms, pimientos, green peppers and celery.
Those are the main contenders in this dish, and this one quickly became my favorite not only for the variety of textures these ingredients create, but the complexity of flavors you find in this one, single dish.
NUTRITION FACTS, PER VENDOR'S PACKAGING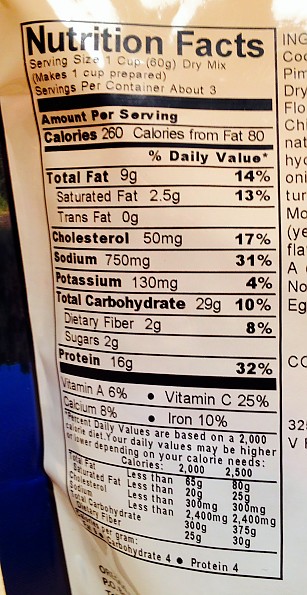 6.35 oz makes this one of the more sizable meals in the MH canon, and one I save for the times I'm especially hungry and know I'll be able to pound-down a really rich, hearty, stick-to-my-ribs meal.
Usually it's two to two-and-a-half servings per bag.
This one?
Three servings. Be sure to bring your appetite.
Ridiculously high in sodium: 31% DV for one of the 3 servings. Add them together, and you've reached your daily value in a single meal.
If you've hypertension, or if you're just watching your salt intake to begin with, go easy on this meal. Either split it with a friend, or make sure it's the only thing you eat all day (if not all week) containing as much salt as this meal does. Since this one does have a little more food than most, you probably could get away with splitting it down the middle and sharing it without starving afterward.
At 780 calories for the entire bag's worth of food, it's not a light meal, and I certainly wouldn't ever call this one a lunch. The "a la King" is a dish I save solely for dinner, and at that, a dinner where I can expect to be absolutely ravenous and be able to eat an entire 3-serving-size dish.
PREP
As I always like to put it? Stupid simple.
If you've made at least one Mountain House dinner, well, you've pretty much made them all.
Boil two cups of water, mix them into the contents of the bag, and let it sit 9 to 11 minutes. 
I stuck to my guns on this one, and added slightly less water and added more hydration time to make sure the smorgasborg of ingredients had ample time to rehydrate, without becoming soup in the process.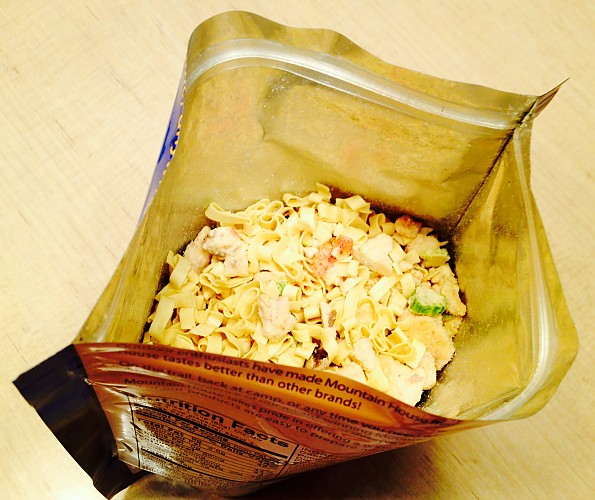 I've cooked and eaten this meal before, so admittedly, I've a little practice with it.
The dish contains more ingredients (in terms of variety) than most MH meals, and the added time helps make sure they're all properly rehydrated before you bust that bag open.
The only danger in making this a meal for your hungrier moments is the conflicting fact that it is helped by added rehydration time. Tell you growling stomach the wait's gonna be worth it, and sit out those few extra minutes. They make the dish so much better, and so much more consistent.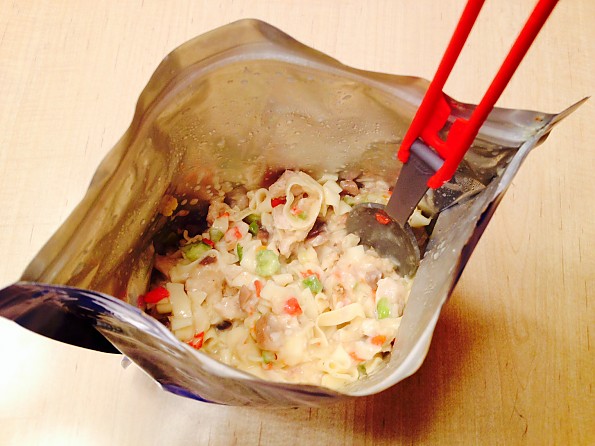 PACKAGING
Par for the Mountain House course: a bombproof freezer bag. Fold the empty top half over the filled bottom to save pack space, and clip the corners off with scissors if you're worried about the sharp, pointed edges wearing on your UL stuff sacks.
NOODLES (WAVY EGG)
Those noodles look familiar? Well, they're the same ones you'll find in both the Stroganoff and the Lasagna.
Both of the aforementioned are also among the highest-rated MH meals, and I suspect these noodles have something to do with that.
They've got added texture that comes from being wavy.
They're easy to keep on a spork (aided by a rich, cream sauce binding them together).
They elevate the dish and make it less pedestrian than elbow macaroni or spaghetti noodles. 
Sounds crazy to go on and on about pasta noodles, but really, I do think these wavy egg noodles make the dishes they're in better simply by having them.
SAUCE
A rich, cream white sauce with a chicken flavoring to it. It binds the components of the dish together and it binds them well enough to keep them firmly on a spork. You don't have to worry about losing bites of this meal and having them fall back in the bag. 
MEAT (CHICKEN)
Nice, small chunks of chicken that are democratically dispersed throughout the dish. Having had other brands (like Natural High), I can honestly say that MH has found the perfect size for their chunks of chicken, making them small enough to rehydrate successfully, while large enough to satisfy an appetite and justify the price.
VEGETABLES (MUSHROOMS, PIMIENTOS, GREEN PEPPERS, CELERY)
Incredible, and without a single complaint from me. 
Enough veggies in this dish to make your Momma proud: mushrooms, pimientos, green peppers and celery.
I love mushrooms in anything, and again - like the Stroganoff - think these are a large contributor to high ratings and rave reviews this dish gets.
The celery adds a nice crunch and a flavor you don't find at all in other dishes, and the uniqueness of it alone makes me love this dish.
The green peppers add a nice, very subtle tang, while the pimientos (sorry to say it) serve a "trophy wife" position and do very little but make this dish pretty to look at.
Fortunately for the pimientos, all the other ingredients make this such a varied and flavorful dish that it doesn't matter. 
BEST FOR
Big appetites looking for big flavors.
This is definitely a dinner menu item, for that time of day you plan on making camp and staying in one place for the rest of the night. The hearty portion size and stick-to-your-ribs consistency is thoroughly satisfying and an easy way to find yourself toward a post-dinnertime, food-induced nap coma.
Source: bought it new
Price Paid: $8.56

You May Like
Recently on Trailspace