Mountain House Chicken Stew

Top 25 in Meat Entrées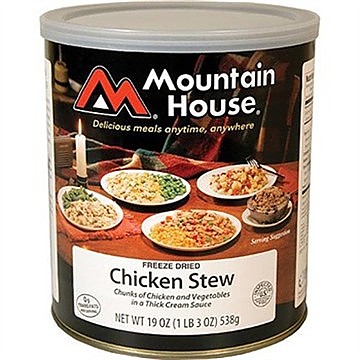 Specs
Price
MSRP: $35.99
Historic Range: $6.95-$42.00
Reviewers Paid: $6.99-$7.49

Weight
2.13 lb

Servings
10

Serving Size
1 cup

Reviews
2

reviews

5-star:

1

4-star:

0

3-star:

1

2-star:

0

1-star:

0
This potato-based stew is a welcome alternative to the mostly rice and pasta-based meals offered by freeze-dried food manufacturers. Cubed potatoes, chicken, peas and carrots all come generously coated in a thick cream sauce. This meal was bought on clearance because it was five years old, and tasted the same to me as meals made this year. My only regret is that they've since stopped making this in 2-serving packages and I'll probably be unable to buy another.
Pros
Potato serves as a nice alternative to rice or pasta-based meals
Sauce is thick, creamy, and flavorful
Plentiful amount of chicken - some in every bite
Peas and carrots! Yes! No pimientos here, folks!
Cons
A rare and out-of-production meal (in the 2-serving size)
Enough for one, not enough for two
You know it's gearing-up to be a memorable meal when it begins with:
"Got this on clearance at Sports Authority - it was five years old!"
"Five years? Ah! Vintage Mountain House!"
"Yeah! '08 was a good year!"
Alright. I've said before that I've a thing for rare and discontinued items. I didn't ever think that would also hold true for food.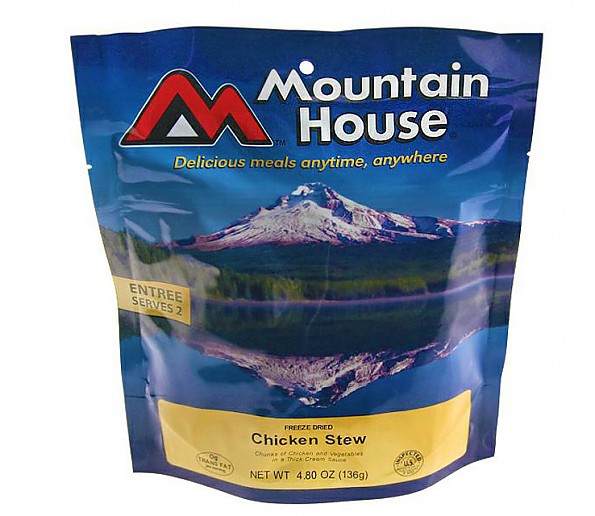 Unfortunately, my appetite ran away from me and I finished this meal long before I'd a chance to take any pictures. It rained all day (and through the night) at Shawnee NF, and I'd a hard time keeping the lens clean and the pictures focused.
CLAIMS
Now I've read the folks at MH have busted-out meals that're decades-old, rehydrated them, and they're just as edible as the ones sitting on store shelves. Heck, the #10 cans have a supposed 25-year shelf life. Five years is only 20% of that. 
Well, turns out they're right. At least right after five years.
This was not only edible, but probably one of my favorite meals. 
Per the usual, "2 Servings" usually means only enough for one hungry dude. Pair this with sides or snacks if you're splitting it with someone. I really wish MH would just resolve themselves to claiming realistic serving sizes.
INGREDIENTS

The chicken stew is interesting in that isn't rice or pasta-based.
Potatoes are the primary starch. 
Accompanying them are cubed chunks of chicken, peas, diced carrots, all in a thick, cream sauce.
INGREDIENTS, PER THE PACKAGE
Potatoes, Cooked Chicken (chicken meat, mechanically separated chicken), Carrots, Peas, Corn Oil, Nonfat Dry Milk, Modified Corn Starch, Salt, Hydrolyzed Corn Soy Wheat Gluten Protein, Dehydrated Onions, Chicken Fat, Sugar, Spices, Partially Hydrogenated Soybean Oil, and Garlic Powder.
NUTRITION FACTS
Servings per Pkg: 2
Serving Size: 1/2 Pouch
Total Calories: 310
From Fat: 110
Total Fat: 13 grams
Saturated Fat: 2.5 grams
Transfat Acid: 0 grams
Cholesterol: 30 milligrams
Sodium: 940 milligrams
Carbos: 35 grams
Dietary Fiber: 3 grams
Sugars: 8 grams
Protein: 15 grams
PACKAGING
Same 'ol, same 'ol. The bombproof, resealable bag holds the heat in so well, I've never once had a meal go cold before I've finished it. If you're using thin stuff sacks and are concerned about the sharp corners of the packaging, you can round them off with a pair of scissors. I always fold the empty, top half over the bottom to make them more packable. Like I've mentioned before, too, you can use these bags to pack-out trash if you've forgotten a Ziploc. 
I like that the bottoms of MH meals seem to stand up better than their BP counterparts. Keep in mind, too, that the less watered-down you keep your meal, the firmer it sits in the package and the easier it is to keep upright. The more water you add, the less balance you'll have.
USE
Dinner after a 9-mile, first day hike during a 3 day section-hike of the Shawnee National Forest. Cooked in the early evening (around 6:00PM or so) with temperatures dropping toward the 50's. Breakfast and lunch were both eaten on this day. I know some folks may begrudge the price of freeze-dried meals, but for all the work it spares me, I always think it's well worth it. After hiking 9 miles the day I ate this, I didn't feel like doing anything more than boiling some water.
PREP
Boil 16 ounces water, pour it into the bag, seal it up, and wait.
Now, slow and steady does win the race, here. No matter how hungry I am, I ALWAYS make sure to allow more time for rehydration than the 8-9 minutes MH suggests. I usually - no joke - wait at least 15 minutes. 
Be sure to bring some sort of measuring device along, unless you're taking the night off being a barkeep and know your counts that well in the backcountry. I measure mine out at just a small amount LESS than what MH suggests. Unless it reads "soup" on the package, don't get too crazy adding water to these meals.
SATIETY
I brought this meal along as my dinner on the first night of a three-day-long backpacking trip through Shawnee National Forest. After McDonald's breakfast, and a gas station lunch, it wasn't going to take much to please my appetite come dinner.
The cream sauce was perfectly thick, with liberal enough an amount to coat all the chicken, vegetables, and starches. It stuck well to the spoon, didn't easily fall off, all while being easy enough to lick right back off the spoon. Some MH meals aren't so easy to clean off a spoon, but that's another story for another review.
ENERGY
Perfect for a warm meal on a cold, rainy day. The 4.80 ounces (plus water) made for a filling meal without putting me into a post-meal coma right away. I didn't snack at all after dinner when I had this. 
BEST FOR
When I hear "stew," I think of one of the meals my Ma made the family on a cool, fall day. I enjoyed this in Mid-September when the low dropped to 55F. It's a hearty, stick-to-your ribs meal, and that's the kind I always suggest saving for dinner.
Source: bought it new
Price Paid: $6.99

This tastes very good. It's very convenient when out camping when you don't want to be weighed down by a ton of groceries. Very easy and quick to prepare.
Pros
Tastes good
Quick prep time
Not much garbage to pack out of the bush
I like to pack Mountain House for camping/hiking. It's lightweight, quick/easy to prepare, and you don't have a ton of garbage to pack out with you when headed back to civilization.
The chicken stew tastes good and is so easy to prepare. It is very filling and 1 pouch could easily feed two people.
I would recommend this product to campers/hikers, fire rangers, and junior rangers. It is so easy and quick to prepare that after a hard day working it would be very convenient.
Source: bought it new
Price Paid: $7.49

You May Like
Recently on Trailspace