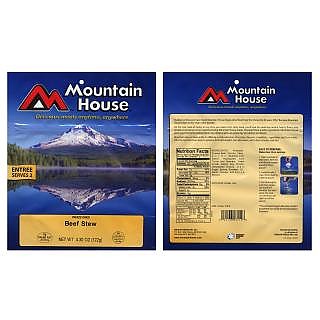 Specs
Price
MSRP: $6.99
Historic Range: $5.20-$39.99

Weight
0.46 lb

Servings
2.5

Serving Size
1 cup

Reviews
1

review

5-star:

1

4-star:

0

3-star:

0

2-star:

0

1-star:

0
This beef stew tempts the tummy and the tastebuds!
Pros
Taste
Ease of use
Great directions
Only needs water
Lightweight
Cons
Bulky
Zipper didn't work on mine
Takes a bit of time to prepare
I occasionally have the opportunity to test amazing products from incredible companies in exchange for a review, and this time, I had the pleasure of trying out Mountain House Beef Stew, but on top of the product testing, I had a culinary challenge! I was asked to create a new dish from this freeze dried meal, and my tastebuds were rewarded!
This beef stew is a medley of tummy pleasing comfort foods wrapped into a meal that's perfect for a blustery day. Beef, potatoes, carrots, and peas with a gentle sprinkle of spices. Seriously yummy by itself as long as you have enough patience to give it the time it needs to absorb the hot water.
These meals are fully cooked, but since they are freeze dried, they take time to re-hydrate, so add the water, zip up the special bag that allows you to "cook in the bag" and walk away. Set up your tent. Hang your hammock. Go to the bathroom. Just wait...and stir...and wait. And then YUM! Absolutely worth having a little patience.
But then there's more…
I turned mine into East Indian Couscous Stew.
I was asked to take this meal and turn it into something else to tempt the tastebuds, and I wanted to keep it simple so that it could be done on the trail. What better way to keep the body nourished than to keep the flavors interesting so you actually want to eat it? I found a simple recipe at home to make an East Indian Spice Blend and then added in some plain couscous. Here's how I modified the prepared meal.
Indian Spice Blend: (mix all together and put in a little shaker)
2T Curry powder
2T Cumin powder
2 t Turmeric powder
2 t Coriander
1 t Ginger powder
1/2 t Cardamom powder
1/2 t Cinnamon powder
Recipe: I opened the Beef Stew package and added 1/2 cup of plain couscous and 1 T of spice blend. Then I added about 4 oz of extra water (beyond what the package called for) to compensate for the re-hydration of the couscous. Then, follow the package directions and that's it. Voila! Tummy yummy goodness! I served it with tortillas to bulk up the meal a bit.
note I had a little trouble with the zipper on this bag. I don't know if it ripped, or if the cold outside made the zipper brittle, but I couldn't get it zipped back up for the required "sitting" time. So I kept spilling the water while trying to agitate the bag. No harm, just a little frustrating.
The package says it contains 2.5 servings, but I don't know any "half" people, so I'll say two servings, and I'll say that's probably two hungry women. Especially since the couscous adds more bulk to the meal. A very hungry man could probably eat this alone, but you'll need to make sure you can divide this up in one sitting, because extra leftovers won't keep well on the trail. But I've never been hiking or camping when I couldn't find a willing guinea pig needing free food!
Experience
This is the second of this kind from this company that I have used. Both tasted amazing!
Source: tested or reviewed it for the manufacturer

The author of this review received the product from the brand or its representatives in exchange for a review.
You May Like