Mountain Khakis Equatorial Pant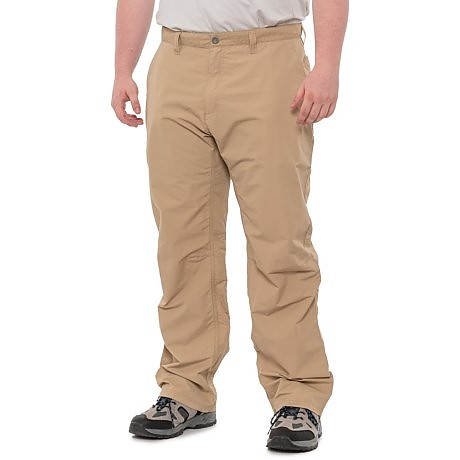 Specs
| | |
| --- | --- |
| Price | Historic Range: $20.00-$84.95 |
Reviews
1

review

5-star:

0

4-star:

1

3-star:

0

2-star:

0

1-star:

0
The Mountain Khakis Equatorial Pant is made for the tropics, but is equally adept in the mountains. Insanely lightweight fabric, though tough as nails. My go-to pants. I wanted to post a review on these MK pants to encourage others to add them to their "must have" list.
Pros
Super lightweight
Durable
Stain resistant
Snap cuff
Cuts wind
Cons
Waist size inconsistency
Zipper stops a tad too high
Wish it had cargo pockets
I actually won a Mountain Khakis gift certificate on another website to review gear, so I was able to choose whatever MK product within that certificate's price range. Living in the tropics, I decided to select clothing that I could wear comfortably in the sun and heat...consequently, I picked the MK Equatorial Pant and an Equatorial SS shirt.
For the purposes of this review, I'll address my thoughts on the pants.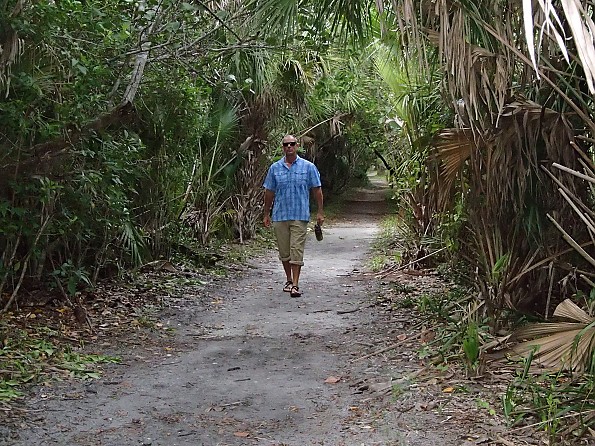 It's amazing at how feather-light the fabric is. The fabric is wafer thin so it allows body heat to escape, yet the material cuts the wind nicely. For hot weather casual wear, it's a perfect weight. I'll be picking up the Equatorial Shorts soon...as I prefer shorts as daily wear.
I'll make mention that my photos and me wearing them don't do the fit of these pants justice. Yes...my legs are like pencils...so please refrain from passing judgment on the MK Equatorial Pants fitment.
I've comfortably worn the Mountain Khaki Equatorial Pants from the Everglades, to the summit of Pikes Peak,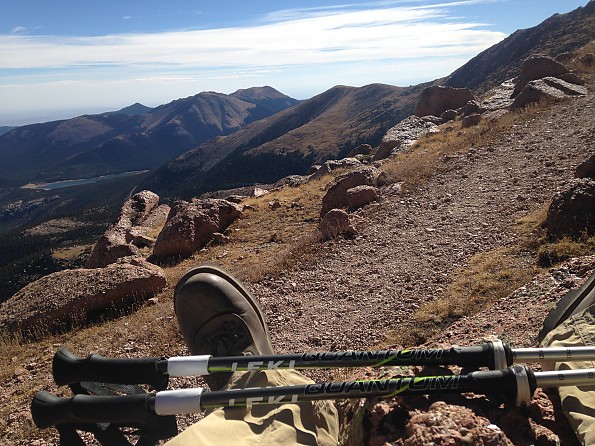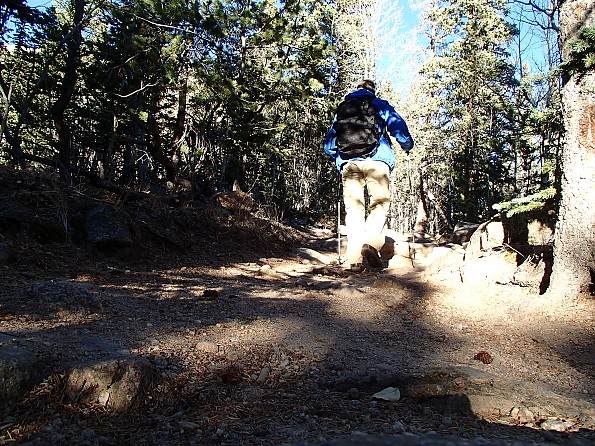 to the mountains of Fusagasuga,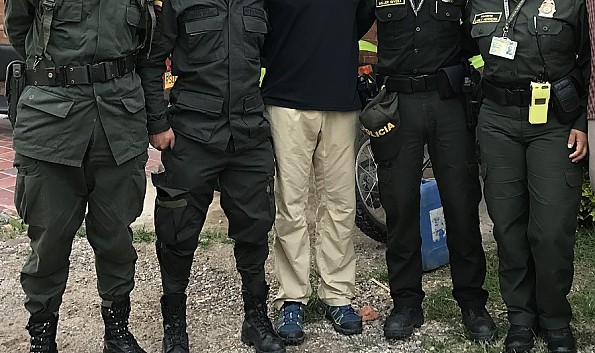 and about nearly every other mountain range or high plain in the U.S.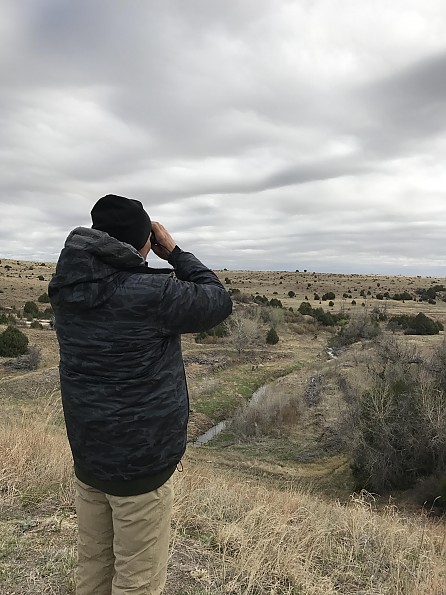 At elevation, in colder climes, I tossed on my Airblaster Ninja Suit for a perfect combo of breathability and wind resistance. The positive and negative of the lightweight material is it doesn't hold your body heat...ergo the choice of name...Equatorial Pant.
Rolled up in your pack, the MK Equatorial Pant takes up minimal space and left hanging for a night, the wrinkles are gone, so you can go about the city in fashion.
I like the snap at the rear of the pant leg cuff. For snapping up on particularly dusty or cold trails...or above the calf (if you have twigs like mine) for steamy trails.
I've owned and used these pants hard for the past nine months and they still look great. I've spilled some nasty stuff on these pants...and if "it" doesn't bead up and roll off, it wipes off or washes out without stain.
I'm 6/180, 32" waistline. The 32/32 MK Equatorial pants utilize a full length gusseted inseam, so free movement is unhindered. Hand pockets are stout mesh and plenty deep. The right front pocket also has a visible "hidden" zipper pocket that runs along the leg side seam...which is cavernous.
The right rear pocket is a dual...zippered outside pocket with a single "hook-n-loop" pocket directly behind it. The left rear pocket is a single "hook-n-loop" closure. The front left pocket is also the stout mesh like the right. Six belt loops circle the waistband.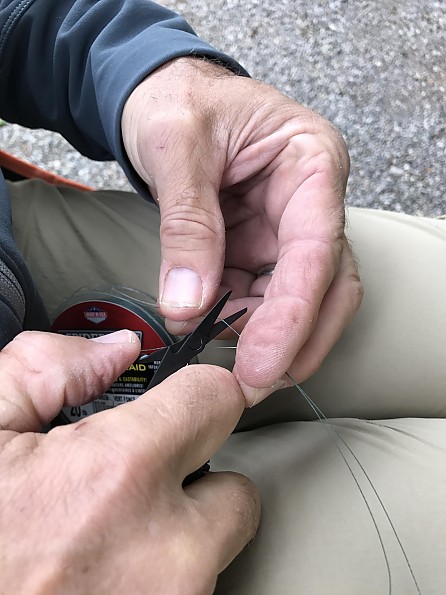 Here are my gripes: The MK Equatorial banded waistband is tight and doesn't have much give. Due to that fact, I had to perform some trail surgery with a needle and 30 lb. test braided fishing line on the waist button...as it jettisoned off like an errant scud missile onto similarly colored pebbles. Some may blame it on good trail grub, but I beg to differ.
I also feel the zipper, when full unzipped, stops a tad bit high. I would like it to travel south another inch or so. Another gripe is purely personal preference, but I like to carry "stuff," so I would love side leg cargo pockets, rather than the pocket on a pocket.
For durability I like to see "bartack" stitching on beltloops and pocket corners. The Equatorial only has them on the "hook-n-loop." Lastly, while not a deal breaker, I like double fabric sewn on the lower outside of my front pockets for my knife clip...pocket fabric wears out quickly when used on a consistent basis.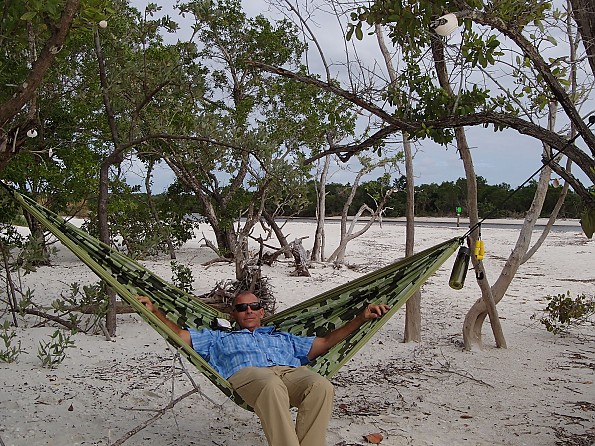 Final thoughts: Pick up at least one pair (but preferably try them on first to ensure proper size/fit).
Source: tested or reviewed it for the manufacturer (I kept the product after testing.)

Disclosure: The author of this review received a sample of the product from the brand or its representative in exchange for a review.
You May Like
Recently on Trailspace