Mountain Laurel Designs Spirit Quilt 28°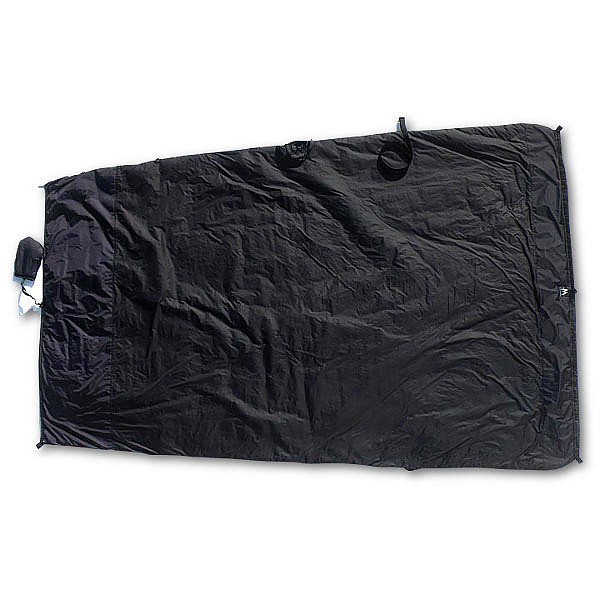 Synthetic fill over quilt that does the job.
I purchased a Mountain Laurel Designs Spirit quilt to be used with my hammock. I purchased the 28° quilt and have only recently had a chance to use it, as the temperatures are now dropping here in the Northeast.
I purchased the synthetic fill because I am also looking for it to replace a 30° sleeping bag that I use when I do have to use a tent and the chances of it getting wet are greater in the tent. Therefore this has an advantage over down in this case.
The quality and craftmanship are flawless. It is not as compressible as down, but that is the tradeoff.  This quilt can be made pretty small compared to any of the comparable synthetic sleeping bags I have.
I have used it several times in the high 30° range and it performed well. My last use, when I went to bed it was 30° out. I slept well until just before dawn and then woke up a slight bit cold. Checking the thermometer it was 22° out.  My quilt is rated at 28°. So I would say MLD's rating is pretty much on the mark! I am not a warm sleeper either.
My experience with most of my sleeping equipment until I dove into the cottage industry products to lighten my load, was that it was rare to be comfortable at the temps the equipment was rated for. Not true with this quilt. It worked perfect right down to its rating and actually went a little below.
12/29/2012 - Addition to the initial review.
Until now I have used the quilt just draped over me, but it does have a buckle that can be connected in the back to pull the sides in. This in conjunction with the fact that the top can be cinched down just like the foot.  I hesitated to use this as I have some claustrophobic issues.
I have never been able to use a mummy bag, bivy sack and until I had my Hennessey Hammock modified with top zipper entry (see 2QZQ) - I occasionally would wake up in my hammock and have to exit (the bottom) in the middle of the night for a few minutes as I would wake and get anxious from being enclosed.  Well I gave the Spirit quilt a run with both the back buckled and the top cinched up (which sort of makes it like a mummy bag) and to my surprise, I slept well throughout the night. I started on my back and was able to turn to each side easily without any cold spots.  
This may not work for everyone who tends to be claustrophobic, but it did for me.
Source: bought it new
Price Paid: Price on website

A kick ass Apex (synthetic) quilt.
Pros
Apex insulation is less vulnerable to moisture than down
Still lightweight
Cheaper than down
Cons
Slightly heavier and less compressible compared to down
I've owned my MLD Spirit 28 quilt for about 6-7 years and it's still going strong. I own down quilts and sleeping bags, but if the conditions are likely to be on the moist side this is the quilt that goes with me. I do some longer adventure races and the possibility of rain/snow or getting dunked during a stream ford is always there–this is the right choice for a sleep system.
If you have ever owned any of MLD's gear you know that the fit/finish is flawless. It's a very small shop and they pay very close attention to every detail.
This quilt is pretty lightweight compared to most synthetic ones, mine in size large weighs in at exactly 23 ounces. You can shave a few ounces with down, but not much more. It doesn't compress as much as down, but it's still pretty low volume.
I find their rating of 28 to be right in the ballpark. When I know I'm going to be pushing the temps, I'll use it with their Apex balaclava. If not, a fleece beanie is sufficient.
I learned early on with quilts, when in doubt, get them a little warmer. This lowers the chance of drafts when rolling over from side to side. MLD uses a simple elastic strap to attach to your pad—easy to use and it works.
Apex insulation really works. It has much better longevity than most of the mainstream synthetics.
I also own a Spirit 48 quilt that is used mostly in the winter in conjunction w/ a down bag. On longer trips I layer it on top of my down bag. It accomplishes two things—one it adds roughly 20 degrees to my down bag and two it helps keep my down bag dry. The moisture from your body will pass through the down and settle on the most outer layer, in this case the synthetic quilt. Apex handles moisture much better, so not much of an issue.
If you live in a wetter clime, or if the forecast is for wetter conditions, I'd highly recommend looking into Apex and more specifically the Spirit quilt lineup from MLD.
Background
I probably have 40+ nights with this quilt. It's accompanied me on seven consecutive Bob Marshall Wilderness Opens. If there is anything that truly tests the worthiness of gear, this event would be near the top.
Source: bought it new
Price Paid: $200

Comfortingly good
Pros
Design overall and of details is excellent
As warm as stated
Superb materials and workmanship
Compresses remarkably well
Cons
The inevitable extra weight/size of synthetic
My experience with camping quilts, before this Spirit 28 (XL), was solely with down. Am now a convert to ClimaShield Apex, except, perhaps, in summer: I have a PHDesigns down quilt which feels utterly weightless in cloying conditions.
My s/h Spirit 28 has strips of eVent along both top and bottom of the quilt, so is a little heavier and rather quicker to compress than today's standard item; it compresses perhaps two-thirds as well as a down quilt of roughly the same original volume using a stout Exped ventair compression bag. It seems to show no ill effects from many compression cycles, but I am careful to shake it out asap on arrival at camp, and always store the quilt uncompressed.
Workmanship is very good. The simple popper 'n velcro design of the footbox suits me well, and I use the quilt without the mid-strap or cinching the top. It doesn't seem to fall off too much, if at all, tho' I am a side-sleeper.
This is probably due to having the largest possible size, as MLD state on its website, with some passion:
*If in doubt on size - SIZE UP!*
In summary, I will buy other MLD products, more or less sight unseen, solely on the tremendous quality and thorough design of this quilt. Bravo for US cottage industry!
Source: bought it used
Price Paid: €120

Your Review
Where to Buy
Help support this site by making your next gear purchase through one of the links above. Click a link, buy what you need, and the seller will contribute a portion of the purchase price to support Trailspace's independent gear reviews.
You May Like
Specs
small
medium
large
x-large
Price
MSRP: $245.00
Reviewers Paid: $200.00

Weight
19 oz / 539 g
21 oz / 595 g
23 oz / 652 g
26 oz / 737 g
Length
66 in / 167 cm
70 in / 177 cm
74 in / 188 cm
78 in / 198 cm
Insulation
Climashield Apex Synthetic

Shell and Lining
MLD Endurance 10D X 10D 3x DWR RipStop 0.74 oz sq/yd

Low Temp Rating
30 to 28° F / -2 to -6° C

Recently on Trailspace