MSR Alpine Bottle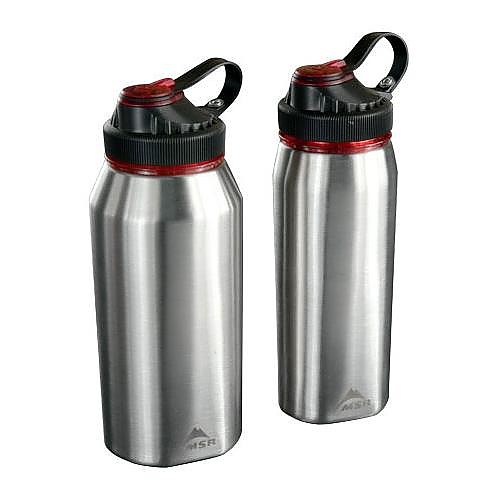 Nicely designed for urban utility, it's easy to drink from, looks cool, and packs easily. Durable. Not for serious backcountry use, 240 grams is stupid heavy for 750ML. Best used when stored in a pack pocket, it's unstable on a carabiner. OK on flat surface. Not sure why it can't be lighter.
Pros
Design - tapered bottom
Design - angled gripping surface
Design - no-drip sip and 1/4 turn to open lid
Cons
Stupid heavy
Expensive
Unstable (hanging on carabiner)
This bottle is distinguished by its great design. If you are in the market for a stainless bottle, it's worth taking a look at. I bought this as a last minute addition prior to a trip. It has been functional, even enjoyable to use. But the bottle has since been replaced with something of a more appropriate weight.
The Bottom – is cleverly tapered and non-spherical, with three flat planes interfacing with the arc circumference, and allowing easier placement of the botttle into elastic side pockets. Unlike a normal round bottle, the MSR provides a quasi-hexagonal, tennis-raquet like grip. This is great for holding while hiking, and obviously for unscrewing the lid.
The Top — is also cleverly shaped, in a dribble-proof way. The large mouth lid screws on/off like a normal lid, but there is a "quick release" (quarter turn) screw-top that opens a drinking port. With some practice, this is a one-handed operation, and can be done withou breaking stride. The spout is retained via a plastic tether, which also functions as a hanging loop. 
The functionality of the drinking spout is enhanced by the shape of the lid surface, it's an asymmetrical convex shape. It is tapering from a large round base (cup) to a smaller, raised-relief opening that is off-axis to the cup diameter (nipple). This facilitates fluid drainage with less tilt, and minimes the dribbles.
Problem #1 Hanging Strap. The bottle, if hung from a pack, hangs from the lid-retention strap. This is a flat, hard plastic strap, and is a 1/4 turn opening. While in theory, the opening is independent of the retention mechanism, in practive there is friction. There is torque on the strap because it is flat. Torque on the strap and friction on the opening meas transfer of torque to the lide. It is only 1/4 turn to full open. I have had the bottle twist itself open and fall off, losing a lot of fluid in the process (though I was able to recover the bottle, thankfully!). It does not help that the bottle bounces around on the carabiner either.
Problem #2 Not Stable on a Carabiner. Not sure if it's the shape or the strap, but this thing bounces all over the place. This is a PITA when you need to keep your balance (like water crossing, or a log crossing, or scramble over deadfall). This happens when it's hung to counterbalance pack weight (ie, off a front/shoulder strap on a carabiner). You almost need to keep a hand over it. Be aware of this. Keeping your hand over the bottle may annoy you. Also, in addition to it throwing you off balance, it may lead to the bottle opening and falling off your pack (see above).
Problem #3 HEAVY for what it is. 240 grams (half-pound) is WTF heavy for a 750Ml bottle.
The Sigg fluted metal bottle is 1.0L and weighs 140 grams, almost 40% lighter than this MSR bottle in 750ML size. The Sigg is lined and can take non-water fluids (like Gatorade, tea, or soup).  It shares the good gripping features of the MSR bottle and also has dual-stage openings.  It does not have a 1/4 turn, 1-handed drinking feature, and it has a square-cut bottom that is more difficult to get in and out of tight pockets. But it hangs (much) more stable off the pack. Also, to reiterate, it holds 33% more water, and is 40% lighter.
Platypus collapsable bottles are aound 10% of the weight in 1.0L size. If you are just looking to carry water, this is the way to go for filter/chemical users.
I would not have bought it had I weighed it (but I didn't have a scale!).
Summary: Ironically, it's a great, field-functional design. But it's flawed for serious fieldwork.
It grips well, packs well, and is easy to drink from on the move. But the weight of this bottle, its unstability, and risk of loss are deal-killers for serious users.
This is best used as an urban-cool piece. On day hikes or overnights, take this. On longer ventures, it's OK if you already have this, but don't want or have the $$ to acquire something better. A 32 oz Gatorade bottle is a better call for a thru-hike, at 20% the weight.
Source: bought it new
Price Paid: $27

Version reviewed: 1L
A couple of quick pros/cons for you skimmers and then some meat:
Pros:
MSR Quality and Customer Service
Durable Design - Both lid and bottle
Two openings
Comfortable Leash/Tether
Cons:
Price (see more below)
Smaller opening not glove-compatible
I am a bit of a water bottle junkie and have had incredibly positive experiences with MSR gear and customer service in the past.  So, when I saw the Alpine Bottle (1L) on the local sporting goods shelf, it was quickly grabbed.
I own several stainless steel bottles, but the feel of the Alpine bottle impressed me.  I certainly am not worried about it getting crushed and have serious doubts about the size of dents I will put it in over time.  Of course, these will happen, but I wager to a much lesser extent than with a Kleen Kanteen.
The dual-opening lid is well-designed and executed.  The large opening functions like any other bottle of similar design.  And, it is thread-compatible to any Nalgene/etc accessory (CapCap, Gription, etc).  The smaller opening opens with a simple quarter-turn.  It is difficult to do with gloves on, but it is pretty smooth and easy with bare fingers.  The main bottle has a red plastic ring around the top where the threads are.  Not only does this look cool, but it keeps the lips from freezing to cold steel.  There is still a small metal lip at the very top, but it should be avoidable.
I paid $26 for the 1L bottle.  The .75L bottle was $21.  Clearly much more expensive than the BPA-free alternatives.  If you want a cheap and durable bottle, the $8 plastic variety is going to serve you much better.  However, when stacked against other high-end stainless bottles, such as WaterBox, the price is lower and, I feel, the features are better.
In my opinion, MSR hit a home-run with this one.  A couple of small gripes, but the overall design is worth a serious look... especially if you are a water bottle junkie.
Price Paid: $26 (1L)

Your Review
Where to Buy
Help support this site by making your next gear purchase through one of the links above. Click a link, buy what you need, and the seller will contribute a portion of the purchase price to support Trailspace's independent gear reviews.
You May Like
Specs
Price
MSRP: $34.95
Historic Range: $14.73-$34.95
Reviewers Paid: $26.00-$27.00

Capacity
750 ml

Recently on Trailspace