MSR Denali Ascent

The Denali Ascent has been discontinued. It was replaced by the MSR Evo Ascent.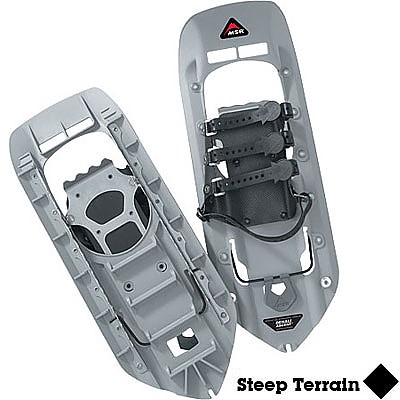 These are the first snowshoes I've owned, but I did use a borrowed pair of older-model Tubbs Adventure 25s before I got these MSR Denali Ascents.
The Tubbs Adventure 25s were just fine except that their strap-pivot bindings caused snow to get thrown up my back with every step I took. This was no problem at all if I was hiking in cold weather and had a waterproof layer on, but on warmer sunny days I had to choose between getting soaked with sweat (wearing my waterproof outer layer) or covered in stuck-on snow (without the outer layer).
I started looking for affordable snowshoes that had free-pivoting bindings, and found that the MSR's would fill the bill. I also liked the idea of the Denali Ascent's removable tails. I found a pair on sale and got 'em, along with a pair of the 4" tails.
First the Denali Ascent's good points:
1) I generally like the bindings -- they're secure enough if you crank down hard enough on the straps, and they allow you to adjust the position of your foot in the snowshoe. The Denali Ascent's bindings are easy on your boots, unlike the Tubbs bindings which dug wear spots on my leather boots. I like the "Bearpaw" bindings on the Atlas snowshoes best of all, but I guess you can't have everything...
2) The Denali Ascents provide just enough flotation for me with the 4" tails attached (I weigh about 175 lbs. and wear some pretty heavy gear). If I'm on a packed trail for a long stretch, I can take off the tails and still hike along with no problems. However, I did notice that the Tubbs Adventure 25's provided me with just a bit more "float" on unpacked powder.
3) The crampons work quite well for climbing up steep, snow covered slopes. Very secure.
Now the not-so-good points:
1) On packed trails or icy/crusty snow, these snowshoes are noisy! On one trip in the Poconos on a cold day after a thaw, they made a metallic scratching noise that was very annoying.
2) I worry about the durability of the plastic decking. It seems to get scraped and scratched pretty easily. I haven't had any functional problems at all, but I do consciously avoid bumping the snowshoes against tree trunks or exposed rocks.
3) I also worry about how they will act on a steep decline with thin, icy cover. The Denali Ascents don't have any heel crampons, but they do have two rows of metal "teeth" running the length of the underside of the decking, along with braking bumps molded into the underside of the decking. I haven't encountered such a slope with the snowshoes on as of yet, but I'll be careful when I do!
My opinion? I think these are good snowshoes for what I need, and thanks to the removable tails, versatile to boot. They're relatively inexpensive and fit well in my pack. I think they're pretty good, but I'm taking one star off for how noisy they can be on packed or icy snow. (For comparison, I'd take off one star for the Tubbs Adventure 25s due to the way they kick snow up your back. Note that the latest Tubbs snowshoes have a free-rotation binding that would cure this problem.)
Price Paid: $135

They are great while they work...mine broke recently.
I've had a pair of these for about 5 years. I use them for maybe 2 or 3 trips a season. I'm about 185lbs and sometimes carry about a 50 lb pack. Recently on a backcountry trip the binding completely broke (the metal part) near one of the swivel points. It appears the metal fatigued and failed. I was miles away from the trailhead out in the middle of fresh powder with a heavy pack. All I had with me to repair these was nylon chord. Yeah that was a good time.
I emailed MSR and they told me that they only have a 3 year warranty and they were very sorry they fatigued and failed on me but my best bet is to purchase new bindings online somewhere for 60 dollars. No thanks. I'd prefer not to get stranded out in the middle of the fluff with a broken shoe again. I'd rather put 60 dollars into a snowshoe that has a lifetime warranty from a company that stands behind their products.
I also found it quite interesting that in the company's response to my email they said they were "sorry that the bindings on my snowshoes have started to fatigue and ultimately failed". I had never mentioned fatigue failure in my email to them. Makes me think they have seen this happen to these bindings quite frequently.
I used to think these shoes were great. I no longer recommend them for anyone other than 50 pound kids. Also, the metal bar for the heel elevators has been bent on both (I'm thinking these shoes are not meant for using with a backpack).
Your mileage may vary. Use at your own risk...
Price Paid: $150

These are very durable and dependable. The heel lift is a great aid when ascending, bindings are strong and easy to adjust. My set is over 15 years old and still going strong.
Pros
Well built, sturdy and rugged
Tails can be added to increase load carrying ability. They are comfortable to wear and walk in.
Cons
They stopped producing these.
The shoe cradle will not side-articulate.
I have used my Denali Ascents numerous time when out in the Sierra Nevada wet snow up on Donner Pass and they always have performed perfect. They work well in hard pack as well as fresh powder. Once you adjust the bindings properly it is a simple process to put on these snow shoes, and remove them with out falling down!
I use mine with the 6 inch tail extensions installed onto them. The tails are easily removed and stowed when extra flotation is not needed. When I do not need the snowshoes they store flat and are easy to pack around. Most of my use of these shoes has been in freshly fallen snow where there was no previous trail packed down for me to follow. I typically will carry 40 to 60 pounds in my pack when I go out snow camping.
The binding straps are still available at REI stores and reasonably priced, they come in a 2 pack set for around nine dollars.
The heel lift device makes it easy on the ankles when walking up a hill. They can often be a small problem to release though to put them back to a flat position. That is because when they are lifted up they really lock solidly into place. I guess it is better to have them lock solid and not fall flat and just put up with the burden of releasing them back down.
With the flotation tails installed it takes a bit more effort to make a very sharp turn or to turn around. Do not even think about backing up while wearing these.
I am very satisfied with these snowshoes. They are comfortable to walk in, easy to maintain, and the flotation tails make them very versatile. 
Source: bought it new
Price Paid: $160

I absolutely love these snowshoes. I bought them about two years ago but was only able to get them out for the first time this season. I have gone on many day hikes and two 3 day 2 night trips so far.
These shoes are absolutely amazing with traction superior to many other shoes on the market. My only complaint is I wish the tail "fins" were just a little longer/deeper so it would help prevent slides when going down hill.
Going up a steep incline with these is a breeze thanks to the televators. They really make a big difference on long ascents in calf and overall leg fatigue. Generally I wont use the televator if the ascent will take less than 10 minutes. It can be a hassle to get the televator engaged at times(I hike with a dog on a leash) with a large pack on.
I have both the 4 inch and 8 inch tails for these and I generally always have the 4in tails on, and I only put on the 8in for fresher and really deep snow. For reference purposes I am 5'10", 210lbs and generally have a 45-50lbs pack in winter.
I highly recommend these shoes. I really love the bindings on these. I set them when I put them on and have yet had to adjust them mid hike. I can not say the same for the friends I hike with that have the new MSR shoes with the new style bindings, the old bindings are far superior.
If your type of snow hike involves gentle terrain then any of the normal type shoes will suffice... Tubbs, Atlas etc.
Where the MSR Denalis shine is in the steeps. They will kick steps and hold your foot as you step up much much better than the others. The televator heels actually do work and make you feel like you're cheating when you look at your buddies with "normal" shoes. Durability...I have hammered my Denalis for several years and have confidence in them. Traversing the steeps... something you can actually attempt with these shoes. Descending...I think i'ts the many bottom cross bars that make going down easier.
In a nutshell, I wont go on a hard snowshoe hike without my Denalis or at least my Denali Classics (pawn shop).
You can also carry the flotation tails for fresh snow conditions. They may be noisier in hard snow...so what!!
I have been involved with winter sports all my life. I started snowshoeing 15 years ago, and to this day I still can't believe I bought a pair of plastic snowshoes. I have owned my MSRs now for three years and they rock. I have taken them up mountains in Vermont and New Hampshire. Great traction, easy to put on, binding fits my Sorrels, Day hikers, and Salomon SM Mountaineering Boots. Also, how can you complain about a shoe that you can add length to float? I bought the tail extensions before a winter hike last year and had great float with a heavy pack.
Love them. Bought these well-used models secondhand from a rental outlet and have used them a fair bit on steep terrain. They performed great with the heel riser. However, using the attachable tails for softer snow sucks because it makes the shoes sink into the ground unevenly and makes travel more tiring. I guess that is when skis are necessary! I've never used another pair of snowshoes but don't think I will ever look for another!
Price Paid: $100 Cdn. second-hand

Excellent snowshoe. The televator device (I think that's what it is called -- essentially a wire heel support that you can snap up into place when going uphill) is a very helpful and makes climbing grades much more pleasant. Design of pivot crampon and additional two rows of teeth on the underside provide excellent traction on uphill. A good investment for winter mountaineering and snowshoeing.
Something awesome about these shoes, compared to many other models, is that you can take the middle crampon piece off and wear it alone. This is handy to use as a modified crampon without the large plastic shoe around it. I have done this several times when I knew I would need snowshoes but didn't want to bring separate crampons for steeper terrain.
Price Paid: $145

If you don't plan on doing any steep work, the kind that is best done with an ice axe, then I would say find a less expensive model. This snowshoe really shines in the steep climbs where it holds better than any other shoe I've used. I use it for mountaineering and after my experience with it I wouldn't settle for anything less.
Price Paid: $162

These are great snowshoes. The solid plastic design works well easy to get in and out of. I also like the solid plastic because you can dig with it and make into a snow stake. The extra flippers for soft snow or heavy loads work OK. The raiser is a godsend on steep hills.
Price Paid: $100 Used

Your Review
You May Like
Specs
Price
Historic Range: $69.95-$179.95
Reviewers Paid: $100.00-$162.00

Recently on Trailspace