MSR E-Bivy

Top 25 in Bivy Sacks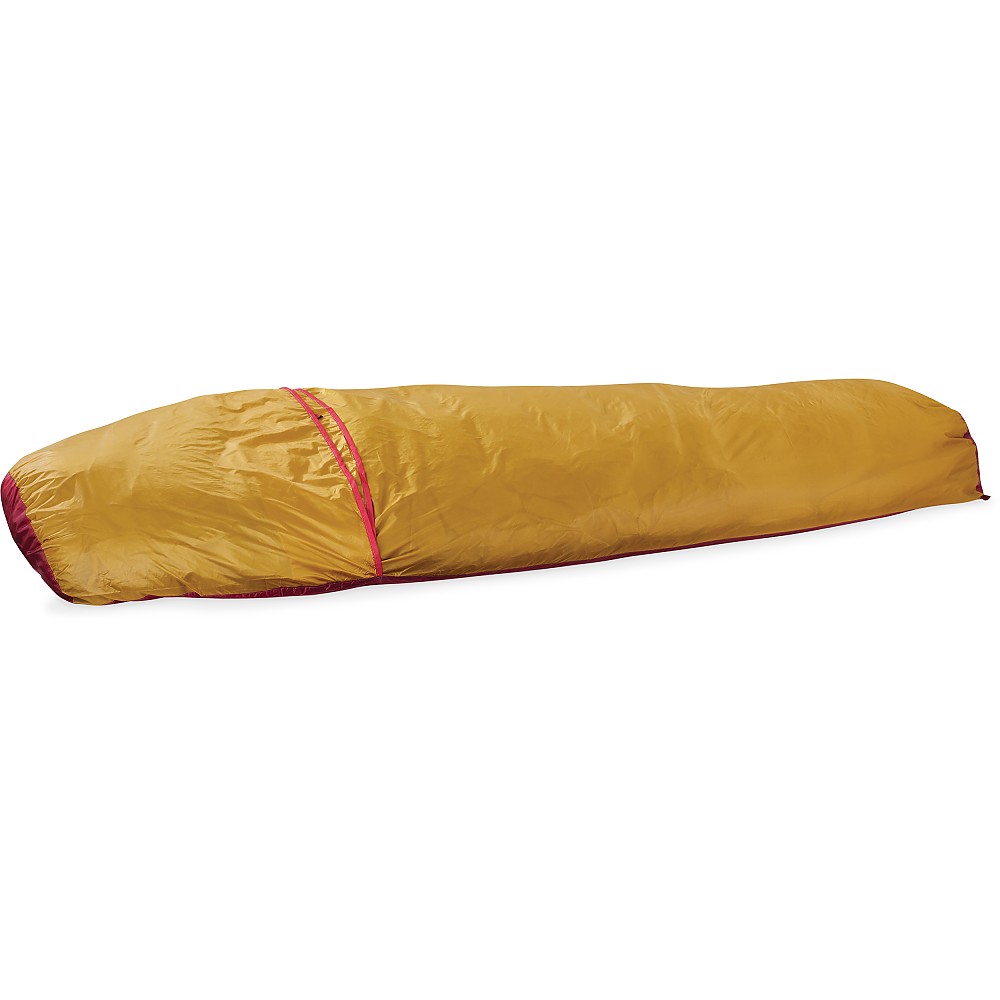 Specs
Price
MSRP: $99.95
Current Retail: $99.95-$119.95
Historic Range: $38.98-$119.95
Reviewers Paid: $50.00

Minimum Weight
8 oz / 0.23 kg

Packaged Weight
9 oz / 0.25 kg

Packed Size
7 x 4 in / 18 x 10 cm

Canopy Fabric
30D ripstop nylon silicone coated

Floor Fabric
30D ripstop nylon 10,000mm Durashield

Reviews
2

reviews

5-star:

0

4-star:

2

3-star:

0

2-star:

0

1-star:

0
Very light and compact, easy to pack all the time for unexpected overnight stays in the boonies. Well made, durable, watertight—too watertight, actually; the top is not breathable, which means potentially lots of condensation inside the bag.
Pros
Light
Compact
Well made, quality materials
No zipper at opening, so can keep it open if wanted
Generous enough sizing (length and volume) to not feel constrained
Cons
Fabric is not breathable, but it's possible to keep top open to offer some ventilation.
No poles, not truly waterproof—not for independent use, best use with a tarp or tent, or in nice weather, but it is not designed to be a stand-alone shelter
I have always used a tent, a hammock, or slept directly under the stars in pleasant weather. I recently experimented with a tarp, complemented with this light e-bivy by MSR, and enjoy that combo for summer and shoulder seasons, even here in the Pacific NorthWet.
The e-bivy is extremely light (spec'ed at 230g/8oz, I didn't check, but it feels right), and compacts to a very small volume—maybe 1/2 a standard Backpacking Unit of Volume (aka Nalgene bottle.)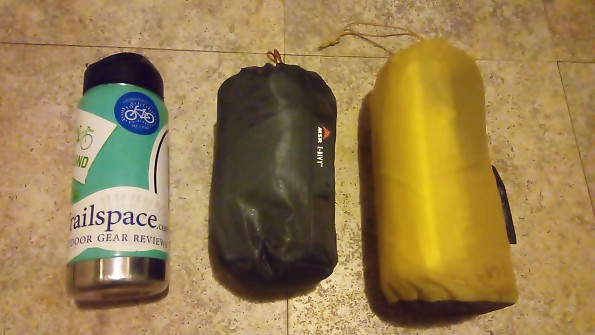 Kleen Kanteen for size reference, e-bivy (NOT compressed), and an MSR wing tarp.
It comes with a small stuff sack, that's big enough to easily stash the bivy back in without any struggle. Nice contrast to so many other tents, sleeping bags, etc., that can prove almost impossible to pack away in the field. Packed size is 18x10cm (7x4in), but I can easily compress it to a tiny 10x10cm (4x4in).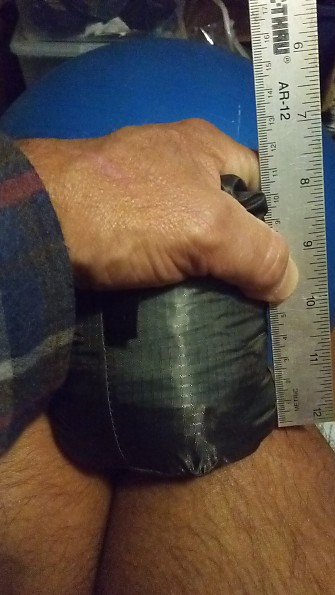 I've actually taken it with me when biking non-stop long distance on "brevets", where it proved invaluable to catch a comfortable 20-mn nap under a bush, or on some random Grange porch.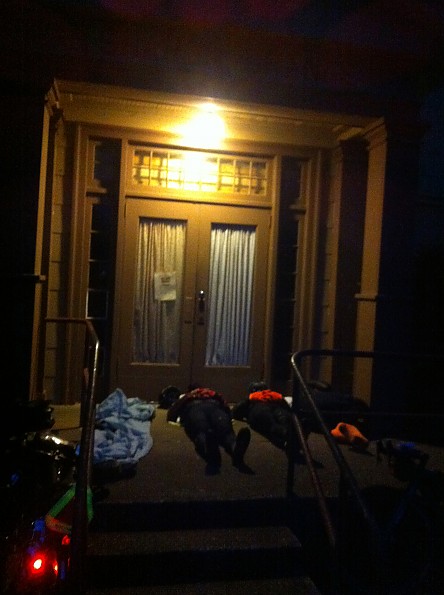 I was confortable, where my co-riders froze and couldn't fully rest.
Space and weight are at a premium on a bike for these rides. I usually carry a space blanket for these instances, but the e-bivy proved more convenient, for a manageable hit weight/volume-wise. It's a keeper.
The fabric on top is 30-denier ripstop sil-nylon. In light rain, water beads on it, but I have not tried to use it in a downpour: I doubt that it would keep me dry—its best use is as a barrier against wind and morning dew, and possibly a light shower, but even MSR doesn't claim it's for heavy duty, and advises to combine it with a tarp.
Bottom is heavier weight fabric, with a waterproofing treatment. It's no cordura, but it's robust enough to use it with no groundsheet in a pinch—but a sheet of polycryo film is ultralight and takes no room, perfect UL complement for some peace of mind re wear and tear, and for added protection against wet ground.
Both foot and head are "formed"—they are boxy, to allow wiggle room for the feet, and breathing space up top.
Dimensions are:
Length: 2.2m/88in
Width at shoulders: 90cm/36in
Width at foot: 60cm/23in
The e-bivy is wide enough, even at the foot, to allow for a regular square mattress (20in wide) to fit inside. A wide model _probably_ will squeeze in, but the foot is going to be a bit tight. This type of shelter is typically used in the context of UltraLight camping, and I'll venture to say that most typical users will carry fairly minimalist mattresses, that will slide in fine.
The 2.2 m length should accommodate most all hikers. There's enough height at the foot to move your feet around (no opening for ventilation there, though), enough width for the shoulders to turn around, enough width at the knees to sleep on your side, and enough extra material at the head to have plenty room to fend off any claustrophobia and to breathe easier, even when batting down the hatches.
No zipper whatsoever: you need to wiggle in from the top, which can be a bit of a challenge depending on the sleeping bag, and there's just an overlap of fabric to keep the weather out. No mosquito netting either, so depending on where you typically camp, you might need to think about wearing at least a mosquito netting for your head. On the plus side, it's easy to leave the top part open, so as a) to add some ventilation to the bivy, and b) enjoy the view of the Great Outdoors. :-)
I found it easy enough to enter, even with my stiff complaining joints: the opening is generous. I do not feel constricted inside (male, 1m78/5ft10, 85kg/190lbs), and can turn around when sleeping with not hindrance.
The only negative I note is that the material is NOT breathable, and I regularly ended up with lots of condensation inside in the morning—an all too common occurrence with bivy, it seems. I have to try to be careful not to _overdress_ and will try to bring in a lighter sleeping bag/quilt, specially in summer.
Under a tarp/inside a lightweight tent, you can leave the top open to improve the air circulation, but I found that when cozy with a down quilt and an insulated mattress, the bottom part still got quite wet, to the point that water permeated the top of the quilt, and I had to shake it in the morning to send the moisture flying, then let it hang in the sun to dry.
There's a loop at the rim of the "hood" portion, that can probably be guyed to a tree, or to the tarp/pole to keep the opening open. (There are also loops at the corners, not sure if it's to be used to stake the bivy in place? Very convenient to hang it to dry, if nothing else.)
Second minor negative to the e-bivy, common to all of them actually, is that there's no room to store and protect your gear, boots, discarded clothes, etc. That's just the nature of the beast... But ...
... it's perfect when used in combination with a tarp: the tarp protects it from direct rain, the bivy protects from the occasional wind-whipped drops that might get under the tarp, shields from any twirly wind gusts coming around, and adds a good measure of passive warmth to the sleep system—and the tarp provides shelter not only for you, but also for your gear.
I've only used mine on 1/2 dozen outings, didn't baby it, but it still looks like new. The materials are top-notch, the stitching appears well done, with light reinforcements at stress points, but no taping or seam sealing. MSR is usually reliable, and have good service if need be. I trust that it will last me a long time.
(Note that I'm a technical translator, and translate MSR's documentation into French - but I work through an outside agency, and have no direct connection with the company, and bought all my gear.) (Giving them back quite a bit of the money they paid me. :-)
In conclusion:
a nice safety addition to keep at the bottom of your day pack, in case of unscheduled overnight stay in the woods.
Very nice as part of your sleep system for any planned short or long-term overnight trip, combined with a tarp.
Small weight and very compact make for a nice camp gear to pack when bike packing, UL hiking, kayaking. 
Experience
Camper for 50+ years, from tropical beach to above snow line, in all four seasons. Typically sleep in a tent, currently a Golite Shangri-La 2, or an old-school Hennessy hammock. Recently started experimenting with tarp/bivy camping.
Source: bought it new
Price Paid: on sale for 50 US$?

LIGHT and Water TIGHT. Minimalist without a doubt.
For use with: no bugs. no heavy rain. Starry nights. Mild to moderate temps. A sleeping pad?
Picked this up for a great deal, $50. Used it in the Tetons and Bechler River area of Yellowstone for multiple nights. There is no screen nor pole. It is a trash bag to keep out the critters, wind, and mild rain.
Its tag recommends use: in a tent, or by itself.
In in tent? YES, Super cold night on the road, freak storm... tent is up, bag is not doing it, threw this on and made the difference. However, I will not be carrying this AND a tent in the backcountry unless there is a special reason for it...
Great sack for the alpine.
Price Paid: $50

You May Like
Recently on Trailspace