MSR Elixir 2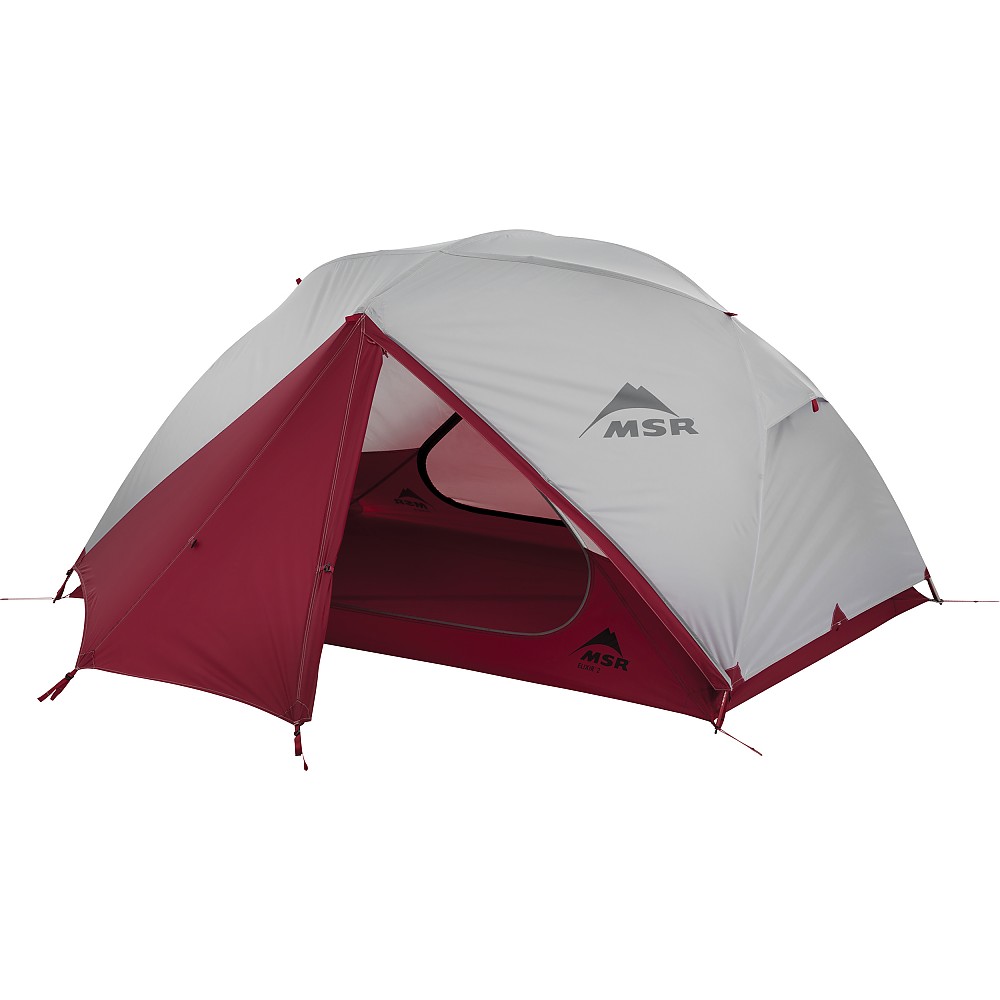 Unique architecture, palatial for one, livable for two, sturdy 3-season tent for car camping or non-SL/UL backpacking.
Pros
Strong architecture
Well-ventilated
Spacious
Cons
Finicky setup
Heavy
Sagging wall pockets
I took this tent out on an eight-day road trip through four national parks, and it performed very well. From Rocky Mountain to Great Sand Dunes, it stood up to mountain rain and desert sand. A unique geometry and spacious interior made for a comfortable road trip. 
Setup
My first stop was Wind Cave. I arrived as the sun was setting over the Black Hills, and I had to rush to pitch the tent before it got too dark. The architecture is listed as 2 poles — it has one pole primary pole (two poles attached together with swiveling hubs) and a brow pole. The primary pole when tensioned on the tent body creates two parabolas with two intersections created by the swiveling aluminum hubs as shown in the first photo.
There is a particular way to position the poles, and it can be tricky to figure out which way is correct. If you try to do it wrong, it is almost impossible to get the poles to seat correctly in the body grommets. After a few minutes and a couple failed attempts, I was able to get the pole attached to the body. After several setups in different parks I was still struggling a bit to pitch quickly.
This is definitely a body you want to stake down before adding the poles otherwise it may become airborn. The brow pole rests atop this configuration and seats easily in the top grommets but with very nice tension.
The brow pole creates nearly vertical side walls making for a very spacious geometry. With the vestibules staked out, the pitch is very taut. I used the included guy lines at the short ends to increase ventilation and improve stability in the wind. It didn't flap a bit.
Internal Space
Running solo, I had plenty of room for my sleep system (20in wide Thermarest NeoAir XTherm pictured below), my clothing duffel, and the usual explosion of road trip maps and other ephemera. With a 50" wide floor, I would be comfortable with a friendly tent mate. The length was more than adequate. I'm only 5'8" so the 84" long floor was lounge-worthy.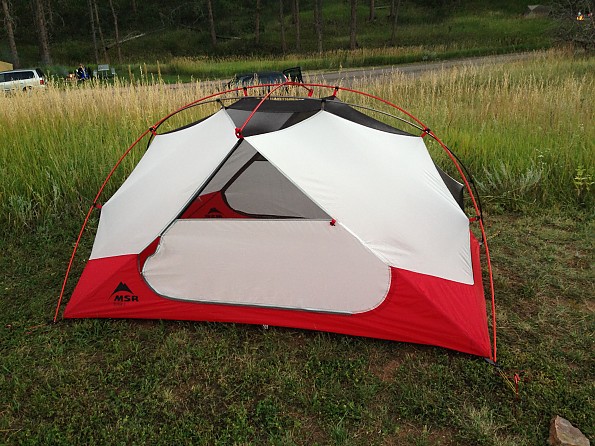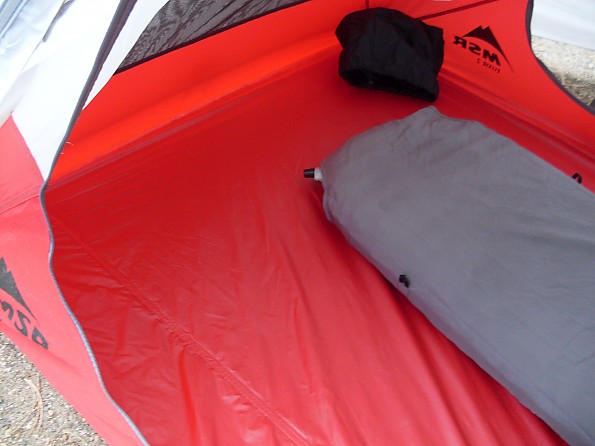 Fly

The polyester fly seems very durable and did not snag on juniper branches in Great Sand Dunes NP. The gray-beige color is actually appealing and lights up with the rising sun. I typically go for green or grey tents when possible, but I liked the red and it is understated when covered by the fly.
Weather Resistance
The weather during the trip was cool to cold (35°F-55°F) during the duration of the trip. The mostly-solid side walls kept out most of the chilling effect of the wind, while the strategically-placed mesh and vents allowed for condensation-busting ventilation. I slept with the vents open on cool drizzly nights - dry as a bone! Even on humid nights in Rocky Mountain NP, there was negligible condensation on the walls and no internal rain. It may be different in torrential downpours with the limited mesh. 
The "StayDry" doors actually lived up to their name. I was able to have the doors open in light rain with no water dropping in on me as I got ready for the day. The rain gutters above the fly door zipper are a nice touch, though I am not sure how much they really did.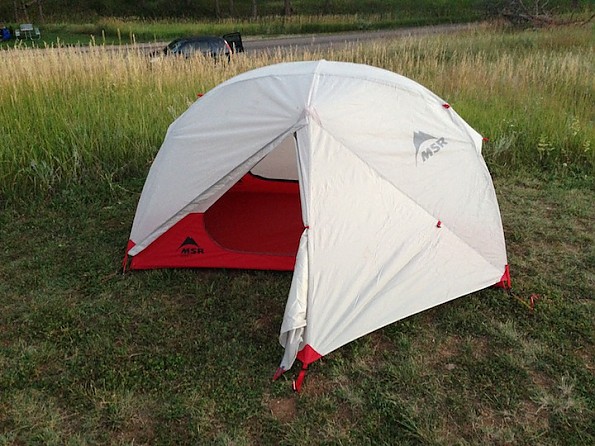 Storage
The vestibules are quite spacious and accommodate a lot of gear. I was able to put my pack under the protection of the fly, and still stick my feet out to remove my boots before bed. The short ends of the body have large mesh pockets for small essentials. They are convenient, but the top hem is just doubled-over, stitched mesh. They tend to sag greatly when you have anything more than a couple small items in them.
It would be nice to have a nylon or elastic strip along the top edge to hold the shape of the pocket better when there are more items in it.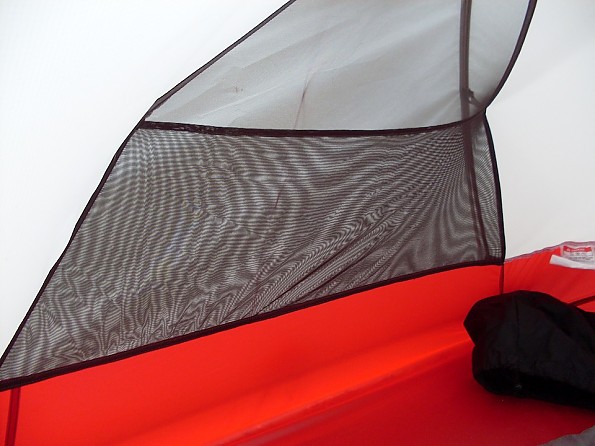 Packability/Weight
The included storage sac is pretty large. With a compression sac, one could pack it up for backpacking. The poles are a bit long when folded. The weight is high for super- or ultra-light backpacking, but not unfeasible for two who aren't especially concerned with minimizing weight or just on a short overnight/weekend. For car camping, it was great.
Overall
I enjoyed using this tent. The setup was a bit finicky, but very stable and reliable while in use. I would definitely recommend for value-conscious car-campers or beginning backpackers. Solid tent.
*I am the general manager of Whole Earth Provision Co. in Southlake, Texas. My views do not necessarily represent the views of Whole Earth Provision Co., its representatives, or its vendors. I pride myself in providing unbiased reviews of products I purchase for my personal use. NOTE: I borrowed this tent from an MSR field technical representative. I received no compensation for this unsolicited review.
Source: borrowed it (Returned it.)

Excellent tent for an affordable price. Top option if one doesn't need an ultra light product. Well suited for paddlers if weight is less of a concern.
Pros
Roomy
Comes with footprint
Cons
At first it can be tricky to put up
I used this tent on a kayaking tour in the Ammassalik region in East Greenland in the summer of 2016.
We were seven persons on the trip. Because of the odd number I needed a tent just for myself. I own a three-person-tent which is too big for this use. It was also clear that I would have only the stern compartment of a 17 ft. kayak for my personal gear. All the front hatches would be needed for food and other group supplies.
I did a lot of research in preparation for the trip. I eventually decide to go with the Elixir 2. It is very affordable. In Canada it is available eg. from MEC at CAD 259+tax. It comes complete with footprint, which is usually an add-on option with other models. It's possible to set up the rainfly and the footprint without the inner tent which can be of use in areas without mosquitoes and other bugs.
It's also small enough to fit into the stern of a touring kayak.
The tent comes in one big bag which contains the rainfly, the inner mesh tent, the footprint, a small bag with tent nails and another thin bag with the rods.
To fit all parts around the skeg of the kayak I stored the pieces separately.
The first time I set up the tent in my basement. It has to be put up in a unique way which I haven't seen before with any other tent. The two main rods are connected through two joints. The rods are color-coded (red, blue) which one should match with all other color-coded parts. This makes it actually easier.
The red rod starts on one side and finishes on the same side. Blue is therefore on the other side. The rods cross each other at the joints and give the structure good stability. A smaller rod is perpendicular on top of the others. It spreads the tent ceiling.
Once the structure is up one can decide to hook in the mesh tent or skip that part and use only the rainfly.
The rainfly comes with an apsis on each side. This way you can always get in and out on the 'good weather' side.
Step 1 - peg the footprint to the ground. Make sure the wind won't blow into an open apsis.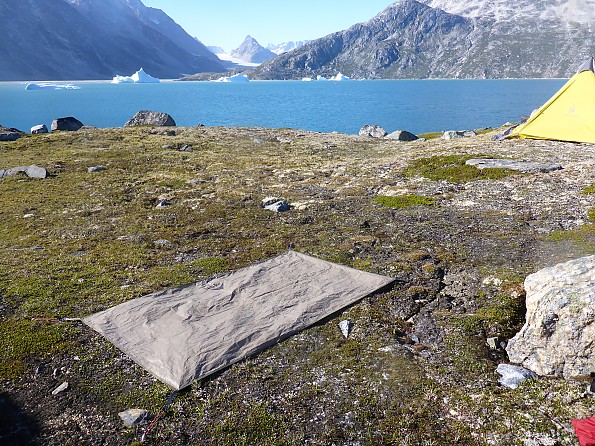 Step 2 - put up the poles.
Step 3 - connect the inner tent to the poles and possibly to the footprint.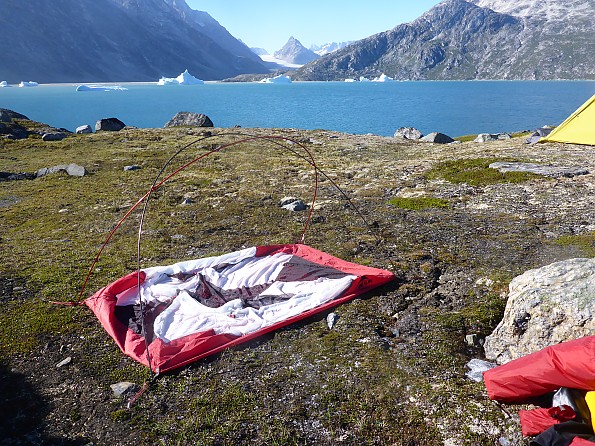 Step 4 - hook the inner tent to the poles. connect the "ceiling pole".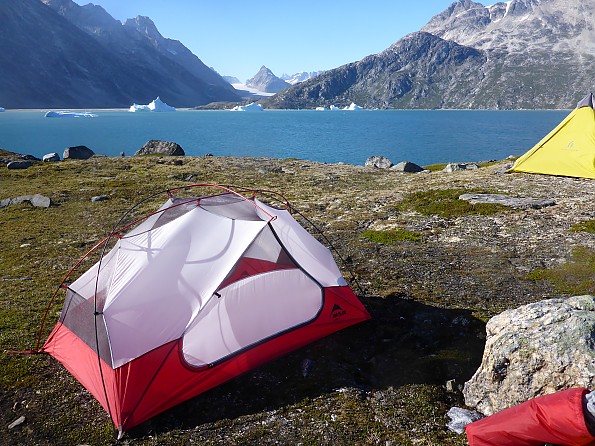 Step 5 - cover with the rainfly.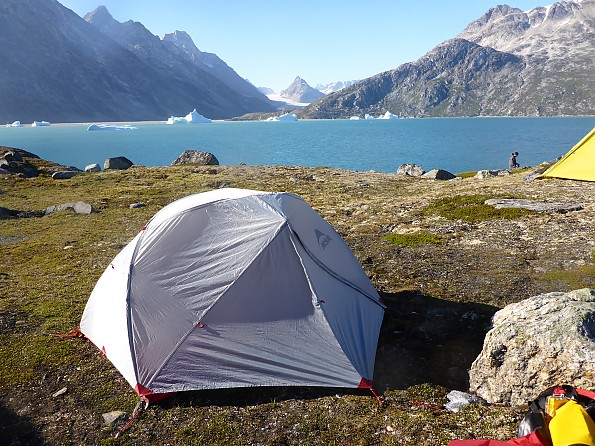 Due to this construction the Elixir gives much headroom, which makes it a breeze to change clothes. I'm 6'3" tall (1.90m) and 190 lbs (88kg) weight and haven't had any problems.
The tent comes with 6 pegs which is enough to secure the four corners plus both apsides. I'd recommend to bring some more and to attach some guy lines to the rainfly to prepare for stronger winds.
The strongest winds on our trip were gusts up to 25 kts. which didn't cause any problems.
The temperatures during our journey were 4°c at the coldest. There was significant condensation on the inner side of the fly which is expected. But I was always dry. After the first day I developed the skill to put up the tent by myself in less than 5 minutes. I started to peg the footprint into the ground. Then I put the rods up. In the next step I hooked in the mesh tent. At last I covered everything with the fly before I secured the apsides.
I think the Elixir 2 is one of the bests of its class. It can accommodate two people in a slightly cozy fashion, but I would go with the Elixir 3 if I would have the option.
Source: borrowed it

The MSR Elixir 2 is a quality tent for people not as worried about weight but still wanting a high-quality tent. I recommend it.
Pros
Little to no condensation
Relatively lightweight
Two doors
Roomy vestibules
Sturdy poles
Footprint included
Nice ventilation
Cons
Not ultralight
Some splashing underneath rain fly
Not as much visibility out of the top as I'd like
A little cramped for two people
This tent is the little brother of the Hubba Hubba. It's pretty easy to pitch because the poles, tent, and fly are all color-coded. A footprint is included, and everything buckles and clips in pretty easily.
The main drawback is the pole design. Some of my friends have struggled to figure out how to set up the poles. While a little strange, the pole design allows for more headroom and high walls, so I'm a fan of it. Once you're familiar with the tent, it isn't hard to pitch and takes no more than a couple of minutes. 
This tent pitches tautly. It didn't budge in 40 mile per hour winds on a January night in the Smokies. The pole design stretches the material taut and helps it keep its form well. It's held up in rain as well, but I have not used it in snow. The rain fly doesn't stretch all the way to the ground, which led to some splashing of rain water onto my boots in the vestibule during the night. It was minor, but worth noting. Inside the tent, I was dry. 
This tent doesn't have as much mesh as some other comparable tents, but it seems to vent pretty well. There are vents in the fly that can be opened to enhance air flow, and the mesh roof, door panels, and ends of the tent seem to allow for adequate air flow. Occasionally, I encounter condensation, but it is nothing major. 
The Elixir 2 has adequate headroom within the tent's walls due to the unique pole design. The tent is plenty big for two people, but taller campers might feel a little cramped inside. When alone, there is plenty of room for all of my gear (outside of food) inside the tent. When sleeping two, the tent leaves a little bit of room at your feet for small essentials.
There are also two pouches that run the length of the ends of the tent where headlamps, phones, shirts, and other items can be stored. I don't put anything heavy in these pouches though, because it causes the mesh to sag a little bit. The two vestibules are roomy. There is room for a pack and boots on both sides. 
This tent checks in at about 4.5 pounds. It isn't super heavy, but it isn't super light. Split between two people though, it is easy to carry. The tent packs well in my bag and flexes to fill available space relatively well. The pole design causes it to be a bit bulky when packed, but I always put these on top of my pack, so I haven't really encountered a problem. Those who pack their poles inside their pack might not be too fond of this, however.
All things considered, this tent packs and carries well for its price. If you pay up, you can always go smaller and lighter for the same pitched size, though. 
The tent has gutters on the zippers of the fly. It's supposed to channel rain water away from the lip of the fly so you aren't dripped on getting in and out of the tent. It's a neat touch, but I don't know how big of a deal it really is. The colors and structure are appealing to me, too. 
I've used this tent a few times over the past couple of months, and it seems to be doing well. I like MSR's stuff.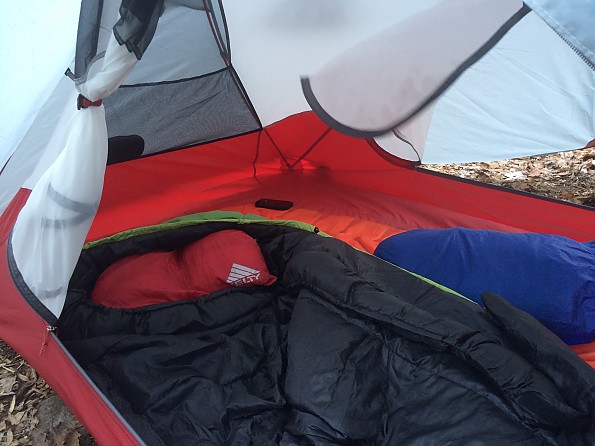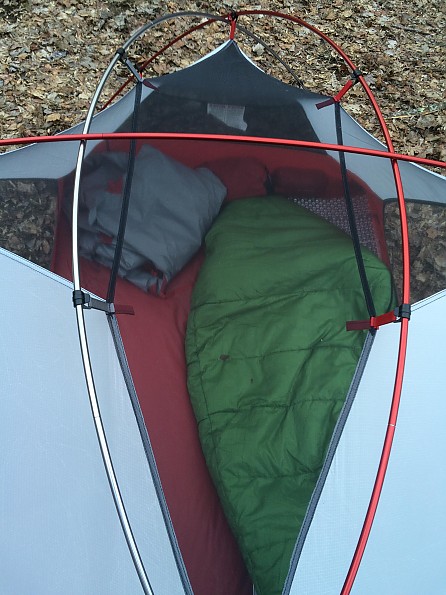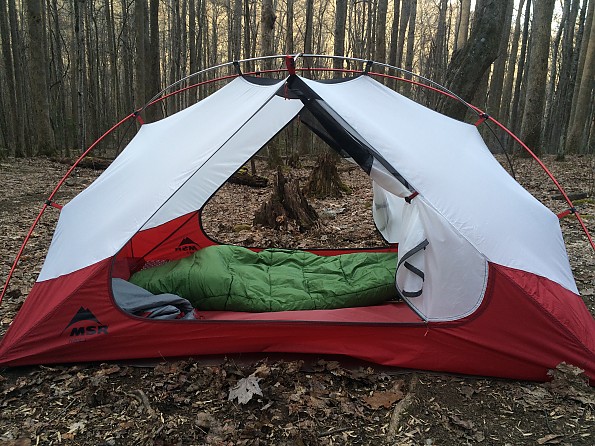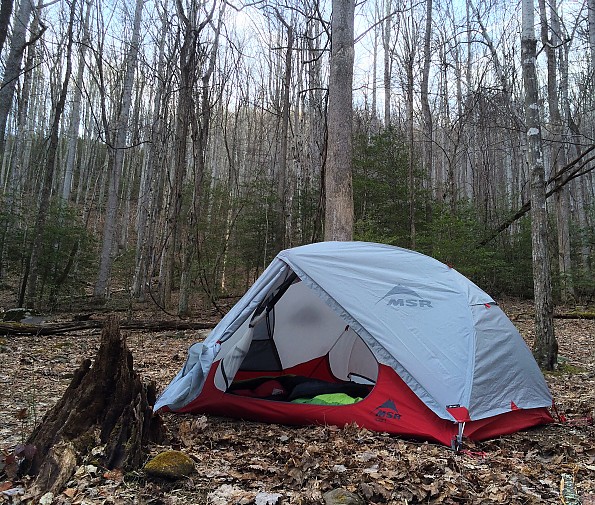 Source: bought it new
Price Paid: $190

Two-person tent tested out on the GR20 (Corsica). Resistant, light, and easy to stock!
Pros
Water resistant
Drys out fast
Can be stored in backpack easily
Super fast setup
Great inner storage
Low price
Cons
Just a tad bit heavy, 2kg would be a good compromise
Not the best choice if you were over 2m (6'7")
2.6 kg with the removable ground sheet. Not that heavy if separated into two backpacks, but I would be happy to see it coming down to 2kg. The Hubba NX  is lighter but too fragile, this why I see the Elixir losing just a bit of an edge, but keeping waterproofness and resistance against wind-shocks, rain and snow.
By the way, about wind-shocks. I added extra cord loops to each part where you can use tent pegs. About a 40cm diameter loop. I can set up the tent like this anywhere without pegs! It held up against some serious storms and winds, just by using rocks placed into these loops. It is a self supporting tent so, if you were in a fast and light mode, you can use only the mosquito net or only the waterproof outer shell with the extra ground sheet. You can save up to a kilo weight. 
Two persons fit in nicely, but you gotta leave your packs outside, probably closed and placed on a plastic bag, to keep everything dry. If you were over two meters, you might look for a tent somewhere else. I am 198cm, fit in nicely, but for real comfort, when alone I sleep in traverse. I mostly sleep on my side so length is not an issue, but I would add 10 cm to the length, so real taller guys would be able to use the tent too. 
I tested out many tents throughout the years, so condensation will always be an issue. There are two ventilation holes and of course the gap between the ground and the edge of the flysheet. Regardless, condensation builds up. If a tent would really be that ventilated, that no water build up would be present, you would need a lot warmer sleeping bag to keep you warm against the constant airflow.
So I pack the tent very often wet, then 4-5 hours into hour hike, when arrived to a windy spot, or a real sunny grass field, I would just hang out the tent, to dry it out in like 10 to 15 minutes while having breakfast. 
I did not use the original packaging on our GR20 trip. I folded everything flat and placed it as a rain protective layer on the top of my backpack. Pegs on one side and the poles the outer inside the outer pockets. 
We did not talk about the setup yet. How super easy it is to set up. Even alone. Get the mosquito net out, shake the poles to stick them together, pull them away in the middle, red poles to red holes, grey ones to the grey, attach the sheet holders and off you go. The same with the flysheet. The colour-coded buckles are unmistakable. Tightening the tend down against wind is also easy with the tension adjusters. Depending where the wind is coming from, you can leave one side a bit higher and the other is nearly stuck to the ground. 
Rainproof, resistant, and lovely. I really enjoyed every moment in it during our 7-day GR20 exploration, but have been using it since, nearly every single weekend.
Check out our Corsica trip, it was epic:
Source: bought it new
Price Paid: 200€

Full Updated MSR Elixir 2 review (February 2021)
A couple of months ago we made first impressions and technical specs videos of this tent (see below), but today we will be sharing our honest opinion about it, its pros and cons, and some tips and discoveries we made after using it the whole season of hiking.
So if you've wanted to learn all the truth about this tent, this video may be useful for you.
***
Cheap vs Expensive tent comparison (November 2020)

In the following video we compare two self-standing two-person tents from different price categories. One tent would be really cheap—Quechua MH100—and one on a more expensive side—MSR Elixir 2. They have similar weight and dimensions and we wanted to explore what would be the major differences.
So the MSR tent we bought just recently as an upgrade for our backpacking trips. And this Quechua tent we've had almost for two years now and it was used mostly by our family members when they were coming to visit us and we stayed in the campgrounds.
Hope you find this fun little comparison useful in some way.
***
MSR Elixir 2 First Impressions (May 2020)
In this post we are willing to share with you our new purchase of the new tent—MSR Elixir 2. We have been searching for quite a while for a good quality budget self-standing tent, because one of the main downsides of our previous tent was its height and we were lacking space in it badly. So after several months of active research of plenty of different tents it seems that we found one that would suit our needs for now.
In this video we are going to share our first impressions of this tent, see what's in the kit, look at the main characteristics of it, dimensions and size, set up and wrap up process. Hope you find it useful in some way.

Disclaimer: we don't have any affiliation with the brands and all items mentioned in the video were purchased by our own money.
Source: bought it new

Your Review
Where to Buy
Help support this site by making your next gear purchase through one of the links above. Click a link, buy what you need, and the seller will contribute a portion of the purchase price to support Trailspace's independent gear reviews.
You May Like
Specs
Price
MSRP: $249.95
Current Retail: $249.95-$319.95
Historic Range: $149.93-$319.95
Reviewers Paid: $190.00

Weight
5 lbs

Length
84 in

Capacity
2

Minimum Weight
5 lbs / 2.24 kg

Packaged Weight
6 lbs / 2.77 kg

Floor Dimensions
84 x 50 in / 213 x 127 cm

Floor Area
29 sq ft / 2.69 sq. m

Vestibule Area
24 sq ft / 2.22 sq. m

Tent Volume
45 cu ft

Number of Poles
2 7000 series aluminum

Tent Volume
1274 liters

Interior Peak Height
40 in / 102 cm

Packed Size
20 x 7 in / 51 x 17 cm

Number of Doors
2

Freestanding
yes

Rainfly Fabric
68D ripstop polyester 1500mm Polyurethane & DWR

Canopy Fabric
40D ripstop nylon & DWR

Mesh Type
20D polyester micromesh

Floor Fabric
70D taffeta nylon 3000mm Polyurethane & DWR

Country of Origin
Imported

Vestibule Volume
708 liters / 25 cu ft

Recently on Trailspace