MSR Fling

The Fling has been discontinued. If you're looking for something new, check out the best three-season tents for 2020.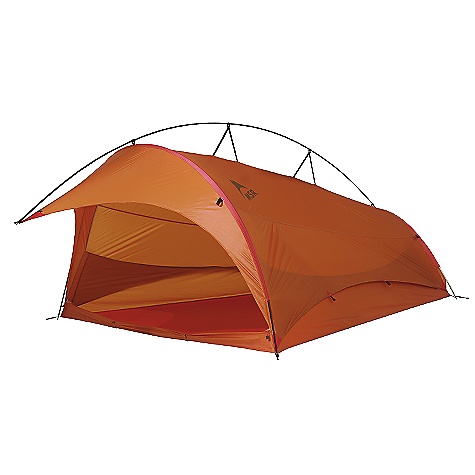 Specs
Price
Historic Range: $124.93-$289.99
Reviewers Paid: $50.00-$300.00

Reviews
9

reviews

5-star:

2

4-star:

4

3-star:

1

2-star:

2

1-star:

0
Lightweight and plenty of room, this is an excellent backpacking tent for those looking for a middle ground between ultralight tarps and double wall tents. Would be a little snug for two larger people.

Simple straightforward design. Either free standing with the ridge pole, which gives a little extra headroom, or travel lighter and leave the ridge pole at home and set up the tent with stakes and tension lines. Awning side venting helps reduce condensation, the only real drawback to a 3-season single wall tent.
Pros
Lightweight
Simple and elegant design
Flexibility in pitching/weight
Cons
Because of its lighter weight fabrics it is less durable than a heavier tent
Hoop poles feed through a sleeve that uses a coated material which makes the inside of the sleeve a little sticky
Guy lines are reflective to help prevent nighttime tripping.
When fully staked and guyed does well in wind, especially if oriented with the foot to the wind.
Packs small and easily.
Source: bought it new
Price Paid: $200

This is my go-to desert hiking tent for overnight. Its side vents are odd and would potentially expose you in a long windy rainfall.  Moisture does condense on the inside overnight. I note the lack of a vestibule, and the long front overhang means you have to crawl in and wipe sand off stage by stage. 
The only thing I would do differently if I were designing a tent like this is redo the front overhang as a 2-inch lip. I find it useless.
On the much more important plus side, the tent is light and packs down to a very reasonable size.  It is easy to set up and take down alone, even in a strong wind. The venting is not a problem in 30-40 mph gusts, and the two desert rain showers I have slept through stayed outside. 
I am 6'2", and sleep comfortably in here alone or with my wife or son. Alone, there is plenty of room for my large pack. The peak at front is high  enough for me to sit up and get dressed/read maps.  I generally spend an hour awake in my tent before sleeping, and it is nice to have a little room and be able to sort out my pak while sitting up. 
Overall, the tent makes decent trade offs. It is relatively inexpensive, only a few ounces heavier than ultralight tents, and provides useful room. My feet do not hit the bottom end when I sleep, and it vents adequately even in heat, but even in high winds, not excessively. 
Price Paid: $200

First, let me start by saying I am a 66-year-man so please consider this when reading the my review. My wife and I hiked the John Muir Trail and purchased the Fling as I wanted a lightweight waterproof tent, and this is what we got.
The problem for us was the condensation build up in the tent and the uncomfortable entry and exit. The tent is very roomy and mostly water proof except for leakage at the side vents. For younger folks or those who are more flexible than we--great tent. Oh, another problem we found was the lack of a vestibule which proved a problem in bad weather.
Design: three season freestanding single wall tent
Sleeps: 2
Ease of Setup: no problem
Weight: 3 lbs
Price Paid: $100

One major drawback that has yet to be mentioned: too much unclosable venting that is vulnerable to rain. The side vents are not well protected by the roof material, which can drain through them strait into the floor, especially if wind blows the floor/side material that way. One can try to fight this if one is on un-rocky enough ground to pull the sides out with stakes, but I still feel the side vents are still too draughty if not rain-welcoming. I may use plastic clips or something to try to pinch the side vents together in cold or rainy situations.
Otherwise a fine tent: fairly light, very easy to set up, roomy.
Sleeps: 2
Price Paid: $50 used

This is an amazing tent. I originally bought it because it was a relatively cheap (found one on sale for $130,) two-person, lightweight tent.
One thing I will add to what others have said is a commendation of MSR's attention to detail. Two things that really stand out about this tent compared to others I have used (quite a few) is the guy wires and the tent stakes. Although these are two aspects of a tent few would note in a review, they are amazing on this tent.
When setting up a tent, I am often frustrated by puny aluminum stakes bending when they are beat into the ground with the closest large rock. Not so with the Fling (and, I assume, other MSR tents). MSR's titanium stakes don't bend - they devour rocks. No kidding - when using a soft limestone rock, I generally have a hole in it before I've finished getting the stake all the way in the ground. If you happen to own another tent, you should consider buying some MSR stakes - they are that wonderful.
During the night, the extremely reflective guy wires are impossible to miss if you are wearing your headlamp while venturing outside to do your business. Also, these lines come with a simple curved metal piece that makes tightening and loosening the lines very easy - especially in the cold. After a few hours of high winds however, they do tend to slip.
Despite my current love affair with the Fling, I am unable to give it more than 4.5 stars - not because I don't think it is the most amazing tent I have ever owned (well...the other one was a $20 Academy tent), but because I have only owned it for 3 months and have yet to be rained on in it or had to deal with extremely hot weather. However, I can tell you that it withstands 45 mph gusts very well.
It is, overall, a very nice home-away-from-home.
Price Paid: $130

I actually found that if you are going lightweight the tent is actually big enough for three (w/o equipment) and that puts it at about 1.3 lbs each. (Forget the nonsense about its minimum weight, you have to bring some stakes plus the stuff bag so it is closer to 4 pounds even leaving the main optional ridgepole behind.
I was surprised that this wasn't advertised as a three-person. I mean, not roomy for three but possible. Did not use in rough conditions... Southern New England AT which is pretty mild.
One drawback: does not have full front screen. If it is hot and you want bug protection your choice is to allow the bugs in or stifle yourself by putting up the front door with the screen from halfway up to the top.
Design: 3 season
Sleeps: 3
Ease of Setup: Quick set up.
Weight: about 4 pounds
Price Paid: $300

My experience with how the Fling functions is pretty similar to the two previous posts, and on those points I pretty much agree. So, I won't repeat them. However, in my opinion, this tent has two serious drawbacks.
One is that the rear pole sleeve is sewn in such a way that the ends of the sleeve on the corners closest to the rear of the tent put a lot of stress on the seam and the fabric. The fabric ripped at this point on my tent during set up on the first trip. A tent should not be designed so that ripping during set up under normal conditions by an experienced backpacker is at all possible. Granted that MSR was quick about repairing the tent. But in my opinion this is an obvious flaw. This flaw applies only to the rear sleeve. The front sleeve is OK in this respect.
The problem comes from the design of the pole sleeves. The sleeves are constructed by sewing a long thing peace of durable fabric onto the tent. Instead a pole tube should protrude from the tent, almost as a separate piece.
Another problem is that both sleeves on the Fling are so narrow, that the poles do not slide though as easily as they should, and as easily as they do on other types of pole sleeves. Furthermore, because the pole sleeves are so narrow, if one had to repair a pole, I suspect that the repaired pole would probably not fit through the tube. I would like to learn if anyone ever experiences problems with Fling poles repaired in the field, but I hope it won't be me.
These characteristics of the Fling make it a tent that I will not rely on for a long hike. I would not recommend the tent.
Design: Single Wall, Three-Season, Free Standing with Stakes
Sleeps: 2
Ease of Setup: Poles hard to slide through sleeves. Otherwise OK with good poles.
Weight: 4 pounds
Price Paid: $269

Being a Boy Scout I want a large tent that is easy to set up in the dark yet is light as possible and usable in all kinds of weather. This tent is all of the above. I saw it online when I intended to buy a Mountain Hardware Airjet 2.
I just used the Fling on a weeklong stay at summer camp and it rained once a day for the first five days. On the last two days it was in the 90s. During the rain the tent did not drip at all on me or my gear, however there was some condensation on the inside of the tent on the last day of rain. I was using the tent with the ridge pole and the back and corners staked but not the front.
Overall the tent is very roomy for its size and will fit two people (with large sleeping pads) plus a medium amount of gear. I would highly recommend the Fling to any fellow Scouts along with everybody else.
Design: 2 Person Backpacking
Sleeps: 2
Ease of Setup: Very Good, Straightforward.
Weight: Under 4 lbs.
Price Paid: $209 from EMS online with discounts

After a week of backpacking the high country of the Wimenuche Wilderness area of Southwest Colorado you come to understand that abrupt changes in summer weather are the norm. I used the MSR Fling in conditions ranging from warm and sunny to torrential rain to Summer pea sized hail and 28 degree night time temperatures at 12,600 ft. The Fling performed flawlessly in all these conditions.
Some points I liked about the design: It's easy to pitch and easy to pack and it's very light for such a roomy design. I was using the Fling as a solo tent on this trip and for one person it is positively cavernous! I had plenty of room for myself and my pack with room left over to comfortabley sit in the doorway and cook a meal.
I like to make my morning coffee or tea while still warm in my sleeping bag, an old habit I picked up in the '70s from Colin Fletcher's book "The Complete Walker". The Fling performed really well in heavy rain even after being pitched on wet ground. The seams didn't leak at all and there was only minimal condensation one would expect from a single wall tent. The ventilation seems adequate if you guy out the sides of the tent. I had a nice cool afternoon nap in sunny warm weather with a nice fresh airflow through the side vents and the door half closed.
The tent design sheds wind quite well if you pitch it with your feet facing into the wind. In really strong side gusts the poles did flex a bit but not such that the walls of the tent would push in and touch my sleeping bag. I brought along the optional ridge pole wich allows you to pitch the Fling as a freestanding tent and I was glad I did. I tried pitching it one night without the ridge pole and it was still fairly tight. In my opinion the ridge pole is worth the extra weight to carry unless you are a weight elimination maniac.
Some points I didn't like about the Fling: I would prefer another color that's a little more subdued, perhaps a moss green or a muted blue. The orange color is the only one available and it sticks out like a sore thumb. I suppose this could be an advantage if you're trying to get rescued by helicopter but it's a little bright for my taste.
I would also prefer a door that doesn't sit on the ground when it's open. A "D" shaped door would work nicely and would tie neatly out of the way on the side vertically. The "door on the floor" concept is just inviting dirt and moisture to get ground into it from being stepped on.
Overall, the MSR Fling is an outstanding value for the weight concious backpacker who would like a light tent with more living space than most solo tents afford. This tent is light, well designed, is easy to pitch and easy to live in, even for two. I will definitely be keeping mine for future adventures.
Design: Three season free standing or not unique design
Sleeps: 2
Ease of Setup: Very easy to pitch, even in the wind
Weight: With all poles etc. three pounds, seven ounces.
Price Paid: $269

You May Like
Recently on Trailspace