MSR Flylite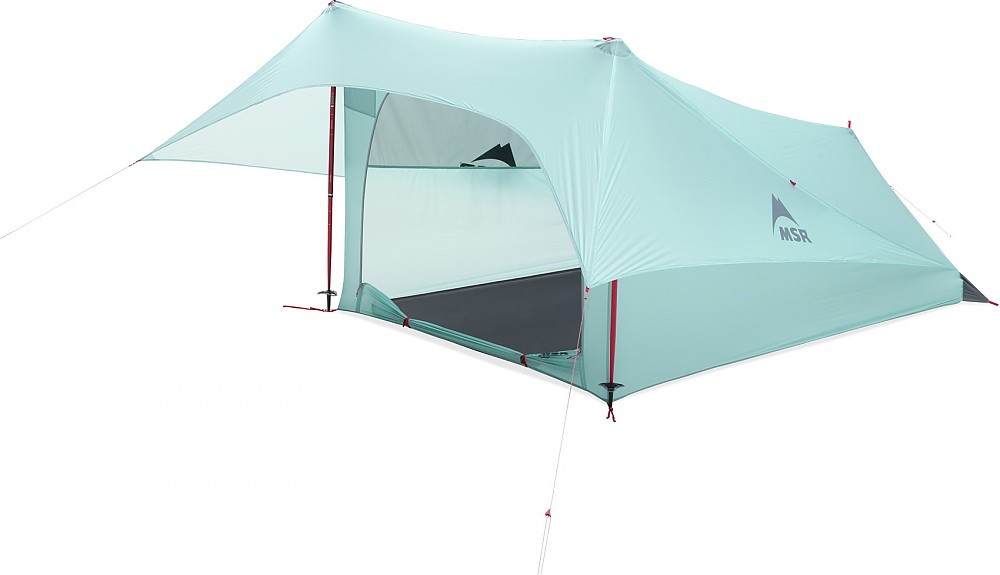 A minimalist, 2-person, non-freestanding shelter best suited for lightweight backpacking in mild weather. As with most any single wall shelter, maximum venting is desirable (as much as weather allows) and with this particular design, considerate campsite selection is key. I do not recommended it for high winds and extended heavy rain.
Pros
Lightweight
Fast pitch
Dries quickly
Large door gives nice views when open
Looks cool
Cons
Doesn't handle wind well
Doesn't handle horizontal rain well
Requires semi-delicate handling
The manufacturers product page is here.
Here is an interesting reference to it in the review of another product by MSR staff. (This reference states the Flylite is the next evolution of the Fast Stash.)
I'll just list a few pertinent points about it here:
It's a non-freestanding, 2-person tent.
The packaged weight is 2 pounds 4 ounces and my scale agrees.
It's designed to be pitched with trekking poles and an included mini-pole for the foot end.
The rainfly/body is 10 denier fabric with 1000 mm coating and the floor is a 20 denier fabric with a 1200 mm coating.
Brief overview video (best in full screen):
About the tester and testing conditions
I'm an avid recreational backpacker with many years of experience (check out my trip reports to see where I go). During the review period I used this tent for seven backpacking trips for a total of 14 nights. All trips were done in the Southern Appalachian mountains including Great Smoky Mountains Nation Park, Citico Creek wilderness, Joyce Kilmer Forest, and Nantahala National Forest. I encountered typical winter conditions for the area such as snow, rain, wind and temperatures from 10°F (-12.2 °C)  to 60F (15.5 °C).
Setup
This tents sets up quickly; A pet peeve of mine is having to walk multiple circles around a tent to get a good pitch and that was not an issue with this tent.
I had no instructions with my sample, but discovered that step 1 is inserting the foot end pole and loosely guying out the center foot stake, step 2 is staking out the four floor corners, step 3 is inserting the trekking poles in the front corner receptacles and guying them out, step 5 is tightening all guy lines with the included tensioners. Optional guy points are included on the tops of the trekking pole corners and side walls.
I found the optimum trekking pole height to be about 115 centimeters (45 inches).
I found the Mini Groundhog stakes that came with the tent to be inadequate. I soon abandoned them for a set of standard size MSR Groundhog stakes from my stash.
Brief Setup Video (best in full screen); with no instructions, this is what I did:
Room and Storage 
This is listed as a two-person tent and two people my size could easily fit. (I'm 5'7" / 160 lbs); taller folks should note measured interior length at 80 inches. I really liked the large door and 45 inches of headroom at that spot. For one person there is ample room for you and your gear.
However, with two people, all the gear must be stored outside and this tent has no vestibule to speak of.
When considering minimalist, "just enough" principles, I understand the desire to eliminate any ancillary or non-critical fabric from the design. And like many, I've read Andrew Skurka's quote that he "doesn't need a mud room for his gear".
But practically speaking, having no outside storage requires that you either bring in all your wet dirty gear with you or find some way to keep your wet dirty gear from getting wetter if you leave it outside. I wound up carrying a kitchen garbage bag to lay out on the floor and placed my wet pack and shoes on it. With two people you would want to figure out a way to keep your shoes and gear dry while stored outside.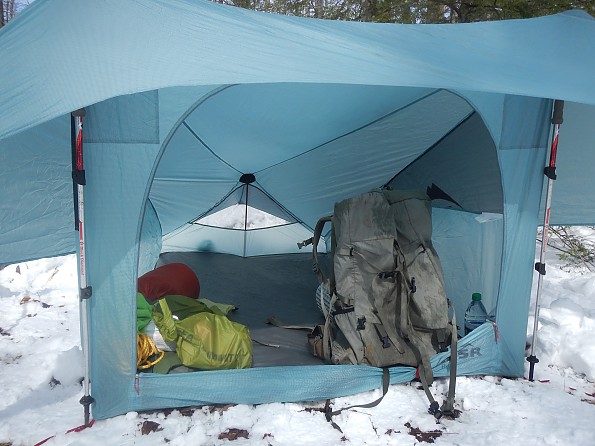 [click to enlarge]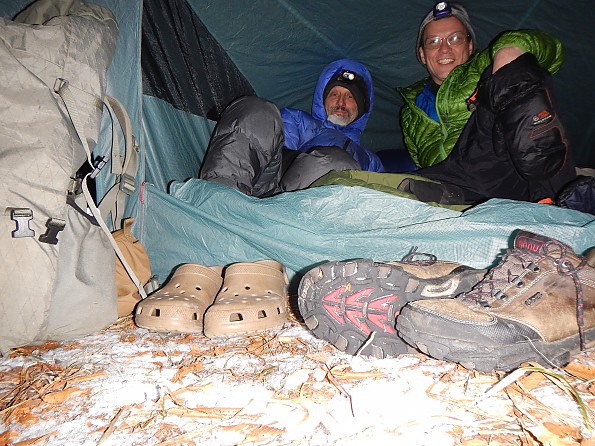 [click to enlarge] - Me and Tipi Walter checking out the space.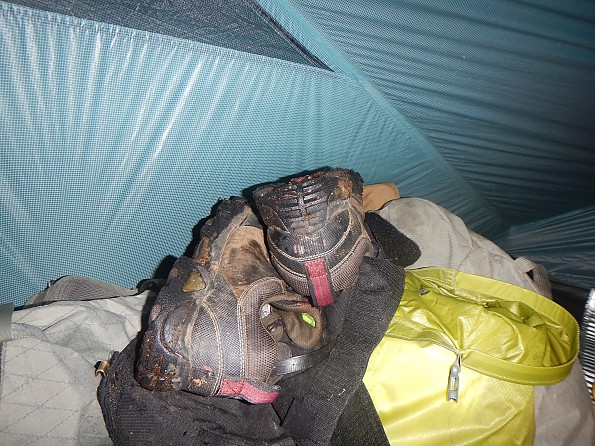 [gear inside with me- be glad you can't smell photos :)]
**Inside space is reduced if the tent is saturated with rain. I observed about a three to four inch sag in the rainfly when saturated.
Demonstration of saturated canopy reducing headroom:
Durability
Durability is often a compromise with minimalist shelters and this one also requires careful handling and campsite selection; after all it is a 20D floor and 10D body.
I did in fact unintentionally rip off one of the corner stake loops while trying to pull a stake from frozen ground. I attribute this mostly to my clumsiness, but it's still a bit disappointing that the corner so readily ripped off. I was able to repair it at home with my ugly amateur stitching. Luckily it happened on the last night of a trip and not the first.
Wind & stability
My first camp with this tent happened to be on a moderately windy and rainy day. I had pitched tent, made camp, and proceeded to go on a day hike. I returned to find the tent partially collapsed. The center foot stake had pulled out of the ground. I re-staked and rolled a rock over the top of the stake.
The wind continued to blow and later I was awoken in the middle of the night with the rainfly nearly touching my face and the foot of my bag wet from the now exposed mesh vent in the foot of the tent. The stake had pulled out again, moving the rock in the process.  
What I determined was that the flat aspect of the canopy was catching the wind like a sail and transferring that force in a tightly focused way to the center foot end stake.
I had another similar experience with wind after which I began seeking more sheltered places to pitch and also began experimenting with angles of pitch in relation to wind direction. In winds that had a predominant direction, it seemed the best option was to actually face one of the front corner trekking poles towards the wind at an angle and use all guy points.
I also observed that if the side wings above the mesh vents weren't very taut, wind could force them to close and obstruct the mesh thereby reducing ventilation.
Rain & misting
The Durashield coatings on this tent worked well; I've come to expect that from MSR and this model was no different.
I did observe some slight hydrostatic penetration up through the floor when water flowed under the tent but comparatively, it was less then I've observed on other 20 Denier floors.
In horizontal rain (wind blown rain), water can be blown through the mesh at the top of the door resulting in (mostly) fine mist, but occasional larger drops making it into the tent. On one trip this condition persisted to the point that I pulled my rain jacket over my head to get some sleep as the cold misty blow-through kept waking me up.
As with any single-wall shelter (and especially those made of thin denier sil-nylon) misting from rain impacting accumulated condensation is a reality that must be dealt with. (condensation builds on the internal rain fly surface and gets knocked loose by repeated impact of the external rain drops).
If sunlight was available, the tent dried out in about 15-20 minutes; if the interior was wet, I had to turn it inside out for effective drying.
To be clear: the misting and blow-through should not be considered life-threatening in terms of compromising your sleep system or body insulation. They were however, highly annoying.
Ventilation and Condensation
This tent is most enjoyable when you can keep the large door open. A light breeze was desirable to help with ventilation if the door had to be closed.
When I could leave the door open I felt much more connected to my environment and really dug being able to star gaze on the way to sleep.
I can't say that this tent is anymore prone to condensation than any other fully enclosed single wall shelter I've used, but if you have to close the door, you should prepare to deal with it. To be fair, I live in a very humid part of the country and happened to camp in some really humid places; but I wound up carrying paper towels and camp towels to wipe off various surfaces.
On one trip I left the door closed to go on a day hike and returned to a tent that looked like it had rained on the inside. Again, this is par for the course for a single wall shelter used in this part of the country.
Summary
I didn't want to judge this product too harshly considering that its in a class that I would call "just enough." I actually reached out to my fellow Trailspace Review Corp members to get a sense of what their expectations were from a shelter billed as "minimalist." Most had the same thoughts I did in that there are base criterion to be met to call a product a shelter (however minimal). My rating bears that in mind.
I enjoyed the fast pitching and large door; I liked the bold look of the design and spirit of simplicity (in fact, had it performed a little better in adverse conditions, I might even use the word elegant).
If the primary goal of this design is to reduce carry weight, it's well met. For those intending to use this product for light and fast trips in fair weather and at protected campsites, it's worth a look.
I'm a fan of MSR in general and they make many excellent products; but for me, the mediocre wind and rain performance don't justify the reduced weight of this one.
_______________________________________________________________________________
Below are some miscellaneous pictures for those interested: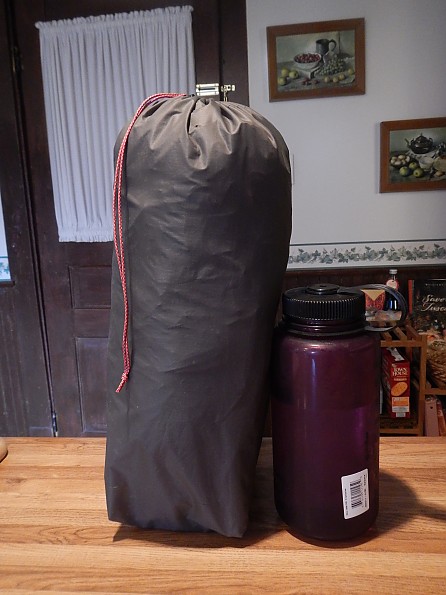 Packed and compared to a 1L Nalgene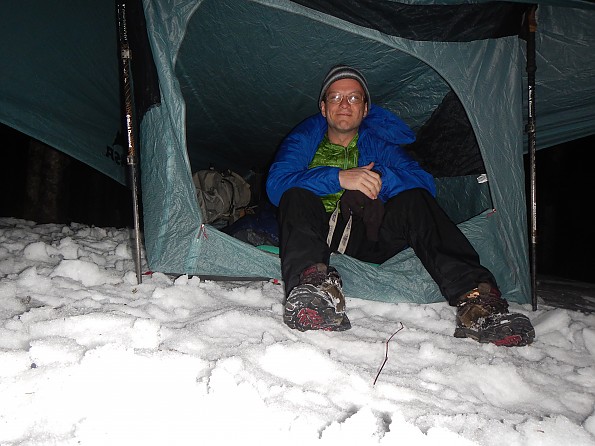 Uneven camp on rounded top of Mt Ambler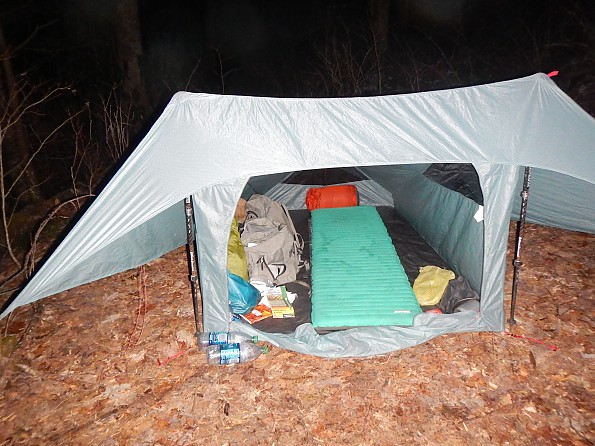 High-Dog Camp on Naked Ground Trail Joyce Kilmer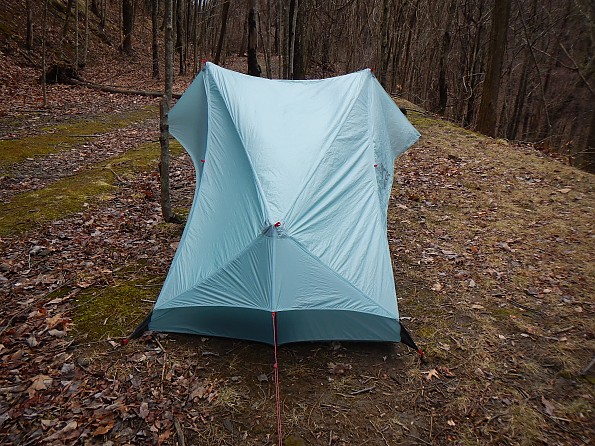 Rear view with first pitch (wings not taut—was still learning)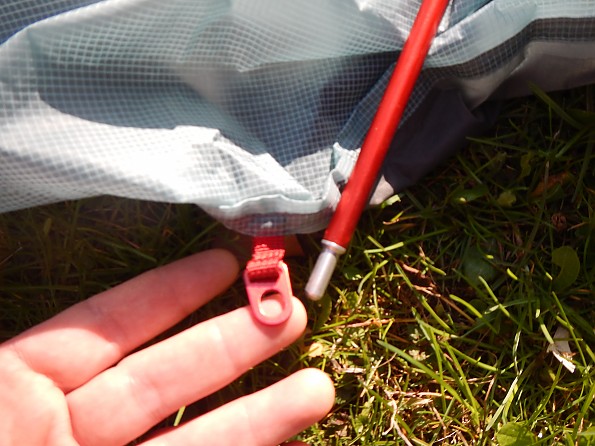 Foot end pole and grommet (does not guy out)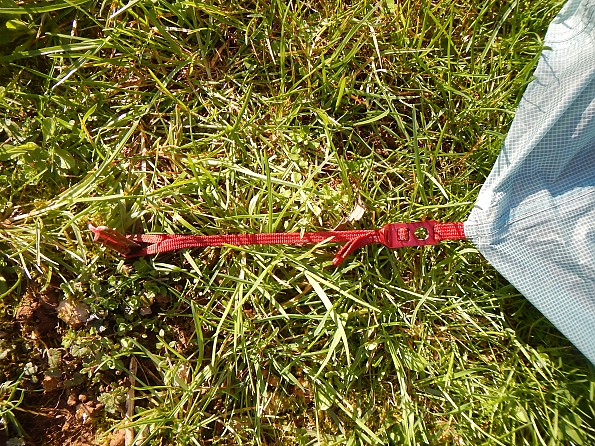 adjustable front corner stake loop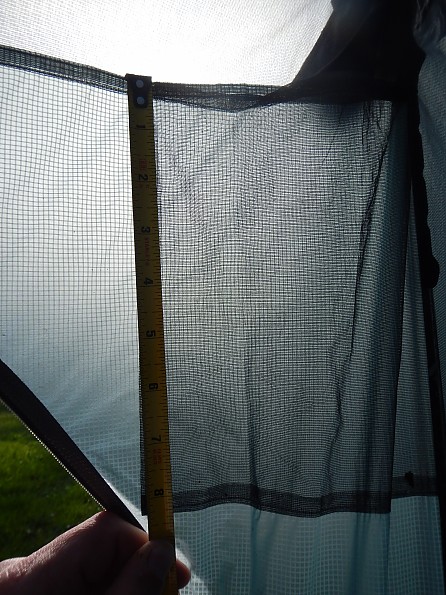 Inside pocket is 8 inches deep by 7 inches wide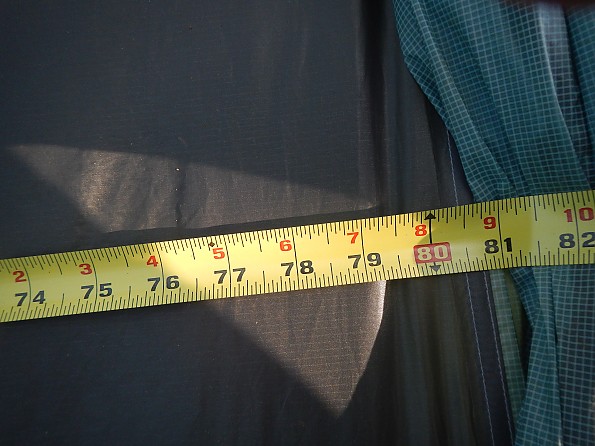 Middle measurement of interior floor \ foot to head : about 80 inches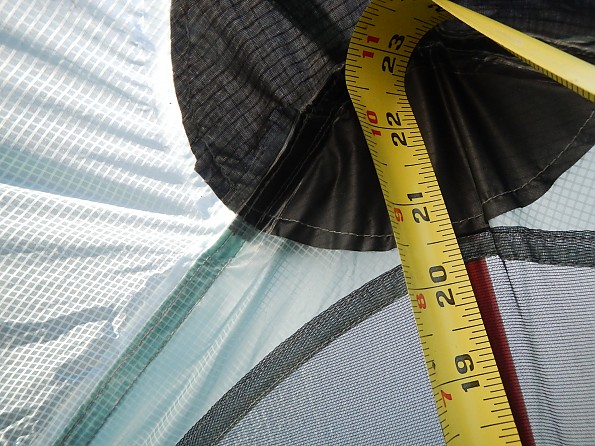 inside height of foot end pole: about 23 inches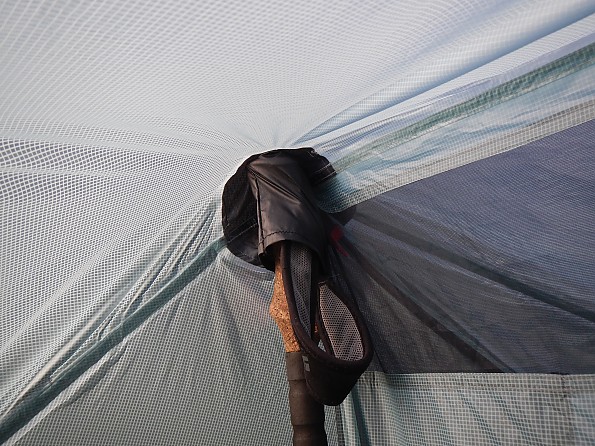 close up of front corner pole sleeve
Source: received for testing via the Trailspace Review Corps (Sample provided by MSR for testing and review)

Your Review
Where to Buy
Help support this site by making your next gear purchase through one of the links above. Click a link, buy what you need, and the seller will contribute a portion of the purchase price to support Trailspace's independent gear reviews.
You May Like
Specs
Price
MSRP: $349.95
Historic Range: $24.98-$349.95

Capacity
2

Minimum Weight
1 lb 9 oz / 710 g

Packed Weight
2 lb 4 oz / 1.02 k

Body Weight
1 lb 9 oz / 708 g

Frame Weight
1 oz / 39 g

Floor Area
29 sq ft / 2.7 sq. m

Tent Volume
72 cu. ft / 2039 liters

Interior Peak Height
44 in / 112 cm

Packed Size
18 x 6 in / 46 x 15 cm

Recently on Trailspace