MSR Fusion 2

The Fusion 2 has been discontinued. If you're looking for something new, check out the best 3-4 season convertible tents for 2023.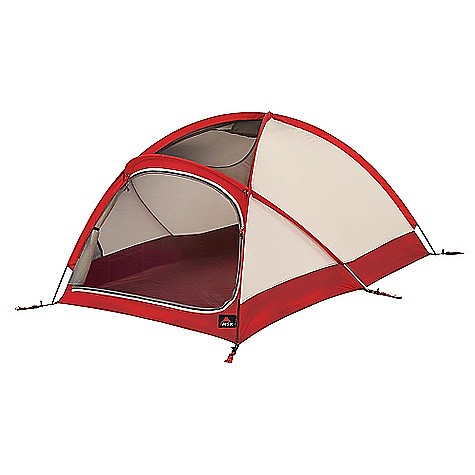 I got a hold of this tent at an REI garage sale when it had already been used and I have no idea why somebody would take this tent back. This is an incredible tent. It makes a great winter tent when you close up all the vents. I was very surprised at how warm I was inside the tent without having to get in my sleeping bag. While on the other hand I have also taken this tent on several summer trips. When you open up the vents everything cools off very quickly.
There is storage all over the tent to put misc. items like flashlight, book, journal or whatever. I found the vestibule to be very very useful. Especially when it is raining outside and you need to keep your boots dry but you don't want to track in all the mud in your tent. This tent holds up under tough weather, especally rain. While I was in Chicago Basin it dumped on us for 3 days and I was never wet in my tent. There is plenty of headroom in this tent if you need room to get dressed. Me and my buddies actually put 4 people in this tent for a 3 hour poker game and were comfortable. The tent is a little heavier than any ultralight tent, but those tents will never hold up like this beast.
The one drawback (and I hate to call it a drawback because it is so minute) is MSR could have made the tent a foot wider and this tent really would be flawless. GREAT GREAT tent and I would recommend it to anybody for any trip.
Design: freestanding
Sleeps: 2
Ease of Setup: incredibly easy
Weight: 6-7 lbs
Price Paid: $60

When i was looking for a tent I wanted one for all seasons. I researched 100s of tents. It took me about a month just to narrow down to finally picking the MSR Fusion 2.
I have had it for about a year and a half now and I am in love with it. Took it camping many times through rain, hot, and cold and it defeats all seasons and weather with ease. In high wind the tent is silent, no flaping of any parts, stakes out great, plenty of vents, one huge door/vent, a big overhead vent, and a huge vent opposite the door that reaches up to the apex at the top. Nice for star gazing in warm weather because it opens up in so many places.
Setup is as easy as it gets .The poles' slots have two places were you can put the pole in one place for warmer weather for when the material expands and the other for cold when the material tightens up. This tent will make anyone happy that buys it. You will be sheltered from all weather conditions. The only thing is, I don't have the footprint and I want it. Perfect tent!!!
Sleeps: 2
Ease of Setup: simple
Weight: 7lb
Price Paid: $250

Brilliant tent and great customer service.
Pros
Comfortable
Reliable
Sturdy
Cons
Difficult to set it up as it is a three-pole tent and you need to get used to setting it up in right order.
I have had this tent since 2004, used it on several camping trips. It has been very reliable and comfortable.
In 2022 one of the poles snapped near the edge and I could not find a replacement in UK. I called MSR customer service in USA and in a few weeks a replacement was sent out free of cost. This is not just a great tent, it is made by the company that backs it up by great customer service.
Background
Used it on several hikes and on some glacier climbs
Source: bought it new
Price Paid: cannot remember

Love this tent which I just bought this summer to replace a one person Moss Outland (poles kept snapping). The Fusion 2 feels huge and comfortable after a one person tent (I have been using it alone and love it when I'm holed up in wet weather). Good use of floor space. Nifty gear loft and innovative little pouch to place headlamp so can read/work in tent. Excellent in wind. Stakes out well. Great refelctive edges help locate tent in dark. No leaks. Once i get a sleeping bag that is not so warm I will expect less condensation in the tent. I am a warm sleeper anyway and always get lots of condensation.
Design: 4 season freestanding
Sleeps: 2
Ease of Setup: easy
Weight: 7lb approx
Price Paid: $375 Ca

Very awesome tent. I've had mine for 8 years, had 1 pole snap (and repaired for free by MSR). Great in the cold with a good bag (I've used it down to -20c), good in strong wind.
Very small for two adult males, and the vestibule is good for about 2 pairs of boots, no packs really. It's fairly small and light for a 4 season tent though. I love mine.
-D
Sleeps: 2
Ease of Setup: 3 or 5. Poles run through sleeves which is more secure but less convenient than clips. I've set mine up alone at 1am with a headlamp though, so it can't be unreasonably hard.
Weight: 7lbs

This tent is very, very tough. Great durability-to-space-to-weight ratio. I had no ventilation problems, but I am not a sweaty person! Not cramped, but not the biggest. The MSR's stowaway pouches and large overhead clearance are important! Not a summer only tent, but not a four season pain in the butt, perfect balance!
Design: three or four season convertible free standing
Sleeps: 2
Ease of Setup: Up and down in less than 5 min!
Weight: 6-8lbs
Price Paid: $230

If you are looking for a 4-season tent get a proper one otherwise this is a passable but average 3-season tent that can zip up if the weather is bad. Not that sturdy as it has 3 poles not 4 so the bottom end moves around in the wind and needs to be pegged out well. Very hard to keep the fly off the inside in the side sections causing damp which made my bag wet, not good!
Also the top section that opens up for air flow is completely useless with the fly on due to the sleeved pole design making sure it creates no airflow whatsoever, just look at the pic... The clip on pole design is 100 times easier to setup than this sleeved design. I was struggling to set this up in mild wind at -5C temperature as hands were freezing poles hard to feed quickly and kept getting stuck.
Not a tent for being in a bad position in! Other than that its good build quality is fine for camping and normal hiking so that bumps it up to 3 stars but it's not worth the $$ when you pay an extra 30% for an expedition quality tent.
Design: 3-4 season dome
Sleeps: 2
Ease of Setup: Difficult
Weight: 3.8 kg
Price Paid: $335

Best tent I've ever owned and I've owned alot. Setup is very easy. Quality materials and design. Highly recommended.
Design: 3-4 season dome
Sleeps: 2
Ease of Setup: Very easy setup.
Weight: 7 lbs.
Price Paid: $250 E-bay

I have only used this tent on one trip in the mountains but I have a few things to say about it. The Fusion 2 is an okay tent; MSR uses high quality materials paired with a useable design. The fusion is very large inside with plenty of headroom. Also, it packs up easier than any tent I've ever used. But, it does seem to have some drawbacks.
One, the weight is a little high, but to be expected with heavier duty materials. Secondly, the ventilation is not great. When my girlfriend and I used it, the tent started to drip on us toward morning. The humidity was close 100 percent; I guess I was expecting better.
Overall, I probably would not buy this tent again for a few reasons. I don't need a four season tent, I only hike in the summer anyway. Also, it is a little on the heavy side. Finally, I just paid too much for a tent I don't use enough (my own fault).
Design: three pole, freestanding
Sleeps: 2
Ease of Setup: normal
Weight: 8 lbs
Price Paid: $230

Your Review
You May Like
Specs
Price
Historic Range: $219.83-$369.95
Reviewers Paid: $60.00-$335.00

Recently on Trailspace