MSR Guardian Purifier

The MSR Guardian is a top of the line water purification system that delivers on its impressive claims. Very fast, very efficient, and largely hassle-free (requires no backflushing). Excellent for the solo hiker, but perfect for larger groups.
Pros
Easy to use
Very fast (2-2.5L/minute)
No backflushing required
Impressive efficiency claims
Great for bigger groups
Cons
Initial cost may put people off
Getting pre-filter to engage can be annoying at times
Disclaimer:
This review is purely on design, usability, durability, and my overall opinion of the product. Without access to a water testing laboratory, I cannot make any claims regarding the actual efficacy for removing harmful impurities (biological and non-biological). While I can say that I have never gotten sick drinking water filtered by the MSR Guardian, that in-itself is no validation of the claims. Without proper controls, it is merely circumstantial.
Introduction:
The MSR Guardian is the latest and greatest in backcountry water purification (actual wording according to MSR is "The world's most advanced backcountry purifier"). 
According to MSR:
"Nothing is safer or easier to use for purifying the most demanding backcountry water sources than the Guardian purifier. Originally designed for military squads, it brings this highly advanced technology to global travelers, backcountry users, and those stocking emergency kits. Fast and easy to use, this pump purifier offers the added viral protection you need when traveling in developing nations and popular wilderness areas. Its advanced hollow fiber filter offers the most reliable way to purify even filthy water conditions. Add its long-lasting performance and revolutionary self-cleaning ease, and this may be the only treatment device you'll ever need."
The major selling points according to MSR:
Ultimate Protection: Meets NSF protocol P248, testing standard used by U.S. military, for removal of viruses, bacteria, protozoa, and sediment from "worst-case" water conditions.
Fast & Easy: Pumps a rapid 2.5 liters per minute, offering added viral protection without the need for chemicals, bulbs, batteries, or waiting.
Self-Cleaning: Pump self-cleans on every stroke, providing consistently fast flow rates with zero hassle—no backflushing or filter-scrubbing ever required.
Long-Lasting: Leading-edge hollow fiber cartridge treats up to 10,000+ liters.
Extremely Durable: Engineered to withstand heavy use, freezing, drops, and harsh environments.
Removes 99.99% viruses (e.g. Hepatitis A, Norwalk)
Removes 99.9% protozoa (e.g.  Giarda)
Removes 99.9999% bacteria (e.g. E-coli, Salmonella)
Build and Design:
One thing that is immediate with the Guardian, before you even take it out of the box, is that this is a premium product. Not that you should expect anything less for the $350 price tag, but there is an immediate sense that you are getting something a cut above. The packaging is attractive, clearly showcases the product, and is very rich in information.
I have never mentioned packaging in a review before, but was compelled to comment on the high quality of the presentation of the Guardian. Additionally, it also comes with a plethora of instruction manuals in the language of your choice.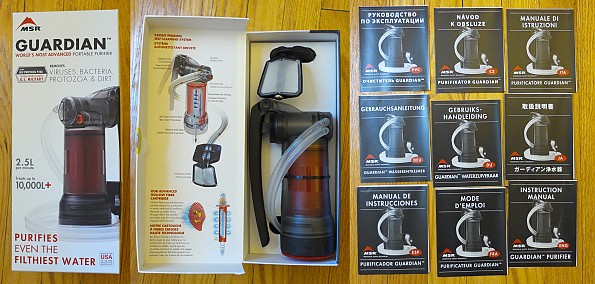 Additionally, the item comes with a neat, appropriately sized MSR carry pouch with mesh strips along the top which allow for moisture to evaporate rather than build up mold. Overall (pouch included), it is a small package, which is about the size of a 1L Nalgene bottle (see below). The weight comes in at 1 lbs 1.3 oz (or 490 g). This is not an ultralight item, but given its performance it more than makes sense to carry (more below).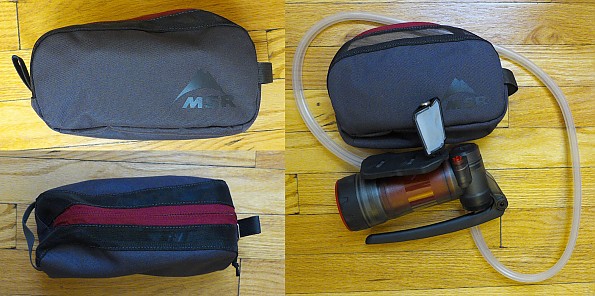 Conceptually, the Guardian is a hollow fiber filter (0.02 micron pore size), with a pump which pulls water from a hose that has an additional fine mesh filter at the end for removing large particulates. Of course this is just a rudimentary explanation, as the technology in the Guardian is both advanced and cleverly implemented.
For instance, the second hose is a dirty outlet house for flush water; the system is essentially self-cleaning. More details can be found on www.cascadedesigns.com. The construction is of plastic, but feels very solid, and all moving parts operate very smoothly. This is perhaps what you would expect from an item made in the USA, which in my opinion also helps to justify the price point (see above).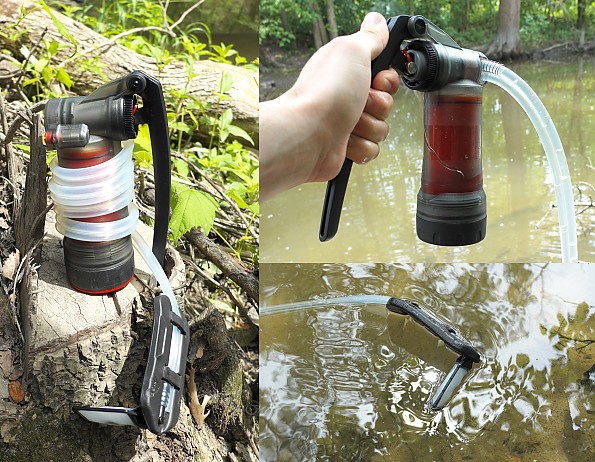 The bottom of the filter has threads which line up perfectly with a standard Nalgene bottle, but it is not necessary that you screw it on to a receiving bottle/container in order to use. It does however become a bit of a juggling act trying to fill non-standard receiving bottles/containers such as Platypus bags. This ideally becomes a two-person job.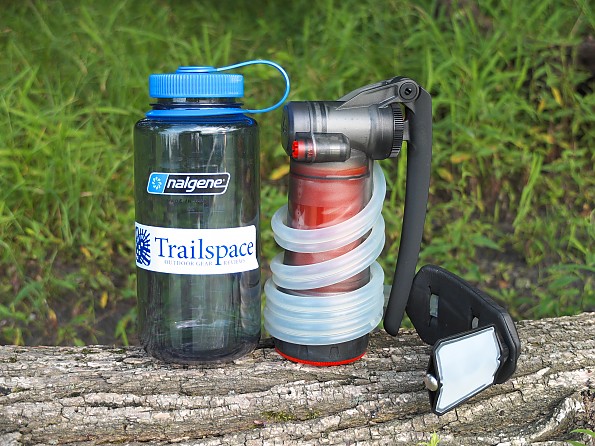 Of course all the nice points about construction are meaningless if the filter simply doesn't function in a consistent, and convenient, manner. The idea with the Guardian is you find a water source deep enough for the pre-filter at the end of the hose to submerge sufficiently to pull water. Then you simply start operating the hand crank, and the unit begins to pump and filter (it is suggested you run a few rounds through before collecting the water you will drink just to remove any stagnant water from the unit). Because of the design, you can conceivably filter water from a 1.5 inch deep puddle.
There is a video below of me using the Guardian to fill a 1 L Nalgene bottle,from a very unappealing swampy lagoon. Comments on my experience and observations are provided after the video.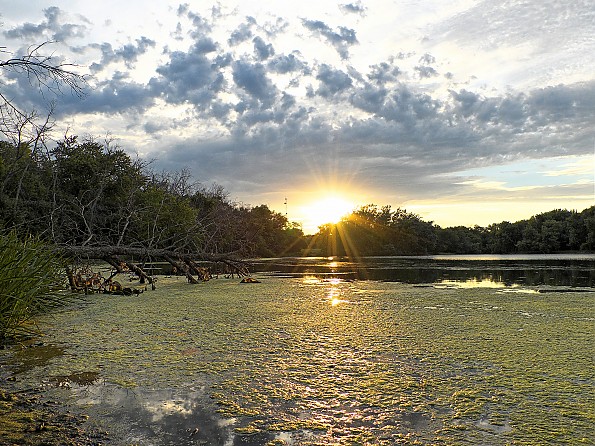 This is the water source, very shallow, very muddy, full of vegetation.
As can be seen in the video, there are several points that come up.
The Bad: First, it is simply getting the unit started. To do that, the pre-filter must submerge so you can start pulling water. This can be annoyingly difficult to do, especially if you are at a standing position. To get it right, you have to let a bit of the hose hit the water. This was fine in the situation above, but could potentially be dangerous if you are on a steep river bank.
I think that a slightly heavier weight at the tip of the pre-filter would help in this situation. Nonetheless, the pre-filter does work very well, and, as can be seen in the photo below, does an excellent job of removing large particulates, and thankfully is very easy to clean afterwards. 
The Good: This thing is fast, really fast. 1 L of clean water in essentially 30 seconds is fantastic. MSR claims 2.5L per minute. I was going at a rate of about 2.1L per minute, and I would say the pace I used seemed very appropriate. You would have to pump fairly aggressively to reach the 2.5L per minute mark. 
In addition, as observed with every use, the water comes out looking clean, and clear, and the taste is not terrible (though generally, the colder, the better).
Speed, Efficiency, and Capacity: 
As mentioned above, the speed is indeed impressive, even if the 2.5L per minute would require some aggressive pumping, 2L per minute seems more accurate, and is indeed still impressive, especially when matched with purifying claims set out by MSR. The efficiency could be improved by having the pre-filter engage easier (perhaps a heavier weight to help it self-right).
As can be seen in the video above, I spent as much time righting the filter, as I did filling the bottle. Nonetheless, this impressive speed makes the Guardian excellent for both individual use, as well as large groups. With a 2L per minute + purifying rate, a group of 10 could have 2L of fresh water each within 10 minutes... Impressive!
Ease of Use: 
As noted above, the Guardian is very easy to use, with the minor frustration of getting the pre-filter started. The self-cleaning feature is excellent and circumvents the need for backflushing (like with the MSR Hyperflow for example). This saves a tremendous amount of time and hassle in the backcountry (at least in my opinion). The system itself appears to work very well, as I have never experience loss of pressure, flow, or any inconsistency in the Guardian's performance. Overall, it is very easy to use.
In addition, I have passed clean water through it at the end of a trip before storing. Because I have only run about 150L of backcountry water through the unit, I have not yet needed to replace a filter (10,000L lifetime), nor have I had to do any sterilization.
MSR recommends sterilizing the filter before and after long-term storage to ensure long life and fresh(er)-tasting water. This processes involves either household bleach or MSR Aquatabs, and is detailed in the instruction manual. I will update the review with my experience when I store it at the end of the summer.
Size, Weight, and Packability:
Size and weight is a very popular concern with backpackers these days, and it certainly is with me. While the MSR Guardian won't get the attention of any ultralighter, in my opinion it should. Its functionality and performance far surpasses any conceivable penalty in size or weight. The unit itself when packed in its carry bag is about the size of a 1L Nalgene and weighs in at nearly 500g. This is not small, especially compared to other (less efficient) water purification options such as a SteriPen or a LifeStraw. However, this item is so fast and efficient that it could easily be shared by a larger group, making the weight savings real, and the time savings even more impressive. 
Conditions and Durability:
I estimate I have pumped over 150 L of backcountry water with the Guardian to date (mostly in Illinois, Wisconsin, and Ontario). Operating temperatures ranged from 55-95 degrees, and no difference in function was observed. The unit still operates very smoothly, and no failures were observed.
MSR claims the Guardian can withstand a 6 foot drop to concrete. I will have to take their word for it, as that is not something I am willing to try. I take care of my gear, I don't baby it, and I treated the Guardian as I would anything else. So far, it appears to have no issues.
Final Verdict:
In my opinion, MSR hit a home run with the Guardian. 
The following points really drive it home for me:
ease of use: very simple to use, and no backflushing required!
incredibly fast: you can fill a 1L Nalgene in less than 30 seconds!
impressive purifying stats (99.99% viruses, 99.9% protozoa, 99.9999% bacteria): while I cannot confirm any of MSR's claims, if they are true, this unit is indeed impressive. 
Even though the Guardian is not cheap at $350, I believe it is well worth the money. Great for the individual, but even better for couples or those going out in groups.
I give this item 4.5 stars, with the only complaint being the annoyingly long time it takes to get the pre-filter righted and ready to pump.
Source: received for testing via the Trailspace Review Corps (Sample provided by MSR for testing and review)

It's a very high quality portable hand purifier, with a high level of filtration (small enough for viruses) and has fast flow rate, as it pumps very quickly. It also has a long lasting filter and is the only portable hand purifier that is truly freeze resistant.

Best for backcountry camping in remote areas, especially if the water is very unsanitary. Would definitely recommend and is well worth the price.
Pros
Filters down to 0.02 microns
It pumps 2.5 litres per minute
Has a filter lifespan of 10,000 L
Backflushes as you pump
Very little maintenance is required
Freeze resistant
Very rugged
MSR has made some bold claims on what this product is capable of and as far as I can see the Guardian is truly capable of holding up to the hype. The water I treat with this purifier is always crystal clear despite what it may look like prior to treatment.
I used to use the Miniworks but after switching I could never go back as the Guardian is just a breeze to use, as it pumps very quickly without having to even put much effort into it. I use it primarily for solo use or with small groups, but it would definitely do the job for larger groups as well.
It's very durable and is freeze resistant as long as you empty the water out of the filter prior to storage. It also backflushes 10% of its water intake as you pump, so you never have to clean the filter itself, but from time to time you will still need to clean out the pressure relief valve with clean water to keep this product working at an optimal level.
I personally love this water pump as treating water while out on a trip no longer feels like a chore. Would definitely highly recommend.
- Cheers     
Experience
I've used this pump on several multi-day canoe tripping expeditions and have put it to the test, along with others, for the sake of the video linked above.

Have also used the MSR Miniworks for years along with having experience using the Platypus Gravityworks 4L. Out of these options (which are all also great) I still prefer the Guardian.

Source: bought it new
Price Paid: $270 CDN

The MSR Guardian is small, lightweight, and pumps fast. To catch the output, you can either attach the hose from your bladder or screw a container (with the correct threading) on the bottom.

Very well built. The handle doesn't flex at all while pumping. Would definitely recommend for adventurers who engage in multiple-day hikes.
Pros
Compact design
Well built
Fast
Filters down to .02 microns
Will not break if frozen
Self cleaning
My search for a portable water filter started when I got tired of hauling my water thus limiting the number of days I could hike at a time. I did a lot of research and comparisons and finally settled on the MSR Guardian. The Black Hills, South Dakota, area is not exactly known for its potable water sources so I wanted a filter that would protect me and the people I hike with from the "nasty things" in the water.  
The claims of the MSR Guardian which I can comment on are the speed, construction, and purity of the product. The Guardian is definitely fast. I carry a 100 oz. bladder and can fill it in about a minute. The Guardian is well built. There is no feel of breaking the handle while pumping as even when pumping fast, the handle does not flex at all.
I have only had my Guardian for two months but have used it in five different areas of South Dakota. I've told other hikers the water sources I've pulled from and they were amazed I didn't get sick from doing so. So I guess the filter lives up to its name in that respect.
I have not tested it under freezing conditions yet, but winter is just around the corner. I have no doubt the MSR Guardian will continue to live up to its claims.
Source: bought it new
Price Paid: 349 USD

The MSR Guardian water purifier is an amazing piece of kit. It pumps water in both directions which makes it fast and efficient. I really loved the new approach to getting the hose into the water, so that the intake of water comes from the top of the water source and not from the bottom of the lake like previous water filters.
Pros
Fast
Easy
Less fidgeting with the float
Cons
Not clear instructions on how to clean it
Have to perform a test with a Nalgene to determine if the filter is no longer working.
I used this filter during a multi-day canoe and hiking trip in the Yukon.
The double pumping ability of this pump put the MSR Miniworks to shame and it became the go-to filter for our whole group. 
I really liked the design change in how the intake hose sits in the water. No more trying to balance the little black sponge off the bottom of the lake/river. Instead a smart float keeps the water intake floating on the surface with no effort. The particle filter is a wide piece of material that exceeds the sponge of the Miniworks and doesn't clog. 
I borrowed the Guardian as part of a group expedition, but will certainly be adding this to my personal outdoor gear. 
Source: borrowed it

Simply the best water filter in the world.
Pros
Easy pumping action
Robust
Self cleaning
Easy care after use—you don't disassemble and dry out
Drop proof
freeze proof
I have used water filters for decades. My first one cracked when it froze. I have used two MSR MiniWorks with great results. It was great to be field repairable and field cleanable BUT filtering water was slow and required a lot of effort, usually at the end of a long hard day!
Enter the MSR Guardian! Less than half the effort of the MiniWorks and at least twice the speed. For these two features alone this filter would be the winner but there is sooo much more.
This filter represents a quantum breakthrough in water filters. Most technology improves incrementally but every so often there is a quantum leap. This filter is one of those quantum leaps ahead. This filter was designed primarily for the US military. They wanted a filter that was fool proof and robust.
This thing is: freeze proof, drop proof (from up to 2 meters), self cleaning, filters out viruses(!) and easy care. After use, you simply pump out excess water and pack it away! That's it! I used to have to disassemble, use Scotch Guard to clean the muck off the filter core and then dry out before re-assembling and packing away.
The ONLY downside is the cost: 3X the Miniworks but... this one is claimed to last for 10,000 litres! For most of us, that's a lifetime. Highly highly recommended.
Source: bought it new
Price Paid: $350 (US)

Your Review
Where to Buy
Help support this site by making your next gear purchase through one of the links above. Click a link, buy what you need, and the seller will contribute a portion of the purchase price to support Trailspace's independent gear reviews.
You May Like
Specs
Price
MSRP: $349.95
Current Retail: $349.95-$449.95
Historic Range: $279.99-$449.95
Reviewers Paid: $349.00-$350.00

Weight
1 lb 1 oz / 0.49 kg

Width
3 in

Length
8.25 in

Height
4.5 in

Effective against bacteria
Yes

Effective against chemicals/toxins
No

Effective against particulate
Yes

Effective against protozoa
Yes

Effective against viruses
Yes

Filter media
Advanced Hollow Fiber

Filter pore size
0.02 microns

Flow
2.5 liters per min

Cartridge life
10,000+ liters

Field cleanable
Self-Cleaning

Field maintainable
Yes

Water Bottle Adapter
Yes

Cartridge replacement indicator
Yes

Material(s)
Hollow Fiber

Country of Origin
Made in the U.S.A. of U.S. and Imported Materials