MSR Lightning Axis

Top 25 in Backcountry Snowshoes
The Lightning Axis has been discontinued. It was replaced by the MSR Lightning Ascent.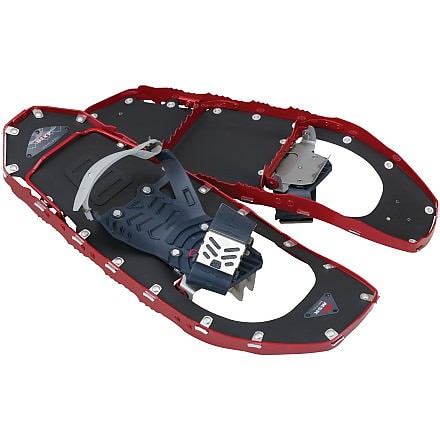 Excellent snowshoe, but it's easy to lose a U-clip in the binding.
Pros
Lightness
Easy binding action
Grip
Flotation in the 30" models
Convert these puppies to normal Accent bindings—easy.
Cons
Losing u-shaped binding hooks
After 3 years of use the Axis rotation mechanism failed.
So, I'm Australian but I have snowshoed here for 20 years. I only do backcountry and steep snowshoeing. When it gets too steep I switch to crampons.
These are the best snowshoes ever for this kind of terrain. All the Lightnings are good and light in the backcountry, but these are the best. You have to adjust them properly before your first adventure and I do mean properly. You don't want to correct your adjustment mistakes in the backcountry.
Their grip in steep terrain is without peer. I own snowshoes from five different manufacturers! I know what I am talking about. Properly adjusted these are peerless snowshoes leaving everything else in the spindrift. That pesky u-clip in the bindings is the only downside.
I don't understand why all snowshoe manufacturers don't adopt the touring crampon binding system — as in Black Diamond Neve crampons? Why do they all persist with various stupid bindings.
Having got that off my chest, these are the best backcountry snowshoes made today.
Note added 1/2016:
Late last year I down converted my Axis snowshoes to standard Ascent snowshoes. This is easy to do because MSR makes everything so easy that the bindings can be changed.
Why did I do this? The Axis rotation facility had become unstable to rotations and I couldn't keep the snowshoe straight in the field. The down conversion was simple and easy to do. So I am happy again.
My recommendation now is to just buy the Ascents. There is very little difference in price.
Additional info 6/2016:
Recently MSR has strengthened the decking fabric. They also seem to have discontinued the Axis model — just like I did! The Ascent version is great.
I am 6' 2"/1.88m and weigh 168lbs/76kg  I use the 30" model for backcountry snowshoeing on fresh snow. This is exactly what MSR recommends on their website.
Source: bought it new
Price Paid: $400

The two strap binding system is great. It allows me all the security/tightness needed. I have several boots that I wear, and all seem to work well. The 25" works extremely fine. I would highly recommend these for any treks.
Pros
The lightness, portability, two-strap system.
Cons
When in cold temps, the straps don't stretch as well as they should.
Securing the straps after lashing and can be challenging with bare hands in freezing temperatures. The  added 5" tails are easily attached for needed flotation  powder.
Nevertheless, these shoes are solid and lightweight; they are relatively easy to strap on, even in freezing conditions and when using gloves; they fasten securely, even while traversing on slopes; and they have excellent traction, thanks to the integrated crampon and serrated frame.
They worked great in all snow conditions (packed trails to steep and deep powder) and various types of terrain, from flat trails to steeper slopes, even with a heavy pack. I am looking forward to trying them on Mt. Hood.
Overall fantastic, and versatile.
Source: bought it used
Price Paid: $125

Pros
Superior materials
Design
This is my third winter with my MSR Lightning Axis snowshoes. They do everything reliable snowshoes should, and then some. I use the two-strap binding system, which is tight and has never failed on three different pairs of boots. 
For those who need advice on setting up and aligning the shoes, the company provides clear print instructions and a YouTube video. The elevator bar makes it a pleasure to climb steep grades, and the traction is consistently excellent on all kinds of ice and snow. I don't pack much weight or hike on deep powder, and the 25" model works fine for me.  But it's good to know that tail extensions are available if I ever need them. 
A solid and well-designed product that I expect to enjoy for many years.
Source: bought it new
Price Paid: $239.95

I am a women and own both the men's and women's version of this shoe. If the binding released on you, pull it tighter next time and make sure the strap is seated all the way down into the catch pin!
I wear only these MSR's on my adventures. Nothing else grips the snow like these shoes. Friends with other brands end up with ice encrusted teeth and no grip at all! I have used my MSR's in all kinds of conditions and they have NEVER disappointed. Traction like driving with studded tires.
Comfortable as my favorite hiking boots. EASY on and off.
In my opinion, any other shoe is just a waste of money. Invest in the best. You will not be disappointed.
Price Paid: $269 for the Mens'; Got the Ladies on sale for about $180!

I would have given it a 5, but on my first outing on the new binding system.. i would have to give it a 3.5. MSR has missed on this one, in an effort to make it easier to put on, they actually make it easier for it to slip off. 
There are 3 attachment points, the toe is fairly sturdy, adjustable for duck foot or pigeon foot but somewhat hard to adjust, don't try to do it at the trail head in the snow.. do it at home or in the rental shop before you go.
Just behind the toe is a remodified stretchable hook binder, I think I understand what they were trying to do, but that's where they missed, the metal hook falls out of the attachment point on the binding, not once but 3 times yesterday in 3 foot deep snow.leaving the heel strap the only binding point leaving your toe in the front binding.. there used to be 3 straps up front, one in the back...
I'm pretty sure they knew the issue as they placed a metal button disguised as a strap button but pointed the wrong way so the strap hook doesn't fall off..
I may look into going back in time at the older bindings or use goop to hold the hook in to the binding.. i don't know.. 
The ascent bar is a great feature, last week on a rental model without the fancy new binding i was able to go straight up a steep lncline, it was a breeze..
Update: January 30, 2011
I have to revise my first impression after one more weekend of high country snowshoeing.. the bindings fell apart at the D ring 3 more times.. and the swivel toe piece would not lock in.. and as a result the pull tab to pull the pin out tore loose from the pin, i had to use pliers to pull the pin, then and only then would the pin lock in place.
Ya know.. the KISS principle would have worked, the new binding is way over engineered, This binding would be ... in my opinion.. a dangerous binding.. if for example, it was 10 degrees, blowing snow and high winds..
you would have to remove your mitten to adjust, manipulate the d ring back into its attachment, and if the toe piece won't lock in, the shoe becomes unmanageable, in those conditions you have to depend on your equipment, this binding is NOT dependable, steer clear of it.. run away fast.. 
The older binding .. bombproof.. simple, easy..
to replace the snowshoe with another pair with the older bindings cost me another 25 bucks.. the initial deal, turned into a bust, but i at least have bindings i can depend on..
Price Paid: $179

Your Review
You May Like
Specs
Men's
Price
MSRP: $269.95
Historic Range: $149.95-$269.95
Reviewers Paid: $125.00-$239.95

Weights
3 pounds 14 ounces to 4 pounds 8 ounces (1,768-2,052 grams)

Sizes
3 men's, 2 women's

Lengths
22 to 30 inches (56-76 centimeters)

Women's
Price
MSRP: $239.95
Historic Range: $149.98-$239.95
Reviewers Paid: $180.00

Recently on Trailspace