MSR Mo Room 3P

The Mo Room 3P has been discontinued. If you're looking for something new, check out the best three-season tents for 2020.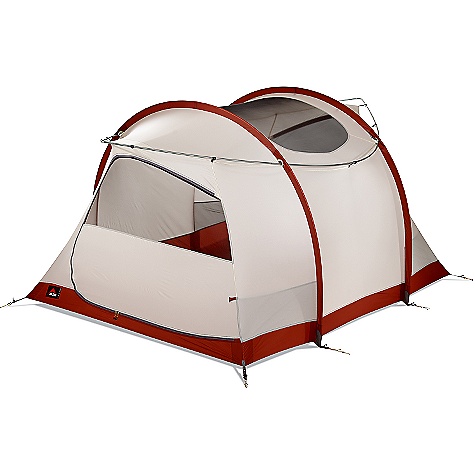 Specs
Price
Historic Range: $199.98-$499.95
Reviewers Paid: $274.00-$500.00

Reviews
3

reviews

5-star:

1

4-star:

1

3-star:

0

2-star:

0

1-star:

1
Unlike one reviewer on this site, I actually purchased and have used this product before reviewing…novel concept. First let me say that I have been backpacking for almost 20 years, half of that has been as a professional in different areas. I have used and tested well over 50 different types of tents, with most of the usage being trips being well over a couple weeks. MSR has been making exceptional products for decades, best known for their stoves and water treatment; they got into the tent business within the last ten years.
The MSR Mo Room is a great tent, not for everybody, but no tent is for everyone. This tent is exactly what MSR sells it as: A spacious 3 person tent with a ton of room for gear. It's not an ultra light or an expedition or whatever else some idiot might think. It's a great three person, three season tent. I have used it primarily on biking trips to Moab and a weeklong backpacking trip to the Olympic coast in Washington State. The Mo Room was an awesome tent for the biking trips, the vestibule can easily hold two downhill bikes, potentially tree if placed right. The interior is HUGE. Not only will it comfortably sleep three average sized dudes, but the nights when weather was bad we were able to get all five of us on the trip into the tent to play cards, and there was still room to spare.
On the backpacking trip the tent again exceeded my expectations. It rained pretty much the whole time, which we had planned on, and we stayed bone dry in the tent. I would even consider doing some early/late winter camping with this tent, we stayed very comfortable at night even when the temps dropped below 30 degrees. A bonus that we were able to store all of our muddy gear in the giant vestibule so we could still get to it and not have to leave the tent. The weight of the tent never really played an issue, sure it's not the lightest tent I have, but any intelligent backpacker will tell you to split the weight of the tent. I weighed the tent once I returned home and dried it out, it was just under 11lbs with an additional stuff sack, that's roughly 3 ½ lbs per person…not bad at all. The setup is very easy, one person can get it done in five minutes if they need to, but with two it's a breeze.
I would recommend this tent to anyone looking for a solid three person, three season tent. Unless you require a four season/expedition or ultra light tent, this will do very nicely. I would hesitate on purchasing this tent for the full $500, although still worth it at that price, I would definitely look for a deal, because you should always look for a deal.
Some keys factors:
Actually holds three people comfortably
HUGE vestibule
Solid construction
Price Paid: $274

Excellent tent when weight is not a primary concern.
Pros
Quality of construction
Huge vestibule
Cons
Vent design need a bit of change
I have had this tent for five or so years and primarily use it for car or near car camping.
While tent is not the lightest one, quality construction and cavernous vestibule make up for the weight.
Last time we were camping and had a torrential downpour, there was almost a river under the tent and we stayed more or less dry. 
Tent has a ton of living space with very steep, almost vertical walls.
Good quality zippers, fabric, mesh, and poles.
One thing that may need additional work are vents. During rain, water pools right near the vent on one of the horizontal circular poles. I had to tie a guy line to the vent tab to pull it and create tension so water can drain.
As with any tent I release the tension on all of the lines in the morning, so when the tent dries in the day it has room to tighten. I then tighten it in the evening.
Overall I can recommend it for family or base camp type setting.
Disclaimer: I have not purchased this tent but it is currently retailing for $500 in stores. This review is based on my experience with a wide variety of similar products and on my in-store assessment of this specific product.
MSR has a reputation for producing some very high quality gear. Their stoves, water purifiers, tents, snow shoes, are all bomber. The Mo Space tents however are really disappointing. To be fair the design is rather innovative, but it is poorly executed.
I set up a 2P and a 3P. Right out of the bag the stitching was frayed on most of the seams. The second thing I noticed was the rather low quality of the nylon. It felt thin and weak. Thirdly I was immediately suspicious of the two poles that go together to form a giant eye-shaped ring that forms the upper structure of the tent. They came together at a very sharp angle at either end that look like it would crimp before too long. Sure enough they did exactly that after about 3 minutes. The final straw was when one of cammed clips that attach the rain fly simply snapped when tightened down. I compared the clips to those from the 2006 Hubba series tents and the Mo Room's were definitely thinner and weaker.
Before things started breaking the tent was set up properly with all lines guyed out. It had some sections that were very very tight and others that were slack. Specifically the fly was touching the mesh on the top and no amount of adjusting could change that. In the field you'd have water dripping on your head all night. I was also bothered by the primitive pole-in-sleeve design and the fact that it weighs 10 pounds.
For $500 MSR needs to do MUCH MUCH better than this thing.
Design: three-season freestanding
Sleeps: 3
Ease of Setup: Extremely awkward for one person. Still not easy for two.
Weight: 9 Lbs 15 Oz.
Price Paid: $500

You May Like
Recently on Trailspace