MSR Trekker Tent

The Trekker Tent has been discontinued. If you're looking for something new, check out the best three-season tents for 2023.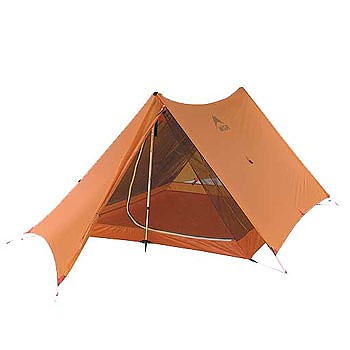 I also own several other hybrid tarps and tents (both models of Twin Peaks, Betamid with Beta Bug, Missing Link, etc.), but this is the one I chose for a section hike in early spring on the Appalachian Trail and it met every requirement!
It's very much like a high-tech pup tent and MSR improved the bug insert/tarp interface this year, so there is more space and less chance for bugs to bite you because your arm or foot is resting on the netting (a drawback with the earlier Trekker Tarp with Insert, but overcome with a ring on the underside of the tarp and a button on the net to hold the two together and away from the camper).
This combination allows for almost endless variations (tarp only; tarp and insert buttoned-up for bad weather; awning extended; sides rolled up for additional ventilation; flat pitch; lean-to pitch; etc...).
When I hit Hawk Mountain Shelter on the AT, we were above the clouds; it was raining sideways; and there was a little sleet thrown in for good measure. I pitched my Trekker Tent next to a guy using a Golite Cave and believe me, the next morning he was soaked and I was as snug as a bug in a rug.
Most of the weight reduction between the old and new Trekkers appears to be from switching from the old, reliable "Ground Hog" stake (a top of the line Y-shaped stake), to the lighter and less capable "Needle Stake" (a well designed stake that looks a lot like your Grandmother's knitting needles, but which doesn't hold as well as the Ground Hog).
PROS:
- Lightweight shelter for two
- A "palace" for one with gear (did I mention the TWO vestibules?)
- Durable construction
- Uses your hiking poles to save weight
- Improved interface between tarp and insert
- Lighter if one leaves the insect insert at home
CONS:
- MSR, WHAT WERE YOU THINKING WITH THAT BLAZE ORANGE COLOR? I suppose this would be in the Pros section for Search and Rescue operations...
- It's rather elongated footprint makes it somewhat difficult to pitch along the trail (tree roots, rocks, other campers)
- Needle Stakes substituted for Ground Hog Stakes (I still carry a couple of Ground Hogs for high-stress areas)
- MSR says this is a 2-3 person shelter. Perhaps, but I wouldn't want a third person in there unless they were very small...
- Did I mention the COLOR?!? My old Trekker Tarp is a mild olive/tan and if MSR were to use the old color on the new tent, they would have me for life.
Design: Hybrid Tarp with Insect Insert
Sleeps: 2
Ease of Setup: Practice it at home, and then very fast.
Weight: 4 lb + or 3 lb without the Insert
Price Paid: $214

For under 2kg this tent is so roomy yet so light that I use it instead of my bivvy bag when hiking alone. It's especially good for extended hikes where you begin to appreciate the space at night, and for bad weather. (You can drag your pack into the tent with you and hang your wet clothes from the poles under the vestibule.)
I've weathered some nasty storms in this tent and stayed bone dry. I've even weathered storms with a dog staying in one of the two large vestibules, and we've both been comfortable. :) The inner is mesh, so it breathes well and cooking inside in bad weather isn't a stress (although you do this at your own risk).
You can leave the inner and outer attached to each other (via a clip), and roll it or stuff it into the tent bag. The ability to stuff the tent makes packing much faster. If the inner and outer are clipped together, simply adjust your trekking poles to 1.25m, peg the inner at the four corners and prop it up. 6 more pegs for the fly and you're done. You can have the tent up in very little time. Even after a full day of walking (and I sometimes do 50km days) I can still face setting up camp before sitting down for a rest.
There are plenty of extra tie-down points for bad weather, and the MSR pegs are super light.
There are also many combinations for the fly -- you can have a giant awning across the front to allow two people to sit side-by-side and cook under cover, keep the vestibule flaps open, or close the whole tent for a little more protection while still having great air flow. The full width zip door along the side makes getting in and out dead easy.
The tent and fly are designed to allow a wide gap -- great for bad weather -- and the fly and bathtub tent floor stop any mud spraying back into the tent when things get really hairy.
Mesh pockets on the inside are handy for storing things you don't want to lose at night.
The mesh inner is perfect for hot summer nights in Australia as we have a fair few bugs but really clear, starry skies, and I can imagine the tarp would be perfect for places with fewer biting insects, or in place of a bivvy bag.
I can't say enough good things about this tent. It's a shame people haven't discovered it yet.
Sleeps: 2
Ease of Setup: Dead easy. Leave the inner and outter attached for super fast set up.
Price Paid: n/a

I bought this tent for two reasons, I wanted an ultralight tent for backcountry hunting and fishing trips in VA alone or with one other. Also I enjoy taking my two kids, aged 5 and 7, on short weekend trips. So I was looking for the biggest ultralight tent I could find.
So far, I have used the tent about a dozen times and love it. I am amazed that more people did not discover it. In the fall I use tarp only as the bugs are not a big issue and set it up like a selkirk shelter and in the summer I use the bug insert.
I have weathered a few major storms and stayed very dry, just make sure the the tarp is pitched a little higher than they recommend so condensation does not become a problem.
One more quick thing, IT IS HUGE! I can fit me and two kids inside the bug insert, or two good size adults and not be uncomfortable. The fact that the side opens up allows you to cook in the rain safely and stops it from getting too claustrophobic.
Keep an eye out for it in closeout sections or online.

Design: Tarp/Pup tent
Sleeps: 2
Ease of Setup: Pretty simple, as long as you get the tarp up high.
Weight: under 4lbs.
Price Paid: $150

Your Review
You May Like
Specs
Price
Historic Range: $169.95-$254.75
Reviewers Paid: $150.00-$214.00

Recently on Trailspace