MyPakage Action Series Boxer Brief

#10 in men's Boxers, Briefs, Bikinis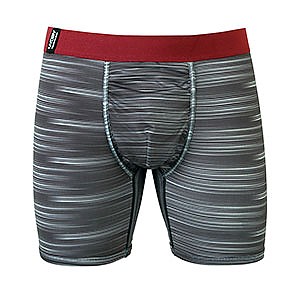 The primary marketing edge of MyPakage's stretchy boxer briefs is a specially-shaped and partially separated pouch...but its real advantage lies in a no-chafe design with great fabric. The pouch feels odd at first; over time, I grew to really like these. They do a nice job wicking moisture and keeping you dry and are particularly good at drying quickly. They appear to be reasonably durable and did not chafe or bind.

I would choose MyPakage boxer briefs over comparable boxer briefs based on overall comfort and quick-drying capabilities.
Pros
Comfortable fit and fabric
Great wicking properties
Dry time is awesome
Durability
Cons
Pouch may not be everyone's favorite
Full retail price is high ($40 for Action Series, $30 for Pro Series)
Wider waistband occasionally rolls under a backpack hip belt
Writing a review about underpants is challenging. There is a serious risk of providing too much information. At the same time, the criteria for evaluating athletic underwear inevitably get you into sensitive areas (pun intended). If I have not adequately walked that fine line, thanks in advance for being forgiving. I tried. And please, read on, because this brand of athletic boxer briefs is definitely worth looking at. 
Except for a few days where I wore other brands of synthetic briefs (Patagonia, Nike) and very occasionally a pair of stretch wool Icebreaker boxer briefs, I wore MyPakage on all my walks and hikes, plus under board shorts for paddling—at least 75 miles of walking. I made no effort to treat them gently, laundering after every time I wore them; I did hang them on a drying rack rather than subject them to a hot dryer.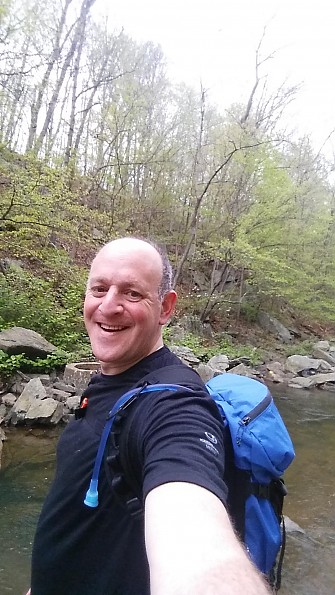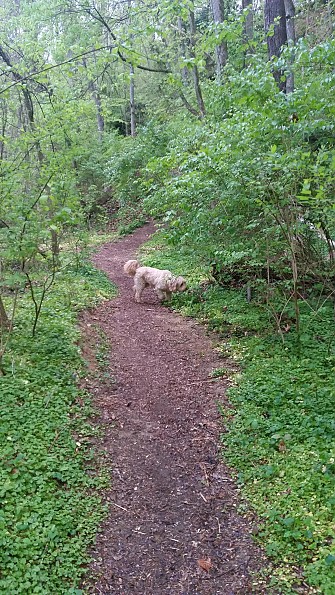 Cool, misty, early morning hike with the dog by a local creek.  
Fit/Comfort:
MyPakage shipped me four pair of its boxer briefs: two from its Pro Series and two from its Action Series. Other than the pattern/print of the fabric, the only real difference I could find was the wider elastic waistband on the Action Series.
I wore the four pairs interchangeably over the last few months, over about seventy-five miles of hiking and walking, and I think the distinction between the two types is pure preference. Both are made from the same fabric, both are stretchy and comfortably snug, and the cut/pattern appears to be the same, other than the width of the waistband.
They weigh the same, they fit the same, they perform almost exactly the same.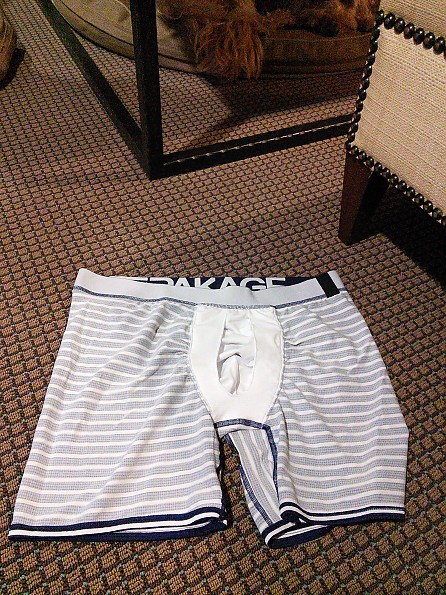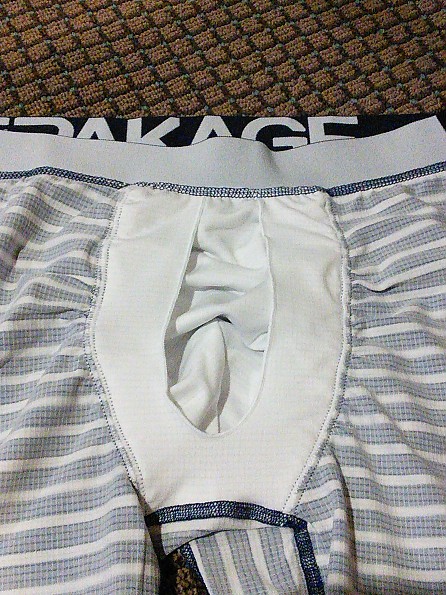 Two closeup views of the "keyhole." The white part is the same thin, stretchy fabric as the rest of the boxer brief. They keep things in place...but not in an aggressive or uncomfortable way.  
The first and easily most notable aspect of MyPakage's boxer briefs is their "keyhole comfort technology." That's a nice way of saying they have a special pouch for your man parts, with strips of fabric on either side of the pouch to create the "keyhole."
A picture does a better and less embarrassing job telling this story, but after getting used to this, I thought it was perfectly comfortable and may have helped avoid chafing. This is, in my experience, a unique feature. MyPakage appears intent on the male market, because I see nothing on their website offering a female, non-keyhole version of these. I'll discuss this feature in more detail below.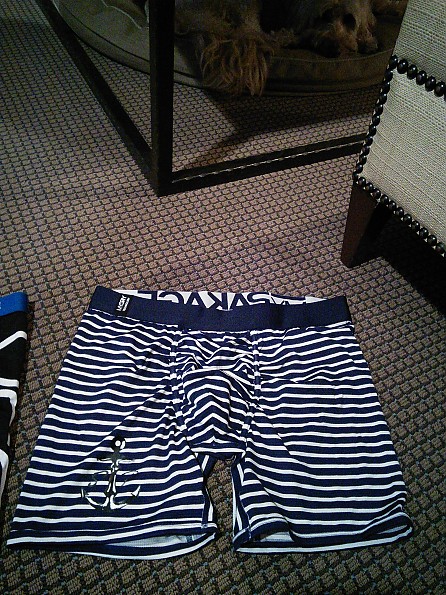 Action Series with slightly wider waistband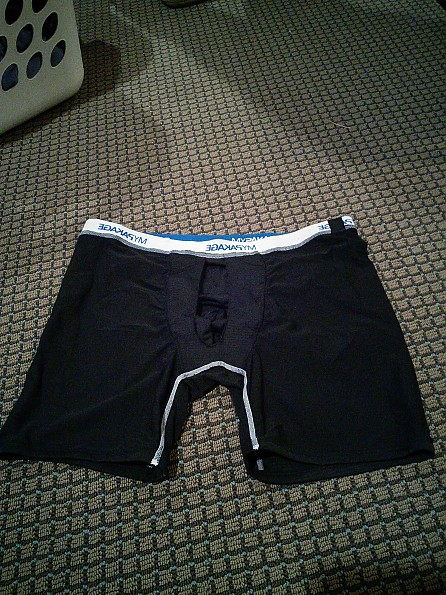 Pro Series, inside out, showing the keyhole.
Otherwise, MyPakage's boxer briefs score points for the way they are put together and the fabric they use (MyDry fabric, a "100% Hydrophobic quick drying wicking polyester"). The company clearly put some thought into where seams should lie and how panels of fabric should be stitched together to enhance comfort and avoid chafing.
Seams are well-placed, flat, and sewn with stretchy yarn. The fabric itself is very nice—quite lightweight, firm-fitting, but with a good amount of "give," and outstandingly functional in two key areas—wicking moisture away and drying quickly. The various brands of synthetic boxer briefs I have used all do a very good job wicking moisture away, but these are the best I have tried at drying quickly.
To the extent you care about patterns, the Action briefs I received have funkier, more interesting patterns, whereas the Pro version is more plain, though one of the Pro briefs I received is a turquoise color one could easily call electric blue.  
One note about the wider waistband, on one occasion, one relatively long day hike, the waistband ended up somewhat bent/bumpy after being squashed under a hip belt. It rebounded nicely in the laundry. 
Also, it's worth noting neither version has a fly. Many competing boxer briefs also lack this, though.  
How They Perform:
I wore MyPakage boxer briefs in temperatures ranging from the mid-30s to the mid-80s F, a good, broad mix of temperatures for testing purposes. The bottom line is that they perform exceedingly well—as good as any athletic brief I have worn for hiking. They offer great freedom of movement; they don't ride up or down; and they are comfortable without feeling too tight. 
On one rainy hike, I appreciated that the briefs dried out quickly while I continued walking after the rain stopped. It helped that I was wearing lightweight shorts that also air-dry quickly. The same was true when I went paddle-boarding on a cool morning and wore them under board shorts. They dried quickly after a dunk in the ocean.
On the warmest days, I felt dry, and the fabric doesn't get bunchy or weighed down when you sweat. This is the best feature of MyPakage's briefs in my opinion, and it makes them a standout.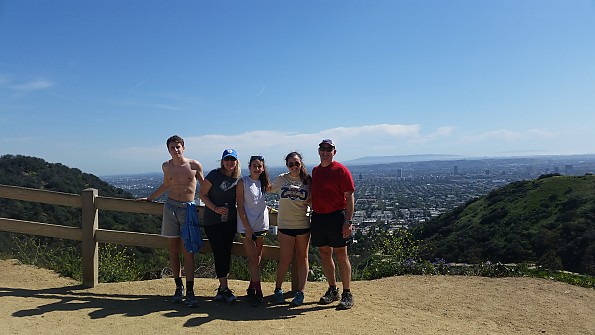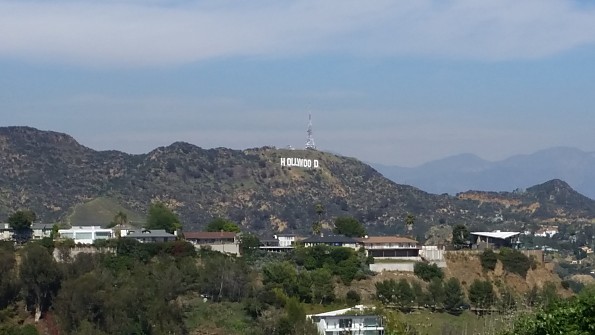 Afternoon family hike in the hills and canyons overlooking Los Angeles.
Spectacular views. Pretty warm in the sun.  


The only chafing I experienced was probably due to an overeager wear before I laundered each pair; once they ran through the wash once, I was chafe-free.
These boxers, like any synthetic, can get smelly after a while. I let a pair hang dry after a long walk in San Diego (was staying somewhere and had no access to laundry), and the next day, they had a little of the funky smell we all know and dislike.
MyPakage does about as well as other synthetic boxer briefs at moderating exertion-related odor. If the odor really bothers you, it's worth looking at merino wool briefs or boxers. I use merino boxer briefs in the winter, and they definitely handle odor better. Also, if merino is blended with something stretchy, it tends to be a little more durable. BUT….merino always takes longer to dry than synthetics and virtually always ends up with holes long before a synthetic boxer brief.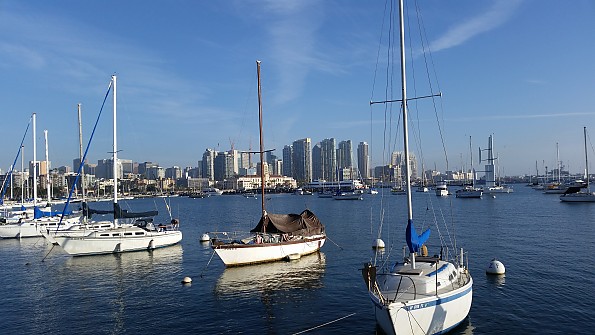 Several-mile walk around San Diego harbor. Does San Diego ever get bad weather?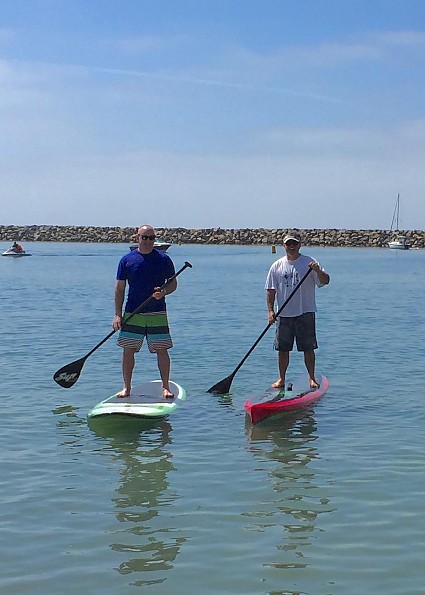 Paddle-boarding with my college roommate in San Clemente.  
It took me a few times wearing these boxer briefs to get used to the keyhole. Without getting into the gory details, it feels a little different, primarily because the pouch provides a little more space and the keyhole fabric somewhat isolates the pouch and its…contents.
Which is not to say that it forcibly jams your junk around. Over time, the pouch is about as comfortable as other stretchy boxer briefs, and they may be somewhat better at avoiding irritation in sensitive areas. 
Cost/Quality:
Boxer briefs for people who are active aren't cheap. Whether you prefer an athletic brand like Nike or Under Armour, prefer merino wool, or like another company that does wicking underwear well like Patagonia or Ex Officio, you can expect to spend $25 to $40 per pair. MyPakage briefs fall right within that price range; if you hunt for discounts, you can find them for $25 or so, which is competitive.
I didn't specifically see laundering instructions, but I treated these the same as I would for any stretch synthetic fabric—I washed them in cool or cold water and let them air dry. You could probably throw these in the dryer.  Repeated wear and washings have not incurred any visible or tangible wear that I can find, nor have any of the briefs I tested developed snags or permanent damage to the waistband. 
Conclusions:
I recommend MyPakage based on my experience. While I think the keyhole is interesting and innovative, I don't think it's a make-or-break feature. What was more important to me is that the fit, comfort, and moisture-wicking properties of these briefs are as good as any synthetic boxer brief.
Even better, they might be the quickest-drying pair of underwear I have ever worn, which is a real plus and a reason to choose these over other options.
Source: received for testing via the Trailspace Review Corps (Sample provided by MyPakage for testing and review)

By isolating your package, MyPakage underwear is super comfortable. Wicking fabric keeps moisture at bay.
Pros
The MyPakage pouch
Anti-microbial fabric
Great fit
MyPakage has an entirely new take on men's underwear. The Keyhole Technology internal pouch surrounds the male private parts with fabric, providing both support and comfort. Below the Keyhole, MyPakage has installed a pucker panel which removes any seams that might cause discomfort or chafing.
The Weekday series replaces the cotton used in most underwear with an exclusive fabric made of Modal (Rayon from beech trees) and Spandex. This fabric allows the underwear to absorb moisture while still being breathable and soft to the skin. A wide waistband comes with the label overlapping the rear seam, this kept it from chafing my back.
The Action and Pro series underwear both feature MyDry technology. MyDry combines hydrophobic moisture-wicking polyester fabric for breathability and an antimicrobial finish to keep things smelling fresh.
I tested the boxer briefs from the MyPakage Weekday and Pro series. During the four-months long test the Pro series underwear was worn hiking, backpacking, and in gym sessions while the Weekday series was used during normal activity. The medium size fits my 33" waist perfectly, with no tight spots.
The first thing I noticed in all the MyPakage underwear is the Keyhole. Placing my package into the Keyhole surrounds them with fabric. This fabric both supports my private parts and isolates them from my legs. They immediately feel different but in a good way; gone are the repeated adjustments needed in regular underwear.
All the MyPakage models had a nice firm fit that worked well under a variety of pants and shorts. The Pro series underwear provided a more snug fit due to the stretchy polyester fabric; they proved very comfortable during sporting activities. While hiking and backpacking it was great to not feel any chafing in the groin area. Long days on hot trails were made easier by the Pro series snug fit on the torso and the ability of the breathable fabric to keep me cool.
I appreciated the wicking properties of the MyDry technology whenever the weather was warm. The briefs allowed sweat to pass through the material without getting wet. On multi-day backpacking trips, the ability to wear the same pair over many days without it smelling funky allows me to pack fewer clothes.
All the MyPakage underwear proved to be durable and looked like new after testing. All MyPackage products come with a 100% satisfaction guarantee.
MyPakage underwear
Sizes- Men's XX-small to XX-large
Colors- Large variety
Cost- Weekday series- $25-$30.00
Pro series- $40.00
Full length- $50-60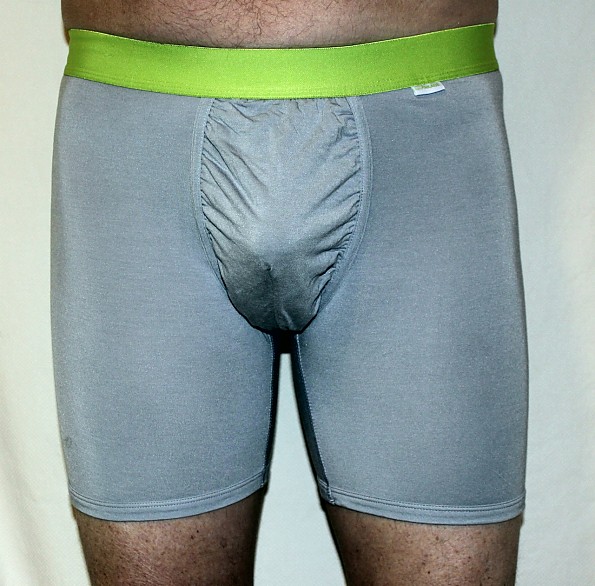 Source: tested or reviewed it for the manufacturer (Received a sample of this product from B Dot Media Group for purposes of this review)

Your Review
Where to Buy
Help support this site by making your next gear purchase through one of the links above. Click a link, buy what you need, and the seller will contribute a portion of the purchase price to support Trailspace's independent gear reviews.
You May Like
Specs
Price
MSRP: $40.00
Historic Range: $25.99

Recently on Trailspace