Nathan Elite 1 Plus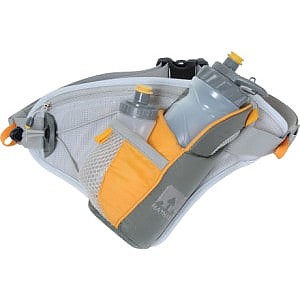 When stifling humidity and temperatures in the 80s and occasionally 90s impinged on my summer runs, I decided I better get serious about hydrating on the move. I already owned a CamelBak FlashFlo, which until this point I had been ambivalent about. It worked fine on the rare runs when I brought it along, but I always wondered if there was something better out there—a hydration system always ready to quench my thirst no matter how much I drank, but one that never felt like I actually had to carry the water. The Nathan Elite 1 Plus was not it.
I picked up the Nathan Elite 1 Plus at a local sporting goods store for a number of reasons. First, while I am a big fan of CamelBak and its bladder hydration systems for their ease of use and quality, I was curious to see what a hose-free option (i.e. a good old-fashioned water bottle) had to offer. The Nathan Elite 1 Plus appeared well made and offered a reasonable amount of capacity (both a 22 ounce hydration bottle and 5 ounce nutrition flask for carbo-gel) for days when I didn't need my CamelBak Classic (70 ounces) or the FlashFlo (45 ounces). Empty it weighed an ounce less (9.9 ounces versus 10.9) than the FlashFlo. It sported a handy little mesh pocket to stash emergency money, ID, or gel packet; wasn't bulky; and offered easy access to the angled holsters while claiming to stay out of arms' way.
It must be noted that Nathan also offers a women's hydration bottle carrier, the Muse. While I usually select the women's version of outdoor gear for the better fit, I decided against the Muse for a few reasons: 1) the Muse had only the 22 ounce bottle, 2) while the padded hip pads looked cushy, they also looked heavier and hotter for 80-degree days (maybe my own error), 3) the mesh triangular pocket on the Elite 1 Plus was larger and more streamlined than either of the Muse's, and 4) I figured the small shock cord on the Elite 1 Plus might come in unexpectedly handy.
I first used the Nathan Elite 1 Plus on an 11-mile road run in temperatures in the upper 70s to 80s. I filled the bottle and flask with sports drink, tightened the 1.5-inch waist belt down snugly, and set off down the road. I immediately noticed sloshing—lots of sloshing—that I not only could hear, but, more importantly, could feel against my backside.
The sloshing wasn't as distracting as having the waist belt loosen though. Repeatedly I stopped to tighten the belt on both sides of the buckle and inevitably it loosened up within minutes. The slack belt combined with the holsters' angle meant the bottle whacked back and forth against my tailbone. The belt also rotated around my waist, the bottles migrating to my left hip and even hitting my funny bone (ouch). By the second half of my run I was holding the waist belt in place rather than trying to tighten it yet again.
Now, I was wearing a very smooth DriLayer tank, which I'm sure exacerbated the problem. The next day I took the Nathan out on an easy three and a half mile run. This time I wore an older, fuzzier shirt and cinched the waist belt down overly tight. The waist belt loosened slightly and the bottle still thumped back and forth a bit, but essentially it stayed in position.
The caveat is that I'd had to tighten the belt to the point of discomfort and was not experiencing the "comfortable fit" for "unrestricted breathing & reduced fatigue" that Nathan claims. And, since the hydration carrier is designed for running, I'd expect it to work with any choice of running attire, not just certain shirts.
I wondered if the Elite 1 Plus simply didn't work for me because it's best suited for men, not women with curves. So I had my husband try it on a short run. It stayed in position for him despite a little bouncing, which he found initially distracting, but got used to as he ran. Ultimately, he wasn't converted to the bottle setup either though.
I can't say if the Muse, the women's version, would have been more stable for me. Both the Muse and Elite 1 Plus claim a "limited-stretch elasticized waist belt" sized for waists from 26 to 42 inches. Perhaps the Muse's hip pads would have kept the belt firmly in place. Its horizontal holsters suggest that you won't suffer tailbone jarring and its product description claims the Muse is "bounce-free." I'd expect any hydration carrier to be reasonably bounce-free though. Ultimately, the design of the Elite 1 Plus's waist belt didn't work for me and it renewed my devotion to stable, slosh-free hydration bladders.
Despite this, I would give other Nathan products, such as their hydration bladders and women's packs, a second look (after CamelBak). In the Elite 1 Plus's favor, it was well constructed with a nice attention to detail. It never chafed my back, despite the bouncing and rotating. Nor did it feel too hot or sweaty at any point. The mesh pocket is a good size, without adding bulk to the setup. Having both a water bottle and flask for gels is a nice option. Both bottles were easy to get out and back into their holsters and opened and closed smoothly for drinking on the go (although not nearly as easy as a hose and mouthpiece). The bottles also stayed firmly in their insulated holsters while running. One small quibble—while the nutrition flask has ounce markers, the hydration bottle doesn't even list its capacity, let alone ounce markers—an oversight.
Bottom line: if you're a guy looking for a bottle hydration carrier for short to moderately long runs, you might want to check out the Elite 1 Plus or other Nathan products if sloshing doesn't bother you. If you're a woman, anyone who already appreciates the positives of bladder hydration systems, or someone who occasionally wears shiny shirts, pass it by.
Design: lumbar pack with mesh backing
Size: 22 oz hydration bottle and 5 oz nutrition flask
Number of Pockets: one zippered mesh pocket, one shock cord
Max. Load Carried: 27 fluid ounces
Height of Owner: 5' 4"
Price Paid: $29.99

Your Review
Where to Buy
Help support this site by making your next gear purchase through one of the links above. Click a link, buy what you need, and the seller will contribute a portion of the purchase price to support Trailspace's independent gear reviews.
You May Like
Specs
Price
Historic Range: $19.93-$39.95
Reviewers Paid: $29.99